8/03/2022 • Blog
Top Kitchen Cabinet Colour Trends for 2022
Kitchen trends are constantly transforming and reshaping before our eyes.
Rarely will trends pop up from nowhere with little to no inspiration. Instead, they are often built upon, year over year, continuously evolving as tastes and styles alter.
That's especially true for kitchen design trends.
At Deslaurier, we specialize in custom cabinets. We work effortlessly to provide clients with their dream kitchens. With that, we always make sure to keep our finger on the pulse of the latest kitchen trends.
As you'll see in this article, several popular kitchen trends from 2021, like warm wood tones or bold colour schemes, are here to stay.
Now, let's take a look at 7 emerging kitchen cabinet colour trends to keep an eye on in 2022!
1. Colourful Kitchen Cabinets
While you may be enticed by the idea of a vibrant, colourful kitchen, you may also feel reluctant to incorporate bold and colourful cabinets into your kitchen due to the future prospect of reselling.
We get it, committing to colour can be a big decision. This is why many homeowners tend to go conservative when it comes to their kitchen designs. Instead, they choose to opt for unique and colourful cabinets in their bathrooms or laundry rooms as opposed to the central hub of their home.
Thankfully, this way of thinking seems to be slowly decreasing.
Colour is making a big comeback in kitchens; adding flair and personality to a room that has conventionally been designed with safe and popular features.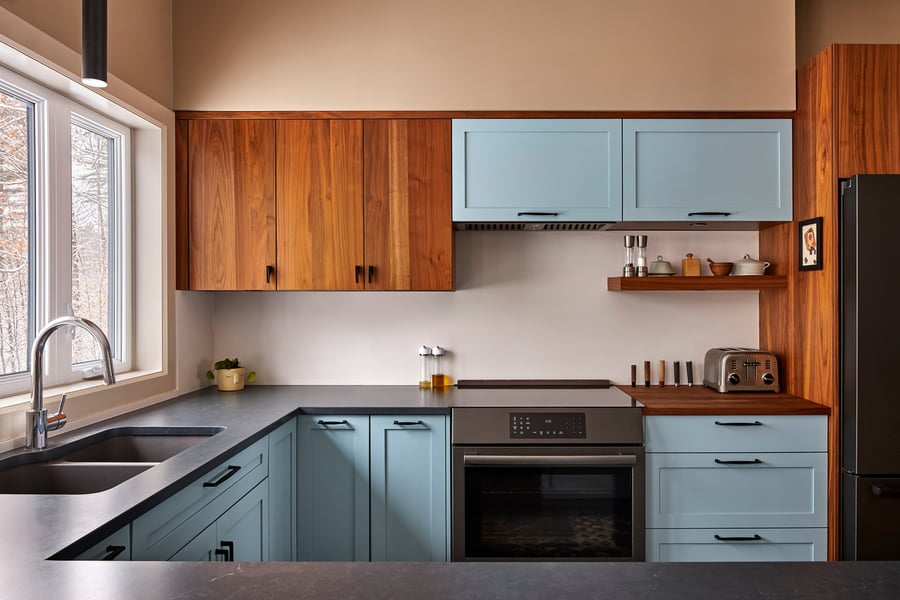 Homeowners are embracing bold colours that express their own personal tastes.
And why shouldn't they? After all, they are the ones living there!
Whether it be full sets of cabinetry, part of a two-tone design, or simply accent pieces, colour is prominently back on display in kitchens for 2022!
2. Drifting Away From Overly White Kitchen Cabinets
Let's face it, white kitchens will never go out of style.
White has been the most popular kitchen cabinet colour for decades and nothing about that is going to change in 2022 or beyond.
With that being said, homeowners are trading neutral, blank white canvases for softer, more welcoming atmospheres.
There is a shift away from pure white cabinets and a new gravitation to subtle incorporations of colour, with solid colour painted cabinets or natural wood tones (more on that below).
Moving away from white cabinets doesn't necessarily equate to using vibrant colours, as mentioned above It can be as simple as shifting to an off-white cream colour or even going all the way to the opposite side of the spectrum with black cabinets.
3. Two-Tone Kitchen Cabinets
Like we said above, white kitchens are a timeless classic that won't be going anywhere in 2022.
What has changed, however, is the transition from purely white kitchens by breaking them down with more colour and shade.
This is being achieved most commonly through two-tone kitchen cabinets. A two-tone kitchen design is when two sets of cabinets (wall uppers as one and base or island cabinets as another) are different colours.
Think painted white uppers paired with a dark, stained wood adorning the base cabinets; or bright white wall cabinets and a coloured kitchen island.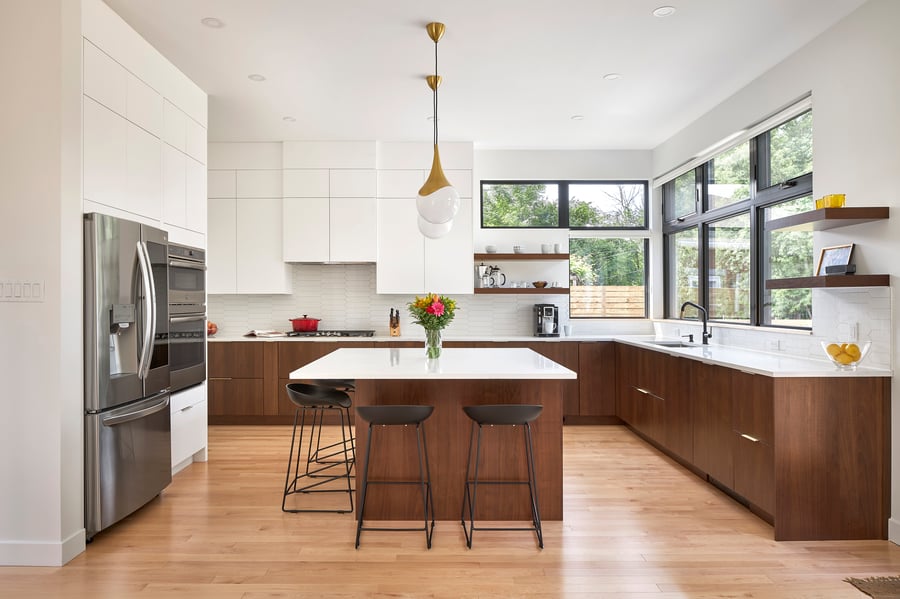 These mix and match designs provide an exciting juxtaposition that breathes energy into the space while still including the timeless popularity of white cabinets.
Two-tone kitchens allow homeowners to be a bit more daring in their kitchen but still encompass classic design qualities that have universal appeal. They've been popular for years and are only going to increase in that regard.
4. Dark Green Cabinets
With that, let's get into some specific colours.
As you will notice with the other selections on this list, 2022 is all about bringing warmth back into the kitchen. Soft and welcoming cabinet tones are at the forefront of this movement.
And that is where dark greens emerge.
Deep forest greens are becoming extremely popular in the kitchen cabinet world, and with good reason. They offer the warmth that homeowners are looking for but bring their own uniqueness as well.
In fact, the interior design world has coined 2022 as the year of green!
Deep, dark greens provide both comfort and masculinity. There's a certain depth and calmness that these colours bring to the space. Greens arealso perfect for shifting away from the cooler grey or dark blue tones that were popular in previous years.
Dark green cabinets are definitely something to look out for in 2022 kitchen designs and beyond!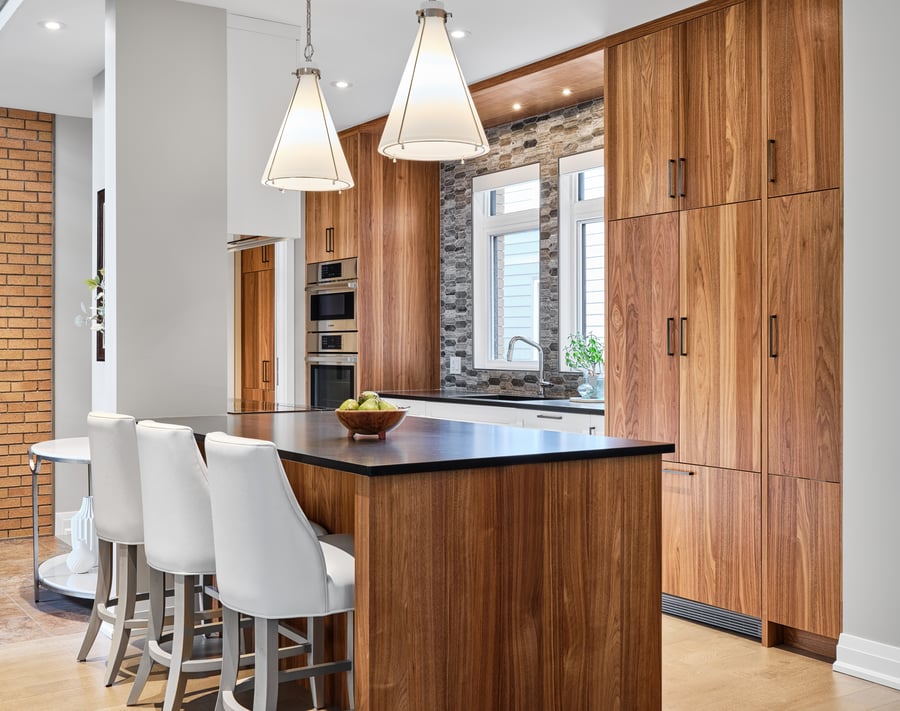 5. Natural Wood Tone Cabinets
Natural woods have been hidden behind coats of paint. What's happened is a resurgence in embracing their natural colouring and letting the wood grain shine in the spotlight.
Natural wood provides a source of organic colour within the kitchen; ranging from the lightness of white oak, the rich reddish hues of cherry, or the darker browns of walnut.
They also offer plenty of versatility. You can play with the wood grain - horizontal or vertical - as well as how light or dark a stain you'd like. Further, you can add versatility with low or standard sheens.
Not to mention woods durability as a cabinet material. Have you ever been in an 80s oak kitchen? If you look past the orangey hues and dated ornate door panels, you'll realize the cabinetry is still in excellent condition.
Authentic wood is a highly practical material, lasting for decades with proper care. Plus, it's a forgiving finish that withstands heavy use.
Add to that the beautiful wood grains and organic colouring and it's easy to see why natural wood tone kitchen cabinets are so in-demand.
See which wood species suits you best by checking out our kitchen cabinet comparisons:
6. Black Cabinets
Black is back.
Often thought of as too dark for the conventionally bright and airy kitchen space, black kitchen cabinets have seen a rise in recent years.
Black offers a bold elegance not typically seen in kitchens: but it works.
The great thing about black is that you can achieve the look with both painted and stained cabinets. Black cabinets look great with a uniform painted finish, or you can apply a deep black stain over natural wood doors.
Take a look at these maple cabinets with a black stain: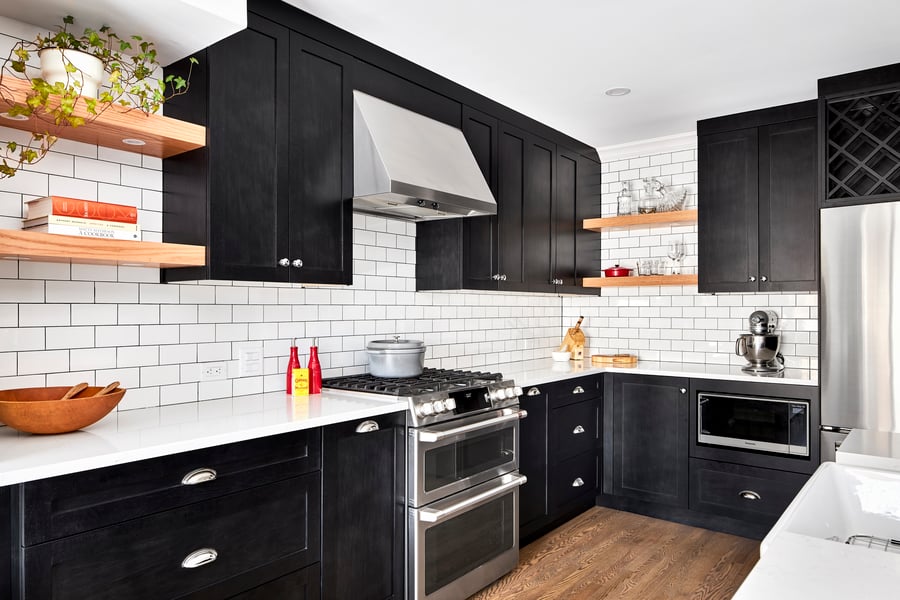 The wood grain emerges gently through the black stain, adding natural character to the deeply coloured cabinets. Notice how the rest of the kitchen's accent pieces - white tiled backsplash, white countertops, and light oak floating shelves - produce a fresh and airy juxtaposition to the darker cabinets.
Of course they also pair well with white cabinets in a classic black and white two-tone kitchen. This duo provides something unique yet comfortably familiar and is something to look out for in future kitchens.
7. Beige and Taupe Cabinets
Beige and Taupe are also examples of cabinet colours that will add warmth and softness to 2022 kitchens.
They're a slight variation to white or off-white kitchens that are familiar, yet add a uniquely subtle touch of colour to the room.
Utilizing beige and taupe is a good way to get colour into your kitchen if you prefer a softer shade and aren't interested in going with the more bold greens, blues or black.
Further, beige and taupe cabinets naturally pair well with lighter woods. These hues also allow for versatile countertop selections - meshing with both white surfaces and darker patterning.
Design With Deslaurier Custom Cabinets
No matter what kitchen designs catch on in 2022 and beyond, Deslaurier Custom Cabinets is always a step ahead of the curve. We've got our finger on the pulse of homeowners' needs.
Whether it's cutting-edge and vogue or traditional and timeless, a Deslaurier design is built to last for the long haul.
Our award-winning design team has helped countless homeowners reimagine their space—and you could be next. Check out our showcase to see our most recent work or book a consultation to visit us in person in Jupiter, Florida.
Live outside of the Ottawa area? Find a dealer at a location near you. Interested in becoming an authorized Deslaurier dealer? Head to our Become a Dealer page to connect with us.