18/03/2022 • Blog
Maple vs. Walnut: A Comparison of Kitchen Cabinet Materials
Not sure if you should go with maple or walnut for your kitchen cabinets?
Both are popular solid wood choices, so how do you decide which is the better material for your home?
At Deslaurier, we're experts in all things kitchen cabinets. As two of our most popular cabinet materials, we know how important it is to inform our clients of the differences and similarities between maple and walnut.
This article will take you through all the characteristics of maple and walnut as kitchen cabinet materials. We'll compare the two options side by side to help you determine which wood species is right for your kitchen cabinets.
Let's get to it!
Estimated read time: 7 minutes (1600 words)
Maple vs. Walnut Cabinets: Appearance
What makes selecting kitchen cabinets such an exciting process is that there are so many different options to choose from. Each wood species has a unique grain pattern and colouring to it. That's why directly comparing different cabinet materials to one another is the best way to decide which style suits your kitchen's vision.
Maple's appearance is noted for a simple and subtle grain, with its colour rooted in a gentle white with reddish-brown hues.
While maple's grain pattern is generally quite straight, it does have some waves and curls to it. Maple's patterning is commonly compared with birch.
Alternative to birch, maple and walnut are uniquely different when it comes to their appearance, as you can see here for yourself.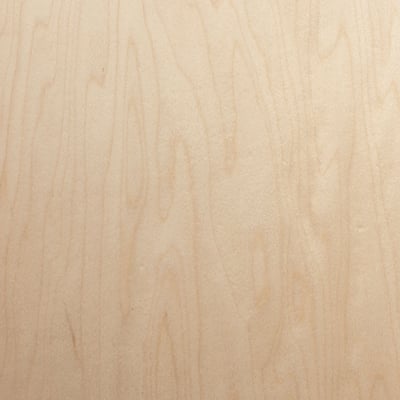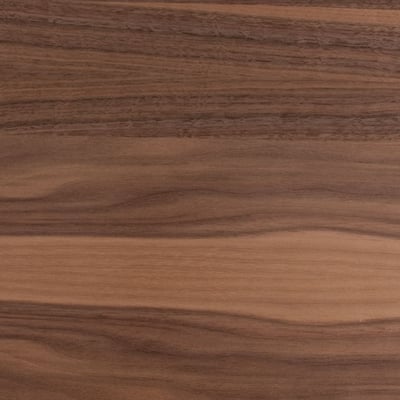 Walnut is a stunning natural wood noted for its significant brown colour and strong, typically straight grain variation.
Walnut can range anywhere from a light brown to a deep, dark chocolate hue. Though its grain is very open and more coarse than maple, walnut still has a beautiful, uniform surface.
Remember, hardwood products are natural products—just like the trees themselves, no two cabinet doors are exactly alike. There will always be differences from one slab to the next, and that's part of their beauty!
Further, all solid woods will darken or lighten due to a natural aging process. However, the aging process is unique for each distinct wood species.
With maple, what you see is what you get. While a light maple wood may slightly gain a darker, almost reddish-honey hue to it, it will not show substantial changes in its appearance over time.
Walnut, on the other hand, has a much more distinct aging process. Walnut's central aging quality is that its rich, dark brown colour will naturally begin to lighten with time.
Maple vs. Walnut Cabinets: Strength & Durability
When it comes to overall strength and durability, maple triumphs.
Maple is a significantly stronger hardwood product than walnut. In fact, maple is one of the strongest and most durable natural wood options available. It holds up well resisting significant dents or dings.
We'll use the Janka hardness scale to show you. The Janka scale is used to measure the strength and hardness of various wood species, thus determining their resiliency to dents and scratches. The higher the rating, the harder the wood species is.
Maple has an impressive hardness rating of roughly 1450, while walnut measures at a still respectable 1010.
So what does this mean? If you were to put maple and walnut to the test to see how they would stand up against general dents and dings, maple would perform better.
Of course, if you're careful around your cabinets, this difference in strength may be negligible to you as a user. Walnut is still a strong and durable hardwood choice for any kitchen - but if you're concerned about damaging your cabinets, maple is the way to go.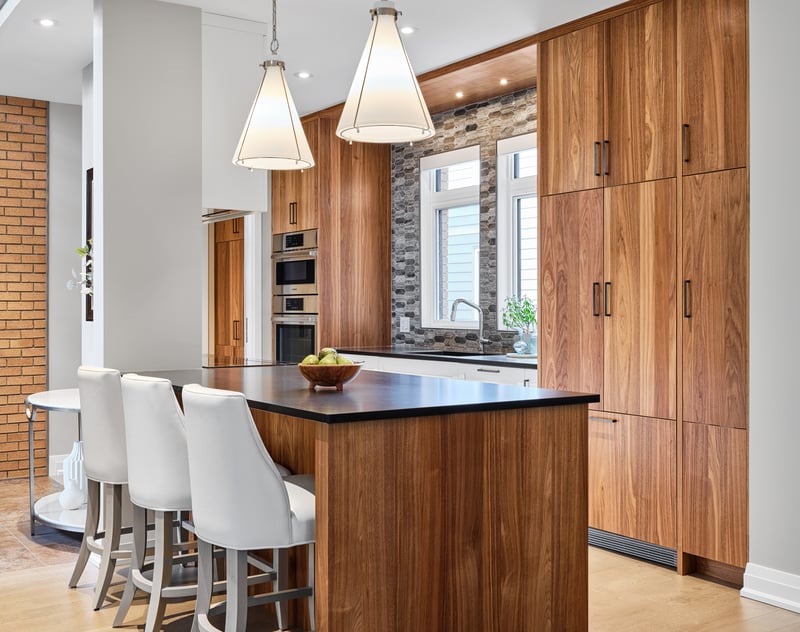 Maple vs. Walnut Cabinets: Finishing Options
The finish you intend on applying to your kitchen cabinets can have a big influence on what material you select.
If you desire a perfectly uniform painted cabinet, you'll want a wood species with a smooth surface. If a beautiful stain is what your kitchen needs, choosing the right cabinets will come down to the colour and grain patterning of the wood.
How you want to present maple and walnut with different finishes, like stains and paints (see our article comparing stained vs. painted cabinets), is often a big consideration in a homeowner's cabinet selection.
After all, when you're choosing your kitchen cabinets, it often comes down to an aesthetic decision.
Stains
Cabinets stains are a great choice for both maple and walnut cabinets to highlight the beautiful, natural character of each wood species' grain.
The beauty of stained natural wood is that you can go as light or as dark as you want: from a clear coat to almost a black. Take a look at these dark-stained maple cabinets: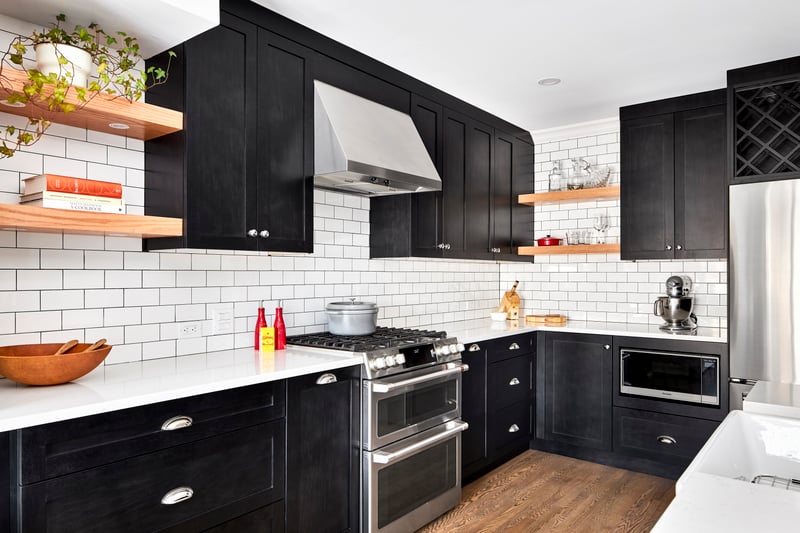 These cabinets have such a dark stain that from a distance, they almost appear to be painted. As you get closer, however, you see the subtle maple grain pattern emerge triumphantly.
The approach to staining maple wood is in contrast to that of walnut.
What might be surprising about a wood species like walnut is that you're actually less likely to apply a stain to them than you would with woods like maple or birch.
Rather, most people use a clear coat finish to enhance the rich, natural colour of walnut wood.
That's not to say walnut cabinets are never stained. Rather, walnut is prized for its natural appearance, and a clear coat or gentle stain is popularly utilized to accentuate that.
Paints
When it comes to natural wood species, maple is as good as it gets for painted cabinets. That's because maple is considered a premier paint-grade hardwood thanks to its low-key grain and uniform surface.
Walnut, on the other hand, is not commonly used for painted cabinets. As mentioned above, walnut wood is valued for its natural beauty. As such, you would not purchase new walnut cabinets to paint over their appearance. There are far better (and cheaper) materials to use for painted cabinetry.
If you want to paint your cabinets, you should know that all painted finishes require a high level of maintenance to prevent dings and dents. There are no underlying wood species that can protect your painted finish from damage 100%.
Also, since maple is a solid natural wood (and therefore, a living, breathing product), it will expand and contract with humidity changes.
Over time, that slow expansion and contraction will cause stress cracks in the paint wherever there are joints in the cabinet door.
All natural wood species are equally susceptible to cracks, as shown below: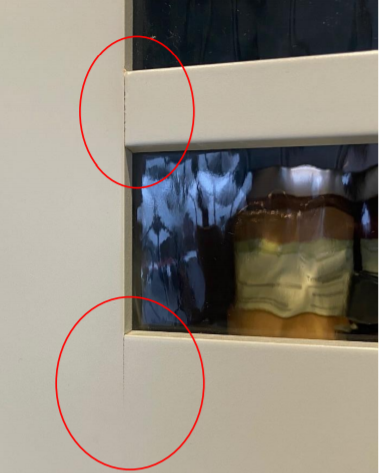 If you want to prevent cracks, choosing a non-hardwood material like MDF cabinets is your best bet.
Although the point of this article is to compare maple and walnut cabinets, we thought MDF was worth mentioning because it's an ideal product for painted finishes.
While not entirely impervious to cracking, MDF (medium-density fibreboard) is a manmade product formed by combining resins with different hardwood and softwood fibres. As a result, MDF is a more stable product than maple and walnut—meaning it's less likely to crack due to the natural occurrence of breathing.
If you want to see how MDF cabinets fare against natural wood, check out our Learning Centre page for our article on MDF vs. Natural Wood Cabinets!
Maple vs. Walnut Cabinets: Cost
Maple and walnut, while both premier wood species, can come at significantly different price points.
Maple will almost always be less expensive than walnut. That's because maple trees are grown all over North America and are much easier to source. Conversely, walnut is not as populous, which results in it being harder to source and more expensive.
However, cost is always dependent on the grade of the wood, market conditions, and manufacturer.
At Deslaurier, for example, our walnut selections can cost as much as 30% more than maple.
This, of course, is conditional on the type of finish applied to the cabinets. It will cost roughly 15% more for painted cabinets rather than stained. This is due to the increased labour involved in the painting process, as well as the cost that can come with high-end cabinet paints.
Ultimately, the cost of kitchen cabinets will fluctuate depending on both the material chosen and the finish that is applied.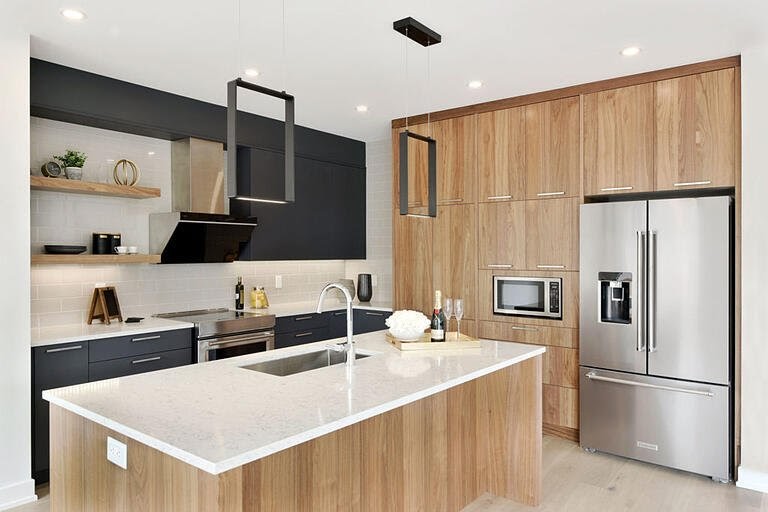 Maple vs. Walnut Cabinets: What's Right For Your Cabinets?
When choosing between maple wood and walnut, it ultimately comes down to your personal aesthetic preferences.
Since both options offer beautiful cabinets in their own unique style, it's up to you to decide which avenue suits your dream kitchen best.
If you desire a smooth surface, be it for a uniform painted finish or to adorn with a stain, then maple cabinets are the better choice. If you want your cabinets to display a rich, brown colour and strong horizontal grain, then you can't do better than walnut.
Ultimately, it's always important to consider your budget, your design style, and your lifestyle to choose the best cabinet wood species for your dream kitchen.
Discover Deslaurier Custom Cabinets
Want to inspect the differences of maple and walnut kitchen cabinets for yourself? Book a free consultation with a Deslaurier kitchen expert at our Jupiter, Florida showroom!
If you have your eye on custom cabinetry, Deslaurier Custom Cabinets has everything you need. With over 40 years of experience to our name, we provide our clients with a wholly customized design process with our talented team of designers.
Interested in becoming an authorized Deslaurier dealer? Visit our Become a Dealer page to learn more!
Live outside the area? Find a Dealer to connect with a Deslaurier dealer near you!