17/08/2021 • Blog
Top 5 Issues With Kitchen Cabinet Installation
You've completed your kitchen design and you're ready for cabinet installation.
At least, you think you're ready.
Our clients often ask us, "What problems can happen during cabinet installation that I should know about?". At Deslaurier Custom Cabinets, we're not afraid of tackling the tough questions. We want to educate our customers about the kitchen design process from start to finish, and that includes potential hiccups you might encounter along the way.
In this article, Field Service Supervisor Nathan Machan sits down with us to chat about the issues that can arise during the cabinet installation portion of a kitchen reno.
Let's get started!
Issue #1: The Installation Site Isn't Ready
Site readiness is key to a smooth, seamless install.
The biggest thing for a homeowner is preparation. Once they sign off on those drawings, they may not be starting the reno for another 2-3 months. If they're not thinking about electrical, plumbing, sanding, and priming, and they don't have a general contractor to take the lead, that can easily elongate the installation service. — Field Service Supervisor Nathan Machan
At Deslaurier, we give our clients a Kitchen Readiness Checklist that lists every action needed to get ready for installation day. Your cabinet supplier may or may not do this, so it's a good idea to ask your cabinet supplier what needs to be done in advance of your installation appointment.
This is especially true if you're hiring a professional to install pre-fabricated, stock cabinets. You want to make sure the worksite is ready so that the hired professional can begin working the moment they arrive. Otherwise, the installer loses time and you lose money.
Some examples of the types of things associated with site readiness that could delay your cabinet installation are:
There's not enough space for cabinet delivery.
Electrical/plumbing/ductwork are not in the right location.
There's not enough space for installers to cut cabinets.
Let's look at each of these problems individually and learn how to solve them.
There's Not Enough Space for Cabinet Delivery
If you've ordered semi-custom or custom cabinets, you need to prepare a large enough space for them on delivery day. In the reno industry, delivery doesn't usually happen the same day as installation. Your cabinets will need somewhere safe to stay for at least one day, if not longer.
A kitchen's cabinetry system, flat-packed into cardboard boxes, takes up more room than you might think! Plus, using your garage won't work as the temperature fluctuation could cause damage to the cabinets. Ideally, you'll have sufficient space indoors that's close to the kitchen. You'll also want to lay a protective covering over your floors and stairs.
If you don't have somewhere prepped for the cabinets to go, you run the risk of the delivery team having to return your order to the warehouse. If that happens, you'll have to reschedule your installation appointment, and your project will get delayed. Not to mention, there might be an additional charge for the rescheduled service—that depends on your supplier.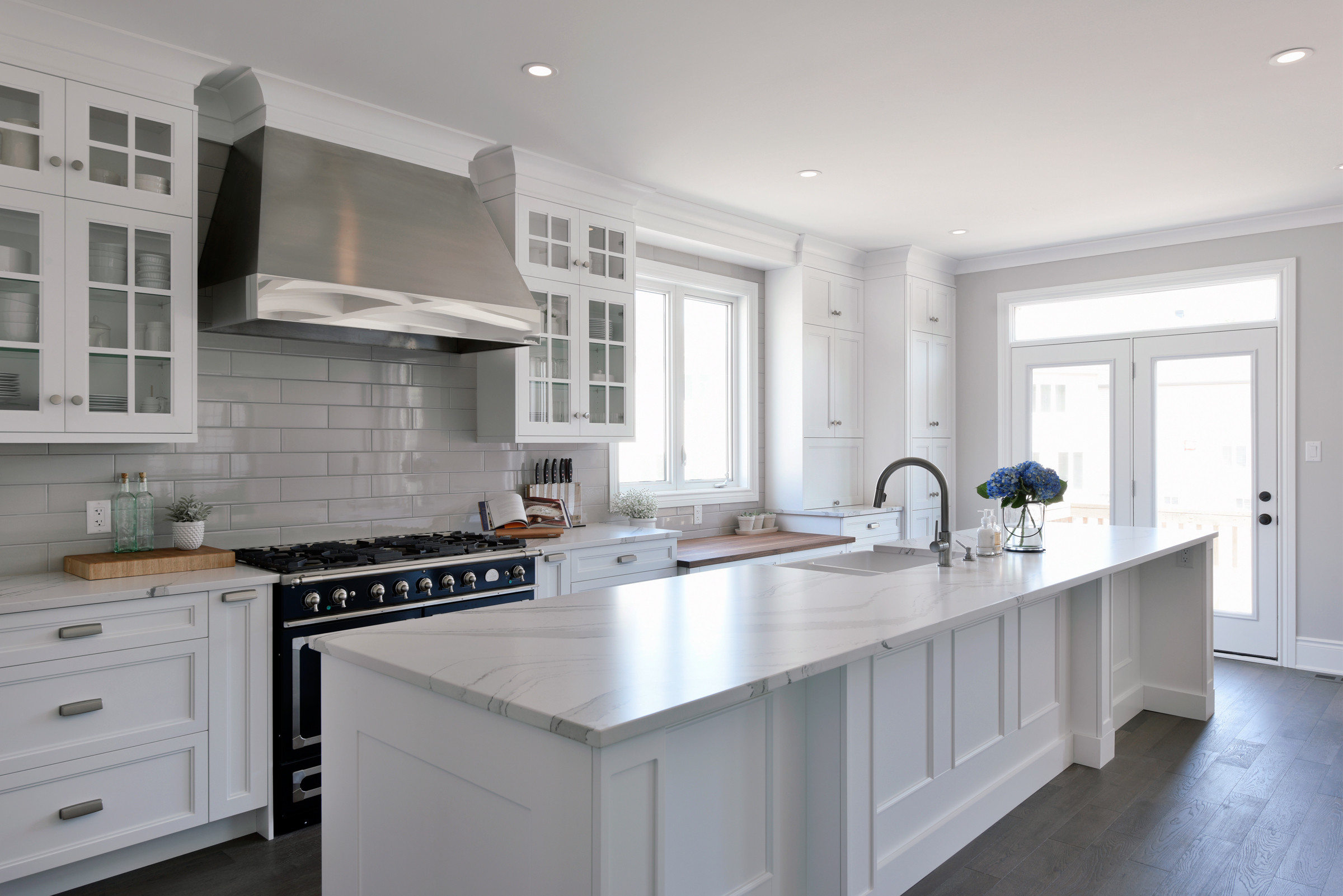 There's Not Enough Space for Installers to Cut Cabinets
Ideally, you want another clear area in close proximity to the site where installers can cut and modify cabinets with their power tools. If you own a house, this might not present a challenge. You can simply clear the furniture from the adjacent room, be it a dining room or a living room.
However, if you live on the 19th floor of a high rise, things get a little trickier. Sometimes, buildings like these have rules and you may only be permitted to use tools in a separate space, like the building's garage. If your installer needs to climb up and down 19 flights of stairs every time they need to cut off 1/16th of an inch, you can bet that back-and-forth will cause the job to take longer.
If you have a covered area like a porch outdoors, asking your installers to use the space outside can be a good solution. However, cutting outside will only work if the weather cooperates. A contractors' tools are their livelihood—having them out in the elements is not ideal for anybody. In fact, many contractors won't cut outside at all. So, if you're hoping to use an outdoor area, you'll need to check with your installation crew if that's okay ahead of time.
Electrical/Plumbing/Ductwork Aren't in the Right Location
All fixtures and hook-ups must be in the proper place before the cabinets go in. That means everything, including:
Heating/cooling ductwork
Plumbing
Electrician rough-ins



Without these utilities set up in advance, your cabinet installers won't be able to do much. Likely, they'll do what they can and then move on to the next job in their schedule. You might think that you can ask them to come back the next day, but the reality is that it's probably not that easy. Contractors have busy, back-to-back schedules. You don't know how soon they'll be able to return.
You don't want to send installers away, but you also don't want to schedule all these contractors to come in at the same time. A cabinet installation crew is usually 2-3 people. If you add 2 electricians and throw a plumber into the mix, you'll have 5-6 people fighting for space, and the time won't be productive for anyone.
You can easily delay your install by a day, or more, if your electrical, plumbing, and ductwork aren't done before your installers arrive.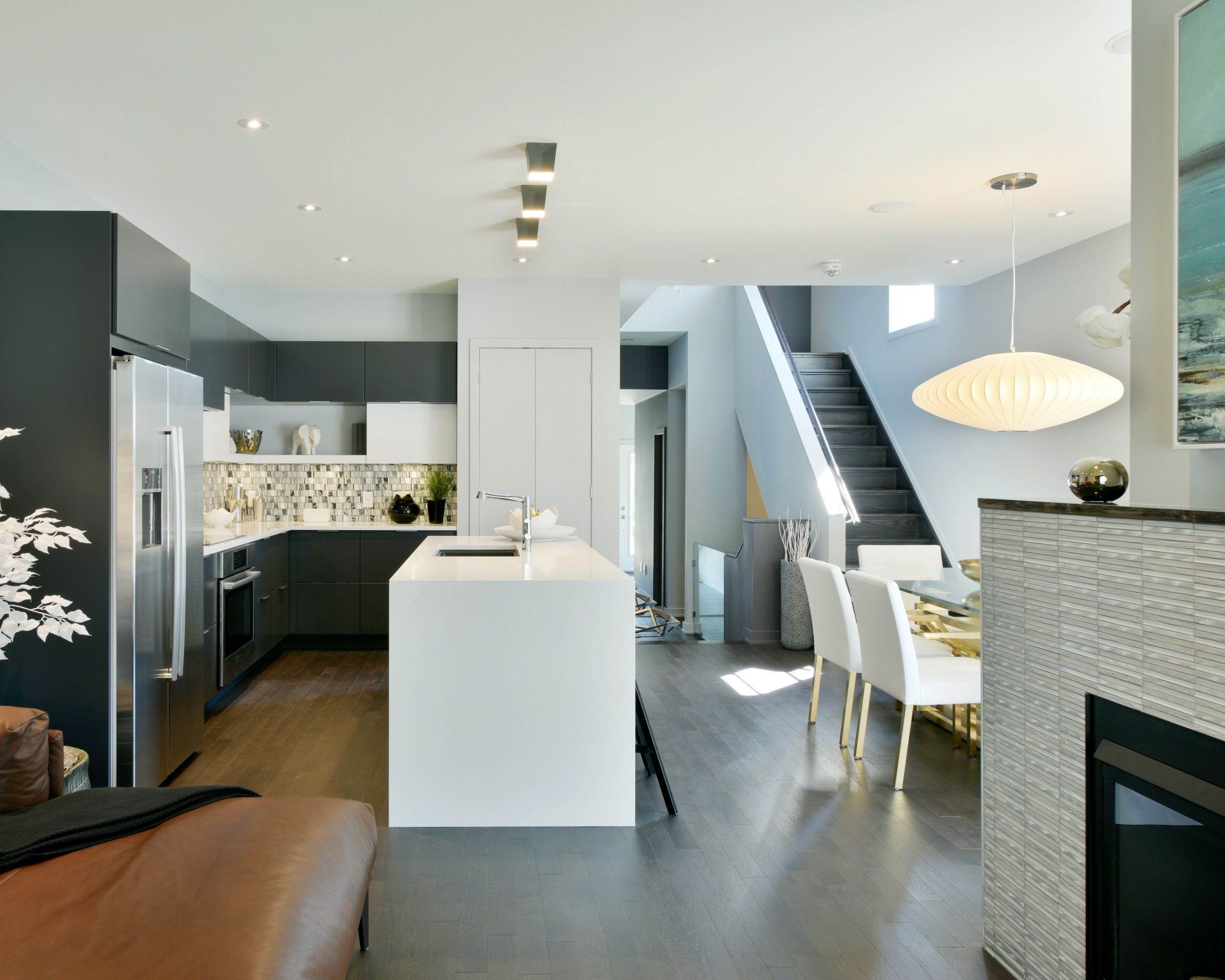 Issue #2: The Kitchen Cabinets Don't Fit
The second big issue that's possible during installation is that the extra-large cabinetry components won't fit in the space.
At Deslaurier, our installation fees are calculated based on a point system. The more boxes there are, the more points (ie. labour) is involved. For that reason, we often try to minimize the number of boxes in a delivery.
For example, a custom pantry can have up to 17 individual parts. In the interest of our clients' budget, instead of shipping 17 boxes and racking up a large point total, we might assemble that pantry in the factory and send it to the customer's home as one box.
Sometimes though, this cost-saving trick becomes problematic if the home in question has awkward nooks and crannies. For instance, some of the older homes in the Glebe, Ottawa have very narrow staircases that make carrying tall cabinets up a floor level pretty much impossible.
In scenarios like these, the installer will try a few tricks of the trade. Removing a toe kick might give just enough leeway to make something fit, for example. That being said, if all else fails and it's impossible to get the cabinetry where it needs to go, the only solution is to send it back to the plant to be carefully disassembled, flat packed into smaller pieces, and shipped back.
Naturally, sending cabinets back to the factory will postpone the completion of your project. If you're aware of any potential "problem areas" in your home, be sure to notify your supplier as early on in the design process as possible.
Issue #3: The Kitchen Isn't Level
Older homes settle over time, either because of faulty construction or house movement itself. The result is that floors and ceilings develop slopes. These slopes make it challenging to level cabinets.
On one occasion, Field Service Supervisor Nathan Machan worked on a project where the kitchen was out of level by over 2 inches over an 8-foot run. The cabinets were touching the floor at one end of the floor and had to be shimmed off the floor by 2 ½ inches at the other end to keep the cabinetry level.
Nathan Machan tells us that:
It's not only old homes that are affected by unlevel floors, walls, and ceilings. Even for new-builds, tolerances have relaxed in terms of what's allowed by a builder—walls are allowed to be out of level by a certain amount now. That's why applying mouldings has become more common in the kitchen renovation industry.
Now, having to apply mouldings or fillers is not necessarily an issue in and of itself. However, it can be a problem if you're unaware that your floor is unlevel and the extra products/labour/cost to level your cabinets comes as a surprise!
It's important that you (and your designer, if you have one) know the complete measurements of your space before ordering cabinetry. The more accurate you can be from the get-go, the more accurate your budget will be.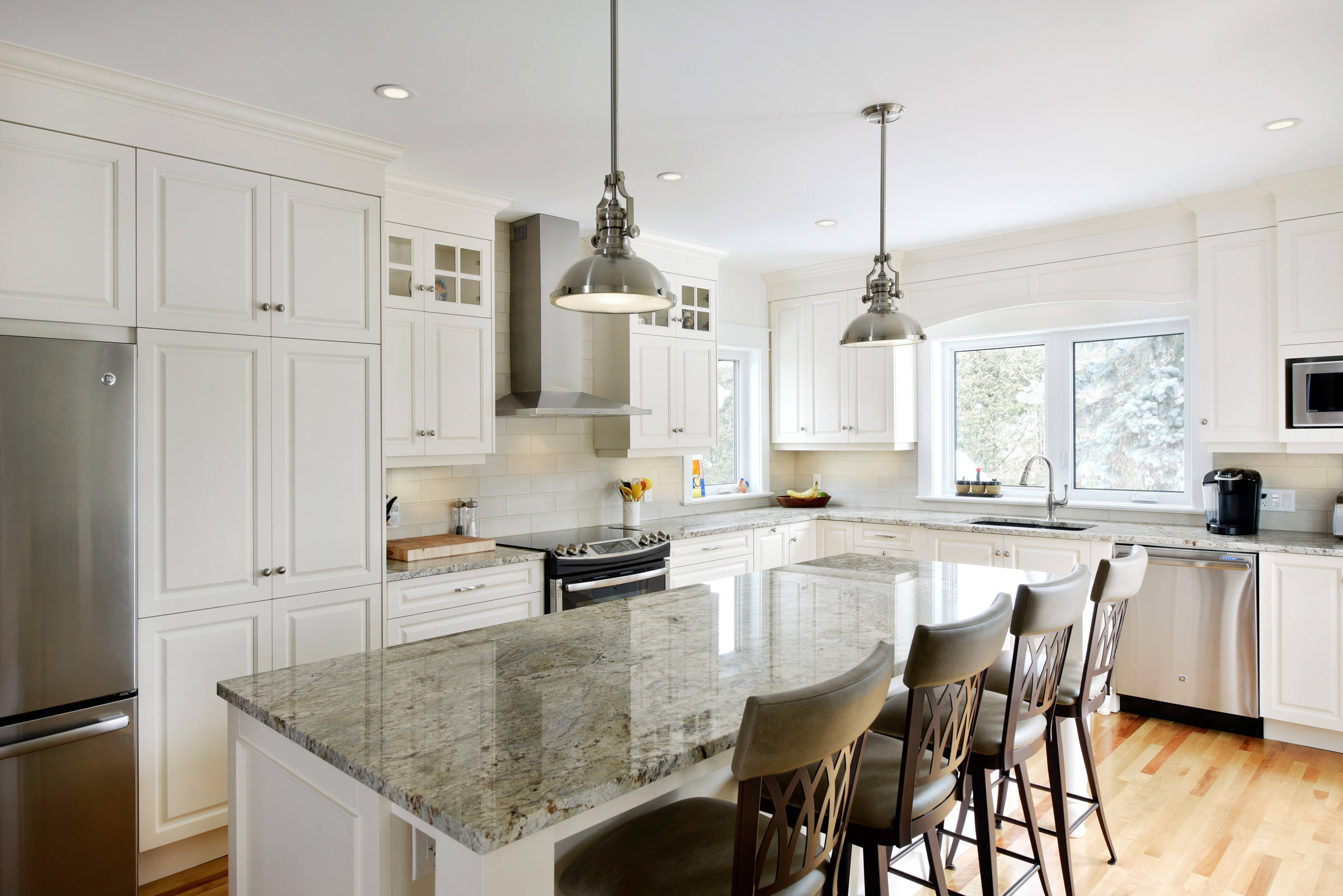 Issue #4: Kitchen Cabinet Damage Upon Delivery
Custom cabinet makers do their utmost to wrap and protect cabinets before shipping them. Despite this, it's impossible to avoid the risk of transit damage completely. To get from point A to point B, your cabinet boxes travel long distances and touch many hands.
It's good to be aware that there may be minor damage and marks on your cabinets when they arrive.
At Deslaurier, our team will thoroughly inspect each cabinet and repair or replace the defective items. If a defective product is required to complete another part of the install, such as countertop installation, Deslaurier will flag it as an HPI (high-priority item) to get it fixed as soon as possible and prevent stalling the project. However, that may not be the policy with other suppliers.
Familiarize yourself with your cabinet maker's warranty and installation procedures so that you have an idea of what will happen if your cabinets sustain damage in transit. Follow the link to read more about Deslaurier's warranty.
Another word to the wise: try not to open your cabinet boxes before your installers do! It may be tempting to take a sneak peek at your new kitchen, but it's not worth mishandling a product and causing cabinet damage by accident.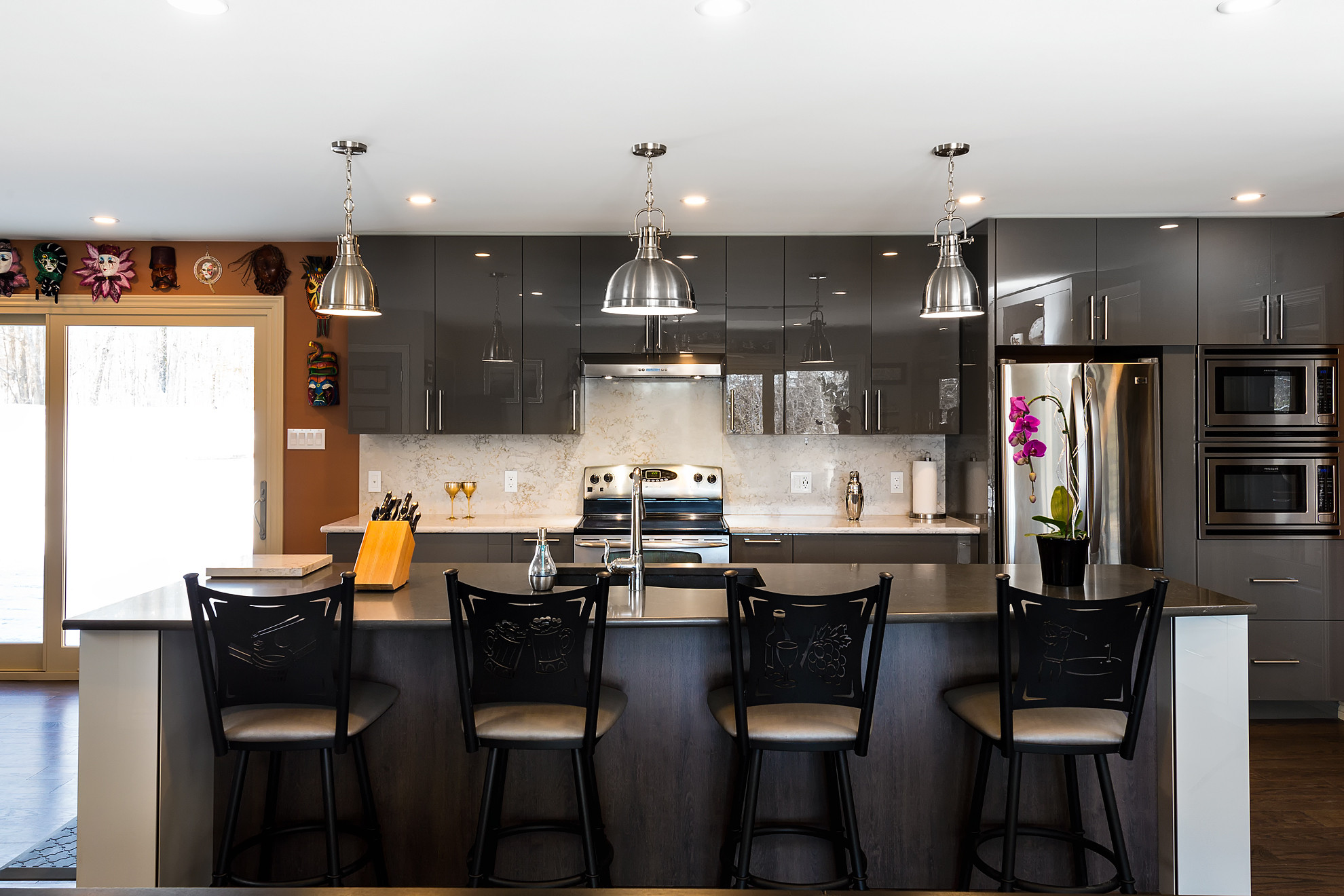 Issue #5: Residual Dust From Cabinet Installation
Last but not least, the fifth installation issue on our list is residual dust.
If you're getting cabinets installed, there will be dust. There's no way around it.
That being said, there could be more or less dust depending on the way your installers work. For instance, at Deslaurier, we order and manufacture cabinets slightly oversized so that when our installers are on site, they can cut the cabinets for a clean, tight fit. Of course, this method does produce dust. We do our best to contain it and clean up after the job, but inevitably, residual dust is a messy reality that comes with the job.
Other installers may not perform installation this way. Some cabinet makers order and manufacture cabinets to size, and if there are unexpected or unforeseen gaps, there are gaps.
Get to know your installer's process so that you know what to expect. Either way, being prepared with a high-quality vacuum will go a long way!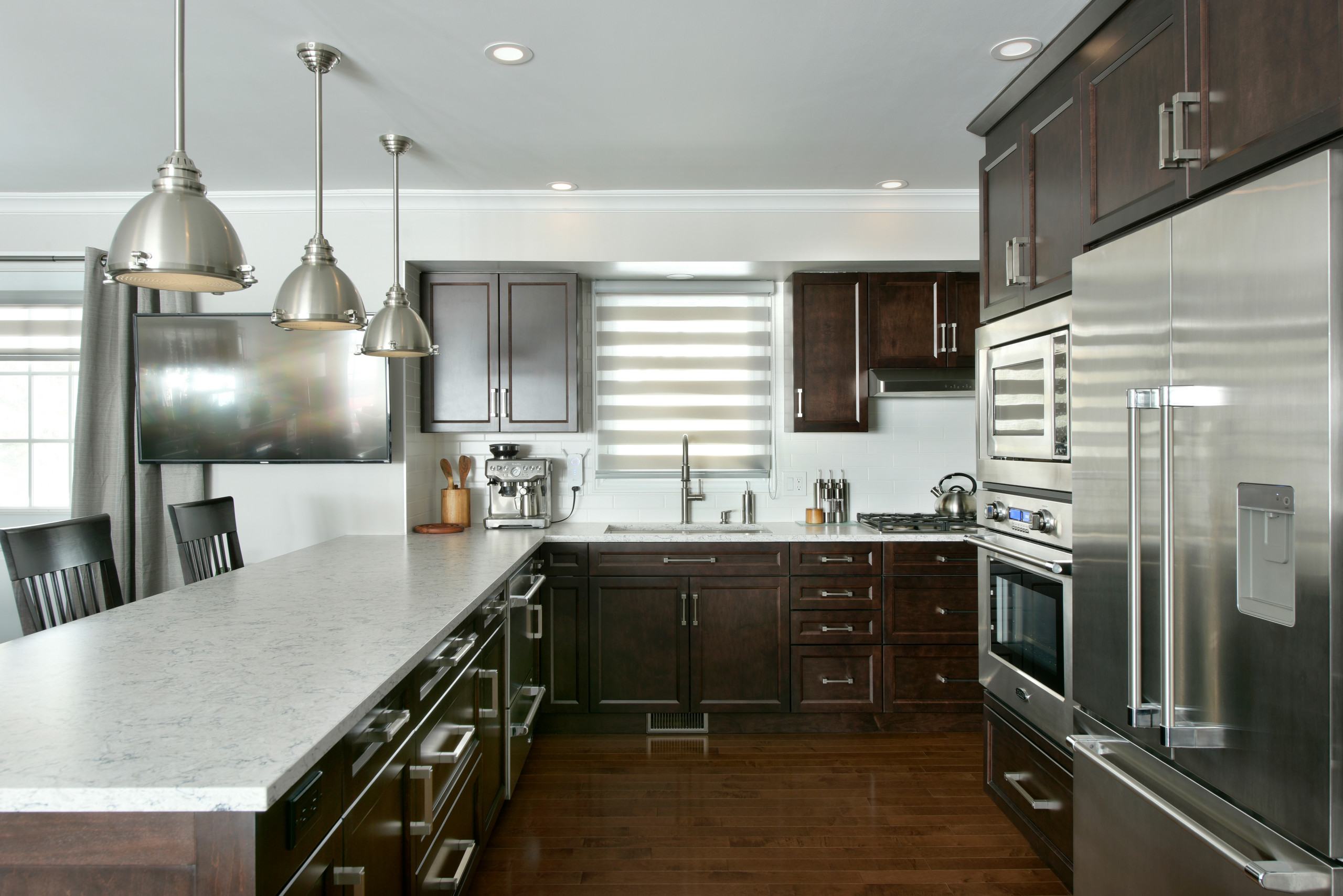 Design With Deslaurier
If you're planning a kitchen renovation, you want to be prepared for whatever comes your way. We understand that. Deslaurier Custom Cabinets is on a mission to help homeowners like you build their dream kitchen. Our online Learning Centre is chock-full of informative articles that cover every kitchen reno-related topic out there—click the link to start reading!
If you'd like to speak with a kitchen designer in Jupiter, FL, book a free consultation. Interested in becoming an authorized Deslaurier dealer in Florida? Connect with us on our Become a Dealer page!
Related Links: