29/04/2022 • Blog
Top 7 Kitchen Cabinet Manufacturers in Ontario, Canada
Estimated Read Time: 4 Minutes
If you're a builder looking for a reputable, high-quality cabinet supplier in Ontario, you've come to the right place.
At Deslaurier, we're experts in all things custom cabinetry. We work in-depth with our clients to ensure that they receive high-quality, beautiful custom cabinets for their kitchen design. Not only do we provide custom cabinetry for private homes and kitchen renovations, we also manufacture and supply cabinets for commercial and volume builders as well.
But with that being said, we realize that we aren't always the right choice for everyone.
Being based out of Ottawa and Renfrew, we're familiar with multiple other cabinet manufacturers and suppliers throughout Ontario. Wherever you are in Ontario, there's a cabinet manufacturer available for your needs.
We have put together a list of the 7 best cabinet suppliers in Ontario, Canada. We hope this article helps you determine which cabinet manufacturer is the best for your project.

Let's get started!
1. Brampton Kitchen & Cabinets
Brampton Kitchen & Cabinets LTD is a cabinet manufacturer located in Brampton and serves all of Southern Ontario.
Founded in 1989, Brampton Kitchen & Cabinets has been designing and manufacturing custom cabinets for over 30 years.
Their 25,000 sq. ft. manufacturing facility is located with their main showroom in Brampton.
Brampton Kitchen & Cabinets hold a 4.4-star Google rating from 155 reviews.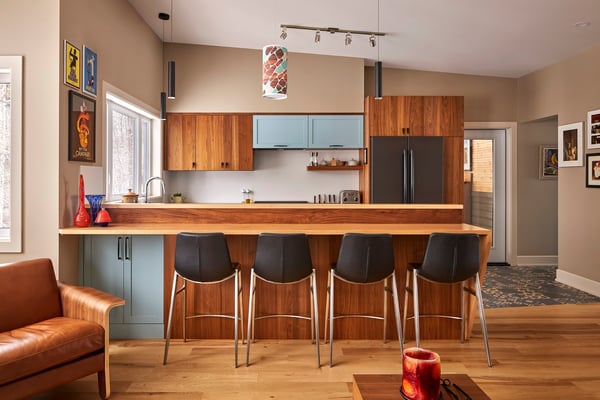 2. Cabinetsmith
Since 2007, Cabinetsmith has been the cabinet manufacturing division of CanSave, a building materials distributor for over 40 years. Located in Barrie, Ontario, Cabinetsmith's focus is on providing quality and affordable cabinets.
Cabinetsmith does not sell to the public. However, their website provides a dealer portal, as well as where to buy Cabinetsmith cabinets near you.
They hold a 3.8-rating from 27 google reviews.
Looking for a custom cabinet manufacturer in the Ottawa, Ontario region? Deslaurier Custom Cabinets has got you covered. Book a free consultation with a Deslaurier kitchen expert today. Or, visit our Builder Page to partner with us!
3. Chervin Kitchen & Bath
Chervin Kitchen & Bath has been designing, manufacturing, and installing custom cabinetry since 1991. 70,000 square foot manufacturing facility in Hawkesville.
The company showrooms are located in Waterloo, Muskoka, and Oakville, Ontario.
As well, Chervin has installation teams with each showroom in Waterloo, Muskoka, and the GTA.
Chervin has a 4.5/5 rating on Facebook from 29 reviews.
4. Downsview Kitchens
Downsview Kitchens is a kitchen design and cabinet manufacturer founded in 1967. They are family-owned and operated with over 50 showrooms in Canada and the USA.
Downsview Kitchens utilizes upwards of 300,000 sq. ft. of manufacturing space and has a team of over 200 employees.
Their head office is located in Mississauga, with 5 showroom locations in Ontario: Ottawa, Kingston, Hamilton, and 2 in the Greater Toronto Area (GTA)
To find a location near you, check out their showroom page on their website.
Downsview Kitchens carries an 8.3/10 rating on HomeStars.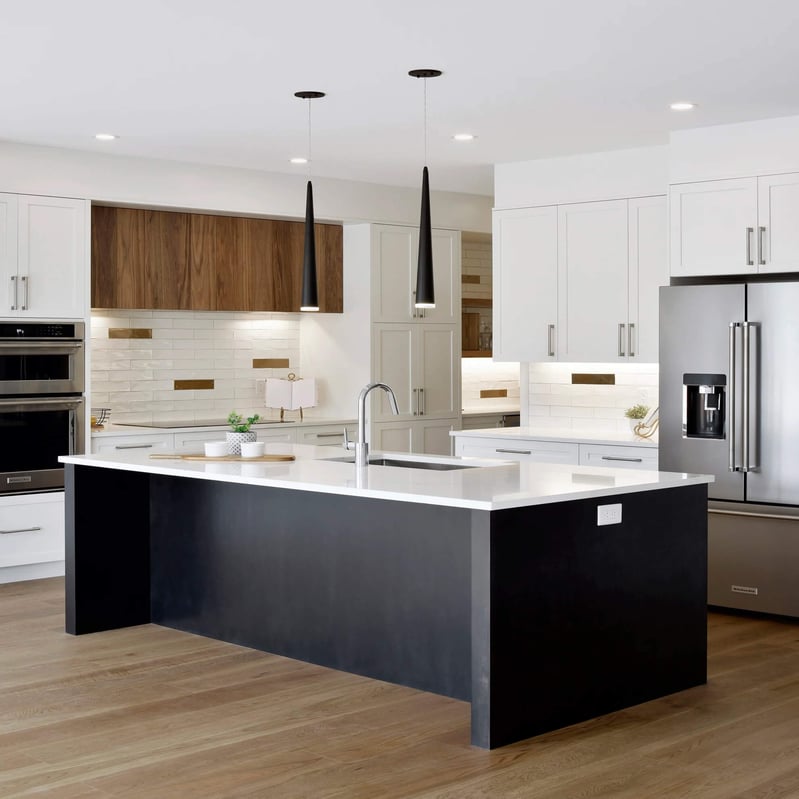 5. GCW Custom Kitchens & Cabinets
GCW Custom Kitchens & Cabinets is a custom cabinet manufacturer that services Southern Ontario.
They have an 82,000 sq. ft. manufacturing plant and showroom located in St. Thomas, as well as an additional showroom in London, Ontario.
The GCW website even provides a 360-degree virtual tour of their St. Thomas showroom!
They have 4 out of 5 stars from 16 Houzz reviews.
6. La Cuisine Kitchen Cabinets Inc.
La Cuisine Kitchen Cabinets Inc. is a cabinet supplier located in Sudbury, Ontario. Serving Northern Ontario, La Cuisine Kitchens works with residential, commercial, and multi-unit complexes.
La Cuisine has a 3,000 sq. ft. showroom, and they also have their own manufacturing division under Marona Kitchen Mfg. Inc. with a 20,000 sq. ft. facility
Their website provides videos of their manufacturing facility as well as a look into their production methods.
La Cuisine holds a 4.4/5 rating from 21 Facebook reviews.
7. Paris Kitchens
Paris Kitchens is a cabinet manufacturer and a division of the Sanderson-Harold Company. Originally an ice-box refrigerator company started in 1902, Paris Kitchens has grown into a custom cabinet manufacturer that focuses primarily on the luxury kitchen market.
Paris Kitchens operates their head office out of Richmond Hill, Ontario, while its production is located at a 145,000 sq. ft. manufacturing facility in Paris, Ontario.
Paris Kitchens provides their builder and dealer clients with cabinets and kitchen design specialists.
Discover Deslaurier Custom Cabinets
At Deslaurier Custom Cabinets, we've been proudly owned and operated in Ottawa and Renfrew, Ontario for over 40 years. We pride ourselves on our service and commitment to both builder and retail clients.
Whether you build volume, custom, or anywhere in between, we can handle your project. Visit our Builder Page to get started today!
If you have your eye on custom cabinetry, Deslaurier Custom Cabinets has everything you need. With over 70 different door styles, hundreds of stains and paints, and various wood species to choose from, the Deslaurier catalogue offers the potential to create thousands of unique cabinet configurations.
With over 40 years of experience to our name, we provide our clients with a fully customized design process with our talented team of designers. Book a free consultation with a Deslaurier kitchen expert at our Jupiter, Florida showroom!

Interested in becoming an authorized Deslaurier dealer? Visit our Become a Dealer page to learn more! Live outside the area? Find a Dealer to connect with a Deslaurier dealer near you!