15/05/2023 • Blog, Comparisons
Walk-In vs. Butler Pantry: Which Style is Right for Your Kitchen?
Estimated Read Time: 7 Minutes
In today's modern world, you're sure to have heard the kitchen referred to as "the heart of the home," a place where family and friends gather to cook, socialize, and spend quality time together.
With this evolution, kitchen design has also undergone a transformation. Homeowners are increasingly seeking out specialized storage spaces to make their kitchens more functional and efficient.
The solution? Pantries!
But not all pantries are the same. Some specialize in food storage while others offer a unique space where storage and function intersect.
Two of the most popular styles of kitchen pantry are walk-in and butler.
At Deslaurier, we have over 40 years of experience manufacturing custom cabinets and offering kitchen design services. Whether it's a walk-in or a butler style, we know how beneficial a kitchen pantry can be to any home.
This article will compare walk-in pantries and butler pantries; taking a look at two unique storage units to help you determine which solution is right for your home!
Let's get started!
What is a Walk-In Pantry?
A walk-in pantry is a separate room within a home – typically attached or next to the kitchen – that is dedicated to storing food, kitchen supplies, and other household items.
Essentially, it's a food storage area that you can walk into! The space is often larger than a traditional pantry and can accommodate more items.
An average size walk-in pantry is usually around 4 or 5 feet wide and 4 or 5 feet deep. This offers plenty of room for shelving while still providing space to move around in.
Some walk-in pantries are much larger or smaller than that. It all depends on the size of the home and the space available for a walk-in pantry.
Walk-in pantries will normally be equipped with shelves, cabinets, or other storage solutions that are designed to make it easy to organize and access items.
What is a Butler Pantry?
The butler pantry has undergone somewhat of a resurgence in recent decades, becoming a sought-after feature in many contemporary homes.
Today, butler pantries are more commonly used as a storage area and an extension of the kitchen.
Rather than being their own room – what we now know as a walk-in pantry – modern butler pantries are typically located in transitional spaces next to a kitchen or between the kitchen and dining room.
A more elaborate butler pantry may include features such as a sink, countertop space, and a refrigerator or wine cooler.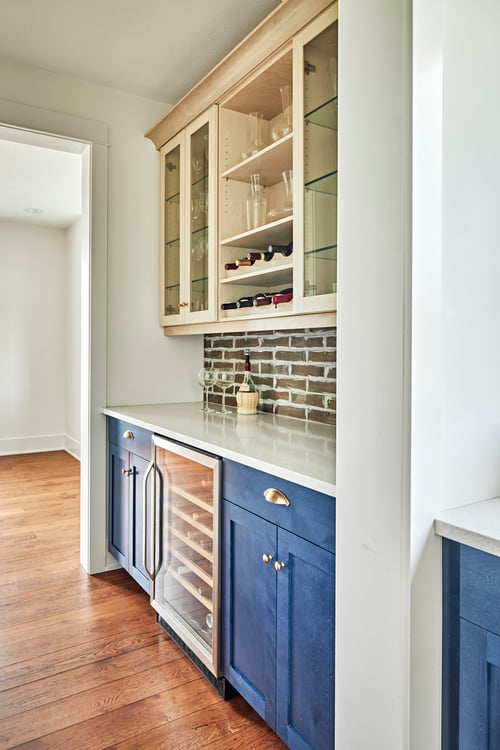 Some benefits of a butler's pantry can include how it provides a separate area to prepare food, allowing the kitchen to remain clean and clutter-free during meal preparation and service.
This not only streamlines the cooking process but also allows the host to present the food in an organized and elegant manner.
If you enjoy entertaining guests, a butler's pantry can offer a sense of privacy and exclusivity during entertaining. It provides a space for the host to retreat and attend to the needs of their guests without being in the midst of the social gathering.
It can also be designed with luxurious finishes, such as custom cabinetry, high-end appliances, and beautiful lighting, making it a stylish and functional feature that adds value to any home.
Function
Both pantry styles may share a lot of similarities, including in name, but they aren't necessarily interchangeable with one another.
While both walk-in pantries and butler pantries provide additional storage and organization, they differ in their purpose and function.
A walk-in pantry is primarily used for food storage, while a butler pantry is designed for ulterior purposes.
You wouldn't use a butler pantry for your primary food storage the way you would a traditional pantry.
A butler pantry offers plenty of versatility and can function as a stylish feature for entertaining guests. They're highly multi-functional and often feature elements of a home bar, coffee station, or even both!
Storage Capacity
The primary focus of traditional pantries is centred around their storage capacity. This is where the spacious design of a walk-in pantry far surpasses the capabilities of a butler pantry.
Relatively speaking, walk-in pantries have the most possible storage area. It's all dependent on the size of the space available, but typically a walk-in pantry will provide more than enough room.
Walk-in pantry shelving can be entirely open – with no cabinet boxes or frame to get in the way – allowing for maximum storage and easy organization. You can even keep larger items on the floor below the first shelf!
Deeper walk-in pantries can provide more than enough room for something like a freestanding freezer. This is a great spot for a household with a separate fridge and freezer, or for an additional freezer to keep any overflow of frozen food.
Unlike traditional pantries that are used primarily for food storage, a butler pantry is utilized more for excess cooking and serving items from the kitchen or dining room.
For that, the right style of storage, rather than the overall amount, is a vital design consideration. Floating shelves or glass-door cabinets are the perfect solutions for keeping your beautiful dinnerware or wine glasses on display.
As with any other part of the house, drawers remain key when it comes to base-cabinet storage.
Deep base-cabinet drawers can be a great place to keep larger specialty items such as punch bowls and serving trays or any spare kitchen countertop appliances like blenders, toasters or tea kettles.
Top drawers offer easy access to accessories such as corkscrews and bottle openers or placemats and decorative napkins.
If your kitchen storage is reaching capacity, the additional cabinet room of a butler pantry is a great place to store seasonal items like Christmas-themed dishes and linens too.
Style Design
While storage is priority number one for a pantry, it's also important to create a design you love!
Walk-in pantries can be customized with flooring, lighting, and other features to create a space that is both functional and visually appealing.
Whether they match your kitchen is up to you. After all, a walk-in pantry is its own room, so don't hesitate to get creative.
Some more extravagant walk-in pantries might include countertops and backsplash, or even a sliding ladder unit!
Since butler pantries are installed out in the open, their visual design is much more important.
Whether your butler pantry is next to your kitchen or off on its own, it allows you to get creative and differentiate from the rest of your kitchen's design.
You can keep the same foundational cabinet elements – such as door style and crown mouldings – as in the kitchen, or differentiate them entirely if your butler pantry is outside the main kitchen area.
Aside from that, it's great to mix it up and add or change features to make the butler pantry its own unique space.
Maybe you add a new paint colour to the cabinets or incorporate a wood tone that isn't included in your kitchen. Even changing the cabinet handles – something that might sound insignificant – can have a big impact on cultivating a sense of individuality for your butler pantry.
Differentiating the countertop or backsplash is also a go-to move to create visual distinctiveness. If your kitchen has granite countertops, use a quartz surface in your butler pantry. While you're at it, why not add an expressive mosaic backsplash as well?
Having that freedom to personalize the space is part of what makes a butler pantry so fun to design!
Cost
Determining the cost of a pantry can be very tricky. Particularly when discussing two distinctly different styles such as walk-in and butler, both of which are often customized in a variety of ways.
Obviously, walk-in pantries require extra room to be available in your home's floor plan in order to fit them in. Add to that the additional wall paint, lighting, and flooring materials and expenses can pile up fast.
However, when it comes to installing the actual pantry, walk-ins can have a wide range of pricing, depending on the storage solution you choose to include.
The average walk-in pantry shelves are typically made with cost-effective materials like melamine or raw MDF. They don't even need to have an aesthetically pleasing finish to them.
Now, if you opt for cabinetry or finished shelving in your walk-in pantry, that's going to cost a fair bit more than standard melamine shelves. Not to mention if you're planning on customizing your walk-in pantry to the nines with countertops and backsplash, it's going to be even more expensive.
Butler pantries certainly aren't cheap, either.
A pantry unit with custom cabinets will easily cost thousands of dollars, even more so when using deeper cabinet boxes.
That's just the cabinetry alone. Including any cabinet accessories or decorative storage like floating shelves and glass-door cabinets will further increase the overall cost.
Further customizing it to function as a home bar or coffee station will also add to expenses with anything from a beverage fridge to countertops and backsplash.
When it comes to cost, a butler pantry is typically more expensive than a walk-in pantry due to the added features and design elements. However, a butler pantry can add significant value to your home, making it a worthwhile investment.
What's Right for Your Home?
The decision to include a walk-in pantry or butler pantry in your home ultimately depends on your lifestyle and entertaining needs.
If you prioritize storage and organization, a walk-in pantry may be the better option. You'll have ample space to keep food and any excess kitchen items.
If you frequently entertain guests or want to create a multi-purpose area that can function as a coffee station in the morning and a home bar at night, a butler pantry may be a more practical choice.
Whichever option you choose, both pantry styles can provide significant benefits including increased storage space, organization, and added value to your home.
Design with Deslaurier Custom Cabinets
As you can see, there are plenty of benefits to both a walk-in pantry and a butler pantry. We hope this article helped you understand which pantry solution is right for your new kitchen design.
If you're in the market for custom cabinets and kitchen design, Deslaurier Custom Cabinets has everything you need! With over 40 years of experience in our name, we provide our clients with a fully customized design process with our talented team of designers.
Book a consultation today with a Deslaurier design expert at our Jupiter, Florida Showroom or schedule a virtual meeting!

Live outside the area? Find a Dealer to connect with near you! Interested in becoming an authorized Deslaurier dealer? Visit our Become a Dealer page to learn more!