Estimated Read Time: 6 Minutes
While the term "Butler Pantry" may be outdated and with its bourgeoisie overtones, including one in your home can be a difference-maker when it comes to kitchen storage and entertaining guests.
Contemporary butler pantries add unique flexibility to your kitchen's design and function. With so many things to consider, knowing what to include in your butler pantry can be a difficult challenge.
We're here to help!
At Deslaurier, we have over 40 years of experience manufacturing custom cabinets and offering kitchen design services. We know how beneficial a butler pantry can be to any home. And it all starts with the design.
With that, let's take a look at the iconic butler pantry, as well as several tips to help you create the perfect butler pantry for your home!
Let's get started!
History of the Butler Pantry
A butler pantry is a small room or alcove located adjacent to a dining room or kitchen.
In the Victorian Era, they were typically used for storing and preparing serving items such as silverware, china, and glassware.
A butler's pantry or serving pantry was a utility room in a large house, primarily used to store serving items, rather than food. Traditionally, a butler's pantry was also used for the cleaning, counting, and storage of silver.
Strangely enough, European butlers often slept in the pantry, as their job was to keep the silver under lock and key. The room would be used by the butler and other domestic staff; it is often simply referred to as a butler's pantry even in households where there is no butler.
Modern Butler Pantries
The butler pantry has undergone somewhat of a resurgence in recent decades, becoming a sought-after feature in many contemporary homes.
Today, butler pantries are more commonly used as a storage area and an extension of the kitchen.
Rather than being their own room – what we now know as a walk-in pantry – modern butler pantries are typically located in transitional spaces next to a kitchen or between kitchens and dining rooms.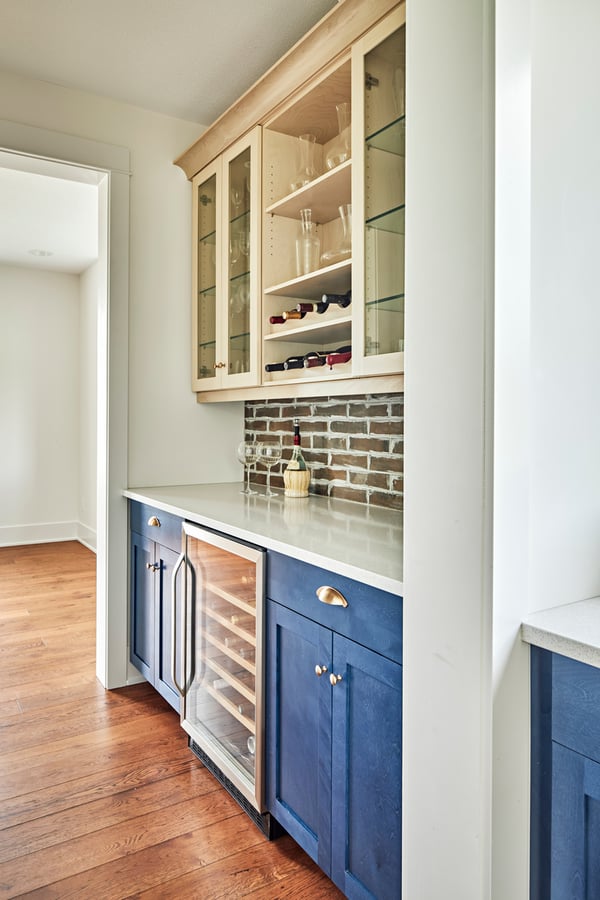 They're highly multi-functional as well, often featuring elements of a home bar, a coffee station, or both!
A more elaborate butler pantry may include features such as a sink, countertop space, and a refrigerator or wine cooler.
Utilize Extra Storage
Unlike traditional pantries that are used primarily for food storage, a butler pantry is utilized more for excess items from the kitchen or dining room. For that, adequate storage is a vital design consideration.
As with any other part of the house, drawers remain key when it comes to cabinet storage.
Deep base-cabinet drawers can be a great place to keep larger specialty items such as punch bowls and serving trays or any spare kitchen countertop appliances like blenders, toasters or tea kettles.
Top drawers offer easy access to accessories such as corkscrews and bottle openers or placemats and decorative napkins.
If your kitchen is full of capacity, the additional cabinet storage of a butler pantry is a great place to store seasonal items like Christmas-themed dishes and linens too.
Add a Fridge
If you're serious about your beer or cocktail game, a fridge is a non-negotiable in your butler pantry. From IPAs to espresso martini ingredients, keep everything perfectly chilled and organized for your next party.
A fridge in your butler pantry can serve multiple purposes beyond just keeping your drinks cold. It's also a convenient spot to store fruit, cheese, and other items needed for preparing delicious charcuterie boards and other appetizers.
All the better if the fridge has a built-in ice maker or freezer component!
If you're a wine aficionado, you could also consider implementing a wine fridge over a traditional bar fridge. Whichever suits your lifestyle!
Beer fridge, wine fridge, general beverage fridge, whichever fridge you prefer you can seamlessly integrate them within your base cabinetry as a built-in appliance!
Include a Sink
If your butler pantry has a fridge, you might also want to add a small prep sink.
Including a sink in a butler pantry is always dependent on the homeowner and their budget. It's an expensive addition to an already expensive feature in the home. You'll need to install the appropriate plumbing on top of the cost of the actual sink.
If you'd like to learn more about how much this type of addition would cost.
For pantries located within the kitchen area, a sink is not always a necessary item to include.
But, if you plan on using your butler pantry for prep work, you'd be more inclined to want a sink in the direct vicinity. In that case, installing a prep sink makes a lot of sense!
It allows you a confined area for prep and clean-up, to wash glasses, and a water source to wipe down any countertop messes. It also helps steer people away from overcrowding the main kitchen sink.
Get Creative with the Design
Whether your butler pantry is next to your kitchen or off on its own, it allows you to get creative and differentiate from your kitchen's design.
For the most part, foundational cabinet design elements – door style, crown mouldings, etc. – will remain the same as in the kitchen. Aside from that, it's great to mix it up and add or change features to make the butler pantry its own unique space.
Maybe you add a new paint colour to the cabinets or incorporate a wood tone that isn't included in your kitchen. Even changing the cabinet handles – something that might sound insignificant – can have a big impact on cultivating a sense of individuality for your butler pantry.
Differentiating the countertop or backsplash is also a go-to move to create visual distinctiveness. If your kitchen has granite countertops, use a quartz surface in your butler pantry. While you're at it, why not add an expressive mosaic backsplash as well?
Having that freedom to personalize the space is part of what makes a butler pantry so fun to design!
Add Some Open Shelves
Typically, the butler pantry is stationed off to the side, on its own, in a somewhat cramped area.
Floating shelves are a smart design choice for a smaller butler pantry or walk-in pantry, as they create a sense of openness and visual space. Not only do they provide easy access to frequently used items, but they also maximize upper-wall storage space.
Further, one of the most endearing qualities of shelving is the visual appeal of presenting beautiful objects and ornamentation. If you are a very tidy, organized person, your space will thrive with open shelves.
If you have a liquor or wine bottle collection, floating shelves are a must-have. Not only are they great for displaying your bottles and glassware, but they offer easy access whenever it's time to prepare a drink.
They're not just for traditional bar use, either. If you've equipped a coffee station in your butler pantry, you'll have plenty of fun and endearing items to present!
Shelves let you display your collection of coffee and tea mugs, or show off your unique homemade coffee accessories.
Include Task Lighting
Including under-cabinet lighting is a borderline necessity for any type of prep or cleanup area.
It's the most effective and convenient form of task lighting for any work surface, whether it's in the kitchen, home office, or butler pantry.
The puck lights install right inside a cabinet or shelf, and their lighting is subtle enough to offer surface task lighting without being overwhelming.
They can also be hidden in plain sight using recessed cabinets, valances, or coverboards; blending in seamlessly with your overall design!
Visit our Learning Centre to discover how you can incorporate under-cabinet lighting into your butler pantry!
Design with Deslaurier Custom Cabinets
As you can see, the versatility of modern-day butler pantries truly knows no bounds. We hope this article provided you with inspiration for your future butler pantry, whether with unique bar ideas or open shelves.
If you're in the market for custom cabinets and kitchen design, Deslaurier Custom Cabinets has everything you need! With over 40 years of experience in our name, we provide our clients with a fully customized design process with our talented team of designers.
Book a consultation today with a Deslaurier design expert at our Ottawa Showroom or schedule a virtual meeting!

Live outside the area? Find a Dealer to connect with near you! Interested in becoming an authorized Deslaurier dealer? Visit our Become a Dealer page to learn more!