Estimated Read Time: 6 Minutes
Proper lighting is one of the most unheralded aspects of a successful kitchen design. Effective lighting allows you to cook, clean, and entertain with ease.
With so many different ways to incorporate lighting in your kitchen, we wanted to focus on the importance of under-cabinet lighting.
At Deslaurier, we specialize in all things custom cabinets and kitchen design. While we don't install the lighting ourselves – you'll need a certified electrician for that – we have designed numerous kitchens that include various forms of under-cabinet lighting.
Deslaurier Designer, Amelia Mathieson, provides her expert insight on the ins and outs of under-cabinet lighting; from the ways it can be concealed, to what expenses are associated with it.
Let's get started!

What is Under Cabinet Lighting?
Under cabinet lighting is lighting that is installed on the underside of upper cabinets to shine down onto a countertop. They provide "task lighting" for kitchen surfaces that might otherwise be shaded.
Task lighting focuses on a specific area – in this case, the kitchen countertops beneath upper cabinets – to provide targeted illumination. Task lighting is extremely beneficial for older homeowners with declining eyesight, people with poor vision, or anyone that could benefit from extra lighting while working in the kitchen.
What's great about under cabinet lighting is that its primary purpose isn't for style so much as it is for overall kitchen function. That means under cabinet lighting can be implemented in any type of kitchen design, from traditional to modern.
2 Main Types of Under Cabinet Lighting
We'll focus on the two main styles of under cabinet lighting: strip lights and puck lights.
1. Under Cabinet Strip Lighting
Strip (or bar) lighting is a popular style of under cabinet lighting. Striplights are long, thin fixtures with several bulbs inside. They're ideal if you're looking for something to provide an even lighting distribution for your countertops.
Here is exposed striplighting attached to the underside of a floating shelf: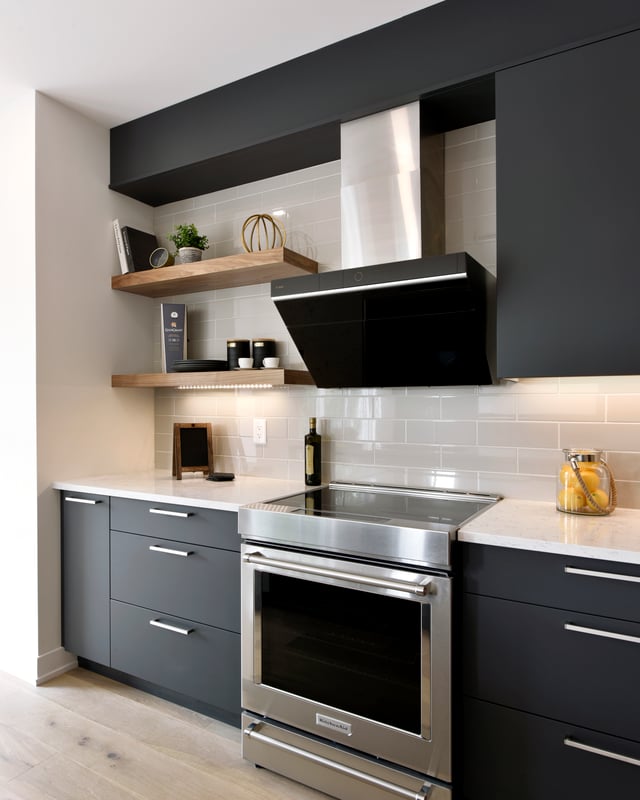 You can find striplights that can cover the length of your cabinet box, or use multiple shorter fixtures instead.
Where you locate your striplights can make a big difference. It's ideal to position your strip lighting closer to the front of the cabinet than to the back. This way, they cast light in a way that doesn't create a glare if you have a tiled backsplash.
2. Under Cabinet Puck Lighting
Puck lights are short, cylindrical lights that typically have a diameter of 3-4 inches. In fact, they actually get their name for their resemblance to hockey pucks!
Puck light fixtures will typically mount onto the underside of cabinets using small screws.
Puck lights create a more dramatic, localized effect of lighting, similar to spotlights. Their beam is cast directly below the light fixture and creates somewhat of a "pocketed" effect, which makes utilizing numerous puck lights under each cabinet more practical.
Want to incorporate the perfect under cabinet lighting for your kitchen? Kickstart your design process today by booking a free consultation with a Deslaurier kitchen expert!
How to Hide Under Cabinet Lighting
Hiding under cabinet lighting is merely optional and not mandatory. That being said, most homeowners opt to conceal their lighting.
There are two main reasons to hide under cabinet lighting: it makes your kitchen more aesthetic than an exposed light fixture; and it helps reduce any excess glare by concealing the under cabinet light fixtures.
"If you're in an open-concept house – when you go and sit on your couch, or at your table – you're going to see the actual light fixture" – Amelia Mathieson
There are 3 primary ways to conceal under cabinet lighting: a Valance; Recessed Bottoms; or a Coverboard.
1. A Valance
A valance is a decorative piece of trim that is affixed below the front of a cabinet box. They are typically somewhere around 1 ¼" to 2" thick and will create an extra line on the cabinet.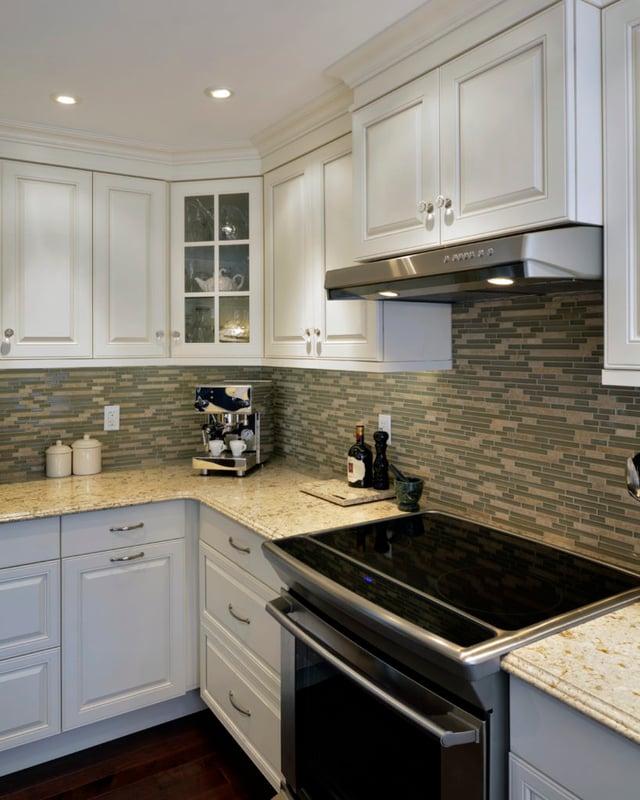 Valances can have intricate detailing to match your cabinet doors, or they can be flat, smooth pieces of trim. Regardless, they can be used to cover any contents underneath your cabinetry. Which in this case, is under cabinet lighting.
2. Recessed Cabinet Bottoms
A recessed cabinet bottom incorporates a light valance while simultaneously raising the bottom of the cabinet box.
Unlike a typical valance that is exposed beneath the cabinet, the recessed bottom and additional valance will be hidden completely behind the cabinet door. Your choice of under cabinet lighting is then out of sight and can only be spotted if looking directly up at the bottom of your cabinet.
It should be noted that raising the cabinet bottom will reduce the overall capacity of your cabinet by a few inches.
If you have the cabinet space and want this design, it shouldn't be a problem. If you're limited with storage capacity, however, you might opt to go with a traditional valance and keep the extra space for your cabinets.
3. Coverboards
The third primary option for concealing under cabinet lighting is to use a coverboard. A coverboard is essentially a thick panel installed on the underside of the cabinet.
A quality coverboard will house lighting while also providing an appealing finished bottom to match the rest of the cabinet.
Below shows how stunning a finished bottom coverboard can look with recessed puck lighting.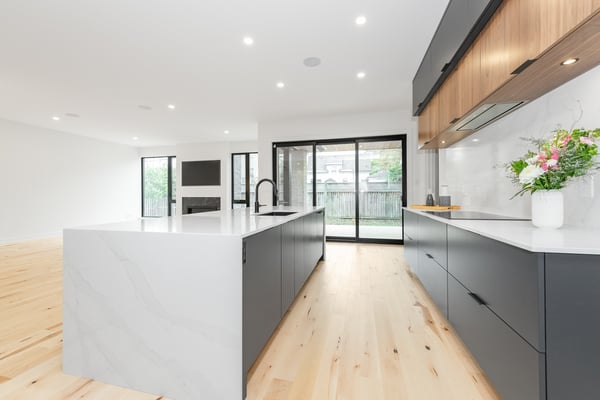 All of the light's wiring will get recessed into this panel, and it will be adorned with a finished bottom that matches the rest of your cabinet. Coverboards can also be combined with a recessed cabinet bottom-top to create a seamless aesthetic and provide extra space for electrical work.
A coverboard makes sense if you like the aesthetic of a finished bottom, or if your upper cabinets are installed further up the wall than is typical. The higher up the wall your cabinets are, the more potential for an unfinished bottom with exposed lighting to be spotted.
Countertop Considerations for Under Cabinet Lighting
When it comes to under cabinet lighting and countertop selection, the patterning or colour you choose for your surface won't be a concern. Rather, the key factor will be whether you decide to adorn your countertop with a polished or honed finish.
"A countertop with a matte (honed) finish is not going to reflect the under cabinet lighting as much as a polished finish will" – Amelia Mathieson
A polished countertop finish has a smooth, glossy, mirror-like shine. The more prominent the polish, the more likely it is that your under cabinet lighting will reflect off the surface.
Similarly to polished, honed countertops are quite smooth, but their finishing process is cut short before the surface becomes too shiny. This results in honed countertops having a matte or low-sheen appearance.
If you plan on installing powerful under cabinet lighting, going with a honed surface will drastically reduce the amount of reflective glare that bounces off your kitchen countertop. Most lights aren't so intense that it would cause issues, but it's important to be cognizant of your countertop finish.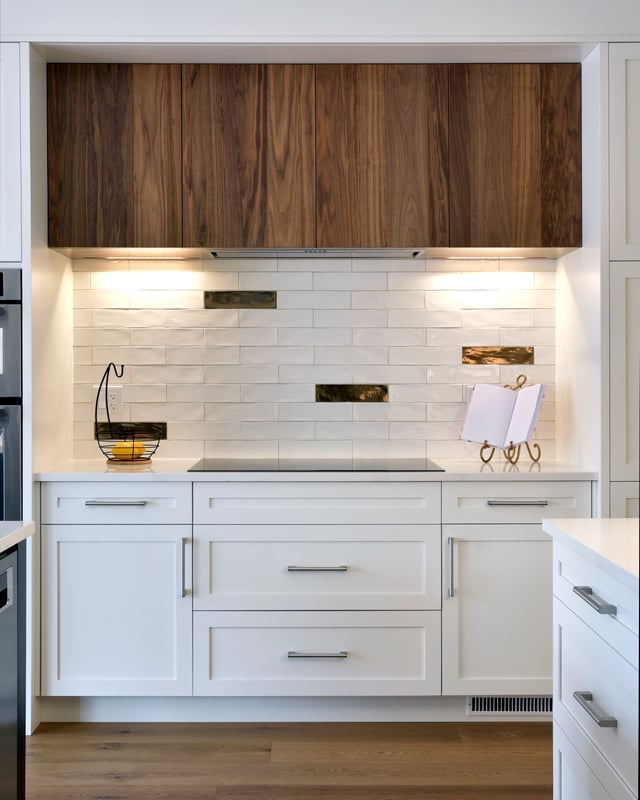 Can You Add Under Cabinet Lighting to a Finished Kitchen?
This is where it can get tricky.
Under cabinet lighting should be prepared and installed in a specific phase of a new build or kitchen renovation. Otherwise, it will be extremely hard to achieve in a finished kitchen, due to the fact that the lighting has to be *in* the wall.
For that reason, it is best to prepare for under cabinet lighting during the electrical roughing stage, when electricians are running wires and situating outlets and power sources. This ensures that the walls are opened for access and it is well before any drywall has been put up.
However, there are small solutions around this. Puck lights, for example, can come in battery-powered models that "stick" to the underside of a cabinet box. They require no electrical wiring and their batteries can last quite a long time.
Other than that, if you want to add under cabinet lighting to your finished kitchen, you're going to have to open up some walls.
For everything you need to know about renovating your kitchen, download our free Comprehensive Kitchen Renovation Guide!
The Cost of Under Cabinet Lighting
There are several factors that make up the overall cost of under cabinet lighting in a kitchen: the lights, hiring electricians, and the materials to conceal the lighting.
1. The Lights
The most obvious expense for under cabinet lighting is the lights themselves.
The cost of under cabinet strip lighting or puck lights can range anywhere from $20 to over $160 per light.
If you go with LED for your lighting, you should prepare for a higher expense; especially high-quality modern LED lights – they don't come cheap.
2. Electrician Labour
Nearly every home improvement project needs a qualified electrical contractor on the scene.
Installing under cabinet lighting is certainly no exception. Your electrician will assist you with moving power outlets, wiring everything to code, and properly attaching your under cabinet lighting to said wiring.
If you're hiring an electrician yourself, expect to pay anywhere from $70 - $120 per hour for their services.
3. Cost of Concealment
The final – and undoubtedly highest – expense to consider is the cost of concealing your under cabinet lighting.
Valances, recessed bottoms, and coverboards all increase the overall cost due to the added materials required. Depending on how many cabinet boxes are implemented with under cabinet lighting, the process can become quite expensive.
"It all depends on how many cabinet uppers you would have in your kitchen design. It's a very customized cost and is typically priced for the entire project." – Amelia Mathieson
Therefore, valances and coverboards would be included in the overall cost of your cabinetry order.
Unsurprisingly, selecting coverboards will be the most expensive option of concealment. This occurs for two reasons: they require more material to cover the entire bottom of the cabinet box; and that material will need to be adorned with a finish to match the cabinetry.
Design with Deslaurier Custom Cabinets
Want a customized design that implements the perfect task lighting for your kitchen? Then you've come to the right place!
Book a free consultation with a Deslaurier kitchen expert at our Ottawa showroom today!
If you have your eye on custom cabinetry, Deslaurier Custom Cabinets has everything you need. With over 40 years of experience to our name, we provide our clients with a fully customized design process with our talented team of designers.
Interested in becoming an authorized Deslaurier dealer? Visit our Become a Dealer page to learn more! Live outside the area? Find a Dealer to connect with a Deslaurier dealer near you!