Estimated Read Time: 4 Minutes
The perfect backsplash selection can add wonders to any kitchen design.
For such a small kitchen feature, backsplash can carry a lot of weight in the overall design. Especially when paired with natural stone countertops or tile flooring. The right backsplash can harmonize your whole kitchen.
At Deslaurier Custom Cabinets, we specialize in high-quality custom cabinetry solutions that look great and perform even better. In doing so, we know how important it is for clients to determine the perfect backsplash selection for their kitchen.
If you're in the Ottawa area and looking for the perfect kitchen backsplash to include in your kitchen renovation, we can help!
This article will take a look at 4 of the best places to go for kitchen backsplash in our Nation's Capital!
Benefits of a Kitchen Backsplash
Do you actually need a kitchen backsplash?
No. Strictly speaking, at least. You don't need a backsplash in the same way you need a sink or a countertop in your kitchen.
While backsplashes aren't a mandatory component of a kitchen design, they certainly are a useful one. Most designers will recommend that you use a backsplash because they prevent water, grease, and other liquids from damaging the wall behind it.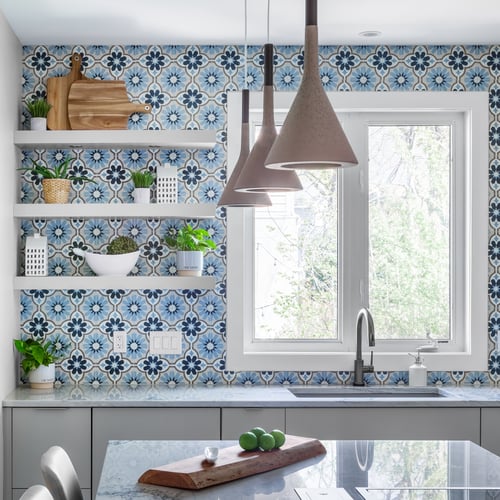 Especially for areas behind a sink or stovetop, where liquid splashes or grease splatters are commonplace, a kitchen backsplash can not just look great, but actually safeguard your walls!
To that end, all the Ottawa companies in this article were chosen based on their industry experience, services offered, and google rating.
Please note the companies listed below are in no particular order.
1. Euro Tile & Stone
Euro Tile & Stone has been an Ottawa-based tile and stone supplier for over 30 years. Established in 1987, Euro offers anything from flooring, countertops, and wall tiles, to back patio stonework and even pools!
As their name indicates, Euro deals exclusively with tile and stone. When it comes to your kitchen, Euro has a wide selection of backsplash options to choose from that include porcelain and ceramic tile, glass, and natural stone.
Euro has two Ottawa locations: a showroom and distribution centre, as well as an outlet:
At the time of publication, Euro Tile & Stone holds a 4.2-star Google rating from 304 reviews.
2. Granstone
Granstone is an Ottawa-based kitchen renovation company as well as a stone countertop supplier. They provide stone fabrication for countertops, backsplashes, and fireplace faces. They even have their own in-house electricians for any electrical services.
Their website contains a "Kitchen Visualizer" tool that you can use to mix and match different design combinations for countertops and backsplash from the comfort of your home.
Granstone's backsplash offerings include various selections of natural stones, glass, porcelain, and ceramic tile.
Granstone carries a 4.8-star Google rating from 162 reviews.
3. Sarana Tile
New to the Ottawa area, Sarana Tile has provided Ontario (and Quebec) with tile and hardwood flooring for over 40 years. They work with both residential and commercial clients, while working in conjunction with you or your general contractor.
Their product catalogue offers a variety of backsplash tiles in porcelain, ceramic, natural stone, and glass.
Sarana has 3 Ontario locations: Hamilton, Toronto, and Ottawa
Sarana Tile held a 5.0-star Google rating from 35 reviews, at the time this article was written.
4. Stonesense Inc.
Stonesense Inc. specializes in stone fabrication, supplying the Ottawa area with countertops, tile flooring, sinks, and, of course, kitchen backsplash.
Stonesense has a unique selection of porcelain, natural stone, and glass tiles in different shapes, patterns, and styles. They also offer products made using a glass and stone mixture.
Their inventory of stone countertops and kitchen sinks also makes them a great one-stop-shop for those that are planning an entirely new kitchen and want their backsplash, countertop, and sink to harmonize.
Stonesense Inc. carries a 4.0 Google rating from 68 reviews, at the time of publication.
Kitchen Backsplash at Home Improvement Stores
Large home improvement retail stores such as Home Depot, Lowe's, or Rona, all sell a variety of standard kitchen backsplash.
While these big box stores are sure to have available inventory in-store and online, you may be limited when it comes to their product selection.
If you're not picky about your backsplash choice or are looking for the most cost-effective option for your own DIY backsplash project, this could be an ideal avenue for you.
In contrast, if you're particular about your kitchen backsplash and want to tie it in directly with your countertops, the local tile and stone specialty stores listed above are your recommended option.
They'll have a larger variety of backsplash selections to choose from and a deeper knowledge of the industry for a more hands-on approach. Not to mention they'll be able to provide you with countertops and backsplash that coordinate perfectly together.
Design with Deslaurier Custom Cabinets
If you're looking to pair custom cabinetry with the perfect kitchen backsplash, Deslaurier Custom Cabinets has everything you need.
We bring 60+ years of experience to the table and partner with a vast network of premier countertop and backsplash suppliers. The result? We consistently leave a long trail of customized, high-performance kitchens in our path.
We provide our clients with a fully customized design process with our talented team of designers. Book a consultation with a Deslaurier kitchen expert at our Ottawa showroom, or online in a one-on-one virtual meeting!

Interested in becoming an authorized Deslaurier dealer? Visit our Become a Dealer page to learn more! Live outside the area? Find a Dealer to connect with a Deslaurier dealer near you!