26/08/2022 • Blog
6 Common Site-Readiness Issues to Avoid for Cabinet Delivery
Estimated Read Time: 6 Minutes
The moment is finally here. Your new kitchen cabinets have been delivered and you're gearing up for installers to arrive and install your new kitchen cabinets.
Before they arrive, there are a few things you can do to ensure they enter a working environment that will help make their job, and your cabinet's installation, much easier.
At Deslaurier Custom Cabinets, we've been manufacturing and installing kitchen cabinets for over 40 years. In that time, our cabinet installers have come across every issue you can imagine on a job site.
Reflecting on these experiences, we thought it would be impactful to help you prepare for your kitchen cabinet installation.
With that, this article will look at 6 common site-readiness issues you can avoid to ensure your kitchen cabinet installation goes as smoothly as possible.
Let's get started!
Deslaurier's Site-Readiness Checklist
When working with Deslaurier, prior to their kitchen cabinet installation, our clients will receive and complete a site-readiness checklist. This checklist will help them prepare their home for acceptable cabinet installation conditions.
We always know that if a customer follows and satisfies everything on our site-readiness checklist, their installation will go smoother and allow for the highest quality finished product.
If you're unsure of your house readiness, take a look at our article on How to Prepare For Cabinet Installation.
For now, here are 6 key issues from our site-readiness checklist that you should avoid.
1. Keep the Site Clean
During a kitchen renovation, things can get chaotic and a mess can begin to accumulate. Staying on track and keeping a clean job site is something that will benefit your entire renovation process, not just for cabinet installation.
Anyone, regardless of their profession, would be delayed – and disgruntled – in their work if they began their day cleaning up after somebody else before they could begin their own job.
Whether it's cleaning up the typical mess of a kitchen renovation (garbage, sawdust, material cut-offs) or having to move another trade's tools and materials, an unkept job site can be a big delay and impact the overall installation process.
This can be especially troublesome for cabinet installation, especially where there needs to be clean and adequate space for both the cabinets to be stored, as well as the kitchen area where they will be installed.
There might be a lot more cabinets than you expect. In most cases, the cabinets for your entire home – kitchen, bathrooms, laundry room, etc. – will be delivered at the same time. A clean and organized site can go a long way in a successful cabinet installation.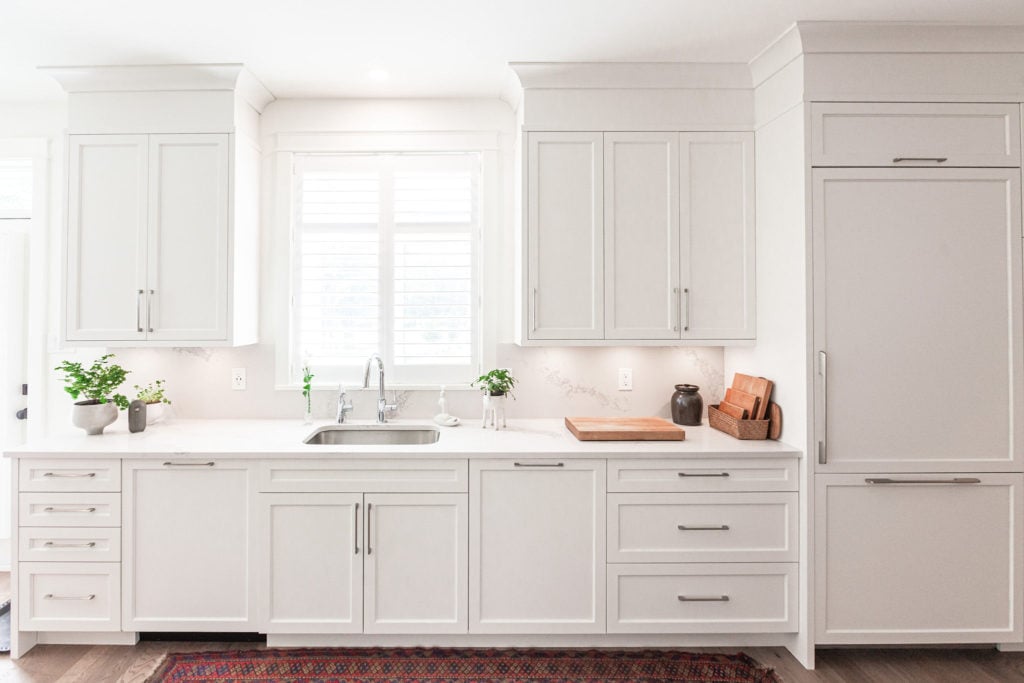 2. Have A Designated Work Area Prepared
Kitchen cabinet installation is an expansive process that can occupy a lot of space. This goes hand-in-hand with keeping a clean and organized construction site.
Not only will there need to be an area to store the cabinets, but the installers will also need their designated space in order to work comfortably and effectively. If you have an area prepared before installers show up, that's even better!
There are a number of pieces in a kitchen cabinetry order that need to be customized. Saws will be required for cutting any panels, mouldings or trim, and things will no doubt get messy.
These saws and other tools will need to be placed indoors in an adjacent room for all necessary cuts. Every company's policy might be different, but at Deslaurier, our cabinet installers require roughly 84 square feet of covered area for this.
If there are any issues with providing the required indoor space, installers may move to a garage, or outside (weather permitting), if absolutely necessary and conditions are agreeable to do so. However, working indoors in a heated and adjacent room will be expected protocol.
While this practice is of course to ensure a safe and adequate work environment for installers, it can also affect your kitchen's end-product!
It is not ideal for cabinet materials to go through large fluctuations of temperature or be exposed to rain and snow. Doing so runs the risk of impacting your cabinets and, ultimately, the quality of your kitchen's finished installation.
3. Make Sure Other Trades Don't Overlap
The nature of construction sites can often be hectic. On any given job site, certain trades can overlap and work simultaneously within the same space.
Cabinet installers shouldn't be one of them.
It is not efficient to install kitchen cabinets while plumbers, electricians, painters, or anyone else is trying to work in the same area. The extra bodies and extra tools in the way will elongate the process for everyone involved and could cause other issues along the way.
If you're scheduling your own trades, rather than hiring a General Contractor to do so, you'll need to provide installers their own time and space without interference.
That's not to say they need to be the only ones working in the house, but if kitchen cabinet installation is scheduled for that day, the kitchen should be free and clear for installers to work alone.
4. Remove All Appliances
If you're in the midst of a kitchen renovation, as opposed to a new build, it's important to remember to remove any and all appliances away from where your new cabinets are going to be installed.
This means there should not be an oven or fridge in the kitchen, and no washer or dryer in the laundry room.
Even if you're simply replacing your cabinets and not altering your kitchen design layout, these large appliances will take up important space that installers need to maneuver and position your cabinets for efficient installation.
If bulky appliances are in the house, it's always best to move them free and clear of your kitchen area.
5. Have Temporary Railings Around All Openings
Safety is the most important aspect of any construction zone.
One of the most important safety concerns is to ensure that all stairways and/or openings have, at the very least, temporary railings. Temporary railings are always a common, and necessary, part of construction sites to safeguard anyone that enters the property.
Especially in the case of moving and working with large kitchen cabinets, any unsecured openings are an extreme safety hazard and will result in installers not being able to continue.
And this is not just for cabinet installers, it is for anyone working in your home in the province of Ontario, and must be done in accordance with your building permit.
6. Easy Access to Electricity
It's very rare to come across a house without power at the cabinet installation stage, but it does happen!
All of our installers carry extension cords with them to accommodate any unforeseen challenges such as needing to work outside or access power from another room.
Having electricity readily available is always the expectation when installers arrive. If for some reason power is not accessible, you or your general contractor would have to get a generator in order for the job to be completed, which would no doubt delay – or even postpone – your cabinet installation.
With the way the industry is moving, many modern tools are beginning to transition to battery power. However, not everyone's tools are completely cordless, and the technology isn't quite as advanced for every tool to have the high-quality, battery-powered performance necessary for cabinet installation.
Thus, electricity on the job site will be 100 percent required for cabinet installation.
Discover Deslaurier Custom Cabinets
The renovation process is a complex one—a quality, functional kitchen has a lot of moving parts! At Deslaurier Custom Cabinets, we strive to simplify the kitchen design and cabinet installation process from start to finish.
Book a consultation today and work one-on-one with a Deslaurier design expert at our Jupiter, Florida Showroom or schedule a virtual meeting!
If you have your eye on custom cabinetry, Deslaurier Custom Cabinets has everything you need. With over 40 years of experience to our name, we provide our clients with a fully customized design process with our talented team of designers.

Interested in becoming an authorized Deslaurier dealer? Visit our Become a Dealer page to learn more! Live outside the area? Find a Dealer to connect with a Deslaurier dealer near you!