Estimated Read Time: 5 Minutes
When it comes to kitchen cabinets, so much focus is centered around their appearance. With so many different door styles and paint colours to choose from, it's no wonder that most cabinet decisions revolve around the aesthetic.
The function of your cabinets can sometimes take a backseat. For instance, the type of cabinet latch you choose is often an afterthought, yet this decision can play a significant role in how your kitchen cabinets operate.
At Deslaurier, we've spent over 40 years specializing in manufacturing custom cabinets and cultivating kitchen designs that combine equal parts beauty and function. In that time, we've utilized a variety of different cabinet door latches in order to achieve our clients' unique preferences.
With that, let's put aside the door samples and paint swatches, and focus on the hardware that helps your kitchen cabinets function without a hitch.
This article will detail and compare two popular kitchen cabinet latches: the tip-on latch and the touch latch.
Let's get started!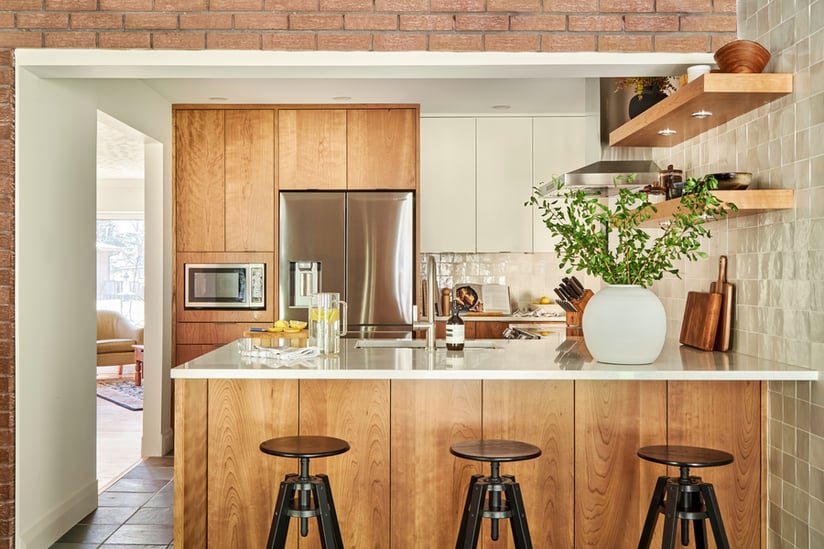 What is a Cabinet Latch?
A cabinet latch is a fastening device designed to securely hold a cabinet door closed.
Though this may sound simple, cabinet latches offer various methods of operation and construction that can make the process much more complex than you initially thought.
As you can see from this selection of Richelieu hardware, cabinet latches can be touch, pull, push, turn, or lift; magnetic or mechanical; stainless steel or plastic; and so much more.
For this article, we'll focus on two popular latches that offer similar functionality using different methods: the mechanical tip-on latch and the magnetic touch latch.
Both of these latches are concealed inside the cabinet, making them great for handleless, modern door styles with no cabinet hardware.
What is a Tip-On Cabinet Latch?
Tip-on cabinet latches are a mechanical, piston-type piece of cabinet hardware that allows you to open and close doors without decorative handles or knobs.
Simply put, all you have to do is give a gentle push inward and the cabinet latch will release the door. Then press the door closed and the latch will hold it in place. The tip-on will open the door wider than most other latches, to approximately 1 ½".
Tip-on latches are located at the top of the door for base cabinets, and on the bottom of the door for upper cabinets.
One thing to note is that tip-on latches can open with much lighter force than a touch latch. It's certainly not uncommon for tip-on cabinets to open if you accidentally brush against or bump into them. This can become a nuisance, especially in a smaller, more confined kitchen.
What is a Touch Latch?
The touch latch uses magnetic hardware rather than mechanical. Touch latch is a bulkier product than the tip-on. This is because the tip-on has s a smaller mechanism for a cleaner design that is not as noticeable inside the cabinet.
The magnetic touch latch also takes more force to open the cabinet door than a tip-on latch. This can be considered a benefit, as you're less likely to accidentally open cabinet doors if you brush against them.
A primary distinction between the two cabinet latches is that tip-on latches can be used on both doors and drawers, while magnetic touch latches are exclusively for doors and cannot be implemented on cabinet drawer fronts.
With cabinet drawer storage extremely valuable in a kitchen, this makes the tip-on mechanism far more versatile than the magnetic touch latch.
Tip-On vs. Touch Latch: Durability
When it comes to durability, the construction of the tip-on latch reigns supreme.
The tip-on latch is considered a "heavy-duty" cabinet latch. Due to their mechanical nature, they're engineered to a higher quality than the magnetic touch iteration.
What this means is that the piston-style tip-on latch will have a much longer lifespan than the magnetic hardware of a touch latch.
Tip-On vs. Touch Latch: Cost
The different manufacturing method of the two cabinet latches results in a large pricing discrepancy as well.
It should come as no surprise then, that the longer-lasting, higher-quality tip-on latch is much more expensive than the touch latch.
The tip-on is roughly double the price of a magnetic touch latch. A single-touch latch will cost slightly over $20, while a quality tip-on latch can surpass $40.
That is a significant price gap for a larger kitchen that could contain upwards of twenty cabinets. Simply opting for touch latches instead of tip-on for cabinet door fronts can save you hundreds of dollars on your kitchen cabinetry.
Or, you can mix and match your door and drawer combinations. You can splurge for the more expensive mechanical tip-on product for drawers and pair them with the cost-effective magnetic touches for doors.
Tip-On vs. Touch Latch: Best Placement
Tip-on and touch latches have some minor restrictions when it comes to the type of cabinets that they can be installed. This is due to where they are located on the door and how the latch itself functions.
For instance, a sink base cabinet has such little clearance that these latches run a great risk of not being able to perform effectively. That's if they can even be installed properly with such little room.
Likewise, tip-on and touch latches aren't practical for large corner, blind, or diagonal cabinets. These cabinets are typically much larger and the additional size of the cabinet doors are too heavy to properly utilize the piston feature.
The tip-on is more preferred for larger rooms such as a kitchen where drawers and doors are used consistently. While magnetic touch latches are of course popularly implemented in kitchen cabinets, they are more favourably used for millwork furniture pieces due to their relatively shorter lifespan compared to mechanical tip-on latches.
Moreover, the magnetic touch latch is not always preferable for a high-traffic area like a kitchen. Rather, they're most ideally used for something like a wall unit or in a home office. Cabinet doors that aren't routinely opened and closed multiple times a day, every day.
Design with Deslaurier Custom Cabinets
Whichever kitchen cabinet latch you prefer, you've come to the right place! Book a free consultation with a Deslaurier kitchen expert at our Jupiter, Florida showroom today!
If you have your eye on custom cabinetry, Deslaurier Custom Cabinets has everything you need. With over 40 years of experience to our name, we provide our clients with a fully customized design process with our talented team of designers.
Interested in becoming an authorized Deslaurier dealer? Visit our Become a Dealer page to learn more! Live outside the area? Find a Dealer to connect with a Deslaurier dealer near you!