Estimated Read Time: 5 minutes
There are a lot of moving parts when it comes to completing a bathroom renovation. With so much focus on vanity cabinets, or where to put a luxurious freestanding bathtub, flooring can often be an afterthought.
Whether it's the master bath or a powder room, choosing the right flooring can go a long way in a bathroom design.
At Deslaurier, we carry over 40 years of experience manufacturing custom cabinets and providing our clients with kitchen and bathroom design services. While we don't provide renovation or flooring services, our expert designers offer their years of experience during the design process.
Join us, as Deslaurier design consultant Darien Wilson offers her expertise on 5 things you should consider when choosing your bathroom flooring.
Let's get started!
1. Make Sure It's a Waterproof Surface
Unlike kitchen flooring – which deals with its fair share of water but is also exposed to high foot traffic or impact damage – the durability concerns in a bathroom are primarily about liquid, moisture, and wet surfaces.
That's why you typically stay away from hardwood in a bathroom, and not just when it comes to the floor. Wood will naturally absorb moisture which can result in warping and other damage.
"That's also why I rarely have wood cabinets in a bathroom – it's best to go with a metal, thermoplastic, or MDF" - Darien Wilson
For that reason, bathrooms will typically lean towards stone, tile or vinyl flooring.
If you do want that hardwood aesthetic, going with a vinyl product is your best option. Vinyl flooring is far more affordable than hardwood and has many products that are 100% waterproof, perfect for a bathroom floor.
2. Nonslip Flooring
The bathroom is exposed to moisture and liquid every single day from the shower steam or the vanity sink. Not only that, whenever you step out of the shower or bathtub, water will undoubtedly find its way onto your bathroom floor.
When talking about bathroom flooring, it's crucial you find a nonslip solution. As Darien Wilson suggests, lean towards a surface that has some texture.
"You'll definitely want a material with a slight texture or a matte finish to it." - Darien Wilson
That means no polished surface—nothing shiny or slippery that could become a dangerous hazard when wet. This is doubly important if you have young kids or elders in the home.
There are plenty of tile options to choose from with textured finishes. Not to mention some textured vinyl planks for those leaning toward a hardwood aesthetic.
Regardless, talk to a flooring expert that can offer you valuable knowledge of what products are best suited for bathroom floors.
3. Easy Maintenance
The hardest thing to clean in a bathroom is a tiled shower with grout. Grout requires constant upkeep and routine cleaning. It's a magnet for dirt and grime and soon enough discoloration or chipping will come with that.
The really nice thing about doing quartz – particularly as a shower base – is there's no grout.
If your budget allows, the lack of maintenance is almost worth spending 2-3 times more on a quartz shower rather than tile and grout.
However, the larger the tile is the easier the room will be to clean and maintain. This is fairly straightforward, as the more surface area covered by tile means there will be far fewer lines of grout that need to be kept clean.
Who wants to spend all day cleaning bathrooms, anyway? Leave the cleaning in the kitchen and go with low-maintenance surfaces in the bathroom.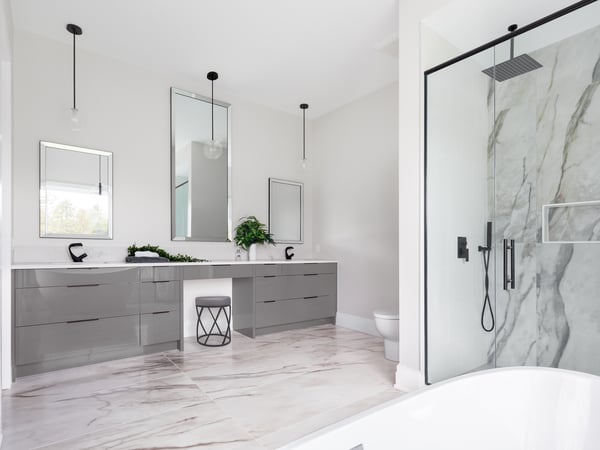 4. It Fits Your Style
Let's face it, visual appeal holds a lot of weight in the world of interior design.
You're more likely imagining what your dream bathroom will look like rather than fantasizing about your waterproof, nonslip flooring.
However, most homeowners tend to lean towards a more subtle bathroom flooring style as opposed to going with a bold and daring appearance.
"It depends on what you want the focal point to be. Typically people do not want the [bathroom] floor to be the focal point" - Deslaurier designer Darien Wilson
Now, just because you don't go with a "fancy" selection, doesn't mean your flooring can't be beautiful!
You can do a large tile with matching grout. Or, if you love the hardwood aesthetic, go with the waterproof vinyl mentioned earlier. Vinyl can replicate the appearance of authentic hardwood as well as any manmade material.
If you opt for a more lowkey alternative, the attention can focus on other eye-catching features:
"That way the focal point of the room can be the vanity cabinets, a shower, or an accent wall." - Darien Wilson
Of course, you can go with bold and intricately patterned choices if you want to add some flair to an otherwise ordinary bathroom design.
Just be sure you do – or don't – want to make your flooring a focal point of the bathroom before making your selection.
5. Mind Your Budget
You would be surprised how much you can spend during a bathroom renovation. A completed bathroom will cost far more than most people think.
Budget is a huge player when it comes to bathroom flooring. A bathroom can cost you $15k or it can cost you $50k depending on the choices you make. Flooring is one of the key contributors to that.
Choosing between tile and stone will certainly come down to cost, and tile will always win that debate.
Typically, people will do tile on the floor or in the shower as opposed to matching it with the countertop stone, due to the enhanced cost that comes with natural stone.
Design with Deslaurier Custom Cabinets
Are you in need of the perfect bathroom vanity cabinets to pair with your new flooring? Deslaurier Custom Cabinets has everything you need!
If you have your eye on custom cabinetry, Deslaurier Custom Cabinets has everything you need. With over 40 years of experience in our name, we provide our clients with a fully customized design process with our talented team of designers.
Book a free consultation today with a Deslaurier kitchen expert at our Jupiter, Florida showroom!

Interested in becoming an authorized Deslaurier dealer? Visit our Become a Dealer page to learn more! Live outside the area? Find a Dealer to connect with a Deslaurier dealer near you!