9/09/2022 • Blog
Bathroom Vanities: Floating Vanity vs. Standard Vanity
Estimated Read Time: 5 Minutes
If you've been doing research for an upcoming bathroom renovation, you've probably come across two popular styles of bathroom vanity cabinets: "freestanding" and "floating".
But what's the difference? And which style is right for your bathroom?
We're here to help!
At Deslaurier, we have over 40 years of experience specializing in all things custom cabinets. In that time, we've designed and installed countless bathroom vanities – both freestanding and floating – personalized to our client's unique needs.
Freestanding and floating vanities both offer their own unique qualities from design to storage and even cost perspective. This article will help you better understand which style of bathroom vanity is best suited for your home!
Let's get started!

What is a Freestanding Bathroom Vanity?
Bathroom vanities are the combination of a bathroom sink and cabinet(s) that provide storage. They also provide function for everyday activities from face-washing and teeth-brushing to being an at-home make-up station.
Freestanding bathroom vanities are just like the standard base cabinets you'd see in your kitchen, resting (or standing) on the floor.
Vanities serve different purposes for different bathroom locations. A powder room vanity would most likely be a single cabinet with a sink, while larger shared bathrooms like a master ensuite will often include multiple cabinets and even double-sink vanities.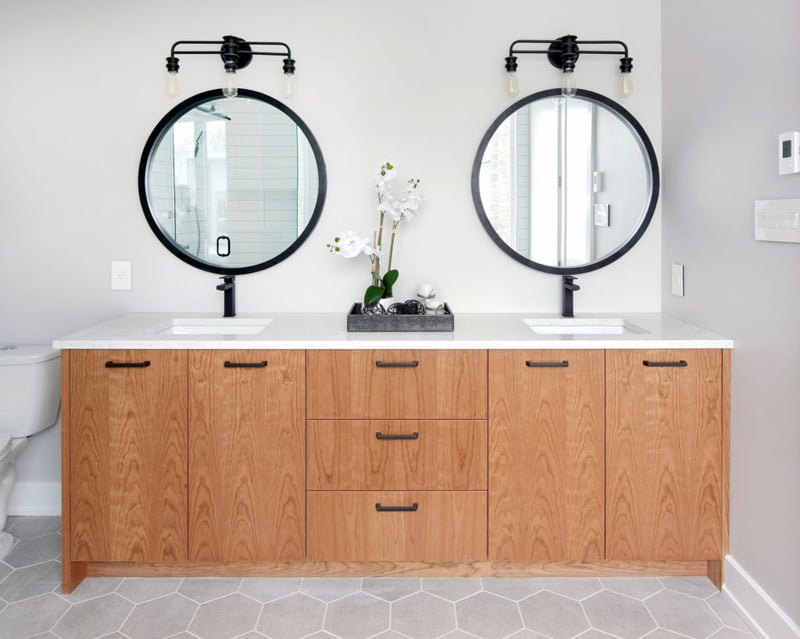 What is a Floating (Wall-Mounted) Vanity?
Choosing floating vanities, also known as wall-mounted vanities, is fundamentally a style decision. They provide a sleek and streamlined aesthetic, with the vanity attached solely to the bathroom wall, situated off the floor as though it is "floating."
They take up less visual – and literal – space and are the perfect feature if you're looking to create an updated, modern-style bathroom design.
The wall-mounted aspect also provides some added practical benefits. They make bathroom cleaning much easier—you can vacuum or mop the floor directly underneath them and don't have to worry about dirt and grime buildup along any cabinet toe-kick.
Also, in the unfortunate occurrence of a leaky pipe or bathroom flood, floating vanities reduce the risk of cabinet damage and make mopping up water much easier.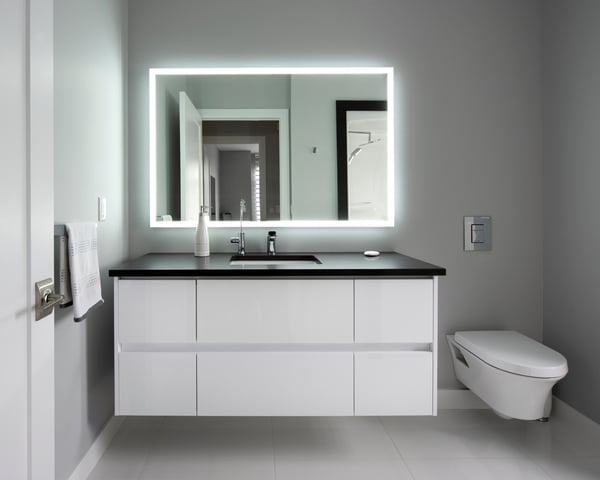 Freestanding vs. Floating Vanity: Installation
Freestanding vanity cabinets are installed the same way as the base cabinets in your kitchen area. They stand on the floor, with a few screws in the wall to hold them securely in place.
Wall-mounted vanities are generally more complex to install. As their name suggests, floating vanities are mounted solely to the wall with no under-cabinet legs. They require special mounting brackets and sometimes additional wall support.
On top of this, it's crucial that your vanity sink's plumbing is taken into account during the design phase for floating vanities.
Will your sink's plumbing need to come up through the floor, or extend out through the wall?
For either method, freestanding vanities go straight to the floor, with toe-kick and trim at the bottom of the cabinets helping to hide any plumbing lines.
For floating vanities, however, plumbing lines through the floor are out of the question, as it's not the most aesthetically pleasing sight in one's home.
Even plumbing through the wall can be a hassle. If your cabinets aren't very tall and plumbing appears through the bottom, your vanities will need to be equipped with additional panels to cover that up.
Freestanding vs. Floating Vanity: Height
Bathroom vanity height is measured from the floor to the top of the sink or countertop, depending on whether the sink is an above-countertop style, like a vessel sink. However, with the most common design being a top-mount or under-mount sink, that means most vanities will be measured to the surface of the countertop.
Standard bathroom vanity height starts at 32" and goes up to 36", with 34" gradually becoming the new universal average over recent years.
When it comes to height flexibility, floating vanities are far more customizable than freestanding cabinets. This is thanks to their wall-mount installation, allowing them to effectively be placed at whichever height the homeowner prefers.
Conversely, freestanding vanities are restricted to standard cabinet heights. This can vary depending on the manufacturer, with custom cabinets offering more versatility than stock or semi-stock products.
Nonetheless, even custom freestanding cabinets will be restricted to inches (typically anywhere from 30-36 for bathroom vanities), whereas floating vanities can theoretically be installed at any height.
Even with that flexibility, floating vanities are typically installed with a 34" or 36" counter height. The increased height adds to the effect of the "floating" visual more than a lower 30" or 32" cabinet.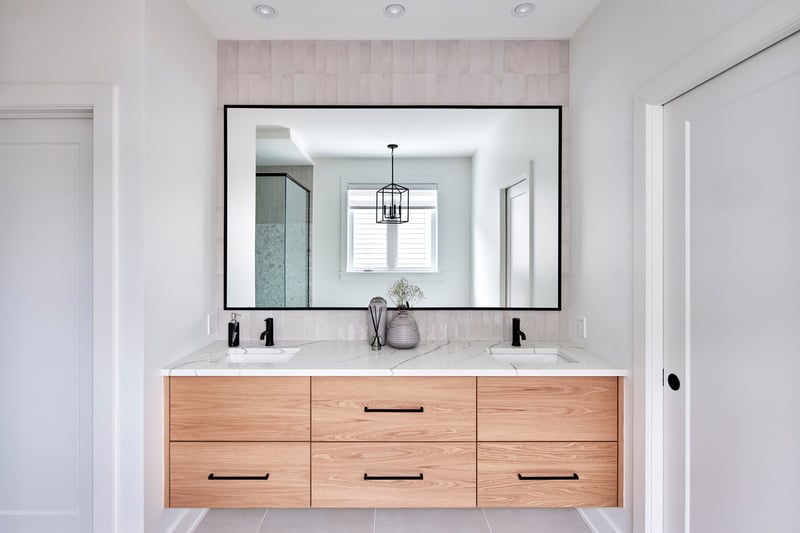 Freestanding vs. Floating Vanity: Storage
When it comes to bathroom vanity storage space, freestanding cabinets are the way to go.
For standing vanities, the toe-kick base underneath the cabinet will always stay the same height, meaning the cabinet box itself will be stretched. If your cabinet has 3 equal-sized drawers, then all 3 drawer heights will be increased for a taller cabinet.
What if your cabinet has a shallow drawer on top, with 2 deep drawers below? The height will be added to the deep drawers, while the shallow drawer will typically stay the same height.
With regard to wall-mounted vanities, this isn't the case.
Floating vanities at 34" aren't going to offer the same amount of storage as a 34" freestanding vanity. The nature of the design requires the cabinet height to be minimized – by extension reducing its storage space – otherwise, it wouldn't have a "floating" aesthetic.
Depending on how much of a floating appearance you want your vanity to have, that can be quite a bit of bathroom storage space you're sacrificing. Of course, there are plenty of bathroom design tips that can help optimize your storage.
That being said, if you really want to make the most out of your bathroom vanity space, a freestanding vanity will go a lot further.
Freestanding vs. Floating Vanity: Cost
The cost of bathroom vanities is a tricky thing to determine. As with any cabinet selection, your choice of material, cabinet finish, door style, and size, will all impact the final price. Not to mention the added cost of countertops, mirrors, sinks, and fixtures!
However, all things considered equal, a floating vanity will be more expensive than a freestanding vanity. This is in large part due to the additional materials and labour required to install the cabinets. Both of which will increase the cost of your bathroom vanity.
In general, a bathroom vanity consisting of cabinets and countertops will range anywhere from $2,250 to $8,000 (not including sinks, faucets, or backsplashes).
With regards to just vanity cabinets, a standard, entry-level double-sink vanity will cost approximately $2,000 (cabinets, delivery, and installation), while a high-end, wall-mounted double-sink vanity can cost as much as $5,000 in cabinetry alone.
Which Vanity Style is Right For You?
Ultimately, the type of vanity style you choose will reflect the factors listed in this article, like visual style, price, and installation method.
As you've seen above, floating vanities can be very expensive, especially when it comes to larger double-sink vanities. If your goal is a budget-friendly bathroom design, standard vanity cabinets are the more affordable option.
If you're after a sleek and modern design, and don't mind the additional cost and slight reduction of storage space, floating vanities make for an impressive aesthetic statement.
Whichever bathroom vanity style you decide on, it's always important to weigh your decision against your design preference, your budget, and your lifestyle.
Design with Deslaurier Custom Cabinets
Are you looking for a personalized bathroom design that's tailored to fit your unique needs? You've come to the right place!
Book a consultation today with a Deslaurier design expert at our Ottawa showroom or schedule a virtual meeting!
If you have your eye on custom cabinetry, Deslaurier Custom Cabinets has everything you need. With over 40 years of experience to our name, we provide our clients with a fully customized design process with our talented team of designers.

Interested in becoming an authorized Deslaurier dealer? Visit our Become a Dealer page to learn more! Live outside the area? Find a Dealer to connect with a Deslaurier dealer near you!