Estimated Read Time: 5 minutes
With the new year fast approaching, there are more things changing than just the calendar.
When it comes to bathroom design, the landscape is constantly being altered. New design elements are always emerging, while others begin to fade away.
At Deslaurier Custom Cabinets, we have over 40 years of experience providing our clients with custom cabinets as well as kitchen & bathroom design expertise. In that time, we've seen bathroom design trends come and go. Some fizzle out in 6 months, while others become instant classics and stick around for decades.
With that, let's take a look at 6 emerging bathroom design trends that we're keeping an eye on heading into 2023!
1. Wood Grain Vanity Cabinets
The past two decades or so have seen bathroom vanity cabinets dominated by a painted aesthetic. Whether it's through painted MDF or thermofoil, bathroom vanity cabinets have largely been designed using solid colours.
Not anymore!
Wood cabinets have made a strong emergence when it comes to bathroom vanities. Homeowners have started bringing the warmth and notoriety of natural wood tones from the kitchen to the bathroom, and the results are gorgeous!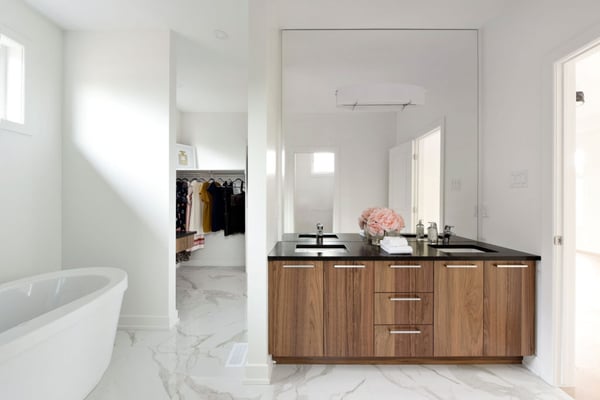 This sought-after appearance can be found in both solid natural wood or via an engineered material like textured melamine with the ability to replicate a perfect wood grain aesthetic.
This allows wood grain vanities the versatility to fit into any bathroom design style. The organic texture of natural wood gives an authentic, traditional touch of class to the bathroom. Or it can fit seamlessly into a modern bathroom design with an engineered product like textured melamine.
The design flexibility doesn't stop there. You can also play with the direction of the cabinet wood grain. You can opt for a sleek and classic vertical grain or a clean and straight horizontal patterning.
Whether it's authentic wood or an engineered alternative, having a prominent wood grain aesthetic is trending upward in bathroom designs.
2. Statement Flooring
The bathroom floor is no longer for playing it safe. Unique, eye-catching flooring is a great way to liven up your bathroom's atmosphere.
Since bathroom floors generally aren't very large, they're a place in which a higher-priced tile won't break the bank. This allows you to turn heads with pronounced tiling.
The prominent patterning of marble is iconic in this regard. While marble countertops are all the rage for kitchens going into 2023, their natural veining is turning heads in a different way when it comes to bathrooms.
Their unique patterning is the perfect choice for larger slab tile floors. Its beauty brings luxury and elegance to the room and immediately directs eyes to your floor.
Is larger stone tiling not for you? No problem!
Mosaic tiles are in, as well! Bold colours, intricate patterns, and unique shapes are all great ways to include a unique floor in your bathroom.
It doesn't matter how you go about it, going for a statement flooring choice is becoming more common in bathroom designs.
3. Matching Shower Wall Tiling
Speaking of pronounced tiling, it's no longer reserved for just the bathroom floor.
Rather than the days of making the shower its own distinct accent piece, matching your shower wall with the bathroom floor tiling is a stunning way to tie the room together and harmonize your space.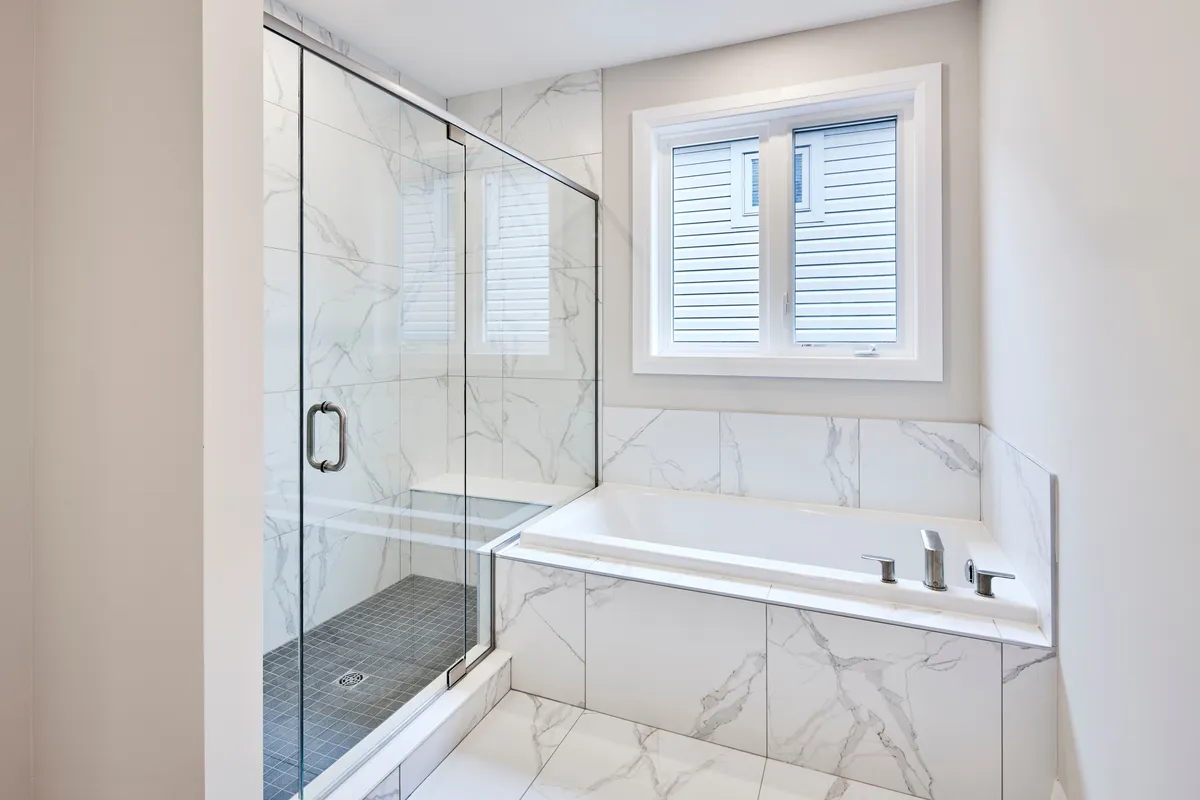 The popularity of showers with large glass doors – as pictured above – has been a big part of this resurgence, as they make your bathroom feel like one cohesive design. They also allow for your matching shower wall tile to present itself proudly.
4. Freestanding Bathtubs
Freestanding bathtubs have made a huge comeback in the world of bathroom design.
Stand-alone bathtubs certainly aren't a new trend; they have become a staple of bathroom designs in 2022 and are only gaining more traction heading into the new year.
They exude a relaxing, spa-like atmosphere in the comfort of your own home.
Freestanding tubs are truly an eye-catching addition when it comes to the bathroom. Since they quite literally stand alone, they function as a focal point of the room – almost like the kitchen island of bathrooms.
They're also quite versatile thanks to the materials and styles they come in. Freestanding tubs are the perfect luxurious feature to include in a master bathroom; whether it's traditional or sleek and modern.
They're not just a visual statement piece, either.
In terms of function, freestanding bathtubs are actually more comfortable than traditional styles. Bath lovers are sure to reap the benefits of comfort and style that freestanding bathtubs are bringing into 2023.
5. Floating Vanities
Floating vanities, also known as wall-mounted vanities, have been synonymous with modern bathroom design for years. They provide a sleek and streamlined aesthetic, with the vanity attached solely to the bathroom wall. Situated off the floor, this style of vanity creates a "floating" appearance.
They take up less visual – and literal – space in the bathroom without reducing cabinet storage. Your storage needs are still well taken care of with the ability to add built-in cabinet accessories and organizational compartments.
The wall-mounted aspect also comes with some added practical benefits. They make bathroom cleaning much easier—allowing you to vacuum or mop the floor directly underneath the cabinets without having to worry about dirt and grime buildup along any cabinet toe-kick.
With designers and homeowners emphasizing simplistic design sensibilities in recent years, floating vanities are no longer reserved for only the ultra-modern bathroom aesthetic.
Particularly when paired with the wood grain appearance mentioned earlier, floating vanity cabinets are the perfect addition for contemporary, transitional bathrooms.
6. Tall Pantry Storage
Compact, functional storage throughout the home is more fashionable than ever. There might not be a better way to achieve that than with a tall pantry cabinet.
Tall pantry cabinets have long been a staple in custom laundry rooms thanks to their versatility and vertical storage capacity. Now, they're becoming an essential feature to accompany vanity cabinets and take on the heavy lifting when it comes to your bathroom storage.
They're a great place to keep extra linens, toiletries, cleaning supplies, or any other bathroom items that aren't necessary for vanity cabinets. Include a built-in cabinet accessory or two and your tall pantry cabinet will handle all of your storage needs.
Better yet, they aren't as bulky or as space-consuming as they might sound, with single pantry cabinets having the ability to be tucked away quietly in a bathroom corner. In fact, one tall cabinet from floor to ceiling will take up much less valuable bathroom space than side-by-side base cabinets of the same size.
In terms of storage capacity, tall pantry cabinets are becoming a must-have in bathrooms.
Design with Deslaurier Custom Cabinets
No matter what bathroom design trends are here to stay in 2023 and beyond, Deslaurier Custom Cabinets is always a step ahead of the curve.
We've got our finger on the pulse of homeowners' needs, and our award-winning team of designers is always chock-full of new bathroom design ideas!
Check out our showcase to see our designs in action, or book a free consultation with one of our professional designers in Ottawa or Renfrew and discover the Deslaurier advantage today!

Interested in becoming an authorized Deslaurier dealer? Visit our Become a Dealer page to learn more! Live outside the area? Find a Dealer to connect with a Deslaurier dealer near you!