16/09/2022 • Blog
Kitchen Cabinet Woods: 7 of the Best Wood Species For Your Cabinets!
Estimated Read Time: 6 Minutes
When looking for new kitchen cabinets, the number of wood species to choose from can seem overwhelming. Not to mention sifting through the man-made cabinet materials available, like MDF, thermofoil, and textured melamine, to name a few.
We're here to help!
At Deslaurier, for over 40 years we've specialized in manufacturing and designing custom cabinets with equal parts beauty and function. In that time, we've installed thousands of homes with kitchen cabinets, and worked extensively with clients to select the best wood species for their unique preferences..
In this article, we'll take a look at 7 of the most popular woods used for kitchen cabinets, from birch to rustic alder, and everywhere in between!
Let's get to it!
1. Birch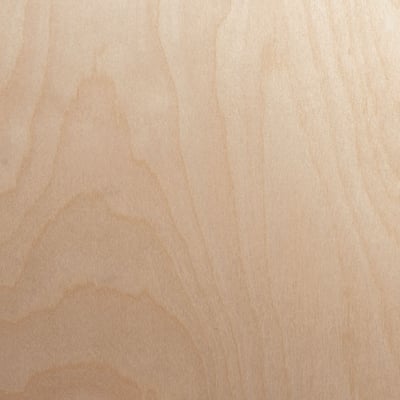 Birch has a pale colouring that can look slightly yellow-ish. It has a simple, rather open grain that is typically made up of straight (ish) lines. Birch is also one of the few woods that actually develops colour with age, gaining a yellowish-red tint as time passes.
Birch is considered a paint-grade wood thanks to its low-key grain and uniform surface. If you're going with natural wood for your painted cabinets, birch is about as good as it gets.
It's worth noting that birch is a slightly porous wood species. When it comes to using a dark stain on birch, it's possible that the cabinet doors will absorb the stain at varying speeds that can cause a "blotchiness" effect. Because of that, specific areas of grain pattern may be highlighted randomly with dark stains.
Birchwood is, most of the time, a cabinet maker's entry-level product, due to how accessible and populous it is in North America. Birch will typically be near the bottom of the pricing scale for natural wood cabinets.
2. Maple
A classic Canadian hardwood, maple is one of the most popular woods for kitchen cabinets. It also shares plenty of similarities with birch, like a smooth surface and similar grain patterning.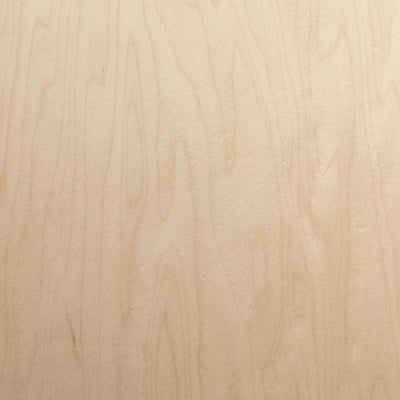 Maple's grain pattern is generally quite straight, with some subtle waves and curls mixed in, while its colour is rooted in a gentle white with reddish-brown hues.
Thanks to those similar birch-like physical qualities, maple is also considered a paint-grade wood. However, compared to birch, maple is a less porous wood. In that sense, you shouldn't worry about pronounced blotchiness when a dark stain is adhered to maple cabinets.
For such a quality hardwood, maple is considered quite affordable thanks to how easily accessible it is in North America. You'll find maple in the same pricing tier as birch and oak, depending on your supplier.
3. (Red) Oak
Red oak (commonly referred to simply as "oak") is noted for having light to middle brown colouring with a cast of reddish hues, complemented by a prominent, fairly straight grain pattern.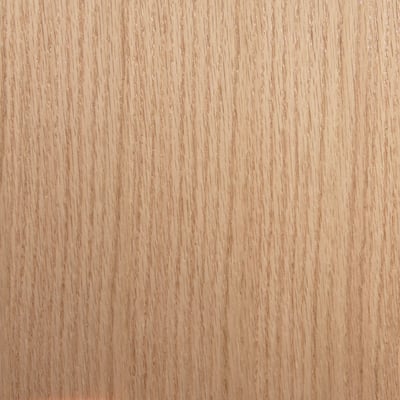 The beauty of red oak and its prominent grain is that it can be adorned with anything from a clear coat finish to a dark stain. Although not done very often, red oak cabinets can also be painted – producing a nice, textured surface you won't find on many other painted cabinets.
While oak often has the connotation of being a more traditional-looking cabinet wood, there are plenty of ways you can put a modern flair on oak cabinets!
The cost of oak is known to fluctuate, but you'll typically find it priced right around maple and birch.
4. Rift-Cut White Oak
Although white and red oak are from the wood family and share similar qualities, they are technically two different wood species. White oak is overall much lighter than red oak, yet still carries slight pink and purple hues, and also has a smoother surface.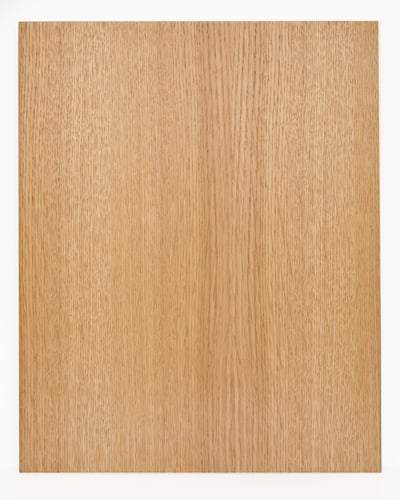 When talking about white oak, it's important to mention the popular rift-cut variety. Rift-sawing wood is purely aesthetic and achieves a straight grain pattern that cuts down on shiny spots in the grain known as flakes. It is most commonly used with oak because its wood grain is generally the straightest and free from cathedrals or variations.
White oak is never painted and is almost exclusively accompanied by subtle, gentle stains. This ensures that the light, natural colouring it's known for will emerge triumphantly and remain prominently on display.
Due to its increased popularity (and therefore demand) and the scarcity of white oak trees compared to red oak or maple, white oak is an expensive wood species. White oak cabinets will sit near the top of the natural wood pricing list, neck and neck with walnut.
5. Cherry
Cherry wood is prized for its aesthetic and is often associated with more of a traditional look. Noted for its rich, dark, reddish-brown colour and smooth, closed-grain pattern, cherry is one of the most luxurious woods you can find for your kitchen cabinets.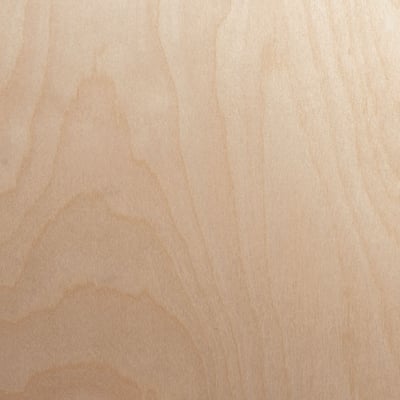 A key characteristic to note about cherry wood is its natural aging process. Starting almost as a light or golden pink, cherry gradually gains deep, alluring reddish-brown hues as it is exposed to oxidation and natural lighting over time.
What might be surprising about a wood-like cherry is that you're actually less likely to apply a deep stain to them as you would with a wood-like maple. Since the wood naturally gets darker with time, it doesn't require a deep, heavy stain like some other woods might.
Rather, thanks in part to cherry's aging process, most people use a clear coat finish to enhance the rich, natural colour and grain pattern of cherry wood.
Being one of the more elegant woods on this list, cherry sits near the high point of cabinet pricing. You'll typically find the cost of cherry just underneath walnut and rift-cut white oak, and above the more populous maple and red oak.
6. Walnut
Walnut is a stunning natural wood noted for its significant colour and strong, typically straight grain variation. Though its grain is very open and slightly more coarse than the smoothness of cherry, walnut still has a beautiful, uniform surface.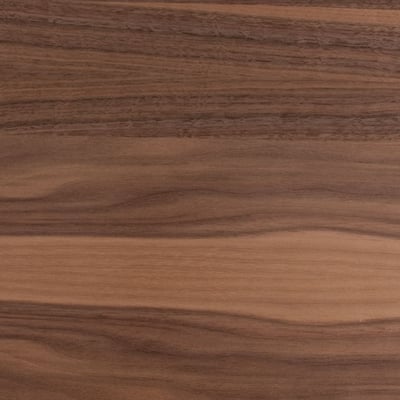 Walnut can range anywhere from a light brown to a deep, dark chocolate hue. In addition, it also has a unique aging process. With time, the dark brown colour of walnut naturally begins to lighten.
The qualities of walnut lend themself beautifully to light stains and clear coat finishes. When finished with a clear top coat, walnut portrays a very rich and velvety sheen that accentuates its strong grain pattern.
Like cherry and rift-cut white oak, walnut is not as readily available as more populous woods like maple or oak. This lack of availability results in an expensive price tag that is a tier above cherry and rivaled only by rift-cut white oak.
7. Rustic Alder
Rustic Alder is considered one of the "softest" hardwoods available and, as its name suggests, leans towards a more rustic aesthetic.
Rustic alder has a light base colour with yellow to peach hues. Further, It is prized for having plenty of large knots. The look and amount of knots will really fluctuate from door to door or slab to slab, which gives alder a very defined visual appeal that is great for cottagey, rustic, or farmhouse-style kitchens.
The softness of alder increases its rustic properties over time. Slight dents and scratches can almost be welcomed as worn and distressed blemishes, adding to the natural qualities of the wood. Unlike most other wood species, when it comes to rustic alder you're actually paying "for" the defects of the wood to be present.
While darker stains are still appropriate for rustic alder, the wood is prized for its natural appearance and you'll want to display it as much as possible. With that in mind, traditional glazes are the perfect finish for alder, as they add to the rustic appearance of the wood.
Rustic alder is a prestigious hardwood and its price tag reflects that. You can expect the cost of rustic alder to be hand in hand with cherry, just under the price of walnut and white oak.
Design with Deslaurier Custom Cabinets
If you're looking for the perfect natural wood cabinets for your kitchen, Deslaurier Custom Cabinets has everything you need! Deslaurier proudly carries each natural wood listed above in our product catalogue, and we believe we have a cabinet selection that will fit any budget and design style!
Book a consultation today with a Deslaurier design expert at our Ottawa Showroom or schedule a virtual meeting!
With over 40 years of experience to our name, we provide our clients with a fully customized design process with our talented team of designers.

Interested in becoming an authorized Deslaurier dealer? Visit our Become a Dealer page to learn more! Live outside the area? Visit our Find a Dealer page to connect with a Deslaurier dealer near you!