Estimated Read Time: 5 Minutes
If you've been researching new cabinet materials for your kitchen reno or new build, you've probably noticed there are two different kinds of oak wood: red oak and white oak.
But what's the difference? And how do you know which is better for your kitchen cabinets?
At Deslaurier, for over 40 years we've specialized in manufacturing custom cabinets with equal parts beauty and function. In that time, we've worked extensively with both red oak and white oak kitchen cabinets.
With that, this article will compare the unique qualities of both red oak and white oak cabinets, so you can determine which material would better suit your kitchen design.
Let's get started!
A Note on Red Oak and White Oak
Before we get started, it should be noted that red oak and white oak are more than just different colours. They are actually different species of wood!
While they both come from the oak wood family and share similar qualities, they do differ in several ways.
What Is Rift-Cut White Oak?
When comparing red oak and white oak, it's paramount to discuss the option of rift-sawn white oak.
Rift-sawing wood achieves a straight grain pattern and cuts down on shiny spots in the grain known as flakes. It is most commonly used with oak because its wood grain is generally the straightest and free from cathedrals or variations.
Rift-sawn wood is purely for aesthetic consistency. The primary purpose is to produce a tight, vertical wood grain presentation with very few inconsistencies. The only characteristic that it alters is the appearance, as it has no effect on the structural integrity of the wood or its overall function.
At Deslaurier, our white oak cabinets are exclusively rift-cut.
Why is white oak more commonly rift-sawn than red oak? Nothing more than trendiness. In recent years, the popularity of rift-cut white oak exploded, and thus, the style gained immense traction among interior designers and homeowners alike.
While white oak is the most popular wood for a rift-cut, they're not the only species to be sawn that way. Technically all wood species can be rift-sawn. Aside from white oak, red oak and maple are also known to be utilized in a rift-cut fashion.
Red Oak vs. White Oak Cabinets: Appearance
For many homeowners, the appearance of materials takes centre stage when making their kitchen cabinet selection.
Red oak has light to middle brown colouring with a cast of reddish hues, complemented by a prominent, fairly straight grain pattern. In contrast, white oak is overall much lighter, yet still has slight pink and purple hues to it.
Take a look at red oak (left) and white oak (right) side by side below: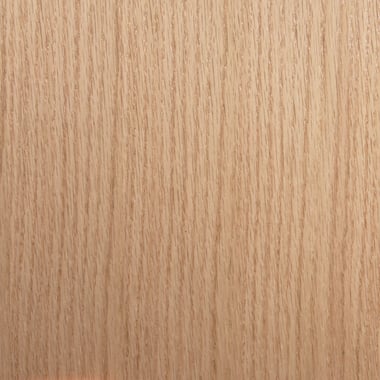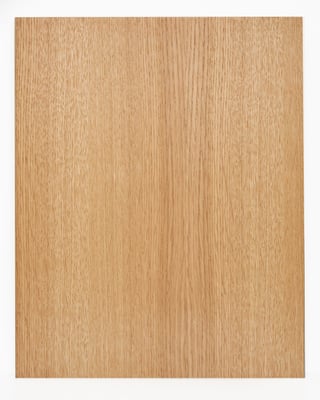 When dealing with hardwood species, it's important to remember that they are natural products—just like the trees themselves, no two cabinet doors are exactly alike. There will always be differences from one slab to the next, and that's part of their beauty!
White oak fits well in a modern design style. The rift cut offers a tighter, more linear grain pattern that lends itself to contemporary design sensibilities.
Meanwhile, red oak is seen as the more traditional aesthetic of the two. With this being said, it can still be used quite effectively in a more modern design style.
Red Oak vs. White Oak Cabinets: Durability
When it comes to red oak and white oak, durability shouldn't be a concern for either material. Especially when they're being used in a kitchen.
In fact, red oak and white oak are actually quite similar on the Janka Hardness Scale. The Janka hardness scale is a measurement that determines a wood species' resistance to denting or wear.
The results of the Janka test determine the pounds of force (lbf) required to submerge a small steel ball to half of its diameter within a specific wood sample. The higher the number on the scale, the harder and more resistant to dents or scratches the wood is.
Red oak comes in at 1290 (lbf) while white oak registers with 1360 (lbf). To put that into perspective, they're both just below maple 1450 (lbf), one of the most notably strong hardwoods.
Having said that, there are slight characteristics regarding durability that are unique to each oak species. White oak is rot-resistant, making it a highly versatile wood that is commonly used outdoors for things like decks or even boats.
Red Oak vs. White Oak:
Cabinet Finishes
Oftentimes when comparing two cabinet materials, it's prevalent to distinguish which finishing options are better suited to each particular wood species.
When it comes to red and white oak, both have almost identical textures which make neither one more suitable for a painted or stained finish than the other.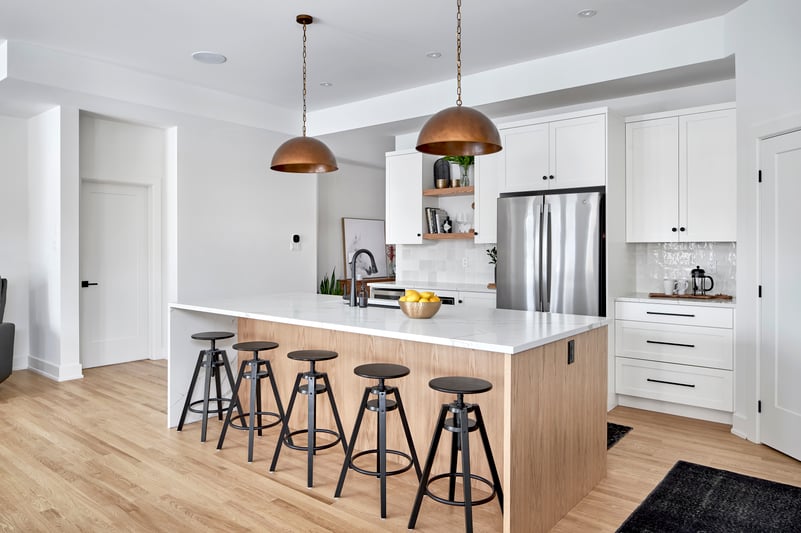 The only real difference is that red oak, although not done very often, can be painted – producing a nice, textured surface on a painted cabinet. While white oak can also be painted, it's a much more expensive (more on that below) material and is exclusively chosen for its natural aesthetic – something you wouldn't want to cover with coats of paint.
Stains, however, adhere beautifully to both wood species.
Red oak can be adorned with anything from a clear coat to a dark stain. White oak, however, is almost exclusively accompanied by gentler stains. This ensures that its light, natural colouring will emerge triumphantly and remain prominently on display.
Want the appearance of oak cabinets in your dream kitchen? Kickstart your design today and book a free consultation with a Deslaurier kitchen design expert!
Red Oak vs. White Oak Cabinets: Cost
Generally speaking, white oak will always be more expensive than red oak. That's simply based on the accessibility of the two materials. There are far more red oak trees available than there are of the white oak species.
However, the cost is always dependent on the grade of the wood, market conditions, and manufacturer.
For example, at Deslaurier, we source very high grades of wood, and as a result, our red oak and rift-cut white oak cabinets may have a different purchase price than other cabinet makers.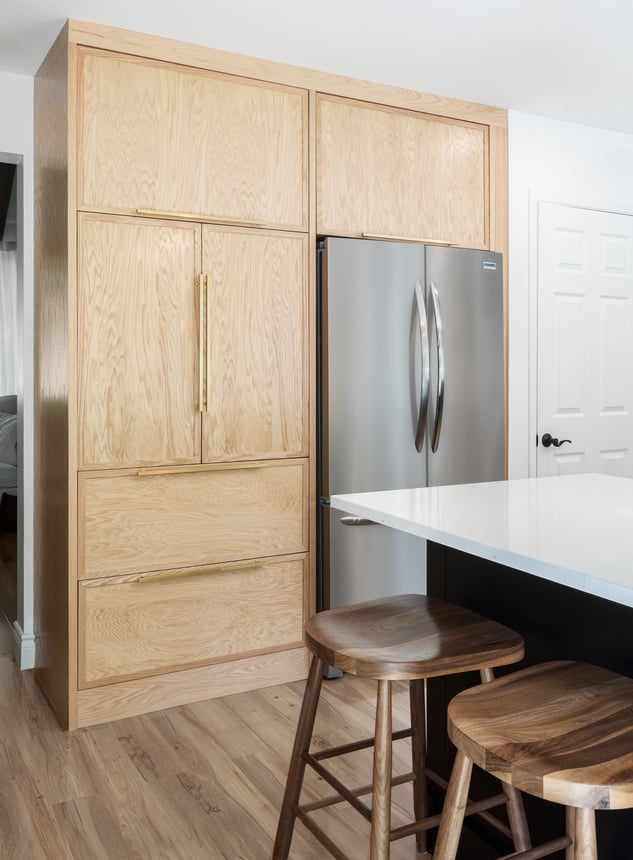 Red oak's price point sits right around maple, if not slightly above it. While white oak is in the neighbourhood of prestigious cherry and walnut, and can sometimes surpass them.
At Deslaurier, the cost of our rift-cut white oak is roughly 30% more than our red oak.
Overall cost, of course, is also conditional on the type of finish applied to the cabinets. It will cost roughly 15% more for painted cabinets as opposed to stained ones. This is due to the increased labour involved in the painting process, as well as the cost that can come with high-end cabinet paints.
Planning to renovate your kitchen? Our downloadable comprehensive guide will prepare you for every step of the kitchen renovation journey!
Red Oak vs. White Oak Cabinets: What's Right For You?
Essentially, deciding between red oak and white oak cabinets will come down to the price and your personal stylistic preference.
Do you desire a slightly darker appearance accompanied by a more traditional look? Then red oak is the better choice.
If you appreciate the lighter colouring and a trendy, more contemporary aesthetic, rift-cut white oak cabinets are sure to make a statement in your kitchen.
Ultimately, it's always important to weigh your budget, your stylistic tastes, and your lifestyle to choose the best cabinet wood species for your dream kitchen.
Design with Deslaurier Custom Cabinets
Want to compare our red oak and rift-cut white oak cabinets for yourself? Book a free consultation with a Deslaurier kitchen expert at our Ottawa showroom today!
If you have your eye on custom cabinetry, Deslaurier Custom Cabinets has everything you need. With over 40 years of experience to our name, we provide our clients with a fully customized design process with our talented team of designers.
Interested in becoming an authorized Deslaurier dealer? Visit our Become a Dealer page to learn more! Live outside the area? Find a Dealer to connect with a Deslaurier dealer near you!