Not sure if you should go with natural wood cabinets or a man-made alternative like melamine?
You've come to the right place!
At Deslaurier Custom Cabinets, we carry a variety of melamine and natural wood products because we understand how important it is for our clients to find the perfect cabinets to fit their unique needs.
Let's take an unbiased look at melamine cabinets vs natural wood cabinets to help you determine which material best suits your kitchen!
What are Melamine Cabinets?
Melamine boards consist of a raw particleboard substrate with resin-infused decorative paper permanently fused to both sides. Heat and pressure activate the resin to effectively seal the substrate and produce cabinet doors.
Melamine boards are designed to reproduce the look and feel of realistic paint, wood grain, concrete, metals, or material designs. Cabinet doors primarily come in ⅝" or ¾" thicknesses.
Check out our Learning Centre for an in-depth review of Melamine Kitchen Cabinets!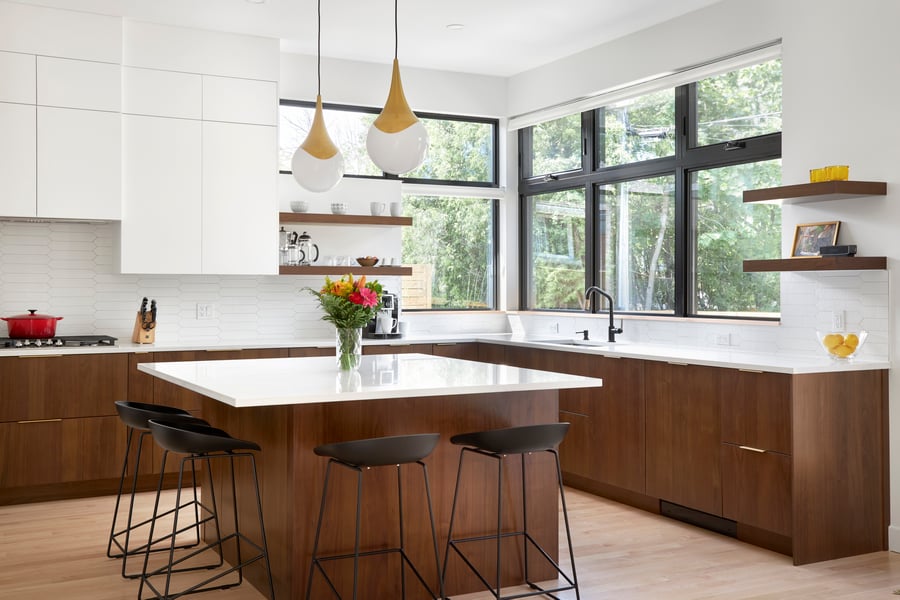 What are Natural Wood Cabinets?
Natural wood is the most popular kitchen cabinet building material around the world. With such a wide variety of species and design options to choose from, there is an option for every taste and preference.
The most popular wood species for natural wood kitchen cabinets are Maple, Birch, Cherry, Oak, and Walnut.
Specifically in North America, maple, oak, and birch are the most common natural woods. That's due to the fact that they are so readily available and easy to source.
Walnut and cherry, on the other hand, are known as elegant, high-end cabinet materials. With rich hues, distinctive wood grains, and less accessible than other species, it's no wonder walnut and cherry are considered premium wood species.
Planning to renovate your kitchen? Our downloadable comprehensive guide will prepare you for every step of the kitchen renovation journey!
Melamine Cabinets vs. Natural Wood Cabinets: Appearance
Melamine cabinets are popularly used to replicate various wood grains but they also come in solid colours and are even capable of surface and texture decor matching. In fact, most manufacturers will carry hundreds of different melamine selections from which to choose from.
Solid colour melamine is not nearly as popular as the wood grain variety but they do offer a nice alternative to traditional melamine wood grain aesthetics.
Solid colour melamine comes predominantly in a variety of blacks, greys, beiges and whites. Some manufacturers will offer a small amount of colourful options such as a deep blue or green.
Textured melamine is the most common style of melamine cabinets. Textured melamine allows for the use of deep, congruent wood grain visuals in a man-made product.
Since textured melamine are printed images, they can accurately replicate a vast amount of wood species' grains or alternative surfaces. In fact, melamine will produce a more uniform, constant wood grain than a natural wood species. This is because hardwoods are natural materials and in turn, no two cabinets will have the exact same grain patterns. Melamine will.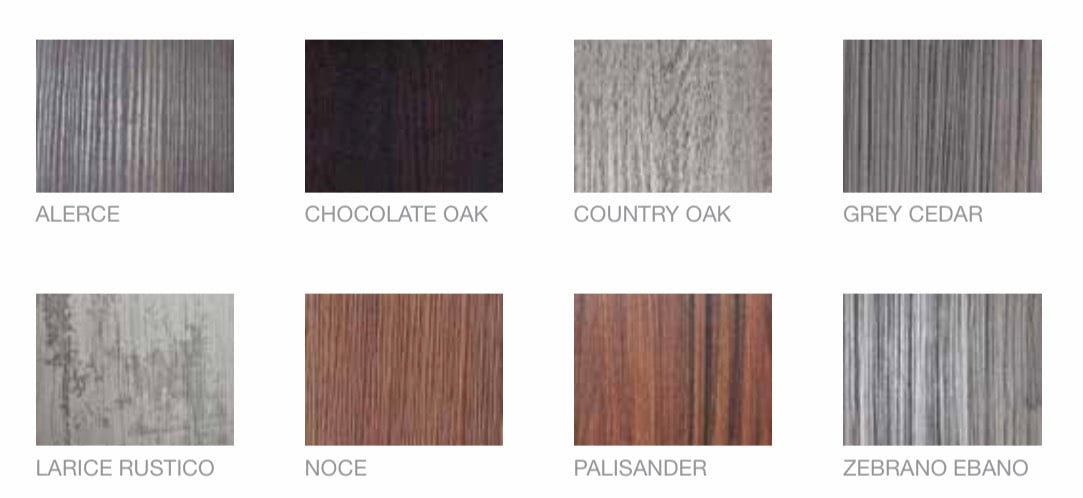 If you want real consistency in a wood grain look, textured melamine is the way to go.
Since the decorative paper is sealed with plastic resins, the surface will have somewhat of a plasticky feel to it, depending on the quality of the product.
At Deslaurier, we offer standard textured melamine, as well as a premium, high-end product referred to as European Textured Melamine (ETM).
European textured melamine is considered a higher quality, luxury line of melamine. ETM produces a prestige material with deeper textures and colours, a more realistic looking wood grain, and even feels more like natural hardwood.
If you're looking for a perfect, consistent wood grain aesthetic, European textured melamine is the highest quality option available on the market today, even more so than natural woods.
Natural hardwood options such as Maple, Birch, Cherry, Oak, and Walnut will offer an aesthetic uniqueness that does not come with melamine. Each species has a unique wood grain and hue.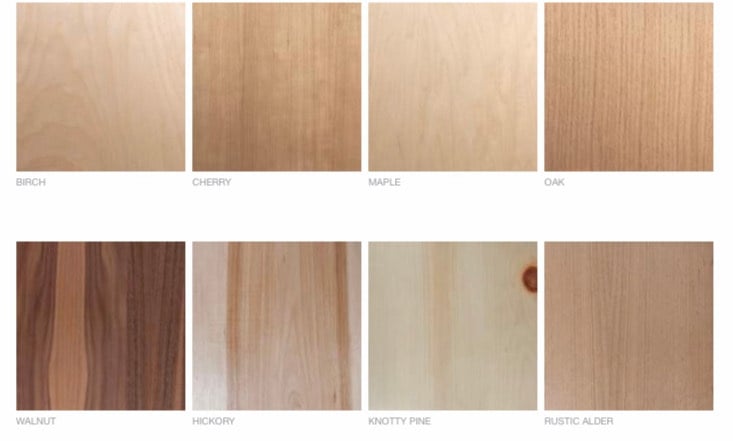 As natural products, no two cabinetry pieces from the same wood will be exactly alike. Just like the trees themselves, there will be slight differences from one slab to the next; ensuring a beautiful, idiosyncratic look.
That being said, If your focus is on having perfect consistency in a wood grain look, textured melamine is the way to go. Since it is made with decorative prints, textured melamine has the ability to produce a perfect, uniform wood grain that stays consistent on every cabinet.
Melamine Cabinets vs. Natural Wood Cabinets: Finishes
One of the most convenient characteristics of wood cabinets is the multitude of finishing options available. Natural wood can be finished in paint, stain, glaze, or worn and distressed manners.
Melamine cabinets, on the other hand, cannot actually be finished. They may be able to mimic a different finish, but the product will always be the same decorative paper fused to a substrate.


This is where natural wood truly shows its versatility.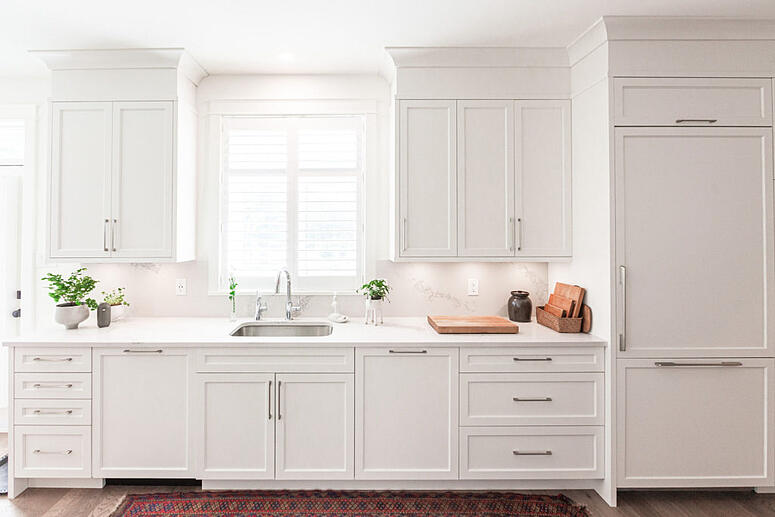 Paint Cabinets
If you intend on applying a painted finish to your natural wood cabinets, you can disregard their distinctive grain patterns as they won't show through the primer and paint. For the optimal painted cabinets, consider going with paint-grade woods such as birch or maple.
Not only does paint offer a more vibrant colour to cabinets than staining, but there are also many more varieties and customization options when choosing a paint choice. From a variety of standard paints, high-end selections, and even custom colour matching!
Since natural wood expands and contracts due to temperature and humidity changes, a painted finish can be susceptible to joints cracking.
Here's a picture of a 5-piece natural wood door that has experienced joint separation: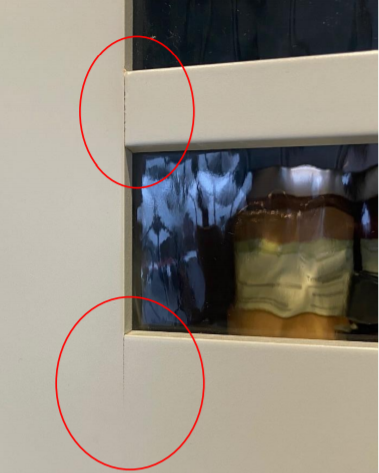 In comparison, Since melamine only comes in slab doors, joint separation will never be an issue. That being said, melamine doors are significantly limited when it comes to solid colour options. They're also not actually painted.
If you're looking to implement a vibrant colour in your kitchen, going with painted natural wood is the far superior option.
If you know painted cabinets are the way to go for your kitchen, check out our article on MDF vs. natural wood, and see which material you need for your painted cabinets!
Stained Cabinets
The most significant aesthetic indicator of stained natural wood cabinetry is that the wood's natural grain pattern and texture remains visible. Stains seep into the cabinet door surface and provide a rich, translucent finish.
As a result, the knots and grains of the wood species stay prominently on display. This is a stunning look if you want to proudly present your beautiful, natural wood cabinetry. Stains also offer a more durable finish that can hide damages or blemishes easier within those knots and grains.
A natural wood stain has significantly more options than melamine. With wood, you can select a particular species and from there go as dark or as light as you want with the stain. Melamine, on the other hand, will only come with predetermined levels of stain, restricting the overall selection for wood grain designs.
The downside of staining natural wood is that you're dealing with a real tree with imperfections and incongruencies. A stain won't always adhere consistently throughout the slab of wood and it can result in an uneven, or even sometimes blotchy, finish.
Worn and Distressed Cabinets
Prefer a more rustic and natural look for your kitchen cabinetry? Worn or distressed cabinets could be exactly what you're looking for!
There are 3 levels of distressing available: mild, moderate, and major.
There are also 8 elements of distressing to select:
Sanded corners
Dents and marks
Chiselled edges
Cracks
Wormholes
Screw pattern
Sanded edges
Filed corners


Worn cabinets involve sanding down the edges and corners of a cabinet door to expose the core material underneath. They subtly display the natural wood underneath a stain or paint, providing a beautifully aged cabinet door.
Melamine can come in worn or distressed styles, but they do not come close to rivaling the natural allure or realism of hardwood.
The beauty of working with natural woods is that the material can be crafted in a unique manner that can't be replicated by decor paper and resin coating. Moreover, worn and distressed cabinets have a distinctive feel to them that melamine just can't compete with.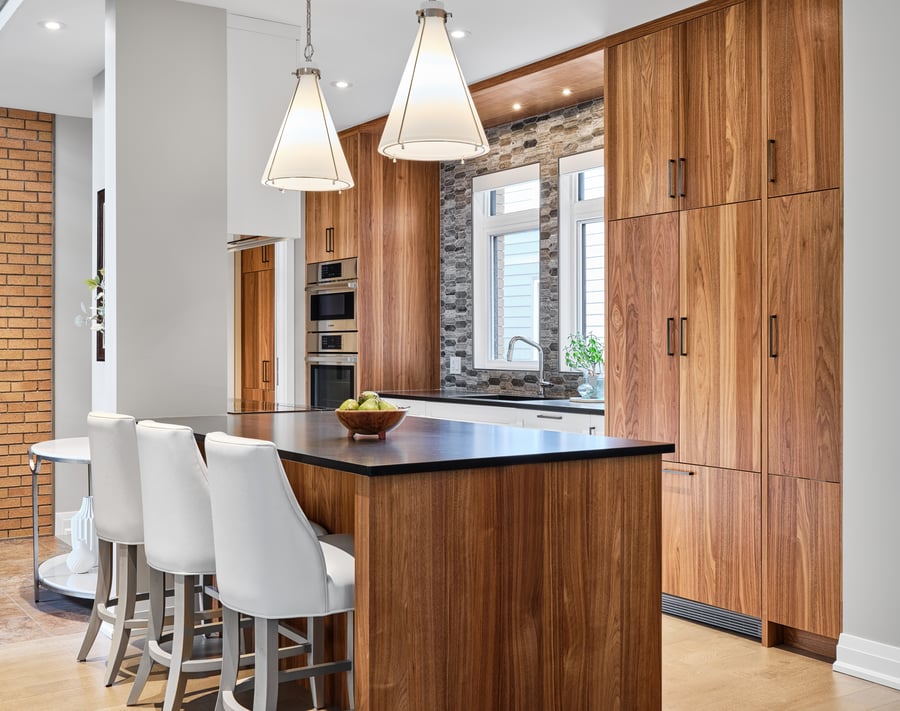 Melamine Cabinets vs. Natural Wood Cabinets: Durability
Melamine is one of the most durable cabinet materials on the market today, noted for its strong resistance to excessive moisture, heat, and stains.
Since the resin-filled paper is permanently fused to the particleboard substrate, melamine will not peel away. It also won't delaminate like other fused products, such as thermofoil.
While regular textured melamine is still a durable product, issues can arise. The corners, for example, can be prone to chipping.
Chips will result in the substrate becoming exposed. Depending on the size of the chip, this will leave the door looking flawed and the exposed particleboard underneath.
That being said, the underlying substrate is extremely vulnerable to water damage. If the particleboard becomes exposed, from chips, scratches or other damage, any liquid that finds its way within the substrate will spread like wildfire, even at the molecular level.
So long as the finish on the doors are not compromised, melamine holds up well against water damage.
As the TFL designation indicates, melamine is a laminate, which results in it being more "stable" than solid wood or wood veneer. What this means is, wood will naturally breathe (expand and contract) due to fluctuations in temperature or humidity. Melamine won't.
In contrast, natural hardwood options will expand and contract with changes in temperatures or humidity and as a result, are susceptible to warping over time. Warping can also be caused by liquid or excessive moisture.
While it would take significant moisture or years of temperature and humidity changes, warping is still something to be cognizant of when it comes to natural hardwood cabinets.
When discussing natural wood strength and durability will vary slightly depending on the chosen species. Maple, for example, is a very strong hardwood compared to a birch. Having said that, all natural hardwoods are strong and durable when referring to any daily kitchen use.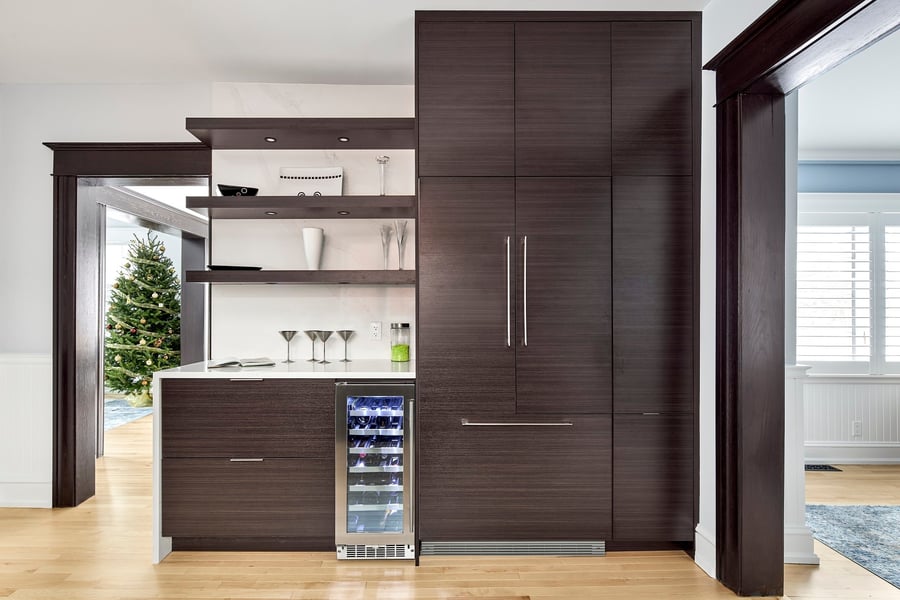 Melamine Cabinets vs. Natural Wood Cabinets: Design Flexibility
Melamine comes with a number of design flaws and limitations compared to wood.
For starters, melamine will almost always come in a slab (flat) door style. Since melamine is restricted to slab doors, everything else will be flat as well. Any decorative crown or trim moulding will be flat, with no opportunity to modify or customize the design.
If you're looking to flex your creative decor muscles, going with natural wood cabinets is your best bet.
At Deslaurier, we offer over 70 different door styles in our catalogue. Further, there are dozens of custom decorative trim and mouldings to choose from. In turn, it's easy to see that natural wood is a far more design-friendly material.
Melamine Cabinets vs. Natural Wood Cabinets: Cost
In general, the cost of cabinet materials is always dependent on the grade of the wood, market conditions, and manufacturer.
Melamine is considered cost-effective in pricing, making it a popular, budget-conscious choice for kitchen cabinets.
With regards to the European textured melamine, pricing is a lot steeper than standard melamines. European textured melamine is a premium, high-end product, and is priced accordingly. It is not uncommon for the price of ETM to rival that of painted MDF or a stained natural wood.
Alternatively, the overall cost of natural wood cabinets will vary depending on the species of wood you select and also the finish you apply to your chosen material.
Readily available woods like Oak, Birch, and Maple are easily sourced throughout North America, making them cost-effective. In comparison, Walnut and Cherry are rarer and considered high-end, ultimately increasing the cost.
As an example: Deslaurier sources very high-grade wood, and so the cost of products such as Birch or Maple are virtually the same. But traditionally, Birch is a less-expensive product than Maple.
For natural wood, painted cabinets will typically cost 10-15% more than stained cabinets, due to the excess labour (priming, multiple coats of paint, etc.) involved in the extensive painting process.
Stains and glazes can also vary in quality and in price, but relatively speaking, the species of wood will always influence cost to a greater degree than the stain.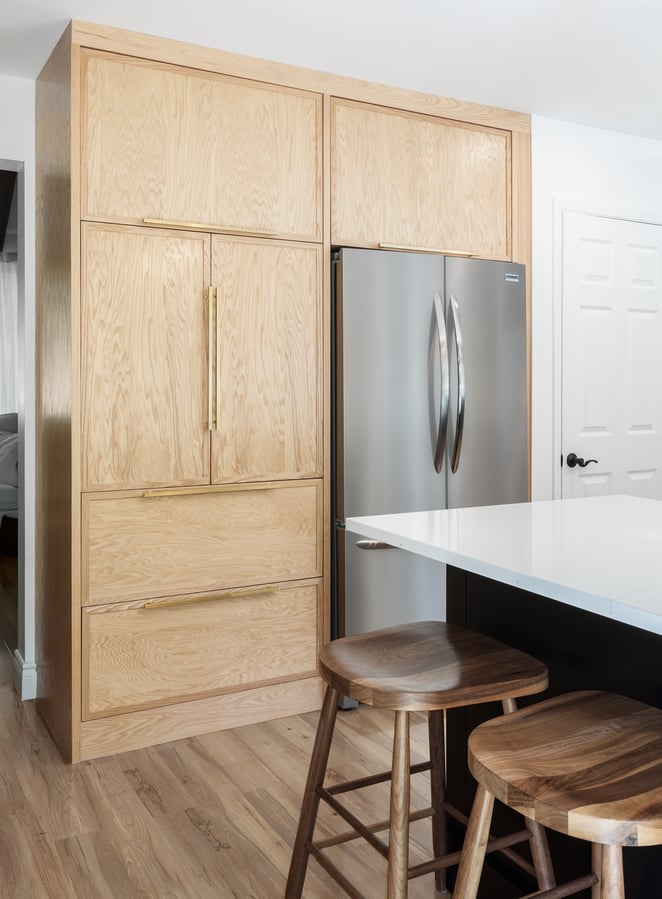 Melamine Cabinets vs. Natural Wood: What's Right For You?
Some people really like the idea of natural wood and do not want an artificial product. Other people may focus solely on a consistent, uniform wood grain aesthetic, which is perfectly achieved by high-quality European textured melamine.
If you're on a tight budget or looking to do a quick reno, standard melamine is a very solid choice.
Want a beautiful, vibrant paint? Go with natural paint-grade woods like birch or maple.
Melamine

Natural Wood

Pros

- Both cost-effective & high-end choices




- Strong and durable against damage




- Consistent, uniform wood grain




- Easy to clean slab doors




- It can replicate the grain of a variety of wood species for a fraction of the cost

- Natural wood grain




- Variety of finishes




- Variety of door styles




- Solid and durable materials




- Significantly more door styles and decorative trims

Cons

- Substrate is vulnerable to liquid




- Low-end choices aren't as nice




- Corners can be prone to chipping




- Limited to what the manufacturer has




- Only comes in a slab door




- Limited in terms of decorative trim

- Some extremely expensive species of wood




- Natural, breathing material that can crack painted finish




- Can warp from water or temperature changes
Custom Cabinet Design With Deslaurier
Between melamine and the various natural wood species available, finally selecting the perfect kitchen cabinets for your home can be a struggle.
Luckily, you came to the right place!
If you have your eye on custom cabinetry, Deslaurier Custom Cabinets has everything you need. With over 40 years of industry experience, we provide our clients with a fully customized design process with our talented team of designers.
Book a free consultation today and meet with one of our Deslaurier design experts in our Ottawa showroom!