17/09/2021 • Blog
How to Prepare For Kitchen Cabinet Installation
You've collaborated with a designer. You've made all the hard design decisions. You've signed off on your brand-new kitchen design. You've waited patiently for your custom cabinets to be manufactured, and installation day has finally arrived. Congratulations!
You're one short step away from using your new kitchen. What is that last step, you ask?
Site prep!
This article will explain how to get your home prepped and ready for cabinet installation, one step at a time.
Let's get prepping!
Disassemble Existing Kitchen Cabinets
If you're renovating an old kitchen, the first course of action must be to remove all existing cabinetry from the space.
That might mean hiring a contractor to perform minor demolition or that might mean carefully dismounting each cabinet to be sold, upcycled, or donated.
Depending on their condition, it may be worth throwing up a free advertisement on an online marketplace like Kijiji or Facebook. You never know: those old cabinets could make you a quick profit. Alternatively, if you have the vehicle space you can donate them to a not-for-profit organization.
If you're doing the demo or dismount yourself, be sure to wear proper PPE like safety goggles, work gloves, and a mask. Safety first!
However you want to do it, those cabinets have to go before your new ones can go up!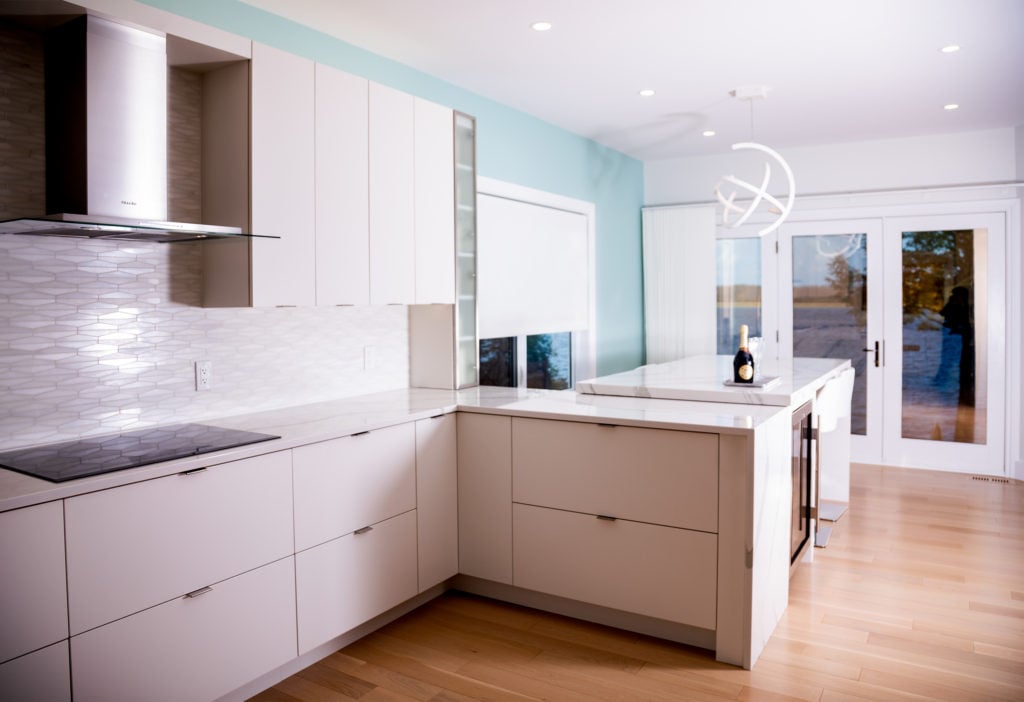 Rough-In All Utilities
Next on the to-do list: all your kitchen's utilities need completed rough-ins.
That means heating/cooling ductwork is ready. That means plumbing for supply, waste, and ventilation is prepped. That means electrical outlets, appliance feeds, and lighting (110V and low voltage) are all complete.
This step can be a lengthy one if you're changing the layout of your kitchen. If you're expanding your space, you may need more electrical boxes to meet code. If you're switching up the location of appliances, plumbing, gas, and electrical feeds will likely have to change. There's a lot of behind-the-scenes infrastructure in every kitchen!
Conversely, if you're keeping everything about your old kitchen the same, you may not need any of this work done.
For those homeowners who have rearranging to do, it's best to plan these tasks as early on as possible. You may have a general contractor overseeing subcontractor schedules for you, but if not, take care to give each professional the time they need to perform each task.
Get Drywall and Paint Up
Tearing old cabinets off the walls isn't the only prep work needed for new cabinets. You'll also need to get those walls and bulkheads drywalled, primed, and painted.
Ideally, all three of these boxes (drywall, primer, and paint) will be ticked before your new cabinets arrive.
It will save you a lot of hassle to have the final colour already on your walls before your cabinets go up. It's much, much simpler to paint an empty wall with large roller strokes than to carefully cut around cabinets and a backsplash with a handheld brush.
With paint done, you'll only have minor touch-ups left to do when your cabinets go up.
However, if you can't manage to complete a full paint job, try to get at the bare minimum the first coat of primer on the walls. Primer provides a safety barrier for the facing paper of the wall. The primer coat will protect against any dings that might happen when moving cabinet boxes into place.
If you're installing new windows or doors in your kitchen, make sure the surrounding trim has been installed.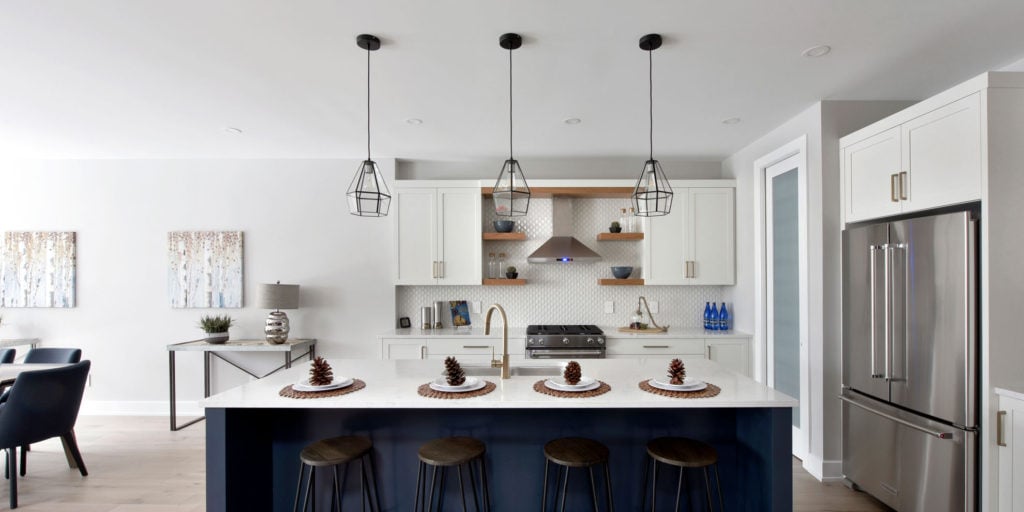 Put Kitchen Flooring Down
For most types of kitchen flooring, cabinets are installed on the finished product. That means that you'll need to arrange for your flooring contractor to come in before cabinet installation.
The only exception to this rule is laminate floating floors. This particular type of flooring must be installed after cabinets are in.
If you're installing a type of flooring that needs to be finished first, you'll want to make sure that you cover that freshly installed surface with protective drop sheets. The last thing you want is for your brand-new cabinets to scratch your brand-new floors!
Prep the Indoor Work Area
Item number five on our list is a big one: create an indoor work area that will streamline cabinet installation.
Sufficient work area or lack thereof can really make or break the efficiency of a cabinet install.
If you're installing custom cabinets (click to learn the differences between stock vs. custom vs. semi-custom cabinets), your cabinet installers are going to need an indoor area large enough to cut your cabinets to size.
For stock and ready-to-assemble cabinets, a cutting area may not be as essential to your installers, but it's still a good idea to leave some workspace for tools and various other equipment.
As for custom cabinetry, a spacious work site is crucial.
For one, cabinet delivery doesn't usually happen on the same day as installation. Your cabinets will need somewhere safe to stay for at least one day, if not longer.
Secondly, a kitchen's cabinetry system, flat-packed into cardboard boxes, takes up a substantial amount of room. You might think that using your garage will be fine, but the temperature fluctuation in an unregulated space like that could cause damage to the cabinets. Ideally, you'll have sufficient space indoors that's close to the kitchen too, so your installers have easy access.
If you have a covered area like a porch outdoors, asking your installers to use the space outside is a possible solution, but ultimately it depends on the preferences of your installation crew and the weather.
A lot of contractors in the industry won't work outside, as it's a liability to their tools. You'll need to check with your installation crew if that's okay ahead of time.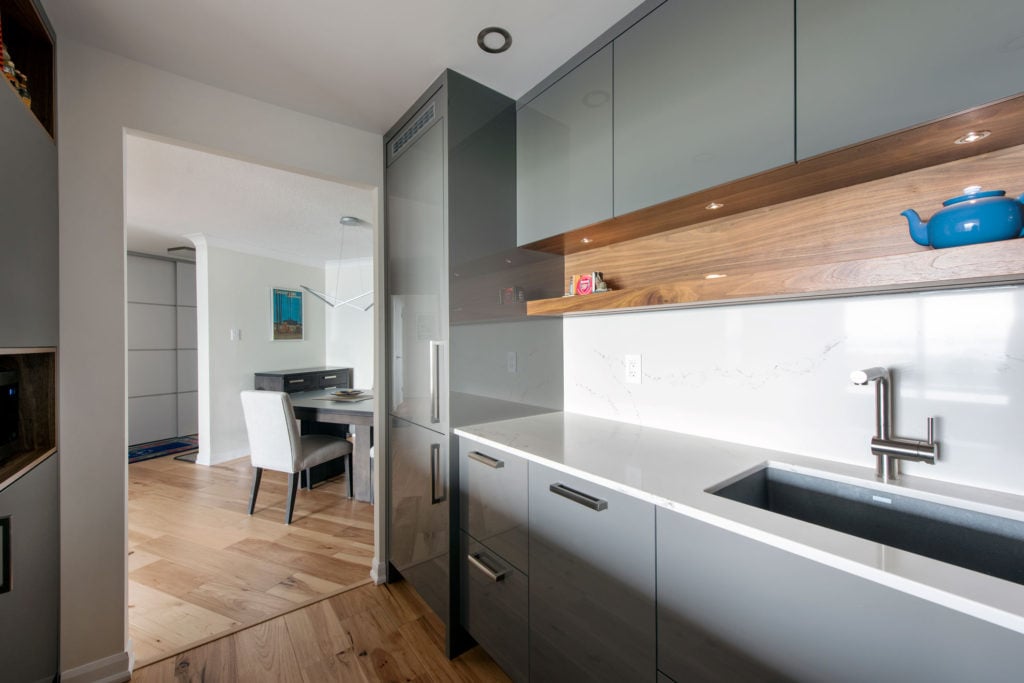 Secure the Job Site
Now that your kitchen is fully prepped, a few out-of-kitchen items need to be addressed.
If you're going to have workers spend 2-5 days (the average time for a cabinet installation project) in your home, some safety precautions should be set up.
Outside, you need to have a safe, clear passageway from your driveway to your makeshift work area. You can expect that your cabinets will arrive in a 5-tonne truck. That means there needs to be room in your driveway or in front of your home for the truck to park and unload everything.
Moving inside, you'll also want to ensure that all stairways and/or openings have railings. This is to safeguard both the people working, and the cabinets they're working with.
Last but not least, make sure the kitchen and adjacent work area have heat and light. If you're renovating your current home, heating and lighting may not be an issue. If your home is a new-build though, it may require bringing in lamps and a generator.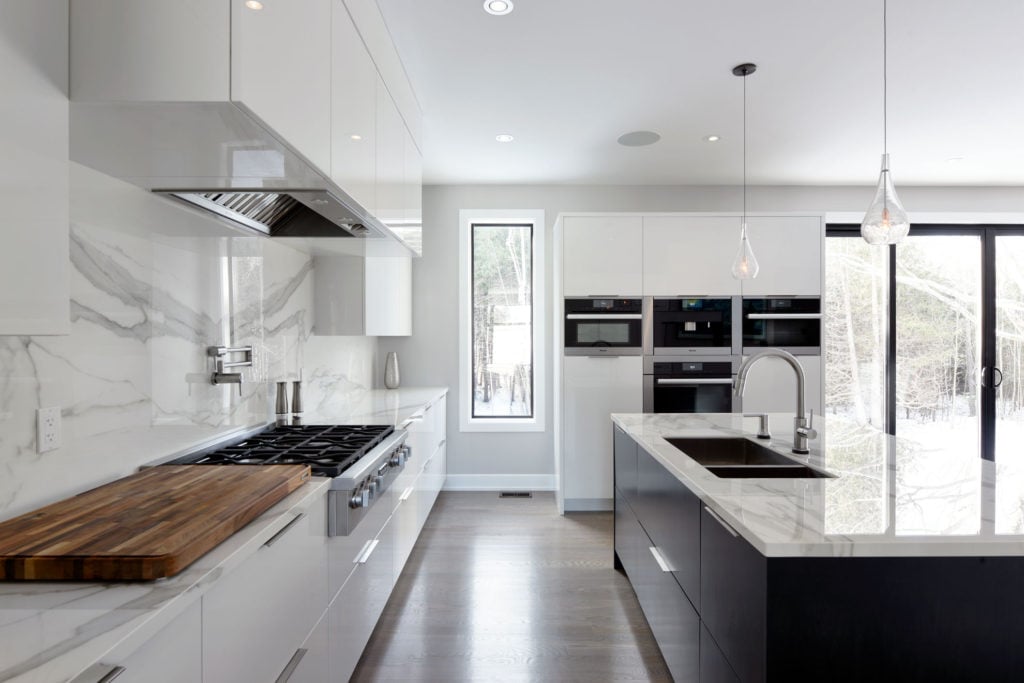 Speak to Your Installers
Once you have these essentials ready to go, you might want to touch base with your installer in case there's anything else they need.
For example, if you're installing a tile backsplash, your installer will likely want to know the tile thickness. That thickness will determine how the cabinetry's light valance should be set. Or, your installer may need your sink and stove cut-out templates and specifications on hand.
Every installer works a little differently, so it's crucial you keep communication lines open.
Prepare for Dust
With everything set for a flawless cabinet installation, you have only one more thing to prepare for.
Dust clean-up!
Whatever type of cabinets you've chosen to install, you can expect to see dust residue post-installation. It's simply a messy reality that comes with the job, and that's why it's listed as one of our top 5 issues with kitchen cabinet installation.
On top of the drop sheets that you have covering your floors, you may want to seal kitchen doorways with plastic sheeting and tarps, too. Cover vents, furniture, and anything you don't want collecting a thin film of dust.
While most contractors do their best to clean up the worksite, you shouldn't expect an in-depth cleaning job. In other words, be prepared to take a high-powered vacuum to the scene before you start cooking!
Schedule an Outing
Last but not least, it's a good idea to plan to be away from the house during working hours.
Naturally, your kitchen will be out of service, so make sure you have meals planned ahead or a separate cooking workstation, like a hot plate and dining table, set up elsewhere in the home. Temporary kitchenettes work best in the basement or another room that's far away from the noise, dust, and general reno disruption.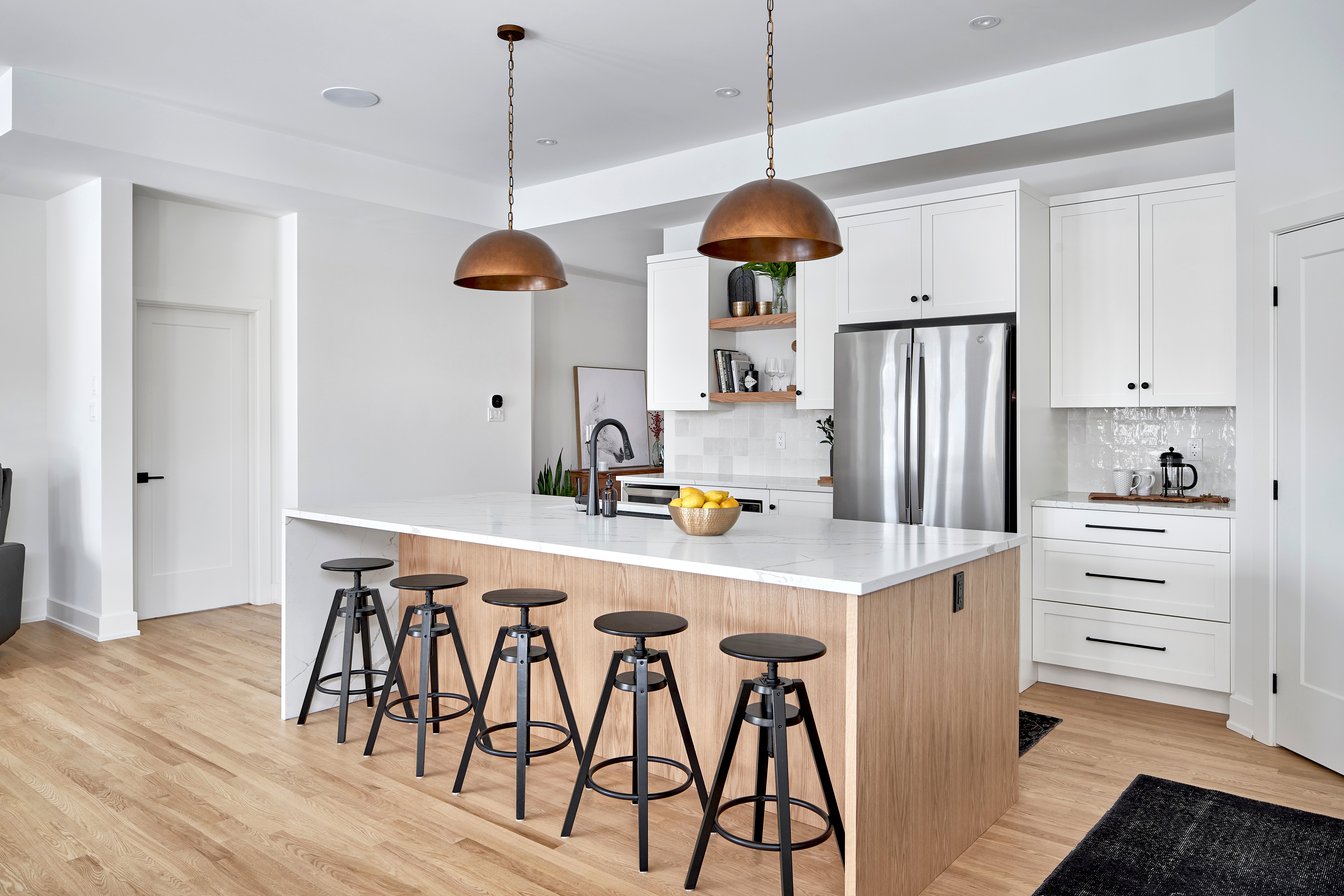 Design With Deslaurier
The renovation process is a complex one—a quality, functional kitchen has a lot of moving parts!
At Deslaurier Custom Cabinets, we strive to simplify the kitchen design and installation process from start to finish.
Schedule a free consultation with a kitchen designer in Jupiter, FL to learn how we can help expedite your reno plans.
Interested in becoming an authorized dealer in Florida? Connect with us on our Become a Dealer page!
Related Links: