7/01/2022 • Blog
Where to Buy Kitchen Cabinets In Ottawa
Looking to buy new cabinets for your home?
At Deslaurier Custom Cabinets, we specialize in quality, stylish, and unique custom cabinetry. While we are proud of the product we offer, we also understand that we are not for everyone. In fact, there are many cabinet suppliers in Ottawa who cater to varying needs and preferences.
More specifically, stock, custom, and semi-custom cabinets are all made differently. So how do you know which style is best suited to your needs, and what local business is equipped to handle your project?
This article will help you better understand what cabinets are right for your kitchen and where your unique needs will be best served here in Ottawa.


Let's get started!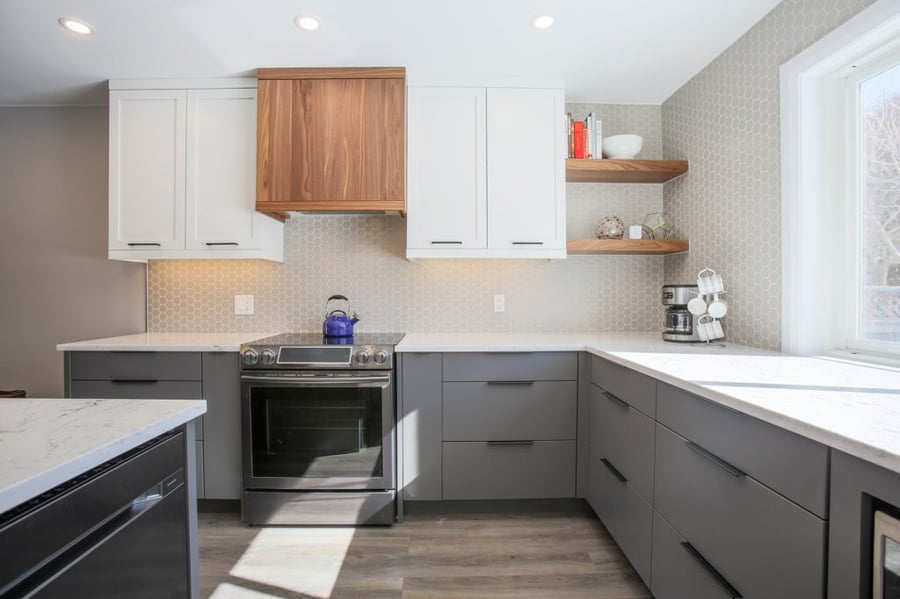 Stock Kitchen Cabinets
Stock cabinets are ready-made, pre-manufactured products with zero customization options.
Stock cabinets are offered in set sizes, and you have to select the right cabinets to fit your kitchen space. While these set sizes may vary from retailer to retailer, there are some industry-wide norms that you can expect to find.
In terms of width, stock cabinetry tends to begin at 9-inches wide and moves up in 3-inch increments. The largest size available is generally about 48-inches wide. As for height, stock cabinets are usually around 30-inches to 36-inches tall.
Generally speaking, stock cabinets are a retailer's most basic, entry-level product. That means the materials and construction methods used are likely economical and low-tier quality. You can expect stock cabinetry to be built with affordable materials such as melamine and plywood with veneers, thermofoil, simple joinery, and basic hardware.
The major advantage to choosing stock cabinets is the fast lead time. Many retailers have stock cabinets flat-packed and in stock so that you can drive them home or order them for delivery the same day.
Where to Buy Stock Kitchen Cabinets In Ottawa
Generally, the best place to buy stock kitchen cabinets is at large home improvement stores.
Home Depot, Lowe's, Rona, and IKEA are all good reference points to understand how stock cabinets work. These stores will have stock kitchen cabinets available "off the shelf" or online, which are ready for purchase immediately.
Custom cabinet makers may also offer stock cabinets—they might pre-manufacture their most popular products and have them ready to go for fast delivery. But more often than not, it's the franchises with the capacity to mass-produce that have stock catalogues.
The average cost of stock kitchen cabinets is about $160 to $380 per linear foot. To accommodate an average-sized kitchen, most homeowners end up spending between $3,000 to $10,000 or more on a stock cabinetry design.
Thinking of going with IKEA? Check out how they stack up against Deslaurier's custom cabinets.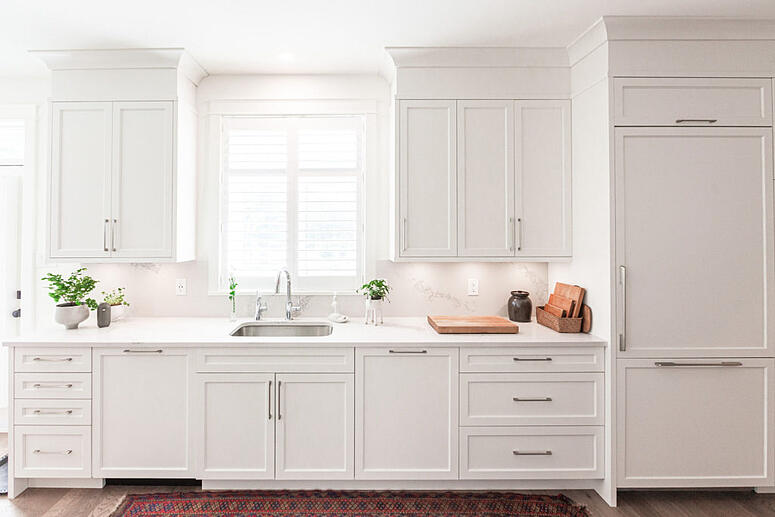 Custom Kitchen Cabinets
As the name suggests, custom cabinetry is custom built to meet your personal specifications, whatever they may be. By collaborating with a professional designer, you can strategically tailor your kitchen design to match your lifestyle.
When you're shopping custom, you start with a blank canvas. Everything, including cabinet materials, size, construction, colour, and finish (including paints and stains and custom colour matches) can be adjusted to suit your taste.
Custom will also offer the widest array of decorative trim and moulding options. If you want to sift through various options to create your kitchen's perfect decorative aesthetic, choosing custom is the best solution.
Because custom cabinets are designed and built to order on a case-by-case basis, they usually come with the longest lead times.
Going the custom route will be exceptionally more expensive than stock or semi-custom. A large, high-end kitchen design outfitted with custom cabinets can be as much as $100,000.
Where to Buy Custom Kitchen Cabinets In Ottawa
Ottawa has a number of reputable and long-serving companies devoted to custom cabinets.
Ensuring you work with the best custom cabinet company for your specific design needs is crucial for a successful finished product. That is why it's so important to do your research and explore your options before selecting a manufacturer to work with.
Here are a few Ottawa-based custom kitchen cabinet companies to consider.
Ottawa Cabinet Co Ltd.
Ottawa Cabinet Co Ltd. provides over 70 years of industry experience. They will work with you from start to finish, from designing your custom kitchen to installation.
They have a custom line that offers a variety of cabinet designs, colours, materials, and hardware to choose from!
They are an accredited business with the Better Business Bureau (BBB) and hold an A+ rating as well.
Cutwell Kitchens
Originated in 1945, CutWell Kitchens has been a local family-owned and operated business for over 65 years, currently in their third generation of ownership.
They are a custom millwork shop that produces long lasting, high quality products. Along with custom kitchen cabinets, Cutwell can design and manufacture custom bedroom sets, wall units, closets, and more!
With incredibly positive reviews, they currently sit with a sparkling 4.4/5 on their Facebook page!
The Cabinet Connection
The Cabinet Connection provides custom designs for your kitchen needs. The unique aspect of Cabinet Connection is that they do not manufacture their own singular line of cabinetry.
Instead, they partner with the perfect manufacturers to suit your specific design needs! This allows them to personalize your custom project and ensure that if one manufacturing partner doesn't have what you need, another will.
They hold a dazzling 4.7 rating from 40 reviews on Houzz.
Laurysen Kitchens Ltd.
Family owned and operated since 1970, Laurysen is a well-respected Ottawa based company focused on creating beautifully customized cabinet designs.
On Houzz, they hold a 4.3 rating from 34 reviews.
They have also won a number of prestigious Ottawa home awards from NKBA design as well as GOHBA.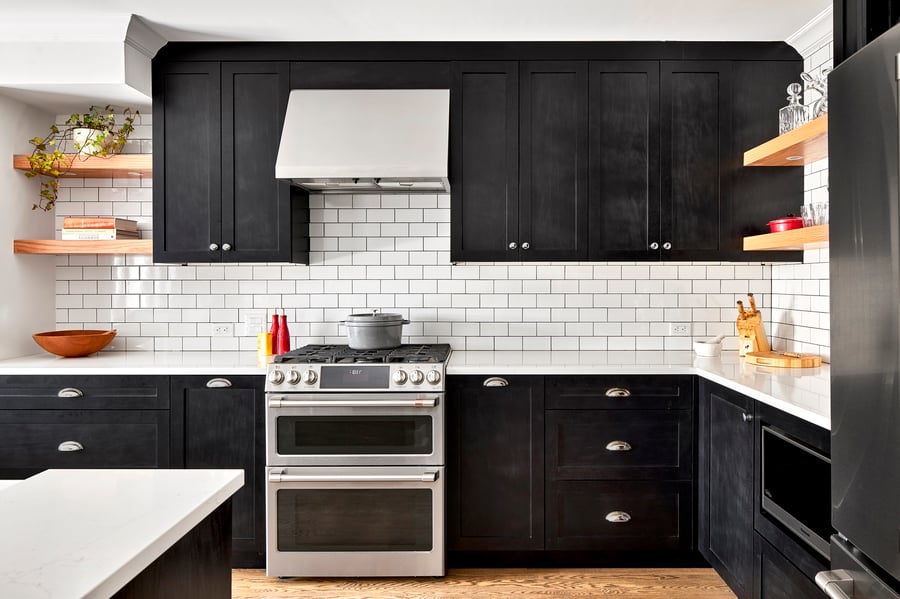 Semi-Custom Kitchen Cabinets
Semi-custom cabinetry is an in-between product. It's a hybrid of both stock and custom cabinet services.
Semi-custom cabinetry has fewer design options than custom cabinets but more design options than stock cabinets. Similar to stock, semi-custom cabinets come in standard sizes but give designers the flexibility to resize and modify certain elements of the cabinet design.
The confusing part is figuring out precisely what design freedoms you have for your semi-custom cabinets, because it differs with every manufacturer.
For example, manufacturer A might be willing to modify cabinet depth and width by 1-inch increments, but not cabinet height. They might have 100 different door styles and double that many finishes to choose from.
In that scenario, you have plenty of design freedom to craft a highly personalized kitchen. If it were spread out on a line chart, manufacturer A's semi-custom line would land very close to fully custom cabinets.
Sometimes, the cost to make significant modifications to semi-custom cabinet pieces costs more than making the same number of modifications to custom cabinets. That's why it's always a good idea to get multiple quotes.
Take a look at how Home Depot's semi-custom line compares to Deslaurier!
Where to Buy Semi-Custom Kitchen Cabinets In Ottawa
Semi-custom kitchen cabinets are right in the sweet spot for consumer availability. Although IKEA's cabinetry line is strictly stock, many large home improvement stores like Home Depot and Lowe's offer semi-custom cabinet selections to go along with their stock line.
Plenty of custom cabinet manufacturers will also provide a large number of semi-custom options.
Laurysen, Cabinet Connection, Ottawa Cabinet Co Ltd, and Cutwell Kitchens all offer semi-custom cabinet options.
Consider looking online at the semi-custom selection available from large brands like Home Depot and Lowe's. If what they offer is not quite what you're looking for, contacting local custom suppliers for their semi-custom alternatives might be just what you need.
If you're thinking of going semi-custom for your cabinets, you will not be short on options.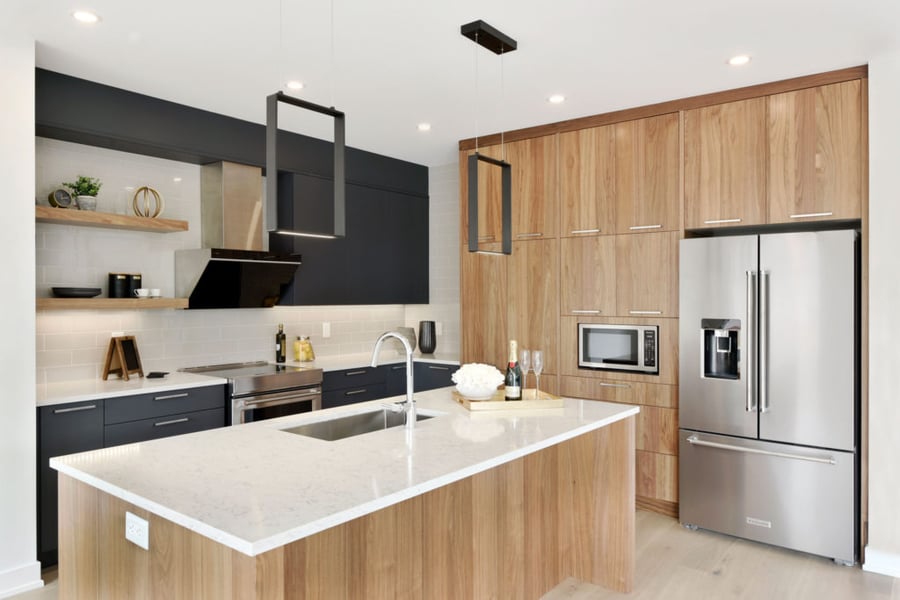 Discover Deslaurier Custom Cabinets
If you're thinking about going the custom cabinet route, you've come to the right place. At Deslaurier, we are experts in all things custom cabinetry.
Deslaurier is a Canadian business with a history spanning 40 years. Deslaurier's exclusive specialty is custom cabinetry, and the company works closely with retail clients and builders to craft tailor-made kitchens. Each customer is assigned a designer to work with them from start to finish.
At Deslaurier, your cabinets are 100% customizable. The Deslaurier product catalogue is 700 pages long—with help from a professional Deslaurier designer, you can pinpoint a combination of species, door style, finish, and size that matches your kitchen space to a tee. Plus, if you have your heart set on a particular hue, Deslaurier offers an advanced paint colour-matching process.
Deslaurier cabinet sizes are fully customizable to even one sixteenth of an inch, so you can accommodate your kitchen's unique spatial requirements precisely.
At Deslaurier, our designers are our greatest asset, bringing over 60 years of combined experience to the table. We've earned Deslaurier the Better Business Bureau's Torch Award, which sets the standard for marketplace trust in the home improvement industry.
Book a free consultation with a Deslaurier kitchen design expert in our Jupiter, Florida showroom!