If you've been searching for new cabinets for your kitchen, you've probably come across wood veneer. With the ability to provide natural wood aesthetic at a cost-effective price, it's no wonder wood veneer is such a popular kitchen cabinet material.

Whether you're doing a budget-friendly kitchen renovation or designing your dream kitchen, wood veneer cabinets can be utilized to fit any budget or design style.
At Deslaurier, we specialize in all things custom cabinetry and offer a variety of cabinet selections in wood veneer. Our clients often ask us about wood veneer cabinets and in this article, we'll give you the same answers we give them!
Let's take a look at what wood veneer kitchen cabinets have to offer!

What Is Wood Veneer?
Wood veneer provides the look and texture of natural wood because it's actually made of real wood!
To create wood veneer, a thin sheet of real wood is adhered onto an underlying substrate. While some manufacturers may use plywood for a substrate, wood veneer is most commonly applied to particleboard; the same material that cabinet boxes are made out of.
Along with kitchen cabinets, wood veneer can be used for furniture, tables, and other surfaces where touch and texture are on display like in commercial offices, conference rooms, reception desks, and even home offices. Wood veneer is also used to decorate furniture for residential projects as well as commercial projects like hotels or offices.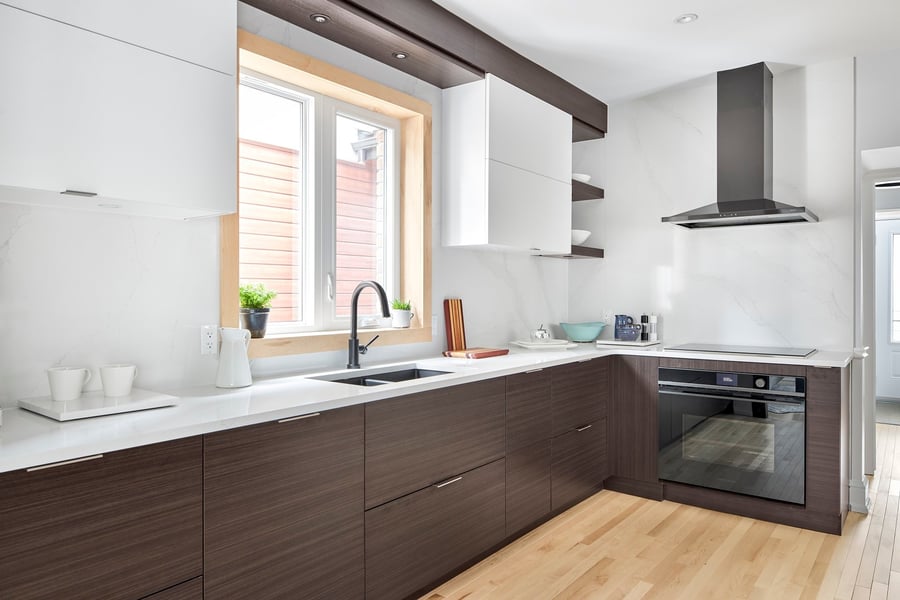 Wood Veneer Kitchen Cabinets
Wood veneer is most commonly used in cabinets with slab doors or incorporated as centre panels for 5 piece doors to reduce the cost.
In fact, if you're going with a slab door with a wood aesthetic, you'll more than likely end up having wood veneer! That's due to the material's cost-effective nature, as well as solid wood's propensity to warp.
Further, Wood Veneer is offered in the same wood species as all solid door options, so there is a wide variety of wood grains and species to choose from.
Depending on your manufacturer, some wood veneers may only be produced in thin strips that are six inches in width. So you will see the wood grain strip, before they have to go to another pattern.
Wood veneer is also a great way to utilize exotic woods that are harder to source such as bamboo and mahogany. Not only can wood veneer incorporate these wood species, but also at a fraction of the cost.
Some more popular and affordable woods, like maple or oak, will consistently be produced in much wider sheets of veneer so that the grain looks much more consistent.
Wood Veneer Kitchen Cabinet Durability
Wood veneer cabinets are reasonably durable but fall short of solid wood in several ways.
Wood veneer's main concern is its susceptibility to water damage. That goes back to the particleboard substrate – if water gets past the veneer it can spread within the particleboard, causing the door to expand. Excessive moisture or water damage can also cause the veneer sheet to loosen or "bubble" from its base.
Wood veneer can also be more vulnerable to scuffs and scratches compared to solid wood. Don't worry, they're easy to treat! Mild scuffs can be covered with a solid furniture polish while deeper scratches may require a wax filler to cover up any unsightly damage.
Speaking of damage, corners and lower edges of wood veneer cabinets are prone to chipping. If a door does become chipped along a corner or edge, the veneer sheet may begin to peel and show the underneath substrate. Although it would take a significant amount of chipping for this to occur, it does underline the importance of spotting any damage before it can worsen.
Although chipping is not ideal, it does make wood veneer a good choice for 5-piece doors. Given that only the centre panel is visible in a 5-piece door cabinet, any corner or edge will not be at risk of damage.
A popular way to enhance the strength and reduce chipping on veneer doors is to apply solid wood for the edges, given that corners and edges are the most susceptible for chipping or peeling. Using solid wood for edges will protect the doors by increasing durability and reducing any damage.
These solid wood edges are also commonly used on veneer, melamine, and laminate cabinets, and are often utilized in places that could be vulnerable to excessive damage, like schools.
A provided benefit of the particleboard substrate is that wood veneer is actually more stable than solid wood. Wood stability refers to the strength and resiliency a species has to losing its "form." At the thickness of cabinet doors, solid wood is vulnerable to warping over time due to changes in temperature, moisture, and humidity, referred to as "breathing." This breathing will result in a wood door to slightly lose its original form.
Meanwhile, although wood veneer is still susceptible to the natural process of breathing, it won't be nearly as substantial as solid wood, since only the door fronts will be made from real wood.
Wood Veneer Cabinet Finishes
Since the surface of wood veneer doors is made from real materials, wood veneer can be finished with stains and paints, just like solid woods. However, due to the particleboard underneath, veneer may limit you if you're interested in exploring other styles of cabinet finishes.
Stains
Just like solid wood doors, staining wood veneer is a perfect way to accentuate beautiful, natural wood grains.
Let's compare wood veneer with melamine for a moment. Melamine is manufactured in the same way as wood veneer, the only difference is that instead of using sheets of real wood on the surface, melamine applies a decorative paper sheet. This results in melamine being unable to perfectly match the stain and aesthetic of any solid wood decorative cabinet trim.
Wood veneer, on the other hand, can be colour and stain matched with solid wood decorative mouldings and trim. This is because the surface sheet of wood veneer is made of real wood. The real wood allows for stain to adhere over the grain in the same fashion as a solid wood door.
Simply put, veneer is able to have the exact same stain applied as solid wood mouldings. Therefore, your kitchen cabinetry is ensured to have a uniform, consistent look, even with two different materials for cabinets and trim.
Can Wood Veneer Cabinets Be Painted?
Yes! Wood veneer cabinets can be painted, just like solid wood doors.
Wood veneer can be painted to the same quality of solid wood or MDF cabinets. Just like their solid wood counterparts, maple and birch, wood veneers offer beautiful, paint-grade materials.
Oak is another species that can be used for painted wood veneer cabinets. With that being said, oak's grain has an uneven and course texture, unlike the smoother surfaces of maple and birch. This makes oak a fantastic choice if you want your painted wood veneer cabinets to have a more distinct quality to them.
What Finishes Won't Work on Wood Veneer?
While many popular cabinet stains and paints can be applied to wood veneer, not all traditional solid wood finishes are available.
Worn and distressed finishes are not possible for wood veneer cabinets simply because the wood sheet is not thick enough due to the particleboard underneath.
The process of wearing and distressing cabinets is better suited for solid wood because it accentuates the rustic, natural qualities of deep knots, rich grooves, and worn exposed corners.
Those qualities are simply not possible to achieve with a thin wood veneer, since there is no solid wood depth underneath, just particleboard.
Wood Veneer Cabinet Design Flexibility
Generally speaking, the veneer material itself is limited in design but there is some design flexibility around those limitations.
The main aesthetic limitation of wood veneer cabinets is that the sheets cannot be applied to any 5-piece panel cabinet doors. Just like melamine cabinets, wood veneer can only be applied to flat, slab doors.
Although that may be a concern for raised panel doors (you'll have to go with solid wood), there is a way to incorporate wood veneer into 5-piece doors. A 5-piece door consists of one large centre panel, with 2 rails and 2 stiles on top, creating a border.
Here is one of Deslaurier's most popular door styles, a 5-piece "Brookfield" door.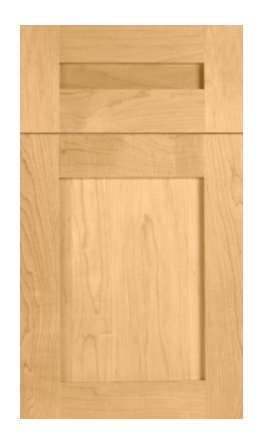 Notice the lower centre panel of the door. The flat surface of wood veneer is perfect to implement as the centre panel of a 5-piece door.
While wood veneer crown and trim can only be flat, the benefit of wood veneer is that they can be matched with their solid wood species counterparts. This allows for solid wood decorative mouldings, crown, trim and other ornamentation to be paired with wood veneer doors.
Wood Veneer Cabinet Cost
Wood veneer is a cost-effective way to integrate natural wood into your kitchen cabinetry.
Whether it be through purely wood veneer slab doors, or by using a wood veneer centre panel on a 5-piece door, the cost of wood veneer will always be a cheaper alternative than solid wood cabinets.
Let's focus on a stained 5-piece door in oak, for instance.
The cost of solid woods and wood veneer will vary based on market fluctuations, quality of the material, and manufacturer.
For this exercise, we'll use Deslaurier's pricing for two oak cabinets: one upper and one base, with a standard stain. The cost of those two cabinets in solid oak would be roughly $1150. Exchanging the solid oak centre panel with an oak veneer panel would lower the total cost to $920.
Simply swapping the centre panel with a wood veneer, with the stiles and rails remaining solid wood, can save roughly $50 per cabinet door! Depending on the size of your kitchen, that basic change can wind up saving you thousands of dollars on your kitchen cabinetry expenses.
All in all, wood veneer is a budget-conscious alternative to solid woods that won't limit you in your design and aesthetic preferences.
Discover Deslaurier Custom Cabinets
Do you think wood veneer is the right choice for your kitchen cabinets? We've got you covered!
If you have your eye on custom cabinetry, Deslaurier Custom Cabinets has everything you need. With over 40 years of experience to our name, we provide our clients with a wholly customized design process with our talented team of designers.
Book a free consultation today and meet with one of our Deslaurier design experts in our Jupiter, Florida showroom!
Interested in becoming an authorized Deslaurier dealer? Visit our Become a Dealer page to learn more!