Estimated Read Time: 8 Minutes
Roughly one in five bathroom renovators will increase the size of their bathroom during renovation, opting to make the space more than 100 square feet.
That means the remaining four out of five are looking to make their current bathroom more functional and aesthetically pleasing while keeping it at its current size. If you are reading this, it is safe to say you fall into this second category.
Whether you don't have the budget or the extra room in your home to expand, the choice to stick with a small bathroom isn't a bad one at all.
Small bathroom renovation ideas are all about the importance of efficient space utilization. Creating and executing the right remodelling plan will result in a gorgeous, updated bathroom that has all the functionality and storage you need.
Deslaurier has over four decades of experience helping design customized bathrooms in the Ottawa and Renfrew areas. We take great pride in our profound industry knowledge and have been a part of hundreds of bathroom renovations from the small to the grand. That has made us experts on how to utilize bathroom space for all our clients.
Below, we will discuss some of the best ways to make the most out of your modern small bathroom design. We hope to show you that small bathrooms can be functional and beautiful, regardless of square footage. Let's get started!
Compact Shower Stalls
Choosing a compact shower stall in your shower remodel is a great way to save space without sacrificing functionality.
This is especially true if you don't require or desire a full-size bathtub in your bathroom. There are several benefits to compact shower stalls, including:
Easier to clean

Reduced installation times

Contemporary design aesthetic

Space saving
Shower stalls can be custom-built into a small bathroom or come pre-fabricated.
Other design options include those enclosed with doors, commonly glass, and those that remain open. The latter has the option to use a rod and curtain design. Many modern compact shower stalls are designed so that the half closest to the shower head is enclosed in glass or tile, with the other half open.
The materials and style you choose will be based on your budget and the look you are going for. Compact shower stalls that are custom-built and hand-tiled will cost more than those pre-fabricated with fibreglass or acrylic.
Pre-fabricated may also come in multi-piece or one-piece, depending on your budget and style choice. Customs can include tiled shower seats, toiletry insets, and other unique features.
Different Types of Sink Styles
There are various sink styles available to install in a small bathroom. The most important thing to remember is that your sink will be used daily and often, so skimping on countertop space here may be something you'll regret in the long run.
You will want to choose a sink that lets you comfortably get ready in the morning and evening without overtaking the space.
Pedestal sinks can be great for half baths but are often not an excellent option for small main bathrooms because they lack storage underneath and the pedestal itself can sometimes be cumbersome.
Corner sinks and wall-mounted sinks can work well, as they leave plenty of room on the floor for storage options.
Integrated vanities with a sink are incredibly popular in small bathrooms because they are space-efficient and allow plenty of storage. Floating vanities with wall-mounted sinks can create a modern bathroom design and save floor space.
Finally, always remember to consider the shape of your sink. Oval sinks or other shapes with curved edges take up less space than those with sharp edges, such as rectangles. They also create a softer, spa-like feel in your bathroom. Working with a designer can help you choose the best fit for your room and give you plenty of modern design ideas.
Custom Cabinets and Floating Vanity
Custom cabinets and floating vanities are perfect for small bathroom updates. A designer will help you take the exact measurements you have and design something beautiful and full of all the storage and organization you need. They will help you choose durable materials and finishes for your custom cabinets, allowing the space to appear larger. By taking up less floor space, you get a modern look and keep the room from feeling closed in.
If you are interested in custom vanities for your bathroom, check out our article on what they cost here.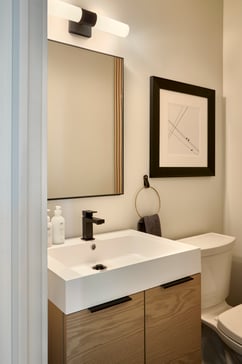 Vertical Cabinets to the Ceiling
Utilizing your vertical space in a small bathroom is essential to get the most storage for your money and square footage. This is where cabinets that reach the ceiling are genius. So many small bathrooms don't take advantage of their vertical space and miss out on the opportunity to be able to store things like extra towels and toiletries.
Instead of just your standard medicine cabinet that leaves wasted space above it or an empty wall that is left as blank space or filled with knick-knacks, add high bathroom cabinets with beautiful doors or open shelving that increases your storage space while bringing style to your room.
Custom-built vertical cabinets are one of the best options for saving on save. Working with a custom cabinet maker ensures you get the perfect cabinets for your space.
Take the measurements of your vanity or cabinets so you can quickly determine what will and won't fit. Consider using lightweight, stackable containers that can be easily moved or refilled for your tall vertical spaces. Opt for transparent or slightly opaque containers to make it easier to see the items inside.
Space-Optimizing Fixtures
Fixtures have come a long way for small bathrooms, so when remodelling, look into compact tubs and space-saving toilets. You may be surprised by how chic and modern they look while saving you some much-needed square footage.
The right-sized fixtures, whether faucets, lighting or even the knobs and pulls you choose, can help create the illusion of more space.
Sticking to simple designs, silhouettes, and lighter metals can make the room feel lighter. If you prefer more ornate fixtures or darker metals, then stick to your aesthetic but focus on the scale to make sure you aren't choosing oversized pieces that can make the room feel smaller than it already is.
If you happen to be a fan of darker metals or ornate fixtures, consider a mixed metal look where the majority of your space is in lighter metals with a sprinkle of dark, or there is one more ornate piece like a light fixture or mirror while the rest of the pieces you choose are simple and clean in design.
Lighting and Mirrors
If you've ever decorated your home, especially if it is on the smaller side, you know what a big difference the use of mirrors can make when the goal is to make the room appear larger.
If you can place a mirror so that it reflects a window or even another room or hallway, you can create the illusion of length and space in your bathroom.
Choosing a mirror size may seem a little confusing, but if the mirror is above your vanity, there are easy-to-find calculators online that help you choose the right size for your sink.
When used in other areas to reflect rooms and windows, remember that an oversized mirror will create a more seamless reflection. Too small, and you are breaking up the reflection, which may cause the room to look disjointed.
If you need more advice on picking the right light fixture for your bathroom remodel, check out our article here. It will help you determine the right kind of lighting and scale of fixture to choose.
Colour and Design
When it comes to colour and design, the main thing to remember is that light creates a feeling of openness and spaciousness, while dark will close a space.
This doesn't mean that you must have an all-white bathroom, but keeping your walls, vanity, and other prominent features in your bathroom in a lighter neutral hue will make the space appear larger.
Then, you can add pops of colour to your art, rugs, and towels.
Plumbing and Layout Considerations
If you are working with a contractor, they are likely to discuss the importance of layout in keeping your small bathroom from feeling claustrophobic.
Placing sinks, showers, and toilets in an arrangement that requires fewer plumbing changes will keep the space more open in the middle and be budget-friendly.
When planning a bathroom renovation, make sure to check on all the permits you may need to complete the job.
If you want to learn the difference between structural and cosmetic renovations and the required permits, check out our article here.
Design with Deslaurier Custom Cabinets
Hopefully, the tips above will help you make the most of the limited space in your bathroom.
A well-planned renovation for small bathrooms will help you create an aesthetically pleasing space that reflects your style while also making the most of every inch of space so that the room functions well.
When it comes time to budget for small bathroom ideas, keep custom in mind.
If you're in need of custom bathroom vanities in Ottawa for your upcoming bathroom renovation, Deslaurier has got you covered!
With over 40 years of experience to our name and an outreach of over 30 dealers across Ontario, we provide our clients with a fully customized design process with our talented team of designers. When you want to add customization to your new kitchen, we are here to help you through the whole process.
Book a free consultation with a Deslaurier kitchen expert at our Jupiter showroom!
Live outside the area? Find a Dealer to connect with near you! Interested in becoming an authorized Deslaurier dealer? Visit our Become a Dealer page to learn more!