Estimated Read Time: 5 Minutes
Picture your dream kitchen - a space that exudes both elegance and durability. Stone countertops bring sought-after natural beauty to life in your home.
But with a plethora of natural stone options available, it's essential to understand their unique characteristics to ensure that your choice has the right combination of function and beauty for your kitchen.
At Deslaurier, we specialize in custom cabinet manufacturing and kitchen design services. With over 40 years of experience, we know how important choosing the right countertop surface can be for a successful kitchen design.
While we don't manufacture or supply our own stone countertops, we do partner with local fabricators to ensure our clients have the perfect countertop surface for their kitchens.
With that, let's take a look at 6 of the best stone countertops you can include in your kitchen design, from marble to soapstone!

Marble
Starting off with a showstopper, marble countertops have stunning appearances that immediately catch your eye. Marble and luxury are synonymous words in the world of kitchen design.
Marble is an all-natural stone and every slab is unique. In terms of appearance, marble countertops are in a league of their own; with deep colours and iconic vein patterns exuding an allure that makes them one of the most sought-after natural stone surfaces in the world.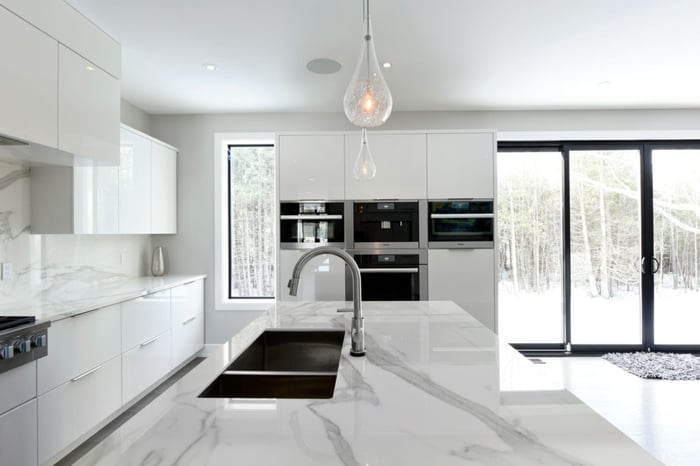 While marble countertops blow you away with their visual style, they do have a few durability and maintenance concerns you need to understand before purchasing them for your kitchen.
Marble is an extremely soft natural stone, rendering it vulnerable to scratches, marks, and impact damage.
Also, marble is susceptible to something called "etching" — a term for the damaging effect of acid on marble's finish. Because of this, commonplace baking ingredients like lemon juice and vinegar can wear down your stone surface with prolonged contact.
Another main issue with marble countertops is that marble is a porous stone.
What does that mean exactly? Well, marble is a natural stone made up of all different kinds of minerals. Those minerals are teeny, tiny grains compressed together into a solid mass. The issue, then, is that there are minuscule pores between those grains that will absorb liquid and oils if spilled.
Thus, being porous requires marble countertops to be regularly sealed in order to prevent moisture and liquid from seeping into the stone. Something along the lines of every 3 months is standard for marble countertop resealing.
In light of these durability concerns and maintenance issues, marble's saving grace is that it is resistant to heat, being able to withstand up to 480 degrees Fahrenheit.
Granite
Furnishing kitchen surfaces for decades now, granite is one of the toughest natural stones in the world, noted for its impressive resistance to heat and scratches.
Granite is so tough that you can cut directly on it (although it may dull your knives). You can even place a hot fry pan directly on the surface! Avid chefs will appreciate the freedom to chop, cook, and move around their kitchen without worrying about damaging their countertops.
The most impressive quality of granite countertops is that they can withstand temperatures of up to 1200 degrees Fahrenheit!
The main downside of granite is that much like marble it is a porous stone. However, granite is considerably less porous than marble, so you can get away with sealing your countertop less frequently. Once a year should suffice in the average home.
With periodical sealing, granite stain protection will be sky-high.
Quartz
Quartz countertops fall under a unique category when it comes to surfaces. While quartz is a mineral found in the earth, quartz countertops are not considered natural stone surfaces like granite or marble.
Technically, quartz is an engineered stone countertop, meaning that while 93% of the surface is pure quartz material, the remaining 7% of the stone is manmade.
Using this method of manufacturing, fabricators are able to manipulate quartz to mimic the look of natural stones, like marble. Since marble is a luxurious, soft stone, this allows quartz to provide a cost-effective and more durable imitation of an expensive marble countertop.
The clear advantage of quartz countertops over 100% natural stone countertops, like granite or marble, is that quartz is non-porous, making it both stain and water-resistant. The added resins function as a strong sealant, closing the small pores between minerals and providing built-in protection.
That means you don't have to worry about routinely resealing your quartz surface!
Conversely, the biggest durability-related drawback to quartz is that it is not heat-resistant. Quartz countertops can typically only withstand around 175-185 degrees Fahrenheit, a far cry from the impressive numbers of granite.
Quartz is the most versatile countertop material on this list, thanks in large part to its unique manufacturing process. It's durable, beautiful, and has flexible price ranges that you might not find in marble or granite.
Quartzite
With such similar names, quartz and quartzite often get confused with one another. It's very important to differentiate between the two, as they both have many unique distinctions.
Funnily enough, quartzite is actually made almost entirely of…quartz!
The primary difference between the two is that, unlike engineered quartz, quartzite is a natural, hard stone countertop.
While quartz countertops flourish when it comes to creative and customizable style choices, quartzite is slightly more limited in its appearance. Since quartzite is a fully natural stone, its appearance can't be manipulated in the same manner as quartz.
Quartzite countertops generally come in varying shades of white and light grey, due to quartz sand being light in colour.
Quartzite also has natural veining that can present itself as large, dark streaks, or gentle, subtle patterning. These natural variations are part of what separates quartzite countertops from the more handcrafted, professionally altered appearance of quartz.
Soapstone
Soapstone is a natural stone that is known for its unique, smooth texture and matte finish.
This natural stone comes in stunning shades of grey, green, and blue, often with striking marble-like veining. Although soapstone is softer than many other stone materials, it remains highly durable, dense, and non-porous, making it resistant to heat, stains, and bacteria.
Unlike some other stones, soapstone is also incredibly low-maintenance, needing no sealing, and can be easily cleaned with soap and water.
In the event of any scratches or stains, soapstone can even be sanded down to restore its flawless surface. While soapstone countertops can be pricier than slate, they remain a more affordable option than granite or quartz.
Slate
As a metamorphic rock formed from clay, volcanic ash, and other minerals, slate is a durable and versatile material that has earned its place as a popular choice for roofing, flooring, and countertops.
With a unique matte finish and a range of colours that includes grey, green, blue, and even purple, slate is a natural beauty with subtle textures and veins that lend a sense of depth and character to any space.
While it is commonly found in grey, the variations in colour and veining make every piece of slate uniquely beautiful.
As a dense and resilient material, slate can endure heavy use without scratching, chipping, or succumbing to water damage. However, it is not as hard as materials like granite or quartz, so it may be slightly more prone to scratches and chipping.
Nonetheless, it remains a non-porous material that requires no sealing, making it an easy and low-maintenance choice for any home.
When it comes to price, slate countertops sit at a moderate point on the scale, just below soapstone and more expensive than budget-friendly options like laminate. But don't let this deter you - slate is a worthy investment that offers the perfect combination of beauty, durability, and affordability.
Countertop Costs
Determining the cost of a stone countertop is not an exact science. There are a number of uncontrollable variables that may affect the price of natural materials from one month to the next.
The price of stone countertops can be influenced by quarry location, shipping costs, manufacturer, and general supply and demand.
| | |
| --- | --- |
| Countertop Material | Average Cost (per sq. ft.) |
| Marble | $80 - $250 |
| Granite | $75 - $200 |
| Quartz | $80 - $180 |
| Quartzite | $80 - $200 |
| Soapstone | $70 - $150 |
| Slate | $60 - $120 |
The pricing ranges listed above will reflect these uncertain variables. Pricing also won't include installation costs.
A standard countertop, with no cutouts, could cost anywhere from $300 to $600 to install. Once cutouts and other maintenance are factored in, installation can cost well over a thousand dollars.
Discover Deslaurier Custom Cabinets
Whether you're in search of the timeless beauty of marble, the warmth of granite, the low-maintenance appeal of soapstone, or the versatility of quartz, there's a perfect natural stone countertop out there waiting to transform your home.
If you're looking to pair custom cabinetry with the perfect kitchen countertop surfaces, Deslaurier Custom Cabinets has everything you need.
With over 40 years of experience, we partner with local, premier countertop suppliers to help provide our clients with a fully customized design process with our talented team of designers.
Book a consultation today with a Deslaurier design expert at our Jupiter, Florida Showroom or schedule a virtual meeting!

Live outside the area? Find a Deslaurier Dealer to connect with near you! Interested in becoming an authorized Deslaurier dealer? Visit our Become a Dealer page to learn more!