29/06/2021 • Blog
What to Expect at Deslaurier: The Builder Kitchen Design Process
You've purchased a new home—congratulations! Becoming a homeowner is an exciting time. For many people, it's also a time of new experiences and unknowns.
As you plan your new-build, you may be asking yourself, "What should I expect at Deslaurier?"
This article exists to take the guesswork out of your design-related decision-making with us.
If you've purchased a home from one of our builder partners, this article will explain the process of designing your kitchen from start to finish.
Get reading to get building!
A Preliminary Note on the Builder Design Process
At Deslaurier Custom Cabinets, custom is what we do best—in more ways than one. Not only do we craft customized design solutions, but we also partner with our clients to facilitate a highly personalized and collaborative design process.
While this article gives a general outline of a typical kitchen design project, it's important to note that no two design journeys are ever exactly alike. This is particularly true with new-builds as every builder operates with a different set of timelines. Due to the nature of custom design work, your designer may modify the order and details of your appointments to best fit your project.
What's more, in light of the global pandemic, Deslaurier has worked hard to ensure the safety of our customers and staff. As a result, your designer may conduct some of your design appointments virtually.
An Overview of the Kitchen Design Process
All in all, your time with Deslaurier will be straightforward and quick. The design process really only involves two appointments.
Don't read it wrong—a lot gets done in those two appointments—but the Deslaurier builder team strives to make the process as smooth and efficient as possible. After all, we know that purchasing and planning a new home is a lot on your plate.
At Deslaurier, our professional design consultants will walk you through two design appointments: the first to explore your options and create a kitchen wish list, and the second to make your selections and sign off on them.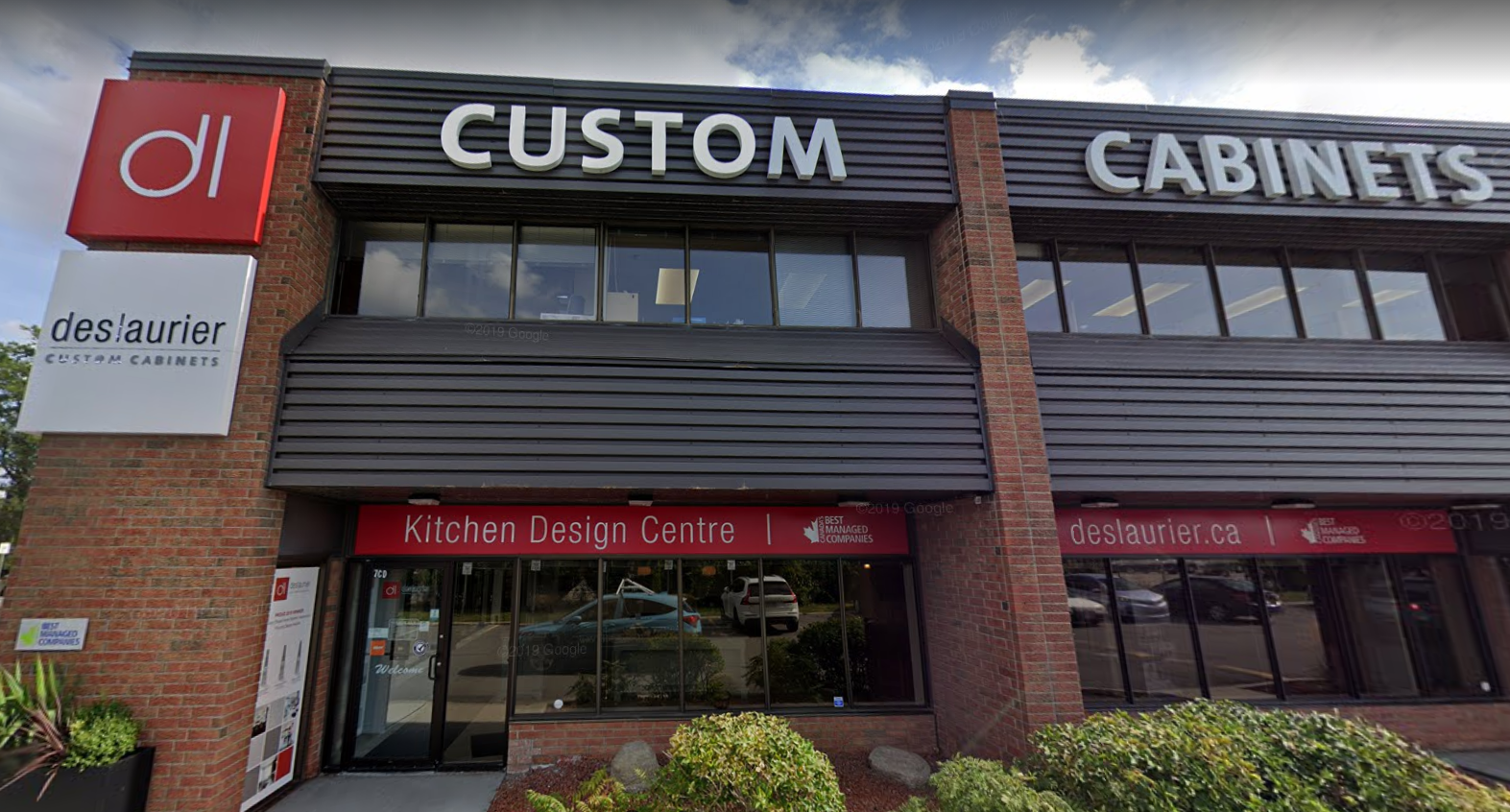 First Contact With Deslaurier
Every builder works differently, but when you purchase a home with one of our partner builders, you'll certainly have some sort of a meeting with them where you finalize the architectural structure of the house.
With that house plan solidified, your builder will forward that file along with your contact details to Deslaurier so that a Design Consultant can reach out to you.
Usually, you'll receive a welcome email that:
Introduces the professional designer you'll be working with.

Proposes a number of possible dates and times for your first showroom appointment.

Gives a brief explanation of what your appointment will entail.

Outlines any current COVID-19 regulations that must be followed in the facility.




We'll contact you as soon as we receive your contact information from your builder. Then, we'll try to schedule your appointment as soon as possible, too. At Deslaurier, we like to keep the process moving and the excitement high.
Kitchen Design Appointment #1
When you arrive on the day of your first appointment, the first thing you'll do is sit down with your designer and review your home plans to ensure everything is precisely as you asked for it with your builder. You'll also go over the floor plan to highlight every room where you'll be installing custom cabinetry.
For some people, that may only be the kitchen and the bathrooms. For others, it's the kitchen, bathrooms, basement, and entryway.
Now that you and your designer know which rooms to tackle, it's off to the showroom to explore what's included in your standard builder offerings.
A Kitchen Showroom Tour
Discovering Your Standard Kitchen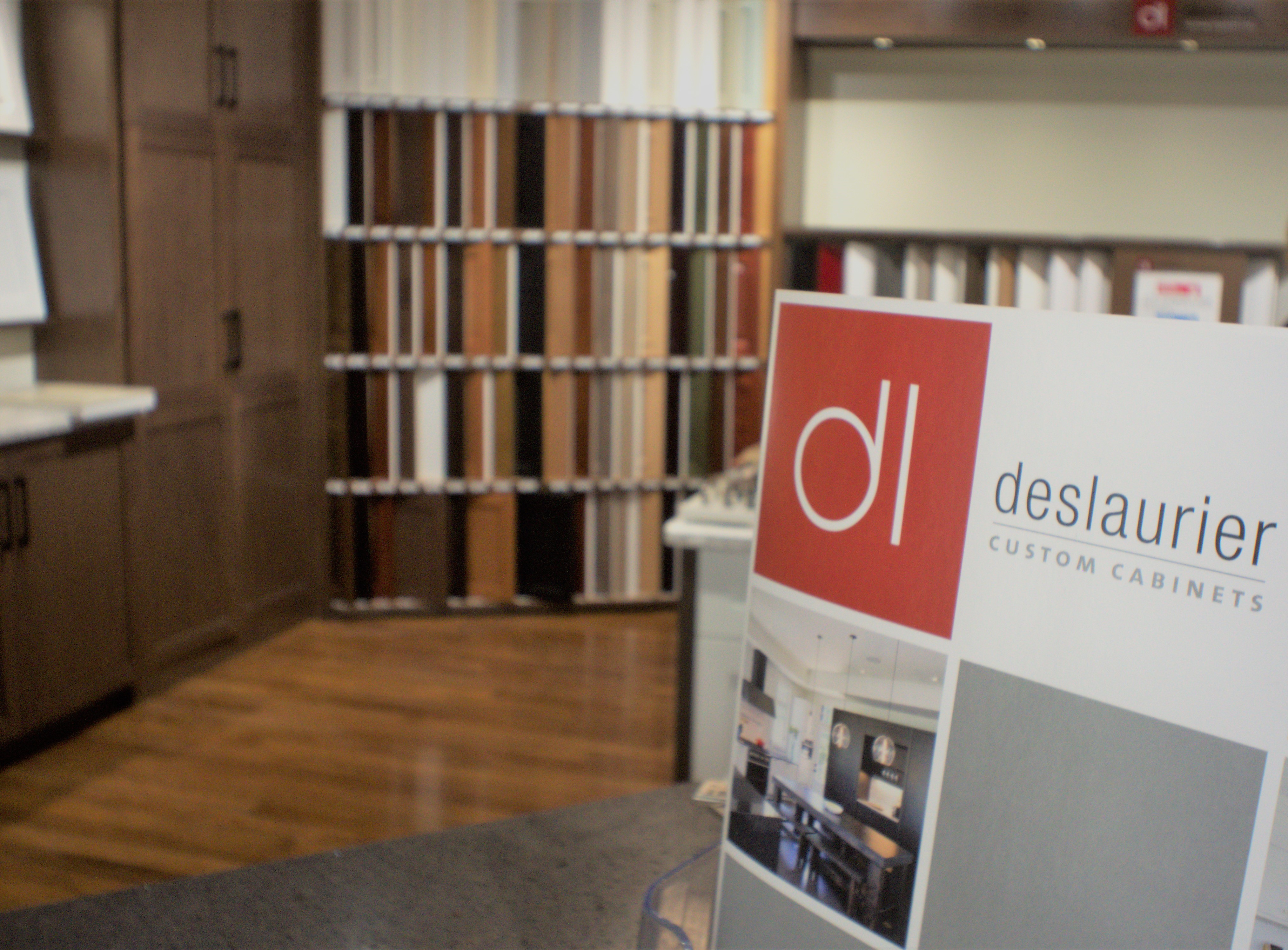 You don't have to make any final decisions on this showroom tour, so just take it all in and enjoy the ride! It's so much better to see and feel products in person than look at pictures online. Your showroom visit will enable you to envision your future living space.
Design Consultant Kevin Rosien is very clear with his clients:
I'm going to make sure you're 100% clear on what you're getting with 0 upgrades. First, I'll show you the standard kitchen that comes with your home's sale price, and afterwards, you can decide if upgrades are something you want.
Some homeowners decide to build with all the standard inclusions and nothing more—that's okay! It's your kitchen and you get to decide what is and isn't inside.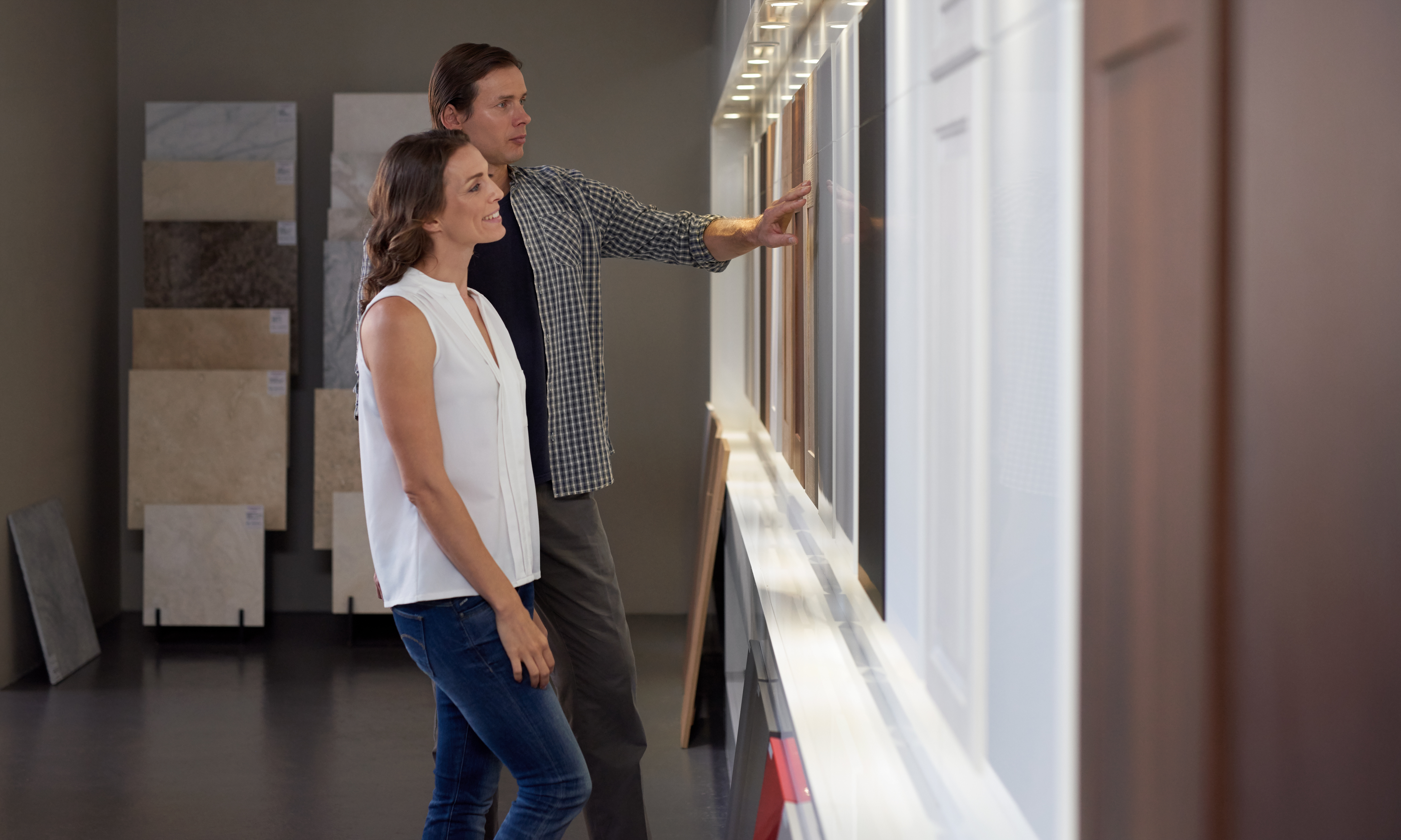 Brace yourself: Deslaurier has a lot of products packed into the showroom. Your designer is going to give you a comprehensive, end-to-end tour of:
Cabinet Door Styles and Finishes
Your first stop will be the cabinet door style samples. Here, your designer will have all your builder's standard door style selections arranged on display. Plus, you can peruse a sample block of Deslaurier's 40 different standard stains.
Compare how each door style looks side by side, and see how they look in different wood species, like birch, oak, and maple, too.
Take a peek at Deslaurier's 5 best-selling cabinet door styles and cabinet paints and stains to get a preview of what you might see on your visit!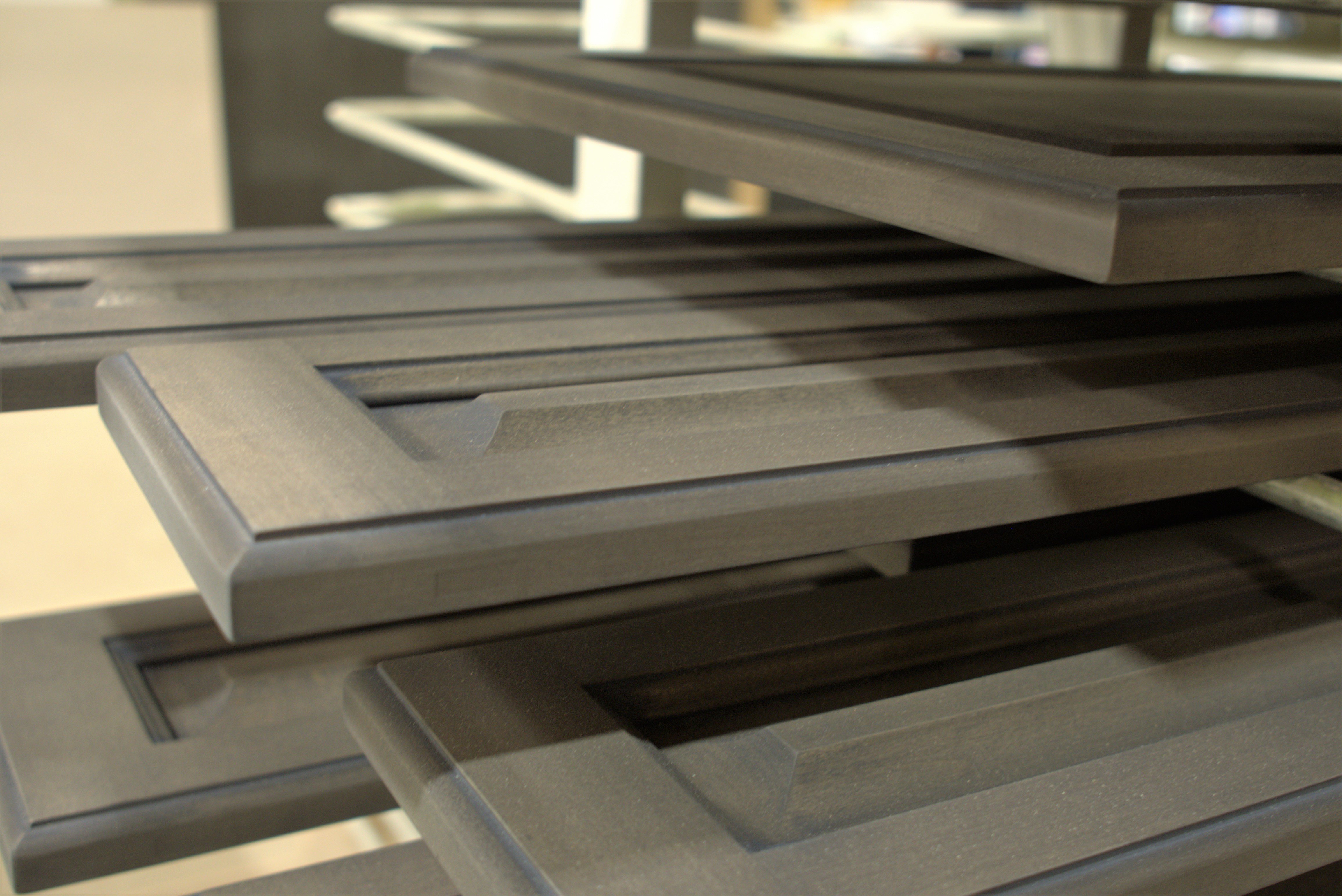 Countertops
Moving on, you'll make a pit stop at Deslaurier's standard countertop display. Standard countertops vary with every builder. Often, a standard builder countertop is laminate or granite.
You can learn more about the best countertops for your kitchen and quartz vs. granite here.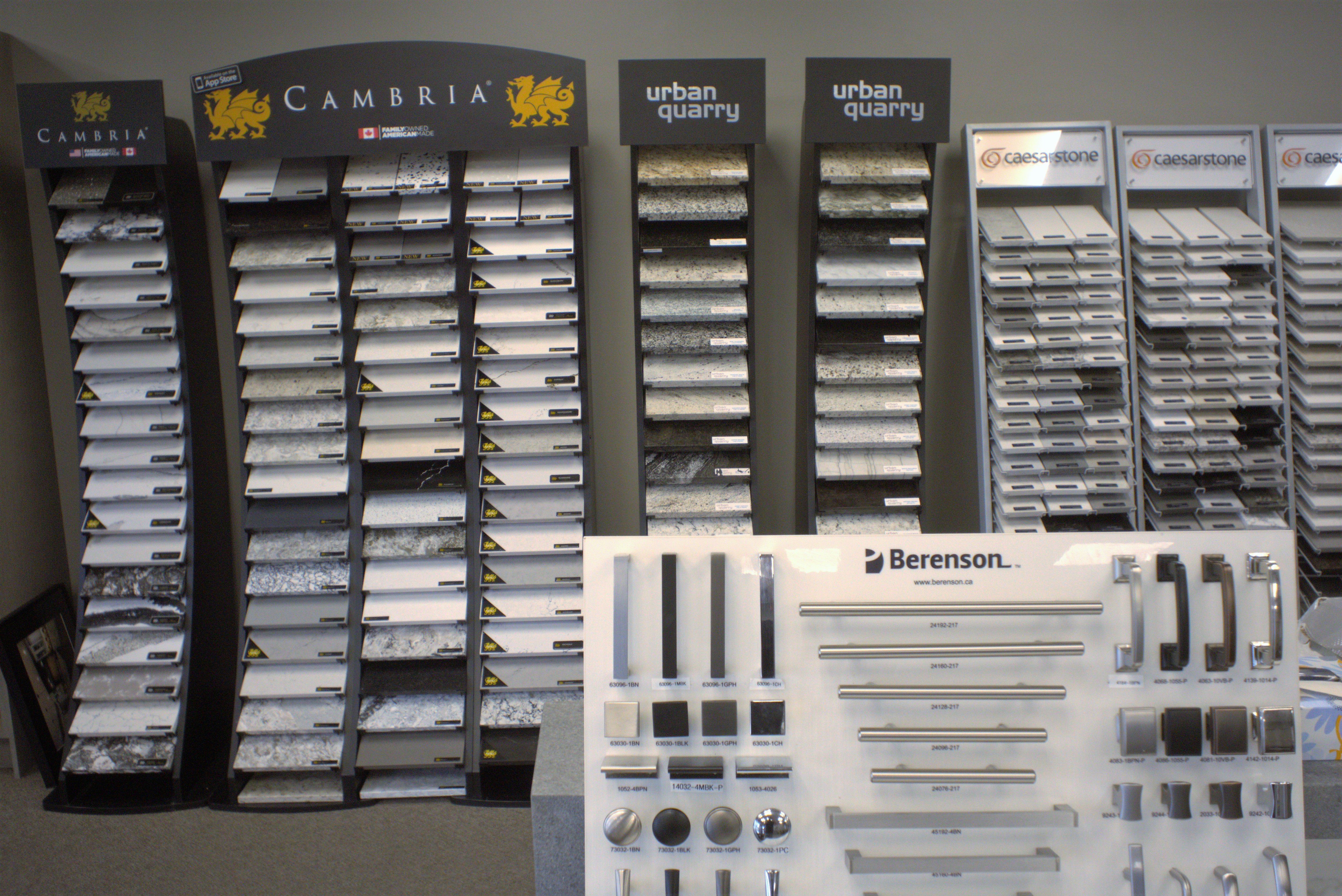 Cabinet Hardware
Next, your designer will show you the standard hardware options available to you in your home's sale price. Again, standard offerings vary with every builder, but usually, there are a few dozen standard selections within every builder allowance.
Cabinet Height and Construction
Your designer will also show you physical examples of standard cabinet heights and construction. You'll get a firsthand look at how standard features like interior shelving, hinges, and drawer slides appear and work in model kitchens.
Exploring Kitchen Upgrades
At this point, you've seen all your standard, builder-grade door styles, wood species, stains, countertops, hardware, and cabinet height and construction options. Your designer will now pivot to showing you alternative options, that is, upgrades.
There's a whole other world of cabinetry upgrades beyond your builder's standard offerings. None of them are mandatory, but you may find that some of them hold a lot of value for your lifestyle and day-to-day household needs.
Now's the time to explore. Your designer will complete the showroom tour by presenting an array of upgrades, clearly explaining the pricing details of each one along the way.
Here's a snapshot of some of our showroom displays: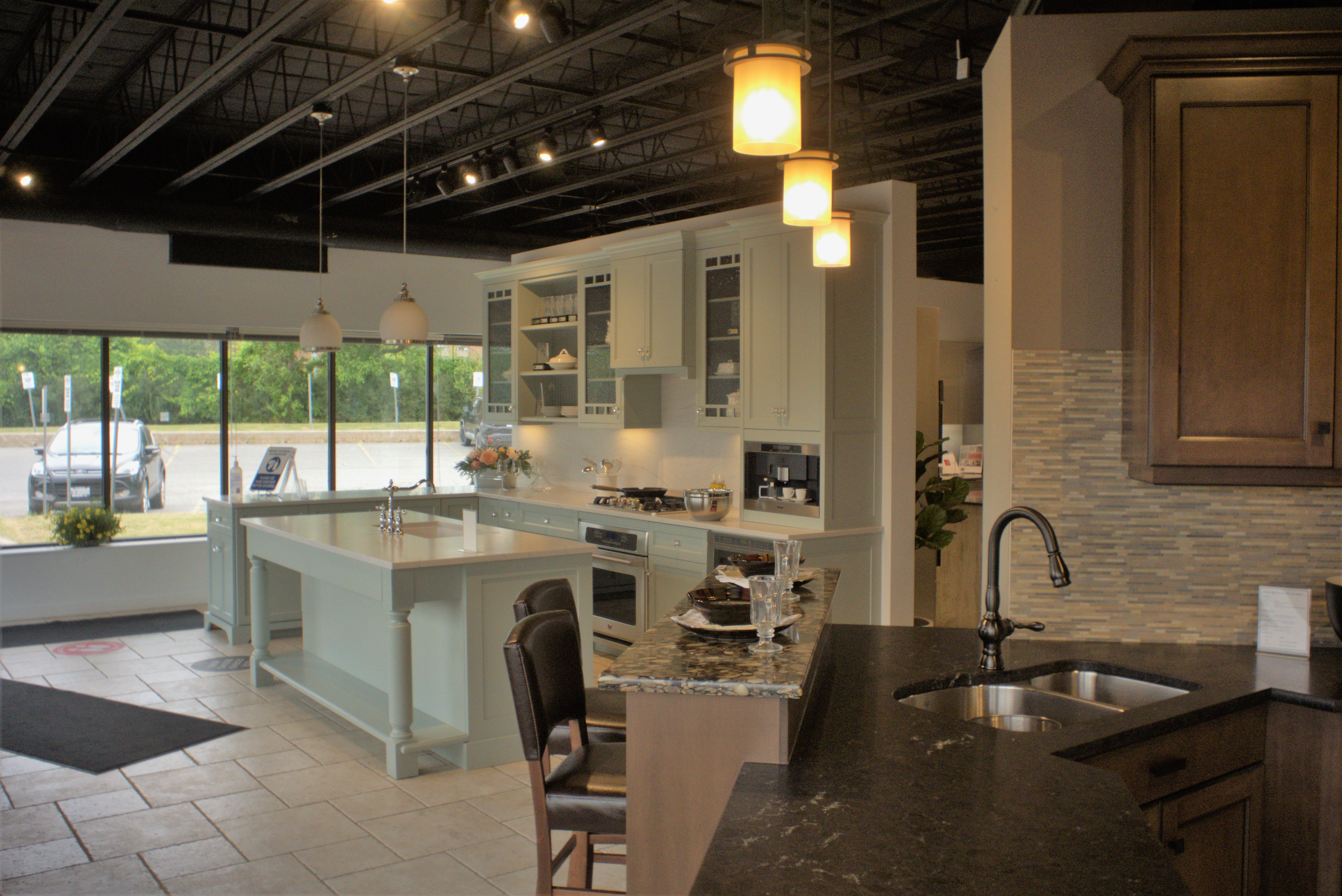 Creating a Kitchen Wish List
With the showroom portion of the appointment complete, you'll sit back down at the table where you started and go back to the drawings you saw when you first arrived.
Now that you've seen all the possibilities with your own eyes, has your vision for your kitchen changed?
How?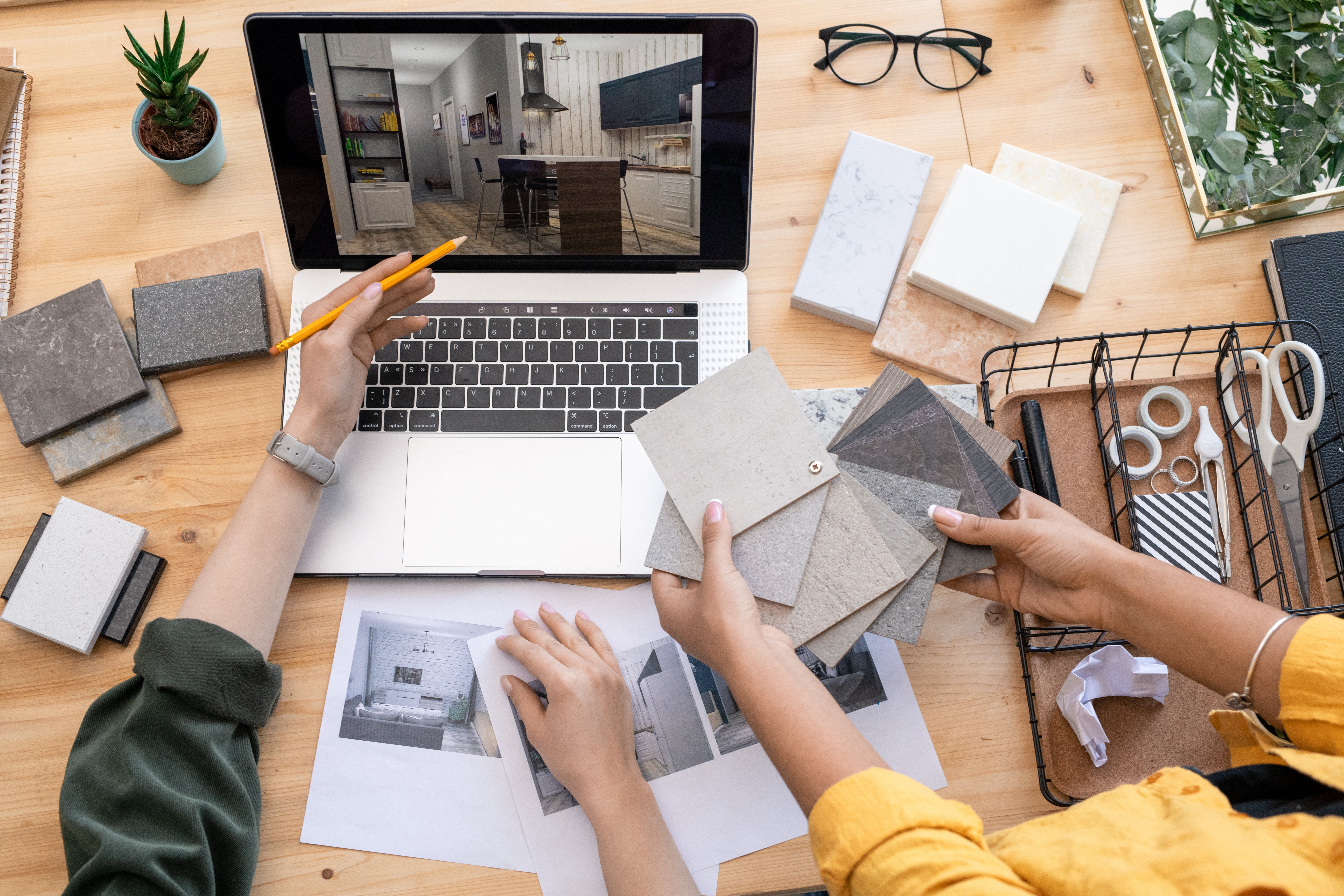 Here's your opportunity to dabble creatively. Give your designer a wish list of all the upgrades you might want to include in your new kitchen. Again, there's no obligation, but your designer will price whatever upgrades you like for you so that you can see what they would cost.
Quote your kitchen a cutlery drawer and corner accessories. Add in a tray divider or some decorative glass fronts with architectural mullions. Your designer will help you hash out the details of your dream build.
Your Builder-Grade Kitchen Homework Assignment
It's been a long day. Over the last 2-3 hours, you've learned a lot about custom millwork—but you're not quite done yet. Your designer will book your second appointment date with you (approximately 1-2 weeks later), but before they send you away, they'll assign you three key pieces of "homework":
Prioritize your wish list.

Take the time to go through each wish list item one by one and consider carefully if you're willing to invest in it.

Finalize your design selections.

By the second appointment, have your decisions on door style, wood species, finish, countertop, hardware, cabinet height and construction made and ready to go.

Assemble the specifications of your appliances.

If you're buying your appliances new, a specifications sheet will probably come with the purchase. If you're using old appliances, you should be able to find the manufacturer's details online from the model numbers. Your designer will need these specifications to finish the drawings.
In the meantime, your designer will put together an updated price list from your wish list selections for your consideration. That way, you can compare your base kitchen costs and your hypothetical upgraded kitchen costs side by side.
Generally, your designer will send these updated drawings and price sheets to you by email within 4-5 days.  
Having a hard time narrowing down your choices? You can always book an appointment through reception to visit the showroom again. Your designer won't necessarily be there, but you're welcome to take a second look through the displays on your own.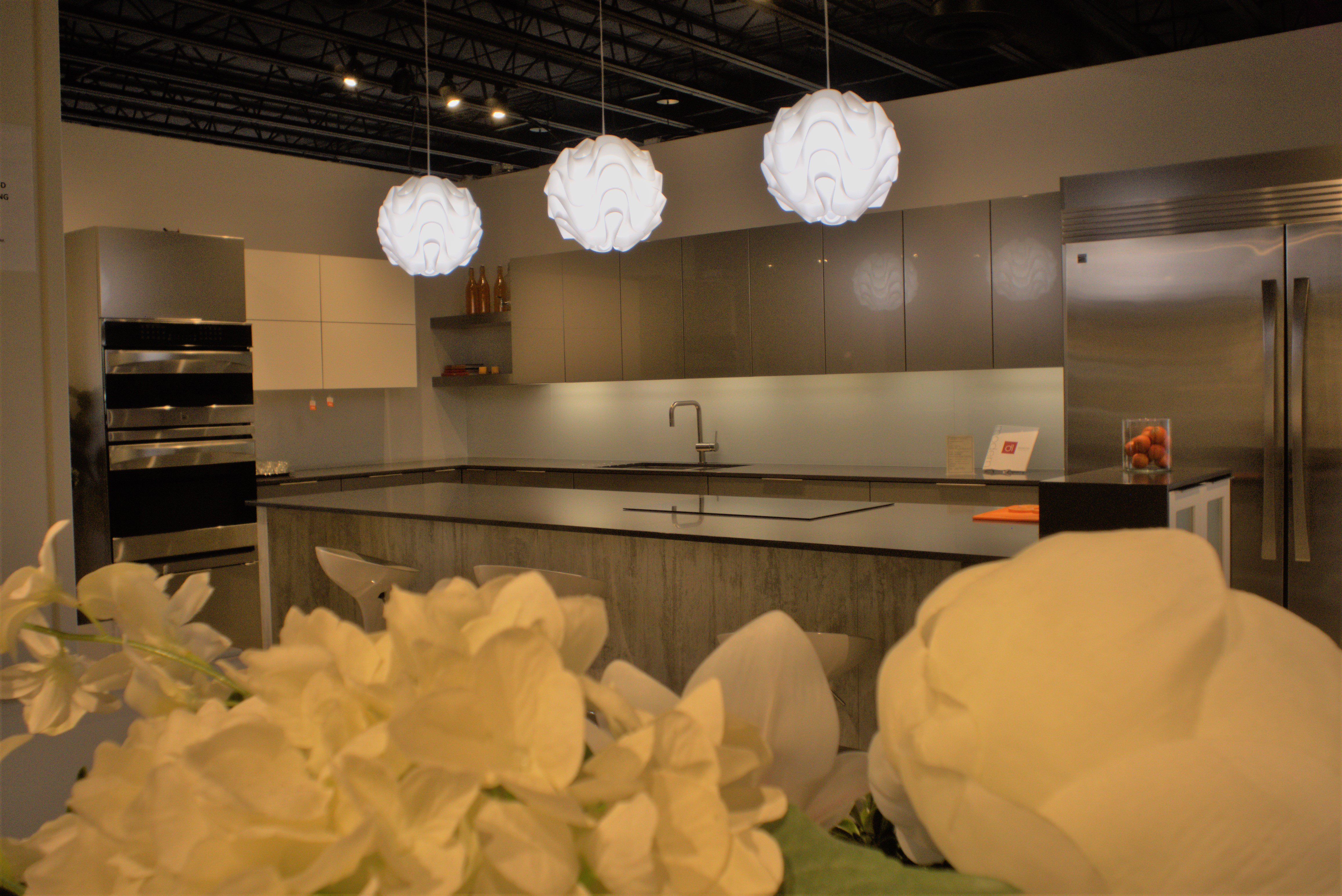 Hiring an Interior Designer
Some clients choose to hire an interior designer to help them unify colours, themes, and styles throughout their home. Whereas your Deslaurier kitchen designer is primarily focused on your new kitchen and its function and flow, an interior designer may help you create cohesiveness throughout the whole home.
You're welcome to bring your interior designer along to the showroom and even your second appointment.
Kitchen Design Appointment #2
You're on the home stretch! The second appointment is a fast one—you should be in and out within an hour.
It happens like clockwork:
Arrive with your completed "homework" in hand.

Your designer will mark down your finalized selections with you and hand off that information to a design support staff member, who will create a new drawing package as you continue.

Your designer will then confirm your finalized colour selections with you. By the time you've done that, your new drawing package will be ready and waiting for you to review and sign.

While you review and sign, your designer will step away for a moment to edit the price sheet accordingly.
Review and sign the revised price sheet, and you're done!





You'll walk away with a copy of the whole completed file, that is, your brand-new, custom kitchen design!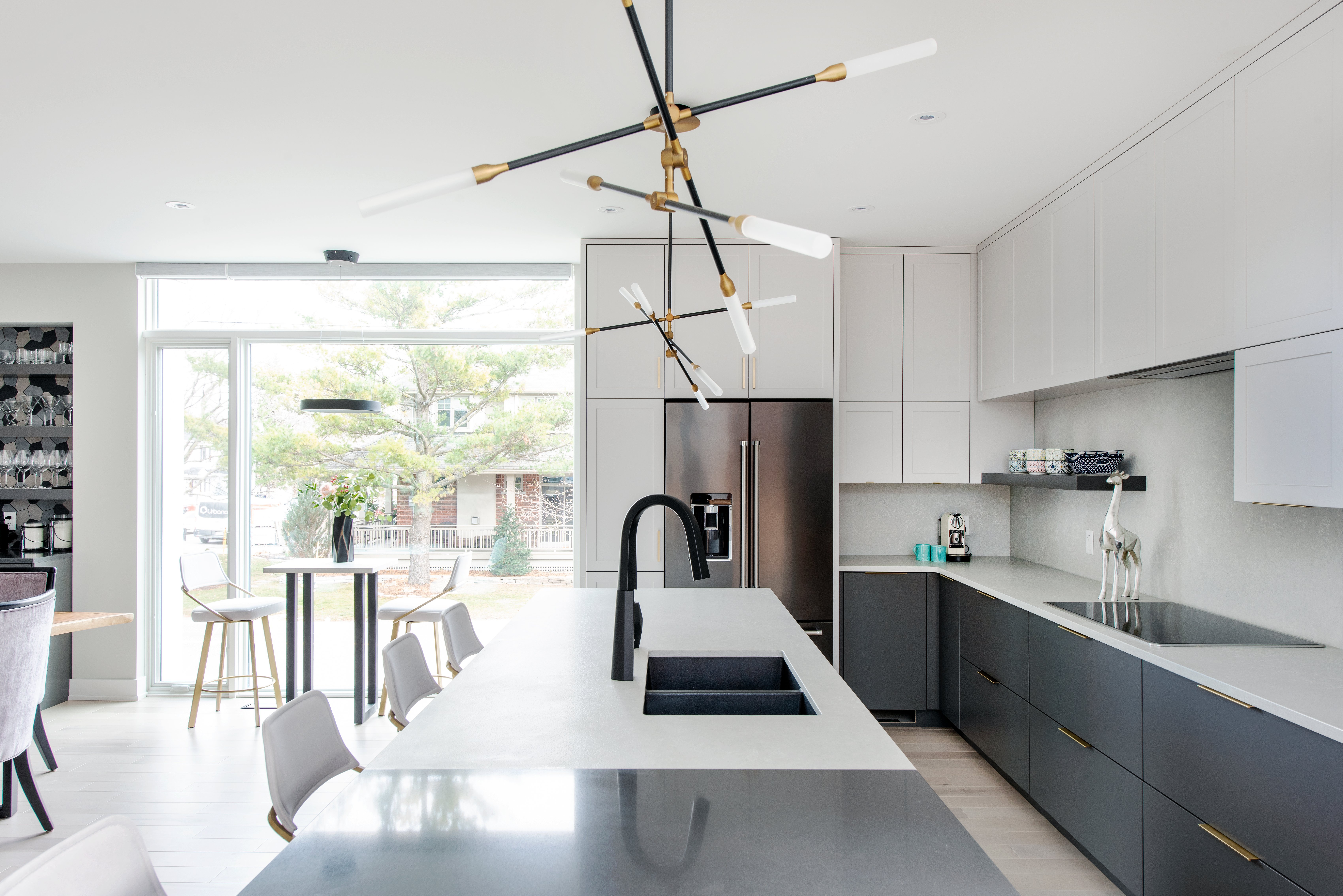 Change Orders
Normally, that would be the end of your Deslaurier experience.
Every once in awhile, however, clients second guess their decisions and decide to make a change to their order.
In some cases, depending on where the order is in the system, those requests can be accommodated. But in most cases, the order is already progressing through subsequent phases of production.
In those scenarios, to make a change, the designer must perform a re-design, which involves creating new drawings. Re-designs require a change order fee of $250.
If you're adding items to your order, you'll also have to pay for those upgrades. If you're removing items from your design, the change order fee still applies but you'll get a credit for the value of the upgrades being removed.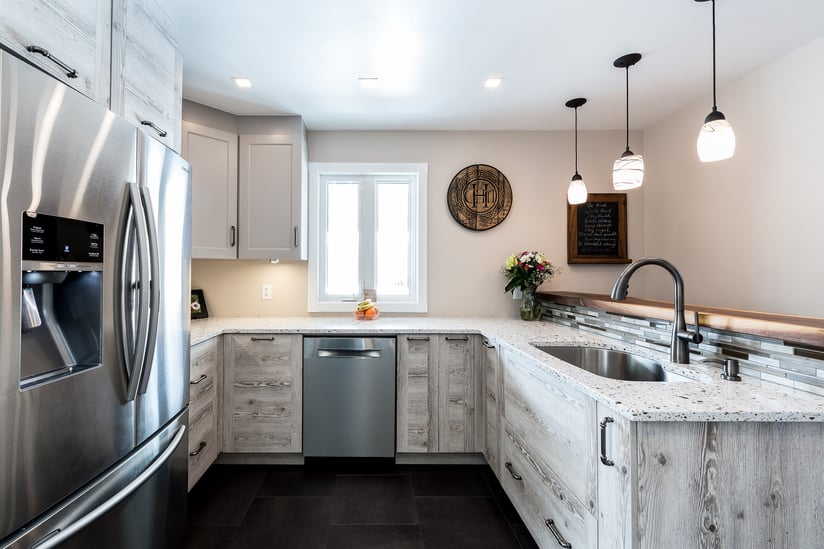 Design Your Kitchen With Deslaurier
Deslaurier Custom Cabinets is proud to partner with an extensive network of reputable builders. We can't wait to help you create your new home!
If you have any additional questions about how designing a builder kitchen works with us, we'd love to hear from you. Drop us a line by phone or email to connect with our team in Jupiter, FL.
Related Links: