Estimated Read Time: 6 Minutes
Whether you possess the refined palate of a seasoned wine connoisseur or the passionate dedication of an avid collector, there is one element that can elevate your wine experience to unparalleled heights: a meticulously crafted wine cellar within the comforts of your own home.
A wine cellar provides not only an elegant storage solution but also a sanctuary where every bottle becomes a portal to a world of flavours and stories waiting to be discovered.
Imagine stepping into a haven filled with carefully arranged bottles, each one a testament to the rich tapestry of winemaking craftsmanship and the myriad regions they represent.
Beyond its aesthetic appeal, a well-designed wine cellar also ensures the optimal conditions for aging and preserving your cherished bottles, allowing them to reach their full potential and reward your patience with each exquisite pour.
At Deslaurier, we have over 40 years of experience providing our clients with custom cabinets and design services. While we aren't wine cellar gurus, we do provide custom cabinets and customized millwork to accompany home wine cellar projects.
In this article, our very own Deslaurier designer Vanessa Horwat, who collaborates with Capital Cellars in Ottawa, helps give you the basics when designing a home wine cellar.
Let's get started!
Home Wine Cellars
A wine cellar is a storage area (typically its own room), used for wine bottles and even barrels. It protects wine from temperature and humidity swings, too much exposure to light, and other external influences.
Including a cellar in your home is an excellent choice for wine enthusiasts. It caters to different types of wine enthusiasts, from avid wine drinkers who only need temporary bottle storage to passionate hobbyists who have amassed impressive collections over many years of investment.
The cellar provides a dedicated space for these individuals to store and showcase their wines, allowing them to enjoy their passion for wine on a whole new level.
Wine cellars are typically located in basements thanks to their removal from natural lighting, but they can also be placed near entertaining areas such as to the side of a living room.
While a wine cellar can be "stock", they are typically highly customized projects expertly designed to fit the room.
It's important to consult with professionals, such as architects or wine cellar specialists, to address any specific considerations for your collection and ensure your project meets all necessary requirements.
With that, let's dive into 6 considerations for a home wine cellar!
1. Wine Storage and Display
While it may not always look like it, wine cellars still use traditional cabinet boxes for their storage.
The only difference is they're equipped with unique interiors designed to hold and store wine bottles in a variety of ways. You can include wine rack designs such as lattices, scoops and vertical cubbies, or have them angled to keep the wine label on display.
Here's an example of a scooped wine rack: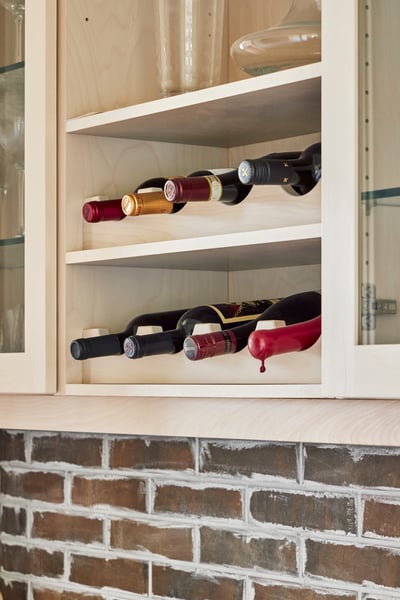 As you might have guessed, all of these solutions are open storage for easy access and presentation:
"There typically aren't any doors on the cabinetry. It's all a form of open display." – Vanessa Horwat
It can also be something as simple as a custom panel that's been pre-drilled with stainless steel rods to screw into.
Not to mention some open shelving or even glass cabinetry to hold all of your beautiful stemware and decanters.
Choose appropriate wine racks or shelving systems that cater to your bottle collection. Consider the size and design to maximize storage capacity while allowing easy access. Opt for sturdy, wine-specific racks to keep bottles stable and prevent vibration.
For more elaborate projects, you should always consult with an experienced specialist to ensure your cellar design is suited specifically for your current and future wine collection.
2. Use Wood
Typically, wine storage is almost always created using wood.
Since the temperature and humidity are often controlled (more on that below) it becomes the perfect place for natural wood to thrive without worrying about "breathing."
Breathing is the organic occurrence where changes in temperature and humidity can cause natural wood to expand and contract. A common concern for cabinets and hardwood flooring.
Wood is also the most customizable material to work with, making it great for custom millwork like wine racks and decorative trim. It brings an innate warmth that pairs beautifully with wine bottles and the luxurious allure of a wine cellar.
Oak is a very popular wood species for wine cellars, but you could also use maple, walnut, and many other kinds of wood as well.
3. Climate Controls and Ventilation
As we mentioned, optimal wine storage in a cellar needs to be adequately climate-controlled. These controls are important to prevent damage to the flavours and create perfect aging conditions.
The recommended climate levels for a wine cellar are between 55-65 degrees Fahrenheit and 45-70% humidity.
These controls are typically installed in a room behind the actual cellar, where the mechanical units can be placed out of sight and flow into the room.
The ventilation grates can even be incorporated into your design with custom millwork!
"We can design special grates to make the air flowing in and out more decorative." - Horwat
It's vital that you do not block the supply or return air registers with shelving, racks or displays. The air needs to circulate freely and it is crucial that these registers are not obstructed in any way.
If you're curious about climate control units, take a look at the varying types of temperature and humidity control systems from Capital Cellars.
4. Incorporate Features of the House
When a wine cellar is added to a basement – particularly in older homes – you may come across obstacles like concrete walls or curved stone ceilings.
While your first inclination might be to immediately conceal (or remove) them, it can instead be a unique design opportunity:
"You want to use that to your advantage, rather than trying to hide it and cover that up." - Horwat
Taking existing elements you can work into the design can be a benefit, not a hindrance.
Exposed brick or stone surfaces, in particular, can instantly bring a distinctive, rustic charm to your space.
5. Organize Your Wine
The organization of your collection is key to a functional and user-friendly wine cellar. You shouldn't have to search high and low for the wine you're looking for, pulling out bottle after bottle to inspect the labels.
What's great is it doesn't take a seasoned wine connoisseur for effective organization, either! Just some simple planning in the design phase is all you need.
Go about it similarly to the way you would categorize a bookcase: by genre, author, or alphabetical book title.
You can sort them by wine type: red, white, sparkling; by region: California, France, Italy; or by grape varietals: Cabernet, Merlot, Chardonnay, etc. You could even do it by year, or create a completely different system yourself.
Regardless of how you do it, picking an organizational method that best suits your collection is a key feature in the successful function of your wine cellar!
6. Glass Door Entrance
While older wine cellars have large, thick wooden doors, many modern-day cellars typically incorporate a glass door entrance.
They evoke a contemporary style and are the perfect way to have your wine remain on display, even from outside the cellar!
However, you can't just choose any glass door without some key considerations.
Wine cellar doors should be fully insulated, similar to exterior doors. Any glass doors (or windows) should be insulated, double-paned, and airtight to prevent sweating and fogging. They need to ensure the controlled climate inside your wine cellar isn't breached.
If done correctly, a glass door entrance is the perfect modern-day touch on an old classic!
Casual Wine Storage
Of course, not every wine aficionado needs a cellar.
They can be quite expensive – particularly with added humidity and ventilation systems – and unless you have a large collection, you most likely won't have enough wine bottles to warrant a separate room for them.
If that sounds like you, there are plenty of far more informal wine storage solutions to consider.
For starters, unless you have a basement bar or primary entertainment area, you'll most likely want to keep your wine upstairs near the kitchen and living room.
These are where traditional wine racks and other millwork accessories are perfect to incorporate into your kitchen. Wine rack lattices or scoops, or classic vertical cubbies provide more than enough room for a dozen wine bottles, or even more.
You can incorporate them somewhere like a butler pantry or build them into a kitchen island end panel.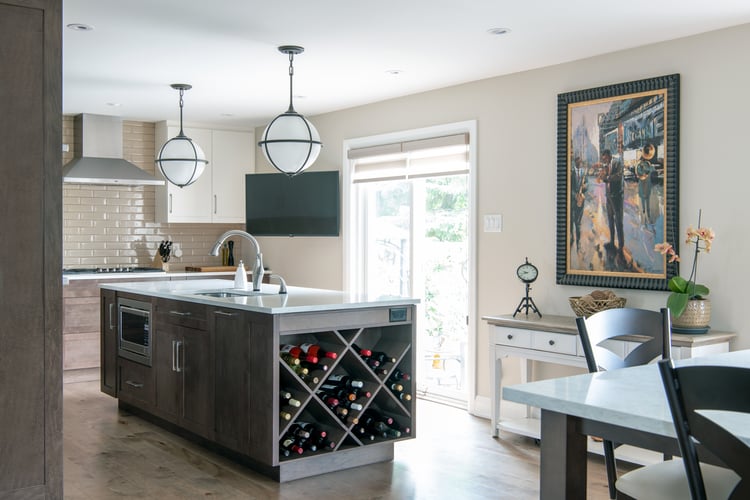 Design with Deslaurier Custom Cabinets
As you can see, a lot goes into a home wine cellar. They're an elaborate project that takes extensive planning in order to be successful.
If you're looking for custom cabinets and design services, Deslaurier has everything you need! With over 40 years of experience in our name, we provide our clients with a fully customized design process with our talented team of designers.
Book a consultation today with a Deslaurier design expert at our Ottawa Showroom or schedule a virtual meeting!

Live outside the area? Find a Dealer to connect with near you! Interested in becoming an authorized Deslaurier dealer? Visit our Become a Dealer page to learn more!