Estimated Read Time: 5 Minutes
If you're in the process of a kitchen renovation or new build, you will want to find a designated space for your kitchen storage.
Prominent kitchen storage is one of the most valuable assets in your home. It can also be a tricky feature to seamlessly integrate into your kitchen's visual design, often disrupting the flow with a bulky doorway, or being placed outside of the kitchen itself.
One creative way to mitigate the aesthetic eye-sore of a kitchen pantry is to keep it hidden in plain sight!
At Deslaurier, we have over 40 years of experience manufacturing custom cabinets and offering kitchen design services. We know the benefits of finding unique ways to keep unity in your kitchen design, like with a hidden pantry!
Join us, as Deslaurier designer Darien Wilson shares her expertise on hidden pantry design to help you determine if the style is right for your kitchen.
Let's get started!
What is a Kitchen Pantry?
When it comes to kitchen pantries, there are a plethora of different styles. Pull-out, walk-in, butler, or built-in. All of which can be concealed with a hidden door
For the purpose of this article, however, we'll focus on hidden walk-in pantries.
A walk-in pantry is a separate room within a home – typically attached or next to the kitchen – that is dedicated to storing food, kitchen supplies, and other household items.
Essentially, it's a food storage area that you can walk into! The space is often larger than a traditional pantry and can accommodate more items.
An average size walk-in pantry is usually around 4 or 5 feet wide and 4 or 5 feet deep. This offers plenty of room for shelving while still providing space to move around in. Of course, some pantries are much larger or smaller than that, depending on the size of the home.
Walk-in pantries will normally be equipped with shelves, cabinets, or other storage solutions that are designed to make it easy to organize and access items.
Most homeowners have too many things as it is, and a walk-in pantry is a great use of space to store food and any excess kitchen items.
What is a Hidden Kitchen Pantry?
When discussing hidden pantries, it's hard not to think of the secret door contraptions in Victorian-era manors, where a bookshelf or painting swings open to reveal a hidden room or passageway.
While these extravagant visuals immediately spring to mind, creating a hidden pantry in your kitchen isn't as complicated as you might think!
It's essentially just a standard walk-in pantry with a disguised façade. The entrance to the pantry is hidden in plain sight to keep visual consistency throughout the kitchen.
Let's take a look at how a hidden pantry is achieved.
How to Hide it
The most important aspect of a hidden pantry is that the entrance is out of sight.
The door to your hidden pantry should blend in with its surroundings and not look out of place, whether that's done with overlay panels or custom millwork.
"It's visually much more appealing to mimic it to the fridge or cabinetry so it looks fully built-in" - Darien Wilson
Doing this ensures that your kitchen design isn't broken up by a traditional doorway. Everything can coexist in one style—especially if you use cabinets for the door's design.
Take a look at the hidden pantry from our Nuanced Neutrals showcase: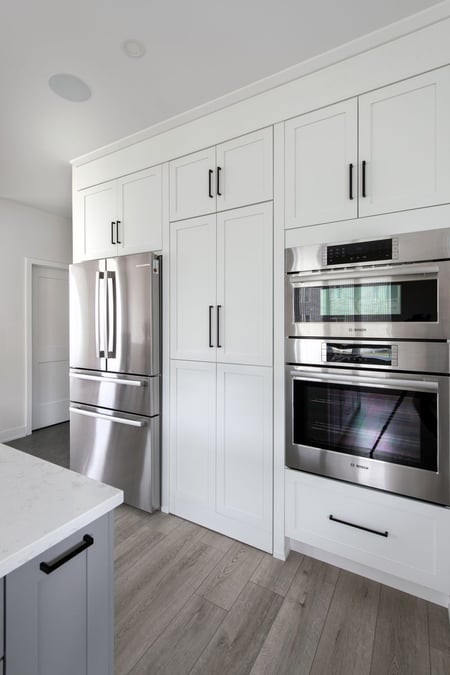 This project utilized custom shaker-door panels on the pantry door to expertly match the kitchen's transitional cabinetry design.
That's what's great about hiding your pantry, it can be done in any kitchen design style. Some features work better in modern or traditional kitchen design, but the unique qualities of a hidden pantry aren't one of them!
Maximize Space
For any walk-in pantry, finding enough space in your home's layout can be challenging. It requires a certain amount of room to be integrated within your kitchen.
"You need the right footprint and square footage for it" - Wilson
Creating any form of walk-in pantry is far easier the more space you have available.
For a new build, this shouldn't be as crucial of an issue. For a renovation, however, you might need to alter the layout of your kitchen to accommodate a new walk-in pantry.
If you have an upcoming kitchen remodel, be sure to make note of this early on in the design process. You'll need to find ways to create enough room for a walk-in pantry within your kitchen, not off to the side.
Where to Locate it
The main goal of a hidden pantry is to have your food storage stationed smack-dab in your kitchen, without looking like it's there!
Conventional walk-in pantries aren't always located directly in the kitchen. There's either not enough space for them – resulting in the pantry being installed off to the side of the kitchen – or a regular pantry door ruins the visual consistency of the kitchen design.
Locate it next to deeper cabinets, like beside your wall oven or refrigerator.
This is the ideal spot, as it keeps primary food storage directly within your cooking area. It also allows it to blend perfectly while keeping it in line with the deepest cabinetry in your kitchen.
Further, aligning the entrance with deeper cabinetry will increase room for the door to open into the pantry.
The Door Itself
There are two important considerations when implementing a hidden door.
The first consideration is the width you'll need to comfortably walk in and out of your pantry.
"You'll want a minimum width of around 30 inches" - Wilson.
The second concern is the installation of the door.
Standard door hinges won't work, as you need the hinge hidden from sight. Not to mention the additional millwork added to the front of the door.
Take a look at this custom closet Darien Wilson designed, and note the inclusion of these columns on either side of the paneled door: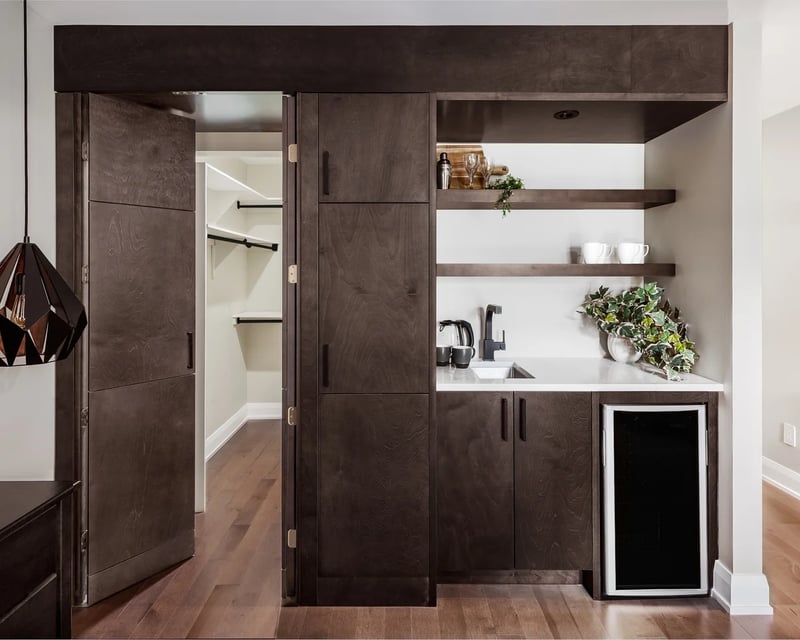 The pantry door frame will need thick columns on either side of it. Special hardware needs to be installed into the columns in order to create a built-in, clean aesthetic with no signs of a door frame.
More Decorative for the Hardware
Lastly, the door's hardware is an important finishing touch for your hidden pantry design.
You wouldn't want a standard doorknob or handle, it would give away the "hidden" aspect of the door and also look out of place with the millwork paneling.
"Matching the hardware with whatever is next to it is the best option." - Wilson
What's great is you can do appliance-sized handles for the door. Especially beside a fridge. Even better if the fridge has overlay paneling as well, that way it can be matched to look precisely like it.
This adds to the streamlined, consistent aesthetic you want when installing a hidden pantry. It's also a better option than using standard cabinet hardware which might be too small for a full-sized door, depending on your selection.
Design with Deslaurier Custom Cabinets
Overall, the key to finishing off your hidden pantry is to make it feel like a seamless extension of your kitchen. The end result should be a space that feels functional, practical, and stylish all at once.
If you're looking for custom cabinets and kitchen design services, Deslaurier has everything you need! With over 40 years of experience in our name, we provide our clients with a fully customized design process with our talented team of designers.
Book a consultation today with a Deslaurier design expert at our Ottawa Showroom or schedule a virtual meeting!
Live outside the area? Find a Dealer to connect with near you! Interested in becoming an authorized Deslaurier dealer? Visit our Become a Dealer page to learn more!