Estimated Read Time: 5 Minutes
The kitchen is often considered the heart of the home, where families and friends gather to cook, eat, and socialize.
As the years change, so too does the world of kitchen design; transforming to reflect evolving lifestyles, style preferences, and technological advancements.
One kitchen style that has been integrated into contemporary homes is the modern farmhouse design. It allows homeowners to embrace tradition with an updated contemporary flair.
At Deslaurier, we have over 40 years of experience providing our clients with custom cabinets and kitchen design services. In that time, we've helped handcraft thousands of kitchens to cultivate the perfect design for our clients.
In this article, we'll explore modern farmhouse kitchen design – with the help of Deslaurier's Designer Amelia Mathieson – pinpointing key features to help you determine if it's the right style for your home.
Let's get started!
Farmhouse Kitchen Design
When envisioning southern charm, the same notion holds true for your farmhouse kitchen—a delightful and welcoming atmosphere that beckons you to spend time within its walls.
A farmhouse kitchen design is a style that embraces the essence of traditional rural farmhouses, blending rustic elements with a nostalgic, warm, and simple aesthetic. The goal is to create a cozy, inviting, and functional space with a hint of vintage charm.
Natural materials like wood, stone, and metals are often incorporated throughout the space. An apron-front sink, floating shelves, exposed wood beams, and butcher block countertops are instant indicators of farmhouse kitchen design.
In fact, apron-front sinks are more commonly known as farmhouse sinks, as they are the quintessential feature of this design style.
To sum it up briefly, a farmhouse kitchen design draws on country living, natural elements, and rustic accents. It's a warm style that takes comfortable classics and elevates them in a new way.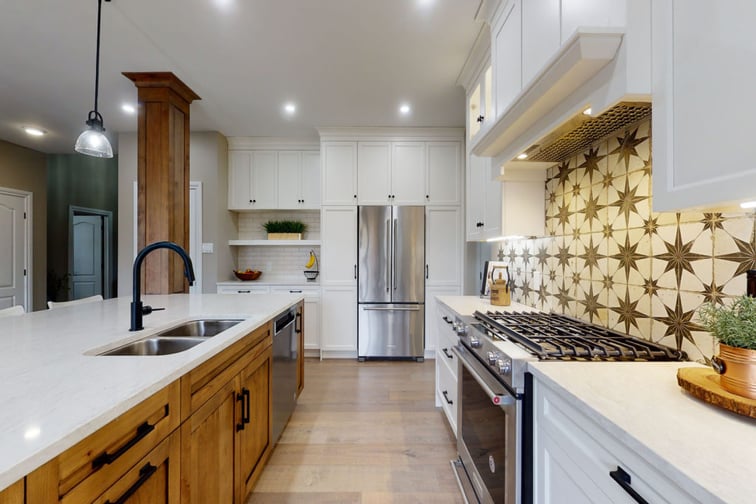 Modern Farmhouse Kitchen Design
When we talk about "modern" farmhouse, we aren't discussing it in the same terms as modern kitchen design, with straight lines and flat slab doors.
It's meant in a contemporary manner, updating the classic farmhouse style with some current trends and fresh intuitiveness.
"They're a little bit more transitional than I think people realize" - Amelia Mathieson
Modern farmhouse design allows people to embrace the warmth and country charm of traditional farmhouse kitchens but with a modern twist reflective of the times.
At its core, it's done to soften the powerful natural elements of a farmhouse design with an updated, refined appearance.
Modern farmhouse style is a bit less rustic and adds more contemporary touches, such as a neutral colour scheme and less detailed millwork.
With that, let's take a look at some ways to modernize a country farmhouse kitchen!
Shaker Cabinets
Classic farmhouse kitchens typically have wood cabinetry with a rustic, weathered look, often featuring open shelving or glass-fronted cabinets to showcase decorative items.
In contrast, modern farmhouse kitchens often feature sleek, simple, and clean-lined cabinetry, sometimes with a mix of open and closed storage for a more streamlined appearance.
This is where a staple of transitional kitchen design comes in: the shaker door.
"Not a super traditional, ornate door. A really simple shaker that leans modern," says, Mathieson
By utilizing this style of door, you can infuse a modern touch into your kitchen design, while reserving the intricate details of faucets, backsplashes, and hardware as opportunities to incorporate rustic accents.
You can even add some subtly applied mouldings to impart a little character to the door.
Level of Detail and Ornamentation
Decorative trim goes hand-in-hand with kitchen cabinetry.
They enhance the style and add more personality with detailed millwork and extravagant mouldings. At the same time, the detailing also has the ability to tone down the design.
Are there custom turn posts on the island? Or ornate crown moulding?
Those elements lean far more traditional for a farmhouse kitchen. Use more subtle millwork on these features to create a more simple, understated aesthetic.
Further, custom hood fans are a place where you can add (or subtract) some visual highlights. It all depends on how detailed it is and what type of visual style elements you introduce.
"You can really style a hood in a different way to change the feel of the space" - Mathieson
That's a testament to how powerful of a stylistic element custom hood fans can be.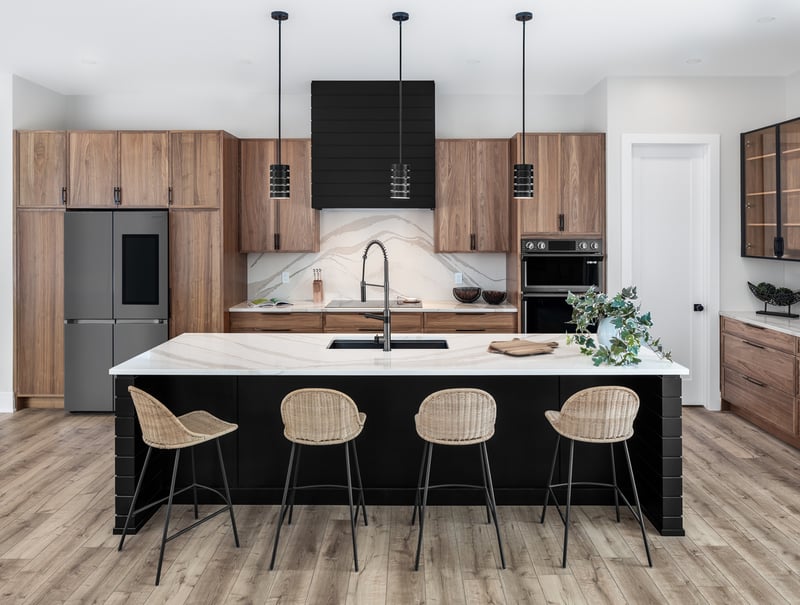 They can drive home a traditional sensibility, or pull back on a farmhouse design with more contemporary features like square edges and minimal detailing.
Solid Colours
While classic farmhouse kitchens often feature neutral colour palettes with whites, creams, and plenty of natural wood tones, modern farmhouse kitchen design is no stranger to incorporating a broader range of colours.
"Use some painted colours compared to overtly wood tones" - Mathieson
Modern farmhouse design will usually still include a neutral colour base, however, it combines that foundation with pops of colour for a more contemporary feel.
You may find dark green or navy blue cabinets paired with white countertops or colourful backsplashes to add an updated touch.
After all, adding a bold colour is one of the top cabinet colour trends of 2023.
Updated Cabinet Hardware
Traditional farmhouse kitchens typically feature vintage-inspired fixtures and hardware, such as farmhouse sinks, bridge faucets, and antique-style handles.
Where modern farmhouse kitchens often differentiate is with their cabinet hardware!
"You can really steer a kitchen's style based on its cabinet hardware" - Mathieson
Traditional elements will still be included to maintain a farmhouse aesthetic, but opting for more contemporary hardware is one of the most efficient ways to add a modern touch.
Cup pulls, for example, provide a very traditional farmhouse feel. For a modern farmhouse aesthetic, you'd pass on those bulky options for a more sleek handle.
The same goes for knobs. An ornate, circular glass knob can be replaced with polished, square knobs.
These somewhat minor details in the grand scheme of things that can have a heavier impact on the overall design than they might seem capable of.
Exposed Wood Beams
Finally, turning a classic farmhouse kitchen into a "modern" one doesn't mean reinventing the wheel. Sometimes all it takes is putting a contemporary touch on an old favourite.
One of those elements is exposed wood beams.
Whether they're across the ceiling or used to form a framed entryway, exposed wood beams are a staple of farmhouse design. Rather than removing such a signature aspect of the design family, try fine-tuning it to a more modern-day standard.
They'll of course still be in wood but might not be as rustic. A more refined, polished appearance than the conventional country cottage look.
It could even be as simple as using lighter wood tones. A delicate birch or a trendy white oak are two wood species perfect for bright and airy kitchen spaces.
Design with Deslaurier Custom Cabinets
To sum it up, modern farmhouse kitchens provide the best of both worlds by preserving the charm of traditional elements while allowing for customization and modernization. With limitless possibilities, these kitchens offer a unique and inviting space that captures the essence of rustic warmth and contemporary style.
Ultimately, choosing a kitchen design will always come down to your lifestyle, style preferences, and budget. Consider these accordingly and you'll be able to craft the perfect kitchen design to fit your home!
If you're looking to install the perfect custom cabinets in your dream kitchen, Deslaurier Custom Cabinets has everything you need! With over 40 years of experience in our name, we provide our clients with a fully customized design process with our talented team of designers.
Book a consultation today with a Deslaurier design expert at our Ottawa Showroom or schedule a virtual meeting!
Live outside the area? Visit our Find a Dealer page to connect with a Deslaurier dealer near you! Interested in becoming an authorized Deslaurier dealer? Visit our Become a Dealer page to learn more!