Estimated Read Time: 6 Minutes
Finding a balance of harmony and contrast is a key way to create a cohesive kitchen aesthetic.
With wood, metal, and even man-made alternatives, there are a lot of materials at play in any kitchen design. Ensuring these elements don't clash is a primary focus.
Metal finishes are popularly used thanks to their durability, aesthetic appeal, and functionality.
From sleek stainless steel appliances to the warm allure of gold and bronze cabinet hardware, metal finishes can be a game changer in any kitchen design. Blending different metals together is a prominent way to set your kitchen apart.
Not to mention, it embraces an ongoing design trend that people are gravitating towards, enabling the creation of texture and layers in a modern and classy manner while infusing your space with innovative and contemporary style.
At Deslaurier Custom Cabinets, we specialize in custom cabinetry and kitchen design. We know the importance of selecting the right metal finishes to help take your kitchen's look to the next level.
In this article, Deslaurier designer Vanessa Horwat provides her expertise on how you can perfectly mix metal finishes in your kitchen design.
Let's get started!
Where Do You Use Metals in a Kitchen Design?
You might not always realize it, but metal finishes can be found in plenty of common kitchen elements!
The obvious ones are your lighting as well as your plumbing fixtures like metal faucets and stainless steel sinks. Of course, cabinet hardware and stainless steel appliances are also prominent examples.
There are plenty of other ways to add some stunning metals to your kitchen.
Things like kitchen furniture often go unnoticed, especially when there is a significant focus on other metal features in the kitchen. However, it is important to realize that even items like metal frame island stools play a role in the overall aesthetic and design of the space.
These examples illustrate just a few instances where you can incorporate metals into your design. They also shed light on why some individuals are opting to mix multiple finishes. Mixing different metal finishes adds visual interest, depth, and versatility to the overall design, allowing for a more dynamic and personalized aesthetic.
Using Different Metals
There are plenty of ways to get creative when using metals in a kitchen.
You can find them in different colours, finishes, and even metals themselves. From gold to brass to chrome, you won't be short on options when selecting metal finishes for your kitchen.
Each metal is unique and brings its own intrinsic qualities to a design.
Stainless steel and brushed nickel, for example, tend to take on the colours that are around them. They become very much a neutral piece of your design, playing off other elements. That's partly why stainless steel appliances have become so commonplace.
Black metal, in contrast, has a stronger impact and can effectively create contrast within the kitchen. While other metal finishes tend to blend in, black metal stands out as a bold accent.
Additionally, certain fixtures can incorporate a combination of different metals, offering even more design flexibility. When it comes to using metals in your kitchen, the possibilities are abundant, allowing you to create a unique and personalized space.
Mix It Up!
Gone are the days of selecting one metal finish for your entire kitchen. Now, not everything needs to match.
"It used to be common to match everything; the door handles to the hinges to the light fixtures."- Vanessa Horwat
There's a bit more of an eclectic look going on that helps to increase visual interest throughout the space.
Take our Winchester & Walnut showcase, for example: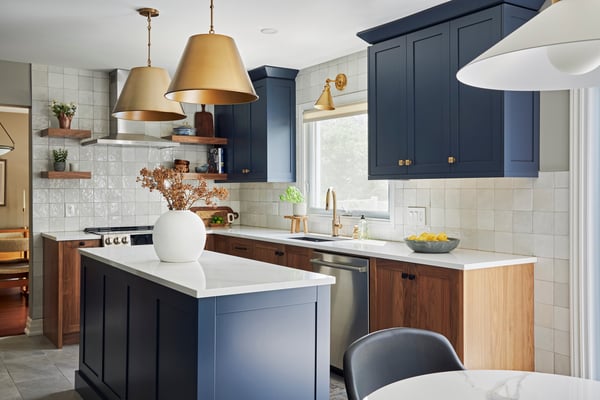 The blue island cabinetry is paired with gold hardware, while the walnut base cabinets are accompanied by striking black handles and knobs.
Even further, the luxurious gold kitchen lighting and sink faucet effortlessly harmonize with the island hardware. Throw in the stainless steel appliances across the layout and you have three metal finishes that mix together beautifully!
Mixing metals doesn't have to be a grandiose kitchen design statement, either.
Something as effortless as pairing your stainless steel sink with a black faucet instead of more stainless steel. Such a simplistic contrast can have a powerful visual impact.
Metal-Framed Doors
For bolder accents, metal-framed cabinet doors are the perfect addition to any modern-style kitchen.
They're often in an aluminum metal with a black finish, and typically pair well with small tab pulls rather than handles or knobs.
"They're a more modern door style so the handle will usually either be a small pull tab or nonexistent." - Horwat
You want to focus on the door itself, not a large gold handle.
You can also use the metal frame accents to match the hardware on other cabinets:
The primary design in this kitchen project is grey perimeter cabinets and a birch island, both of which are paired with black hardware.
The black metal framed cabinets in the corner tie in perfectly with the hardware choice, creating cohesion in the space between three distinctive sets of kitchen cabinets.
Two-Tone Cabinet Designs
A two-tone kitchen design is composed of two sets of cabinets that are different colours. Think painted white uppers paired with darkly coloured base cabinets.
The concept of two-tone kitchen cabinets is nothing new. However, they have seen a rise in popularity in recent years and it seems the design trend will only increase going forward.
One of the key reasons to implement two-tone cabinets is that they are a unique outlet for creativity. They allow homeowners the opportunity to be a bit more daring in their kitchen while still encompassing classic design attributes that have universal appeal.
One of those creative possibilities is pairing two different sets of hardware with the two-tone cabinets.
Although a subtle element of kitchen design, cabinet hardware has a powerful influence on such a small piece of the kitchen puzzle.
You can keep it simple and use contrasting sets of hardware like silver and black. Or you can get creative and go with some elegant brushed gold on a traditional 5-piece door, paired with flat slab doors and small black metal tab pulls.
Try Metal Framed Shelving
There are a lot of unique ways to include metal accents in your home outside of traditional elements like handles, faucets, and appliances.
For example, metal framed shelving units are really popular right now.
These metal framed shelves are an eye-catching feature found typically in black or gold, but can even be wrought iron for a more rustic appearance.
Not only are you bringing in metal but you're breaking up the wood tones, as well. Oftentimes, there can be so many wood features in a kitchen. From wood cabinets to wood flooring to a kitchen table and chairs.
You can mount them on the wall or from the ceiling, depending on your preference. They're a great alternative to wood floating shelves while still incorporating that valuable open storage in the kitchen.
Stainless Steel Countertops
Metal finishes aren't just for smaller accent pieces. They can be used for larger kitchen elements such as countertop surfaces.
Metal countertops are not something that's supposed to stay perfect. There's a reason they're prominently used in restaurant kitchens.
"It's going to scratch. You need to understand those expectations beforehand."- Horwat
They are meant to be worked on and gain scratches, that's part of the appeal of their industrial look!
If you're adding a metal surface to your kitchen, expect it to be banged up and imperfect.
Use One Manufacturer when Matching
While mixing your metal finishes is a popular trend, many homeowners still love the traditional appeal of matching them.
An important consideration when matching metals is to always try to purchase everything from the same manufacturer.
Of course, that's easier said than done when trying to match cabinet hardware with light fixtures. Not every manufacturer will carry both of those products.
For things like hardware and faucets, however, it's more commonplace. Matching faucets to cabinet hardware is typically the go-to when you match metal finishes in the kitchen and many suppliers will offer both.
Two separate manufacturers might offer very similar brushed nickel, but they won't be exactly the same.
If the handles are from Richelieu you want the matching faucet from Richelieu as well. Their brushed nickel will be different from the selections you'd find from another manufacturer.
Design with Deslaurier Custom Cabinets
With a plethora of modern-day products, mixing metals in a kitchen design is more popular than ever! If you're looking to enhance your kitchen, Deslaurier Custom Cabinets has everything you need if you have your eye on custom cabinetry.
We provide our own metal framed doors and we partner with world-class hardware suppliers like Emtek, Berenson, and Richelieu to offer our clients thousands of metal hardware options in type, feel, function, style, finish, and size.
With over 40 years of experience to our name, we provide our clients with a fully customized design process with our talented team of designers.
Want to view our hardware selection? Book a free consultation with a Deslaurier kitchen expert at our Ottawa showroom!
Live outside the area? Find a Dealer to connect with a Deslaurier dealer near you! Interested in becoming an authorized Deslaurier dealer? Visit our Become a Dealer page to learn more!