Estimated Read Time: 5 Minutes
For such a small feature in the kitchen design puzzle, cabinet hardware can play a large role in a kitchen's overall aesthetic.
Choosing the right kitchen cabinet hardware, however, can be a challenging task. It requires careful consideration to ensure that the selected hardware not only complements the rest of the kitchen but also aligns seamlessly with cabinets, countertops, and other metal fixtures.
The goal is to create a visually appealing environment where every element works together in perfect synergy, forming a cohesive and captivating space.
At Deslaurier Custom Cabinets, we specialize in providing our clients with high-quality, functional dream kitchens. We know how important selecting the right cabinet hardware can be during the kitchen design process.
In this article, we'll explore the world of kitchen cabinet hardware – with the help of Deslaurier's Designer Amelia Mathieson – comparing handles and knobs and highlighting their key features.
Let's get started!
Kitchen Cabinet Hardware
When it comes to kitchen cabinet hardware, the options seem endless.
Among the many decisions you'll need to make, one important choice is whether to go with handles or knobs.
Both options offer unique stylistic, practical, and material choices that can significantly impact the overall look and functionality of your kitchen.
Cabinet Handles
Cabinet handles – also referred to as pulls – offer a sleek and modern aesthetic to your kitchen cabinets.
They provide a more substantial grip and can add a touch of sophistication to any kitchen design.
Handles come in various styles, sizes, lengths, and materials, allowing you to create a customized look for your cabinetry.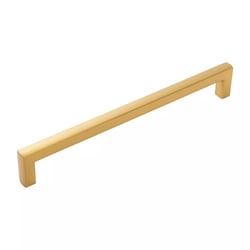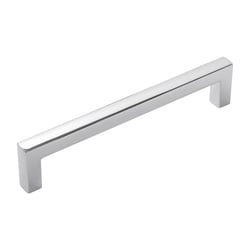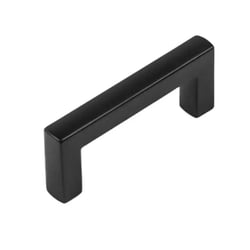 You can choose between straight or curved; cup pulls or sleek bar handles; or even integrated handles and recessed tab pulls.
There are plenty of different materials and finishes, as well. From stainless steel, chrome, brushed nickel, or matte black, to gold, silver, and bronze.
Cabinet Knobs
Knobs are a timeless choice for kitchen cabinets, offering a touch of classy elegance. They are available in a variety of shapes, sizes, and materials, allowing you to select the perfect option to complement your kitchen style.
Whether you prefer sleek and modern, rustic and vintage, or something in between, you'll find knobs that suit your aesthetic
There are the classics such as traditional round or more modern square knobs, or even novelty shapes like flowers, animals, or geometrical designs.
Like handles, there are plenty of materials for cabinet knobs, like brass, stainless steel, nickel, or bronze.
There are also plenty of glass options with clear, frosted, or coloured products. In fact, if you're after a more intricately designed knob, glass is your best bet!
Kitchen Style
Your design style is likely to be one of the biggest factors in determining which hardware you use. If you are looking to pick a specific design style then you want hardware that meets the theme.
If you want a more contemporary aesthetic, straight-line, minimalist pull handles are a popular choice. Options can range anywhere from transitional to ultra-modern.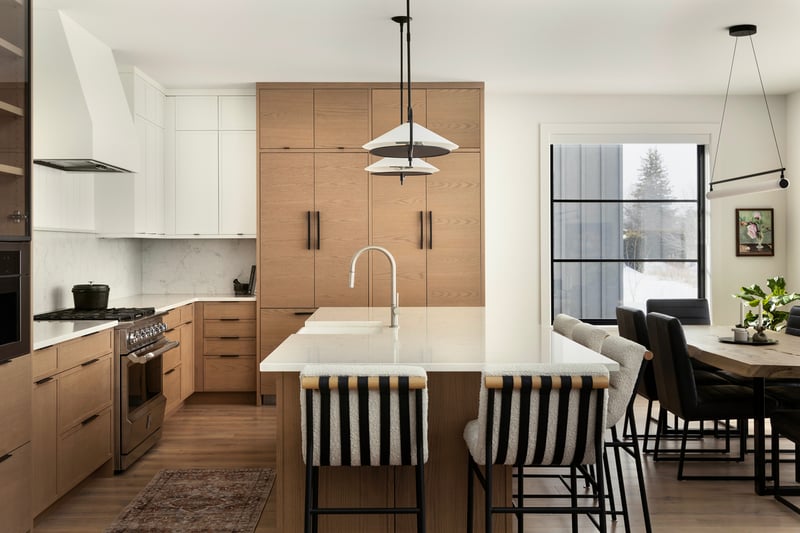 If you're going modern, you have several distinct options to consider.
"You can outfit your entire kitchen with handles or go with an even more subtle option by incorporating integrated tabs or no hardware at all." - Amelia Mathieson
Conversely, knobs are quite a traditional element when it comes to cabinet hardware. They bring warmth and a classic charm to your space. Think about old knobs you'd see on antique armoires and or china cabinets.
"Round knobs are more traditional, with square knobs veering more modern." - Mathieson
Utilizing knobs throughout your cabinetry design, particularly two knobs on base drawers, is quite traditional in practice. It's much more common for a kitchen to have only handles than only knobs, but it is still done in kitchen design.
That's not to say all cabinet knobs are considered traditional. There are plenty of knobs that fit perfectly with a more updated design style. Like a square edge with a matte black finish.
Of course, there is plenty of fluidity hardware and it is all relative to the homeowner. There are no set "rules" when pairing hardware with cabinetry. Merely guidelines.
Functionality
Sometimes functionality is more important than appearance. If you live with children or maybe someone a bit older who has a hard time gripping, then pulls are going to be the better choice.
Since you can grab a pull with three to four fingers, they are much easier to secure than a smaller, less stable knob.
"Working with people buying their last home, they're probably going to choose handles for everything. It's just easier to use over time." - Mathieson
It all boils down to your lifestyle and the duration of your stay in the current home you're designing for.
Considering these factors is crucial in determining what will be more convenient and practical for the individuals who will be using the kitchen on a daily basis.
By carefully evaluating your needs and envisioning the future, you can make a decision that not only enhances the overall design but also aligns with your specific requirements, ensuring a functional and enjoyable kitchen experience.
Mix Knobs and Pulls
Although there is something to be said for consistency, you don't need to choose strictly one or the other when it comes to cabinet hardware.
In fact, you may even improve the appearance of the kitchen by diversifying the style.
Mixing knobs and pulls on kitchen cabinets is an excellent way to add to the atmosphere of your kitchen and include some added flavour to the design.
A great opportunity to incorporate this strategy is to use knobs on the cabinet doors while using pull handles for the base cabinet drawers.
Alternatively, you can opt to fully separate the two and use knobs for upper wall cabinets above the counters while using pulls for those below.
If your cabinetry is all the same colour, just make sure your hardware matches as well. This helps you to be consistent while still mixing things up.
The Cost
Of course, you can't forget to factor your budget into your decision-making process.
The cost of kitchen cabinet hardware ranges greatly. With so many styles, sizes and materials to choose from, there's something out there for everyone and every budget.
Generally speaking, knobs will be less expensive than pulls, purely based on the amount of material used. However, each type of hardware can be more or less expensive than the other.
A single unit can cost $5 and another selection on the display beside it can cost $50. If you have an above-average kitchen size with 30 cabinet doors and you make an ultra-luxe hardware selection, you can spend thousands of dollars on hardware alone.
Keep in mind that your kitchen cabinet quote may already include a hardware allowance. Cabinet manufacturers operate differently, but it's common to have hardware built into the pricing.
You'll want to chat with your designer or contractor to learn whether you have a hardware allowance or not.
Pick Your Hardware With Intention
Remember, there's a time for rules, and there's a time to throw the rules out the window. When it comes to cabinet hardware, you can truly call the shots on your selections.
If you want to use two knobs instead of a handle on your drawers, go for it.
If you want really long pulls on the drawers and really short pulls on the upper cabinet doors, by all means, make it happen.
Our only recommendation is that you have some overarching logic as to what goes where. As long as there is cohesion and stylistic harmony – however that may present itself – your design will look clean, intentional, and successful!
Design with Deslaurier Custom Cabinets
Wondering how the perfect cabinet hardware will mesh with your dream kitchen design? You've come to the right place!
Deslaurier has everything you need if you have your eye on custom cabinetry. With over 40 years of experience to our name, we provide our clients with a fully customized design process with our talented team of designers.
We partner with world-class hardware suppliers like Emtek, Berenson, and Richelieu to offer our clients thousands of hardware design options in type, feel, function, style, finish, and size.
Want to view our hardware selection? Book a free consultation with a Deslaurier kitchen expert at our Ottawa showroom!

Live outside the area? Find a Dealer to connect with a Deslaurier dealer near you! Interested in becoming an authorized Deslaurier dealer? Visit our Become a Dealer page to learn more!