Estimated Read Time: 6 Minutes
If you're in the midst of a new build or kitchen renovation, you're most likely discovering that selecting the right kitchen cabinets for your home can be a lengthy process.
One of the driving forces of successful cabinet selection is finding a material that fits into your price range. The last thing you want is to fall in love with a cabinet material only to find out its lavish price tag is out of your budget.
At Deslaurier Custom Cabinets, we have over 40 years of experience specializing in providing our clients with high-quality, long-lasting kitchen cabinets. In that time, we've worked with clients to help them select the perfect cabinet wood species for their kitchen and their budgets.
With that, this article will detail 5 of the most affordable woods that are popularly used for kitchen cabinets.
Let's get started!

What Makes a Wood Species Affordable?
Affordable doesn't mean cheap. There are plenty of high-quality, durable cabinet materials that come at affordable prices. In fact, most of the woods on this list are actually stronger and more durable than some more expensive woods like walnut and cherry.
There are a number of reasons why a particular wood species might be more or less expensive than another
Cost will always be dependent on the grade (quality) of the wood, market conditions, the manufacturer, and how readily available the wood species is.
Take, for example, a wood like maple and a more expensive wood, like cherry. Maple, although a high-quality and popular cabinet wood, will always be the less expensive material than cherry wood. That's because maple trees are highly accessible and more populous in North America – and especially Canada – than cherry wood. This makes them easier to source for manufacturers and keeps the overall costs down industry wide.
Does that make cherry a better-quality wood than maple? Not at all. It does, however, make it a more expensive option for kitchen cabinets.
With that, this article will highlight some of the most affordable wood species that are popularly used for kitchen cabinets.
1. Birch Cabinets
Birch has a pale colouring that can look slightly yellow-ish. It has a simple, rather open grain that is typically made up of straight (ish) lines. Birch is also one of the few wood species that actually develops colour with age, gaining a yellowish-red tint as time passes.
Birch is considered a paint-grade wood thanks to its low-key grain and uniform surface. If you're going with natural wood for your painted cabinets, birch is about as good as it gets.
It's worth noting that birch is a slightly porous wood species. When it comes to using a dark stain on birch, it's possible that the cabinet doors will absorb the stain at varying speeds which can cause a "blotchiness" effect. Because of that, specific areas of grain pattern may be highlighted randomly with dark stains.
Birchwood is, most of the time, a cabinet maker's entry-level product, due to how accessible and populous it is in North America. Birch will typically be near the bottom of the pricing scale for natural wood cabinets.
2. Maple Cabinets
A classic Canadian hardwood, maple is one of the most popular woods for kitchen cabinets. It also shares plenty of similarities with birch, like a smooth surface and similar grain patterning.
Maple's grain pattern is generally quite straight, with some subtle waves and curls mixed in, while its colour is rooted in a gentle white with reddish-brown hues.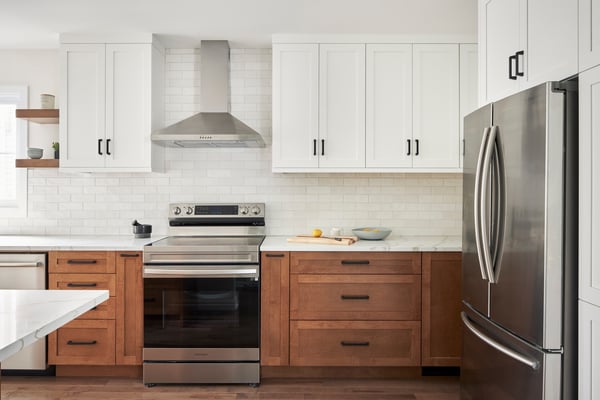 Thanks to those similar birch-like physical qualities, maple is also considered a paint-grade wood. However, compared to birch, maple is a less porous wood. In that sense, you shouldn't worry about pronounced blotchiness when a dark stain is adhered to maple cabinets.
For such a quality hardwood, maple is considered quite affordable thanks to how populous it is in North America. You'll find maple cabinets in the same pricing tier as birch, if not 5% higher, depending on your supplier.
3. Red Oak Cabinets
Firstly, it's worth noting that not all oak woods are alike. Technically speaking, there are several different varieties of oak, and each one is slightly different from the next.
There are two major types of oak: red oak and white oak.
Red oak (commonly referred to simply as "oak") is noted for having light to middle brown colouring with a cast of reddish hues, complemented by a prominent, fairly straight grain pattern.
The beauty of red oak and its prominent grain is that it can be adorned with anything from a clear coat finish to a dark stain. Although not done very often, red oak cabinets can even be painted – producing a nice, textured surface you won't find on many other painted cabinets.
While oak often has the connotation of being a more traditional-looking cabinet wood, there are plenty of ways you can put a modern flair on oak cabinets!
The cost of oak is known to fluctuate, but you'll typically find it priced right around maple and birch at most cabinet suppliers. However, in recent years, oak has commonly found itself being slightly more expensive than maple wood (about 5% more), a trend that may or may not stick going forward.
4. (Knotty) Pine Cabinets
Pinewood cabinets are a beautiful and classic choice for any kitchen. Unlike the other wood species on this list – which are all hardwoods – pine is actually a softwood – but a strong one at that!
Because of this, pinewood has a soft texture and smooth grain. Pine is also noted for its gentle colour, ranging from light yellowish-white to a soft reddish-white. Thanks to this versatility, pinewood cabinets work well in anything from a traditional kitchen to a more modern design.
A common variety of pine is "knotty" pine. Knotty pine features random knots throughout the wood which may be as large as 3" in diameter. Smaller pin-sized knots will also be found scattered throughout the face of the door.
Pine is enhanced beautifully with a prominent stain or glaze. With specific areas of its grain pattern being highlighted with darker stains.
Because it grows natively across the United States, pine is more affordable than many other natural woods. In general, pine wood cabinets will be significantly less expensive than the tier of oak, maple, and birch.
5. Plywood Cabinets
You're no doubt familiar with plywood, but what you might not know is how prevalent it is in the cabinet manufacturing industry. Plywood has long been a commonly utilized material for cabinet box construction, but it can also be used to make cabinet doors and drawer fronts!
If you've ever seen the side of a piece of plywood, you've noticed that there are multiple layers that make up each sheet.
Plywood cabinet boxes are made with sheets of natural wood veneer used for the exterior cabinet surface while a softer wood species, like poplar, fur, or aspen, is utilized for the core layers.
Wood veneers are thin sheets of authentic natural wood that are applied to the outside of an underlying substrate. They provide a real wood aesthetic at a more cost-effective price than solid wood.
The softer interior woods used will often depend on the location of where they are sourced from. For instance, cabinet boxes manufactured in western Canada will typically use fir trees, while eastern products tend to be sourced with the more locally populous aspen wood.
Plywood cabinet doors are made in the same manner. They will have an outer veneer layer (you can choose from a wide variety of wood species) with an inner core. They provide a fantastic surface for a painted finish but can also be finished with a stain or a clear coat.
Plywood cabinet doors offer far and away the most inexpensive option in this article. The woods used for the interior core are some of the cheapest available, and the wood veneer outer layers are vastly less expensive than solid natural wood doors.
All in all, you can realistically expect to spend roughly $8,000-$12,000 to outfit a kitchen with plywood cabinets that might cost $25,000 in maple or birch.
Discover Deslaurier Custom Cabinets
When it comes to kitchen cabinets, there are truly a wide variety of quality wood species to choose from. The wood species listed above represent just a handful of the affordable cabinet materials available for your kitchen.
Interested in how your dream kitchen cabinets would look made with one of these woods? Book a consultation today with a Deslaurier kitchen expert at our Jupiter, Florida showroom or schedule a virtual meeting!

Interested in becoming an authorized Deslaurier dealer? Visit our Become a Dealer page to learn more! Live outside the area? Find a Dealer to connect with a Deslaurier dealer near you!