Estimated Read Time: 9 Minutes
Whether you're in the midst of a new build or a kitchen renovation, every homeowner wants the same qualities in their kitchen materials: to look good, fit in their budget, and last a lifetime.
During your kitchen design process, you've probably wondered to yourself how long a certain material or item will last.
We're here to help!
At Deslaurier Custom Cabinets, we specialize in customized and highly personalized design solutions - ensuring our clients have beautiful, high-quality kitchens for life. During the design process, our clients often ask us about the most durable and long-lasting materials they can include in their dream kitchen.
We thought we'd share our answers with you!
In this article we will detail some of the most durable materials you can utilize to achieve a kitchen that will last you a lifetime.

Durable Kitchen
Cabinet Materials
1. Solid Wood Cabinets
Solid natural wood cabinets are the gold standard when it comes to strength and longevity.
Woods like maple, oak, birch, walnut, and cherry will last you decades.
Their strength and durability can be determined using the Janka Hardness Scale, a measurement designed to quantify the hardness of a particular wood species by seeing how much force is required to submerge a small steel ball halfway into a piece of wood.
With regards to cabinets, this will help ascertain how each wood will hold up against impact damage as well as general wear and tear.
For example, maple scores extremely well on the Janka scale with a rating of 1450. That means it takes 1450 pounds of force (lbf) for the steel ball to embed halfway into the sample of maple wood. Other popular hardwoods that perform particularly well are oak (1360) and birch (1260).
Now, just because a material is strong and hard, doesn't necessarily mean it can't have durability or longevity issues. There are plenty of other potential issues to consider.
Every natural, hardwood option will expand and contract with changes in temperatures or humidity – referred to as "breathing" – and as a result are susceptible to movement and even warping over time.
While warping would take significant moisture, or happen over a long period of time, it is still something to be aware of when choosing natural wood cabinets.
To show you how long-lasting solid wood cabinets are: at Deslaurier, we issue our cabinets with a 20 year warranty. If properly maintained, there's no reason they shouldn't last you many years past that!
2. Textured Melamine Cabinets
Textured Melamine (also known as Thermally Fused Laminate) is one of the most durable cabinet materials on the market today, noted for its strong resistance to excessive moisture, heat, and stains.
Melamine boards are designed to reproduce the look and feel of realistic paint, wood grain, concrete, metals, or material designs.
Melamine boards consist of a raw particleboard substrate with resin-infused decorative paper permanently fused to both sides. Heat and pressure activate the resin to effectively seal the substrate and produce cabinet doors.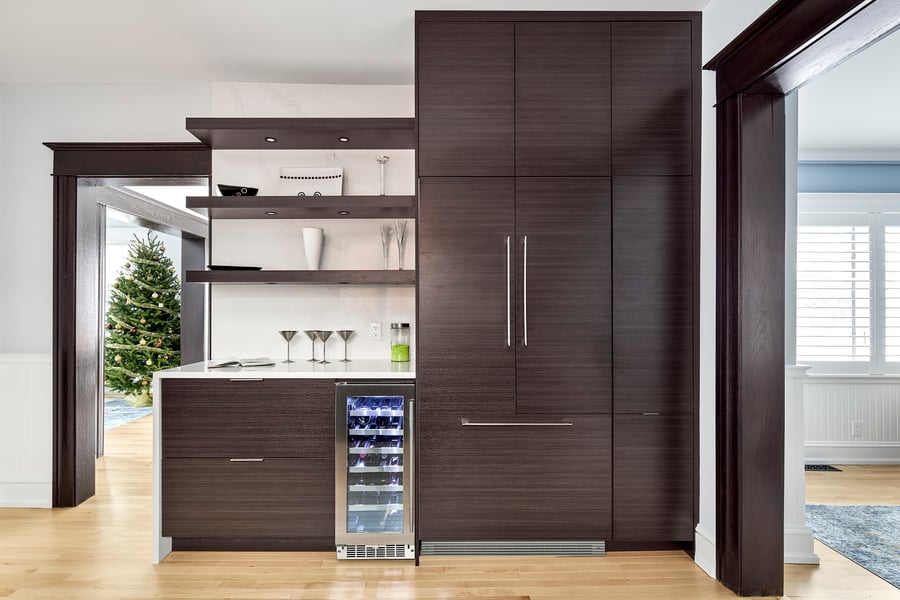 Since the resin-filled paper is permanently fused to the particleboard substrate, melamine will not peel away. It also won't delaminate like other fused products, such as thermofoil.
As the TFL designation indicates, melamine is a laminate, which results in it being more "stable" than solid wood. While natural wood will expand and contract due to breathing, melamine will not.
Melamine's stability is one of the reasons why it is such a popular option for a uniform, consistent wood grain finish.
Durable Kitchen Cabinet Finishes
Of course, it's important to pair a durable cabinet material with the right finish.
1. Painted Cabinet Durability
Painted cabinets, for instance, are susceptible to chips and scratches. It doesn't matter what cabinet material you choose, the risk is always there.
Now, that doesn't necessarily mean painted cabinets can't last for a long time. They just need to be properly paired with the right material.
Take for instance two paint-grade woods like birch and maple. While natural woods like birch and maple can surely withstand impact like MDF (Medium Density Fibreboard), it doesn't necessarily make them the better option for long-lasting painted cabinets.
As previously mentioned, natural wood "breathes" and is thus susceptible to expanding and contracting. If applied with a painted finish, it can show separation on the joints of 5-piece doors.
Take a look at this painted maple door that has succumbed to breathing: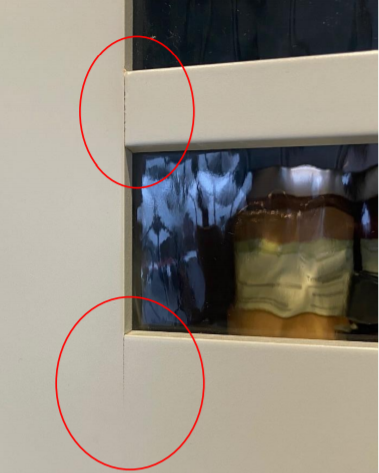 Using an MDF door, on the other hand, can prevent this. Since MDF is an engineered product and not a natural wood species, it, therefore, does not result in a natural breathing process.
After all, our MDF-painted cabinets have the same 20-year warranty as our solid wood doors.
The downside to MDF, however, is its underlying substrate's vulnerability to water damage. If the cabinet is damaged and the substrate is exposed, water can spread like wildfire.
2. Stained Cabinet Durability
Moving away from painted cabinets, a durable wood species like oak or maple would be enhanced by a stained finish. Add to that a glaze or varnish, combined with the durability of those wood species, and the natural display of those doors will age much better than if they were painted.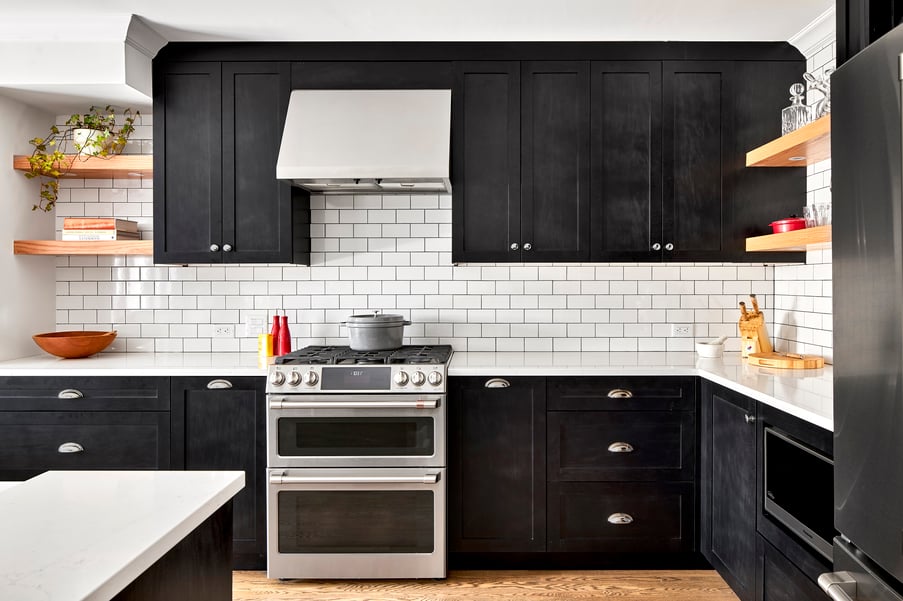 This is because wood grain patterning has knots and imperfections - it's part of their natural beauty! This organic aesthetic helps with the visual longevity of your cabinets as well. Any slight knocks or damage blend into the natural wood doors and are extremely hard to notice, making stained natural wood a more durable finish than painted cabinets.
Want to implement the most durable materials into your dream kitchen? Kickstart your design process today by booking a free consultation with a Deslaurier kitchen expert!
Durable Kitchen Countertop Materials
The key to selecting the perfect kitchen countertop is to look beyond the beauty of the surface.
Of course, aesthetics matter and you should love the look of your countertop. But your countertop's performance is so vital to the practicality of your kitchen that filtering your options with a long-term perspective is key.
1. Granite Countertops
Granite is one of the toughest natural stones in the world, noted for its impressive resistance to heat and scratches.
Granite is an all-natural stone that's made up of many different minerals like feldspar, mica, and, believe it or not, quartz!
You can cut directly on the granite (in fact, granite is so tough that doing so might dull your knives). You can even place a hot fry pan directly on the granite. Avid chefs will love the freedom to chop, cook, and bustle around their kitchen without restraint.
The main downside of granite is that it is a porous stone.
What does that mean exactly? Well, as mentioned earlier, granite is a natural stone type made up of all different kinds of minerals. Those minerals are teeny, tiny grains compressed together into a solid mass. The issue, then, is that there are minuscule pores between those grains that will absorb liquid and oils if spilled.
To prevent this, periodical sealing is necessary to keep granite stain protection sky-high. However, as granite is less porous than a stone such as marble, you can get away with sealing less frequently. Once a year should suffice in the average home.
2. Quartz Countertops
Technically, quartz is an engineered stone countertop, meaning that while 93% of the surface is pure quartz, the remaining 7% of the stone is manmade using polymers and binders.
The clear advantage of quartz countertops over natural stone countertops, like granite, is that quartz is non-porous. The resin incorporated directly into the manufacturing process functions as a strong sealant.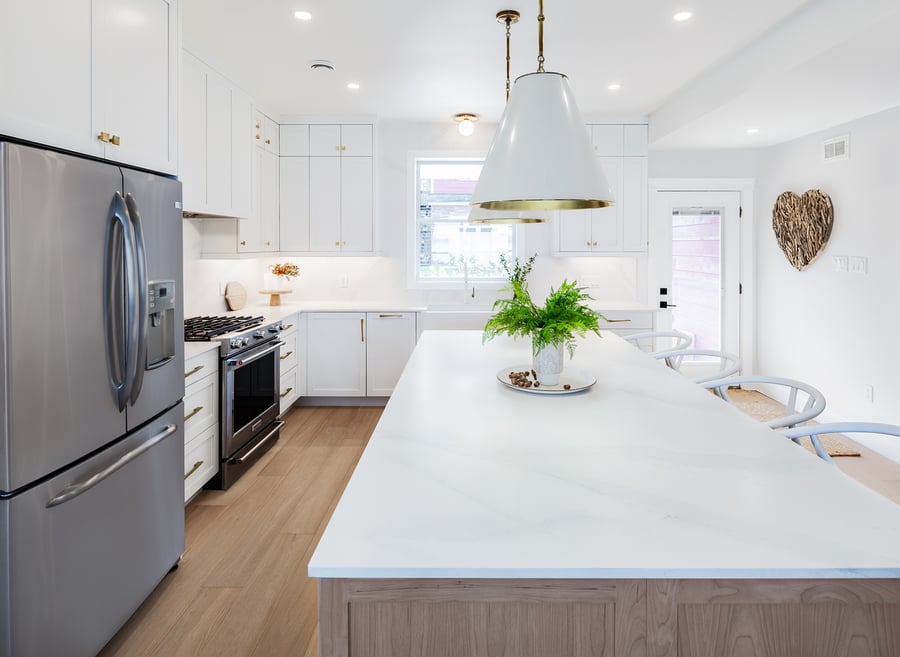 That means you don't have to worry about routinely resealing your quartz surface, which is an additional cost required for natural stone countertops. The non-porous, set-and-forget feature of engineered quartz is often a deciding factor for homeowners as the lack of maintenance is a key characteristic.
Conversely, the biggest durability-related drawback to quartz is that it's not heat-resistant.
You can't put down a hot pan or pot directly onto its surface without running the risk of making permanent scorch marks. This shouldn't be an issue if you routinely use heat protection like kitchen mats or boards.
3. Dekton Countertops
Dekton countertops are world-renowned for their extreme durability. No other countertop material can compare to Dekton's heat, scratch, and stain resistance.
If you're not concerned about having a natural stone countertop, there is simply no better choice than Dekton. The new kid on the block, Dekton countertops were released in 2013 to improve the performance of quartz surfaces.
Dekton is a blend of raw materials used to produce porcelain, glass, and quartz work surfaces.
Like its quartz compatriot, Dekton is a non-porous surface. That means it's not vulnerable to water stains or damage. In fact, it's so easy to clean and maintain that its manufacturers recommend nothing more than soap and water to clean it.
Dekton also has an incredibly high scratch resistance. You won't have to worry about kitchen utensils scratching your countertop. In fact, Dekton has such high scratch resistance that you can cut right on it and don't even need a cutting board!
Another impressive characteristic of Dekton countertops is their extremely high heat resistance. Dekton won't be vulnerable to any heat damage and can withstand high temperatures, including the heat of fire!
The only real durability concern is impact damage. If something heavy is dropped from a high enough point, or with enough force, it can dent or crack the Dekton surface. Unfortunately, a cracked Dekton countertop cannot be fixed. The only option is to replace the entire slab.
With that said, it takes a significant amount of force to cause a Dekton surface to crack, and any smaller impact damage like chips can be fixed! High impact damage aside, Dekton countertops offer a long-lasting surface with strong resistance to heat, scratch, or stain damage.
Durable Kitchen Flooring
The kitchen is by far the room with the most foot traffic in any home. It's only natural, then, to select a flooring choice that's durable enough to withstand that daily use for years on end.
1. Hardwood flooring
Quality hardwood flooring is a staple for many homeowners, and it's easy to see why with its timeless juxtaposition of beauty and brawn.
While there are plenty of ways to achieve the beautiful aesthetic of natural hardwood for a cheaper price – like engineered hardwood, laminate, or vinyl flooring –, none can compare to the strength and longevity of authentic hardwood flooring.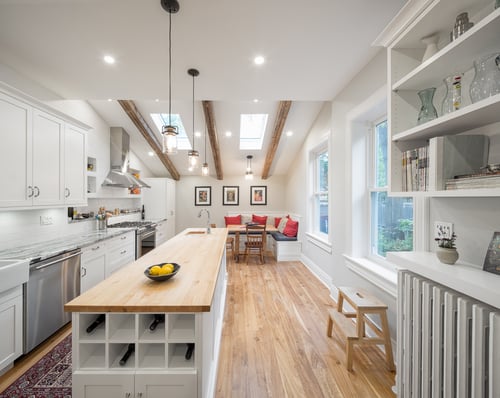 In decades past, hardwood might have been considered less than ideal in rooms prone to moisture and liquid spills such as the kitchen or bathroom. That's hardly the case these days, thanks to modern sealers and polyurethane finishes that give the material more protection and last longer in moisture-prone areas.
Of course, moisture and liquid are still not ideal. Vigilance is advised to control humidity levels in the room and clean up liquid spills promptly. Thankfully, spills and stains wipe away easily. Plus, a quick, occasional polish will restore a like-new shine in a flash.
Long-term, you can sand and refinish the surface to remove any unsightly scratches. Without exaggeration, genuine hardwood flooring can last centuries with proper maintenance and care.
If properly cared for, hardwood flooring will last a lifetime.
2. Porcelain and Ceramic Tile Flooring
Formerly known as a commercial construction staple, porcelain tile's strong and durable qualities have transformed this sand-mineral-clay mixture into a residential must-have.
Firstly, their strength: these sleek tiles are highly resistant to damage. Fired at high temperatures, porcelain offers formidable resistance against stains, water penetration, and other forms of inevitable kitchen catastrophes.
With porcelain tile on the job, clean-up becomes a breeze and maintenance becomes virtually non-existent.
Unlike porcelain's mineral mixture, Ceramic tile is made solely from natural clay that's then shaped, glazed, and fired under extreme heat. It's a hard and durable flooring material that's impervious to water and stains, making it an ideal kitchen flooring option.
Ceramic tile is also resistant to heat and breakage. Under normal conditions, ceramic tile can last indefinitely with little change to its appearance or function over time.
Durable Kitchen Sink Materials
With so many different sink materials to choose from, we narrowed our focus down to two starkly unique, yet equally impressive, durable sink choices. We'll focus on stainless steel kitchen sinks and copper kitchen sinks.
Both materials are made from various thicknesses, referred to as gauges. They range from 20 gauge (thinner) to 14 gauge (thicker). The lesser the number, the thicker and stronger the sink will be.
1. Stainless Steel Kitchen Sinks
A defining feature that makes stainless steel such a popular choice for a kitchen sink is the material's resistance to corrosion, rust, heat, and high impact.
Stainless steel sinks are also considered hygienic, which means bacteria and germs can't easily grow or thrive on the material. The sink's smooth surface and quality finish will also rarely develop odors or stains if regularly cleaned.
Although steel is very easy to clean, it can become dull and scratch over time, especially if you choose thinner steel. You may notice small hairline scratches after some use, but these are usually easy to get rid of using a sponge and mild cleaner.
Stainless steel sinks also show fingerprints, smudges, and streaks more than other materials, but those are also easily wiped away with proper maintenance.
2. Copper Kitchen Sinks
Copper is an extremely durable material, especially when it's used for kitchen sinks.
One of the most appealing factors of a copper sink is that it naturally eliminates 99.9% of bacteria. Studies have shown that copper molecules will "punch holes" in bacteria membranes, preventing their metabolisms and stopping growth.
Further, copper sinks won't stain unless they have been exposed to hazardous materials. They also won't crack or break like porcelain and are highly resistant to denting.
In fact, copper is such a long-lasting and durable material that you'll still often see antique copper sinks that date back well over 50 years!
Discover Deslaurier Custom Cabinets
The materials listed above represent just a few of the most durable, long-lasting materials available to you when it comes to outfitting your kitchen.
Interested in how your dream kitchen would look with materials that could last your home a lifetime? Book a free consultation with a Deslaurier kitchen expert at our Ottawa showroom today!
If you have your eye on custom cabinetry, Deslaurier Custom Cabinets has everything you need. With over 40 years of experience to our name, we provide our clients with a fully customized design process with our talented team of designers.
Interested in becoming an authorized Deslaurier dealer? Visit our Become a Dealer page to learn more! Live outside the area? Find a Dealer to connect with a Deslaurier dealer near you!