Estimated Read Time: 7 Minutes
Buying the perfect sink for your kitchen is an important factor in any design or renovation project.
You'll need to consider how much daily use it will succumb to, the amount of countertop space you have for it, the style of installation you desire, as well as the aesthetic design you prefer.
When it comes to choosing a kitchen sink, you're not short on options. With so many materials to choose from – like stainless steel, porcelain, copper, and many more – how do you know what sink is most compatible for you and your kitchen?
At Deslaurier, we are experts in designing custom kitchen cabinetry. Although we do not install kitchen sinks, we understand the importance of making the right sink selection in your kitchen design process.
With that, this article will detail everything you need to know about granite composite sinks, to help you determine if they're the right choice for your kitchen!
Let's get started!

What are Solid Granite Kitchen Sinks?
Before we begin, it's important to note the distinction between solid granite and granite composite sinks.
When many people talk about granite sinks, they're most likely talking about granite composite rather than the solid granite you've come to know for countertops and backsplash. While solid granite is certainly beautiful, it's not the most ideal material for a kitchen sink.
Unlike granite countertops – which are one of the most popular choices for kitchen surfaces – solid granite sinks are extremely rare and highly expensive.
Not only that, natural granite stone is porous – meaning it has very small holes and crevices that water and air can pass through – which necessitates regular resealing. Obviously, that can be quite an issue for something like a kitchen sink.
For those reasons, we will primarily focus on the more common sink material: granite composite.
What are Granite Composite Kitchen Sinks?
Granite composite sinks are a mixture of granite stone dust combined with acrylic resins, pigment and solidifying agents. This mixture is then formed under immense pressure in a variety of different sink templates.
A granite composite sink will have a composition of roughly 80% granite stone dust and 20% resins and other agents. The fact that granite composite is only 80% granite reduces the weight of the sink, which can be extremely heavy in solid, pure granite.
An authentic granite stone sink features the natural variations of stone throughout the material. A composite granite sink, however, features uniform color throughout the material, thanks to the different pigments and resins that can be added to enhance their appearance.
All in all, the manufacturing process of granite composite makes for a less expensive, and lighter weight product than solid granite sinks.
Granite Composite Kitchen Sinks: Sizes
Granite composite is one of the most versatile kitchen sink materials on the market, with selections available in a variety of different sizes and styles.
They are available in all types of sinks including single-basin, double-basin, and can even be found in the less common triple-basin variety.
Single Basin
Granite Composite Kitchen Sinks
A single basin is a broad category of kitchen sink that includes farmhouse and in-counter sinks. As made clear by the name, the defining feature of these sinks is that they offer one large, single bowl or basin with no divider.
Further, single basin sinks are offered in various widths ideal for both spacious and limited kitchens, from small island prep sinks to large farmhouse sinks.
Generally speaking, single-basin sinks provide the best value and most common configuration. They require less plumbing (just one drain and faucet), which also lends convenience to the installation process.
Double Basin
Granite Composite Kitchen Sinks
In terms of kitchen practicality, an excellent double basin sink is hard to beat. They have two bowls and are often preferred for their expansive multifunctionality, allowing each basin to be used simultaneously for separate activities.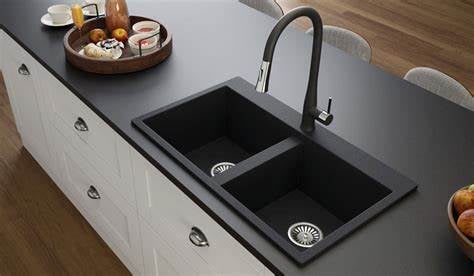 Multi-basin sinks have the option to use one section for hot water washing and the other for cold water rinsing; one to soak tough pots and pans while simultaneously allowing the other basin to be available for routine function.
The double-bowl, low-divide sink, is one of the most convenient kitchen sink styles you can find. Their central divider is lower than traditional double basins, which allows it to accommodate pots and pans with long handles, while still offering the benefits of two basins.
Triple Basin
Granite Composite Kitchen Sinks
Triple basin sinks are typically much larger than both single and double bowl sinks, and require a vast amount of countertop room to comfortably integrate into a kitchen.
However, triple basins do not offer the number of choices that other sink styles do. Since they are so rarely used in home kitchens, triple basin sink options are extremely limited, especially in terms of materials.
You might be able to find a select number of granite composite triple basin sinks, but they are few and far between. Outside of stainless steel, copper is one of the only other materials that routinely offer triple basin selections.
Granite Composite Kitchen Sinks: Installation Styles
The versatility of granite composite kitchen sinks lends itself to a multitude of installation methods including top mount, undermount, and the aforementioned farmhouse style.
Top-Mount
Granite Composite Kitchen Sink
Top-mount installation is when the sink slides into a hole in the countertop, with the edge of the rim holding it in position.
They are easy to install and work well with almost any countertop material. Top-mount sinks can additionally be fitted with clips or screws to increase stability.
Something to note, top-mount sinks will always have their rim over the countertop. This can be a troublesome area for crumbs and other debris to collect and can sometimes be a pain to clean.
In terms of price, top-mount sinks are typically the least expensive, due to their easier installation.
Undermount
Granite Composite Kitchen Sinks
Undermount sinks are perfect for low-maintenance designs because they don't have a raised rim or lip around the edges. Instead, the sink is installed on the underside of the countertop.
This allows for easy cleaning, as you have the ability to wipe crumbs from a flush countertop directly into the sink basin.
Undermount sinks are best utilized with solid surface or stone countertops since they can support the weight of the installation method better than a laminate countertop.
Better yet, granite composite undermount sinks can be seamlessly paired with an accompanying granite countertop, creating a show-stopping combination.
Farmhouse
Granite Composite Kitchen Sinks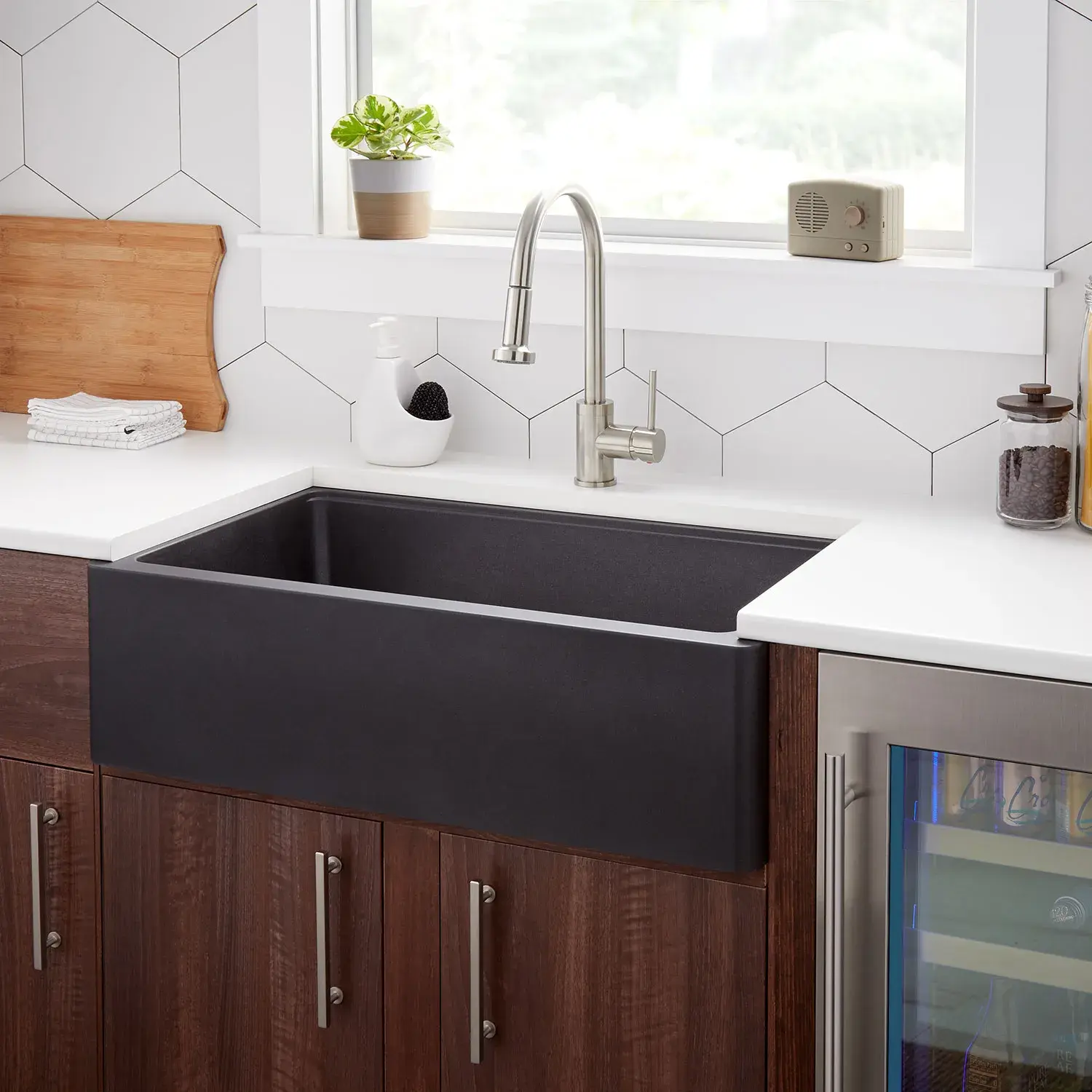 Farmhouse sinks are equipped with a large, deep single or double-bowl and an exposed "apron" front that extends past the base cabinetry. Farmhouse kitchen sinks hold the unique distinction of being both their own style as well as requiring their own installation method.
This design is perfect for cleaning large pans, pots, and platters. The farmhouse sink is larger and more expensive than other types due to the need for special cabinetry. A deep farmhouse basin will require a special base or modified cabinet for it to properly extend past the cabinet front.
While farmhouse sinks are popularly found in fireclay, porcelain, and copper, they can also be commonly found in granite composite.
Granite Composite Sinks: Durability
Much like solid granite countertops, granite composite sinks are an extremely durable, high-quality product.
Granite composite sinks are scratch, stain, and heat resistant, being able to withstand up to 537 degrees Fahrenheit!
Not only that, but they also have a protective barrier that protects against bacteria!
They're one of the best sink materials you can have for a busy kitchen filled with activity.
Granite Composite Sinks: Maintenance
Along with stainless steel, granite composite might be the most easily maintainable material you can find for your kitchen sink.
As we mentioned earlier, unlike the routine resealing that porous solid granite sinks and countertops require, the manufacturing process of granite composite sinks makes them entirely nonporous.
Since the contents of granite composite sinks are manufactured under extremely high pressure, it creates a material that doesn't require any resealing. Their surface can also withstand almost all cleaning and disinfectant products without damaging the material.
That being said, it's important you follow the manufacturer's guidelines for cleaning the surface as well as any products or chemicals to avoid.
Granite Composite Sinks: Cost
If you are interested in a granite composite kitchen sink, you should realize they generally come near the top of the pricing range.
While the price may be steep, the quality of the product is worth it; granite is a beautiful material and can make a big statement in your kitchen.
Their base cost is significantly higher than a popular cost-effective option like stainless steel. Interestingly, however, at the higher-end sink level the two materials are similarly priced; indicating that if you're in the market for a high-end sink, granite offers prices that are competitive compared to other sink materials.
Below is a general range of what you should expect to pay for a single basin, double basin, and farmhouse granite composite sinks. These prices will fluctuate depending on the width and depth of the sink, and the type of installation method you choose.
| | | | |
| --- | --- | --- | --- |
| Style | High-End Range | Average Range | Low Range |
| Single Basin | $1500.00 and higher | $800.00 - $1500.00 | $400.00-$800.00 |
| Double Basin | $2000.00 and higher | $800.00 - $1500.00 | $600.00 - $800.00 |
| Farmhouse | $2000.00 and higher | $1000.00 - $1500.00 | $800.00 - $1000.00 |
Discover Deslaurier Custom Cabinets
Wondering how the perfect granite composite sink can fit into your kitchen design? You've come to the right place!
If you have your eye on custom cabinetry and kitchen design, Deslaurier Custom Cabinets has everything you need! With over 40 years of experience to our name, we provide our clients with a fully customized design process with our talented team of designers.
Book a consultation for a one-on-one experience with a Deslaurier kitchen expert at our Jupiter, Florida showroom or virtually!

Interested in becoming an authorized Deslaurier dealer? Visit our Become a Dealer page to learn more! Live outside the area? Find a Dealer to connect with a Deslaurier dealer near you!