Estimated Read Time: 5 Minutes
Should you buy painted or stained cabinets for your kitchen?
Homeowners have been deciding between these two options for decades, with neither choice being the "right" or "wrong" answer.
How could there be? With so many different selections to choose from, there's a painted or stained option that will fit any design style.
At Deslaurier, we have over 40 years of experience crafting painted and stained custom cabinets perfectly suited to our clients. We understand that the cabinet finish you select is a reflection of your budget, aesthetic preferences, and lifestyle needs.
With that, this article will compare painted and stained kitchen cabinets, providing you with an in-depth look at where each cabinet cost comes from.

Stained Kitchen Cabinets
The biggest aesthetic indicator of stained cabinetry is that the underlying wood's natural grain pattern and texture remain visible.
Stains seep into the cabinet door surface and provide a translucent finish. As a result, the knots and grains of the wood species stay prominently on display. Granted, a very dark stain will diminish a wood's grain, but not completely.
This can be either a pro or a con depending on your visual goal. Some people love the unique quality of natural wood grain patterns. Others dislike the non-uniform aesthetic.
Do you want to highlight the natural character marks of your cabinet's wood species? Do you appreciate that all wood is unique and grain patterns vary? If so, a stained finish might be the look for you.
You can find stains in many different shades and colours, however, stain colours won't be nearly as bold and bright as a painted finish.
At Deslaurier, we have a standard selection of over 40 different stains, ranging from natural clear stains to browns, greys, and blacks.
Painted Kitchen Cabinets
Unlike stains, solid paints adhere to the top of wood or MDF surfaces, creating an opaque, uniform finish.
Paint colours are typically much more vibrant than stains, so they're the logical choice for homeowners wanting to build a colourful room. With paint, anything from a deep blue or green to a classic white is possible.
If you ever see a picture of a bright white kitchen (like the image below) the cabinets are almost guaranteed to be painted (or otherwise made from an alternative finish or material like thermofoil or laminate).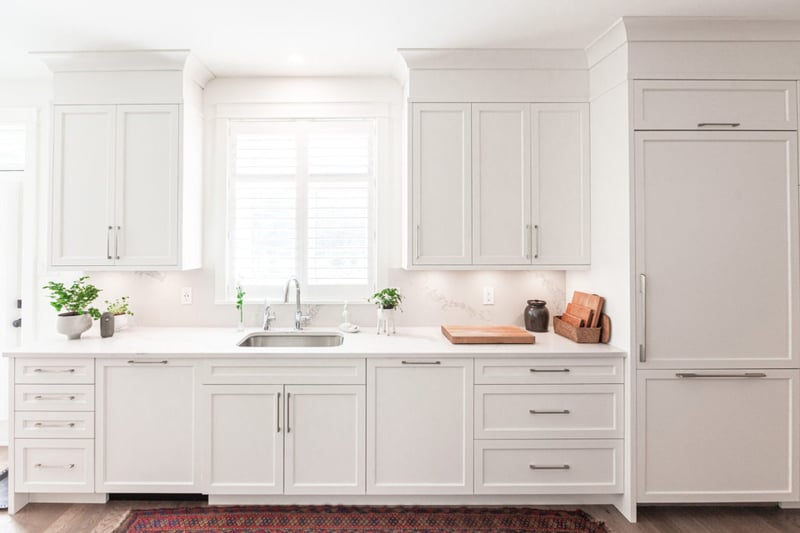 Stains have a colour limitation, as they can't quite achieve the same level of brightness that painted cabinets offer.
You can even personalize your choice with a unique custom colour match! With paint, you truly have an endless selection.
Painted vs. Stained Cabinets: The Cost
Painted cabinets typically cost more than stained cabinets. By how much? It depends on the colour, but you can expect painted cabinets to cost roughly 10-15% more than stained cabinets.
Take a paint-grade wood like birch, for instance. As we mentioned earlier, birch is commonly used for both a painted and stained finish. If all things were considered equal (exact same kitchen design, same cabinet door style, etc.) a birch kitchen with painted cabinets would reflect the 10-15% price increase compared to that same birch kitchen with stained cabinets.
However, the fact that paint costs more than stain at face-value does not automatically mean all painted cabinets are more expensive than stained cabinets. The finish is merely one of many cost contributors to your cabinetry's total cost.
Let's use MDF cabinet doors to illustrate an example.
MDF (medium-density fibreboard) is an engineered wood panel product without a natural grain. Paint thrives on MDF's smooth, blemish-free surface and most pros in the industry recommend MDF as the perfect match for painted cabinets.
Pairing MDF doors with a pricey custom paint may still end up being cheaper than matching more costly walnut wood doors with a standard stain. In this example, the price of the wood species overshadows the price of the finish.
Paint is only more expensive than stain when compared to stand-alone products, but when it comes to cabinetry, there are always other variables (ie. material and door style) to consider.
Let's break down the two key factors that dictate the price of stained and painted cabinets: materials and labour.
Stained vs. Painted Cabinets:
Materials
One of the driving forces behind cabinet prices is the material that they are made from. With so many different materials to choose from, the cost can fluctuate immensely from one material to the next.
If you paint your cabinets, there's not much point in selecting a wood species for its grain pattern, as it won't show through the paint. Instead, painted cabinets will often prioritize materials with smooth surfaces and affordable price points.
Popular materials with these characteristics are birch, maple, and MDF, classifying them all as popular "paint-grade" woods.
Woods for stained cabinets, on the other hand, will be chosen for their natural qualities and unique grain patterns.
Affordable options like birch and maple are still popularly stained, but unlike painted cabinets, more expensive wood species, such as walnut and cherry, are highly sought after for their appearance with a stained finish.
As you can see from our Pricing Page, there is a significant discrepancy between the cost of two kinds of wood like birch and walnut. Regardless of the finish applied, the material you choose for your cabinets can have a substantial influence on the cost of your kitchen cabinets.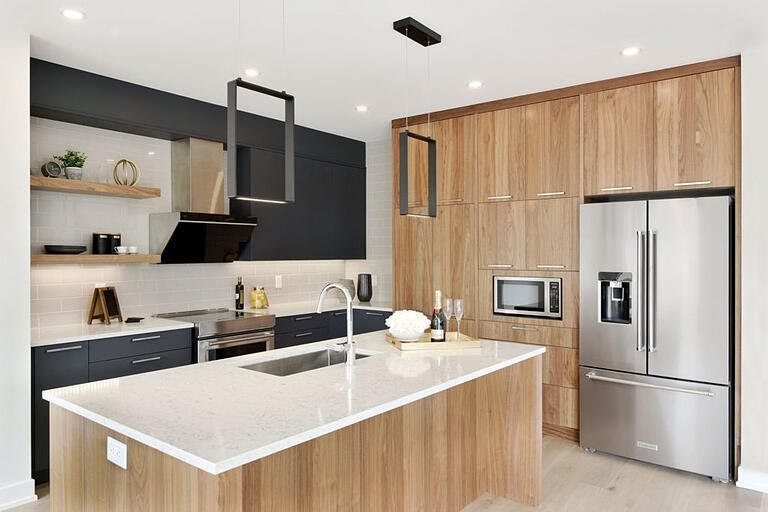 Stained vs. Painted Cabinets:
Labour
Although they arrive as perfectly finished products, there are dozens of steps when it comes to manufacturing kitchen cabinets.
Staining cabinets has fewer steps which makes them much faster to manufacture. There are only three stages involved in the cabinet staining process: applying a stain, a sealer, and a topcoat.
Comparatively, painting a cabinet is an 8-step process that is more time-consuming and uses more products to complete. Painted cabinets require multiple coats of primer, base paint, paint, and topcoats.
This laborious (and more expensive) process can be further increased depending on whether you've chosen a custom colour or higher-end paint selection. This additional labour and costs involved in the painting process can add up, especially with the size of kitchen cabinet orders.
So, just how expensive is the painting process compared to staining? Let's go in-depth below!
Design with Deslaurier Custom Cabinets
If you're looking for the perfect cabinets for your kitchen, Deslaurier Custom Cabinets has everything you need!
Book a consultation today with a Deslaurier design expert at our Jupiter, Florida Showroom or schedule a virtual meeting!
With over 40 years of experience to our name, we provide our clients with a fully customized design process with our talented team of designers.

Interested in becoming an authorized Deslaurier dealer? Visit our Become a Dealer page to learn more! Live outside the area? Visit our Find a Dealer page to connect with a Deslaurier dealer near you!