5/08/2022 • Blog
Breaking Down the Cost of 6 Popular Kitchen Cabinet Accessories
Estimated Read Time: 6 Minutes
When creating the perfect kitchen design, a lot of homeowners can get caught up in the visuals. With prominent aesthetic features such as cabinetry, countertops, and flooring, the style of your kitchen often takes precedence over everything else.
Which is only natural! Those are big, expensive kitchen design elements that are on full display. However, what can really elevate a kitchen is its overall functionality.
Whether it's to aid in your cooking or assure your storage is organized, having the right cabinet accessories can be vital to a kitchen's overall functionality.
It's no wonder, then, that kitchen cabinet accessories are one of our 5 Most Worthwhile Builder Kitchen Upgrades!
At Deslaurier Custom Cabinets, we have over 40 years of experience in manufacturing custom cabinetry and designing kitchens that are tailored to our client's needs. In that time, we've utilized a number of popular kitchen cabinet accessories to ensure our clients' dream kitchens live up to their expectations.
With that, this article will detail the cost you can expect to pay for 6 different popular kitchen cabinet accessories.
Let's get started!

1. Cabinet Spice and Oil Pullouts
Most kitchens tend to have one or two cabinets that are really narrow and not very usable, simply due to the design of the space. While some people opt to panel over the dead space, it's often quite practical to use the extra space for narrow cabinets.
That's where thinner pullout accessories, like spice and oil racks, come in handy!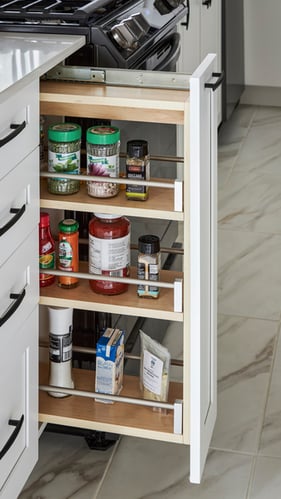 Pullout spice and oil drawers are consistently one of the most sought-after cabinet accessories for our clients. These narrow cabinets can be tucked away virtually anywhere along your base cabinets, while the depth of the drawer contains plenty of organized space for your spices, herbs, condiments, and oils.
Pullout cabinet accessories often aren't very cheap. When dealing with pullout accessories, the cost comes from the expensive metal cabinet hardware that is required to implement them, as well as the storage system itself.
On the whole, expect to pay anywhere from an additional $500 to $1000 on a cabinet with spice and oil rack pullouts.
2. Cabinet Garbage & Recycling Pullouts
Bordering on a must-have accessory in modern-day homes, having garbage and recycling pullout cabinets included in the kitchen is vital for avid cooks.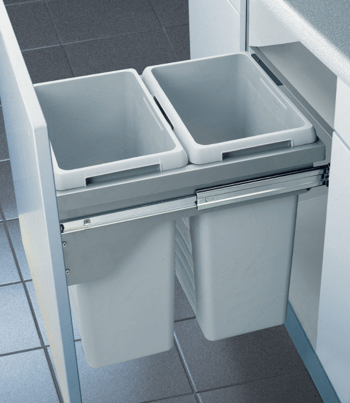 What's nice is the variety of cabinet sizes you can utilize if your kitchen necessitates it. Deslaurier offers pull-out garbage bins in base cabinets of 12", 15", 18", 21", and 24".
Since they take their own cabinet space, they are extremely versatile in where you can place them in your kitchen layout. Whether your primary workstation is in the kitchen island or along the wall, it's well worth fitting a 12" to 24" cabinet with waste disposal pullouts into your kitchen design.
For the cost of a recycling or garbage pullout to be included in a cabinet, expect to pay an additional $800 - $1000.
3. Cutlery and Utensil Dividers
Definitely the most common cabinet accessory on this list, cutlery drawer dividers can be found in almost any home.
They offer simple organization for forks, knives, spoons, and any other small kitchen utensils.
Even better, cutlery dividers won't break the bank like some of the other more lavish accessories. Cutlery inserts can come in a variety of different materials which lends itself to a price range for every consumer, from plastic to stainless steel.
You can find small, basic cutlery inserts that start at as little as $25. While larger, more custom divider systems that intricately utilize the entire drawer can be as much as $400.
4. Corner Cabinet Enhancements
Ask any kitchen expert and they'll tell you that one of the hardest areas to design is around corner cabinets. While they offer tremendous storage space, properly utilizing a bulky, expansive corner cabinet is easier said than done.
If your kitchen layout includes a corner cabinet, you're probably familiar with the awkward bend and reach that happens any time you need to access those pots and pans that live far within its blind corner.
Deep corner cabinets can be a downright pain to get in and out of regularly, which is why corner accessories are so crucial to enhancing everyday function.
Here are four popular blind corner cabinet applications to consider for your kitchen.
Le Mans
The Le Mans cabinet is a luxurious corner enhancement (and the most costly of the three).
It provides moveable platforms that easily swing outside the cabinet interior so that you can lift your kitchen appliances without any obstruction in your way.
Le Mans corner cabinet units can range from $300 to as high as $1000 for high-end models.
Lazy Susan
The Lazy Susan is a turntable shelf that spins in either direction. This accessory allows you to easily find what you're looking for in a pie-cut corner cabinet.
A "pie cut corner" is essentially a large L-shape cabinet, typically 36" by 36" with a bi-fold door. If you want to incorporate an accessory within a cabinet like this, the only thing that can really be done is to implement a Lazy Susan.
Ultimately, what you do with such a corner cabinet depends on what your storage is for. Planning on storing larger items that you don't use every day? It might be best to leave it as a shelf.
If you intend on using it for something like additional pantry space, storing food, or baking ingredients, then a Lazy Susan would be put to great use.
Generally, Lazy Susans are the most affordable corner cabinet accessory. You can find plastic lazy susans for as little as $20, or luxurious, high-quality products as high as $300.
Comfort Corner
And finally, the Comfort Corner.
The Comfort Corner system is one of the most practical corner cabinet units, allowing you to utilize over 80% of the cabinet's full storage space!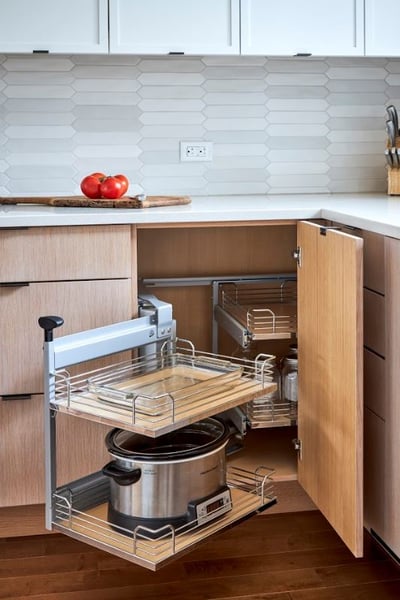 The Comfort Corner unit includes four arena baskets (either grey with a chrome rail or maple with a chrome rail). The two front baskets slide and swivel, and the rear baskets fully extend.
Comfort corners can range anywhere from $200 to $600.
5. Pantry Unit Rollouts
Modern-day pantry units have the ability to elevate a kitchen to the next level.
Pantries with roll-out trays are a staple in the kitchen design world for their unmatched convenience. Fully extendable drawers cleverly divide your pantry space into more manageable sections. Plus, the drawers outstretch so you don't have to reach inside with your whole arm to fumble for something near the back.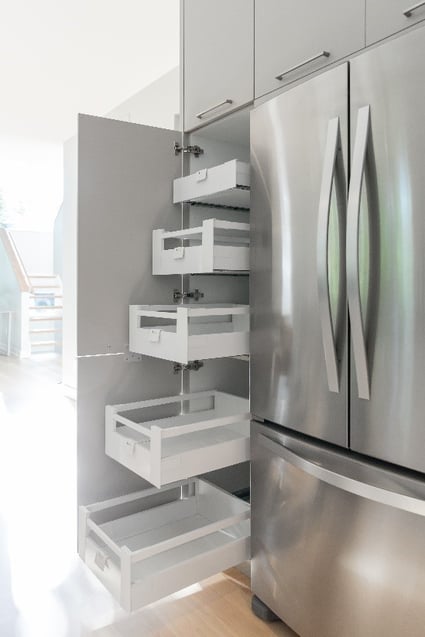 You can also customize the positioning of each roll-out drawer to create more or less height clearance in between each drawer.
Of note, most pantries, including Deslaurier's, don't include adjustable holes for roll-out re-positioning. You'll want to carefully assess the space you need before you decide on roll-out positions.
The cost of rollout pantry shelves can fluctuate immensely. Here are a few elements that will influence the price:
What the rollouts are made of (wood, metal, plastic);
Whether they have sides like metal rails or glass inserts;
Of course, the width and depth of the rollouts (which will be dictated by the size of your pantry wall unit);
And if the rollouts are full extension, just to name a few.
Because of these factors, determining the cost of pantry rollouts can be quite tricky to pin down. On the whole, expect to pay anywhere from $200 to $500 per rollout shelf.
6. Tray Dividers
Tray dividers are a simple, straightforward add-on to enhance kitchen storage.
Tray dividers are essentially vertical shelves that slide into a cabinet providing a place to organize items like cooking pans, baking sheets, and other trays found in the kitchen.
Tray divider heights are fully customizable, too! Clients typically opt for tray dividers from 11" - 24" high. A standard set includes 4 dividers (creating 5 slots). Of course, you can build a cabinet with multiple sets of dividers.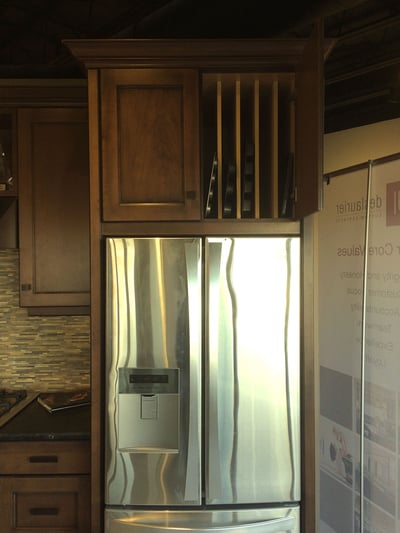 Where does it go? Most homeowners tend to put their tray dividers above their fridge in the upper cabinet. Others prefer their tray dividers in base cabinets beside the stove. As with anything else on this list, placement depends on your personal use.
Expect to pay roughly $100 for every vertical divider. Thus, the standard amount of 4 tray dividers would add an additional $400 to the cost of the cabinet.
Discover Deslaurier Custom Cabinets
Are you looking to create the perfect kitchen design filled with functional and convenient cabinet accessories? Then you've come to the right place!
When it comes to custom cabinetry and kitchen design, Deslaurier Custom Cabinets has everything you need! With over 40 years of experience to our name, we provide our clients with a fully customized design process with our talented team of designers.
Book a consultation for a one-on-one experience with a Deslaurier kitchen expert at our Jupiter, Florida showroom or virtually!

Interested in becoming an authorized Deslaurier dealer? Visit our Become a Dealer page to learn more! Live outside the area? Find a Dealer to connect with a Deslaurier dealer near you!