Estimated Read Time: 6 Minutes
Designing a new kitchen is all about catering to your household's unique lifestyles, design preferences and personal needs.
In the case of accessibility concerns, this becomes even more true.
Cultivating a functional, accessible kitchen space is a unique process centred around the individual requirements of the end user. Whether it's for the primary cook, or another member of the house, adding accessible features can make spending time in the kitchen that much easier.
At Deslaurier, we specialize in custom cabinetry and design services. In our over 40 years of experience, we've helped complete functional kitchen designs for clients in all walks of life.
This article will provide you with 7 ways to create a more accessible kitchen design, with help from Deslaurier's Myra Flipsen providing her vast industry knowledge and experience designing accessible spaces.
Let's get started!
Accessibility Issues
Accessibility issues come in many shapes and sizes. When crafting an accessible kitchen, the design should always cater to the individual user.
There are various disabilities, conditions, injuries or concerns that require a kitchen to be outfitted with additional accessibility measures.
Some people need extra space for wheelchair access, while others may have physical issues that require extra stability or reach assistance. Older homeowners or people with chronic illnesses might even choose to include accessible features before they need them when designing a kitchen in their final home.
There are a variety of challenges to consider and the kitchen design should reflect each individual homeowner's unique needs.
Suppose you are looking for information regarding specific requirements for yourself, a loved one, or a client. In that case, there are a number of accessibility guidelines available from NKBA, the Ontario Building Code, or other organizations with rules and requirements that fit your region.
With that, let's take a look at seven ways you can enhance the function and accessibility of a kitchen design!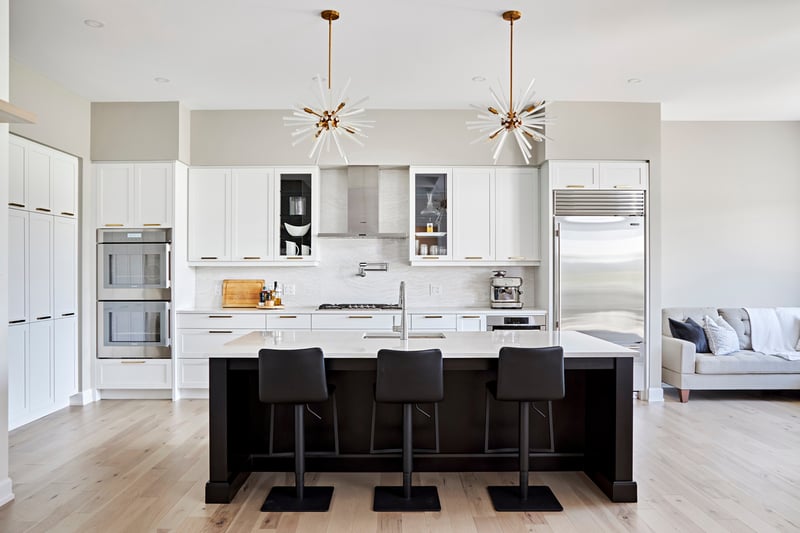 Wheelchair Clearance
For a wheel-chair accessible kitchen, additional clearance is a must.
You'll need room to comfortably maneuver throughout the entire space and additional room for what's known as "turn-around" clearance.
"Standard turn-around clearance for a wheelchair is 5 feet." - Flipsen
It's required in a couple of places, particularly behind primary workstations, but you don't necessarily need it everywhere if your kitchen has limited space to work with.
You can space out the appliances or workstations, staggering the sink from the cooktop. Otherwise, if the two appliances were backing onto one another, a full 5 feet of turn-around clearance would be required.
For standard kitchen island clearance, there is typically a minimum of 42 inches for surrounding areas. In the case of wheelchair-accessible kitchens, Flipsen suggests increasing that to 60 inches surrounding the island.
Open Layout
With that clearance in mind, an accessible kitchen with a central island requires a fair amount of space that not every home can accommodate.
Instead of an island, consider crafting a more open kitchen layout. That could mean incorporating a peninsula.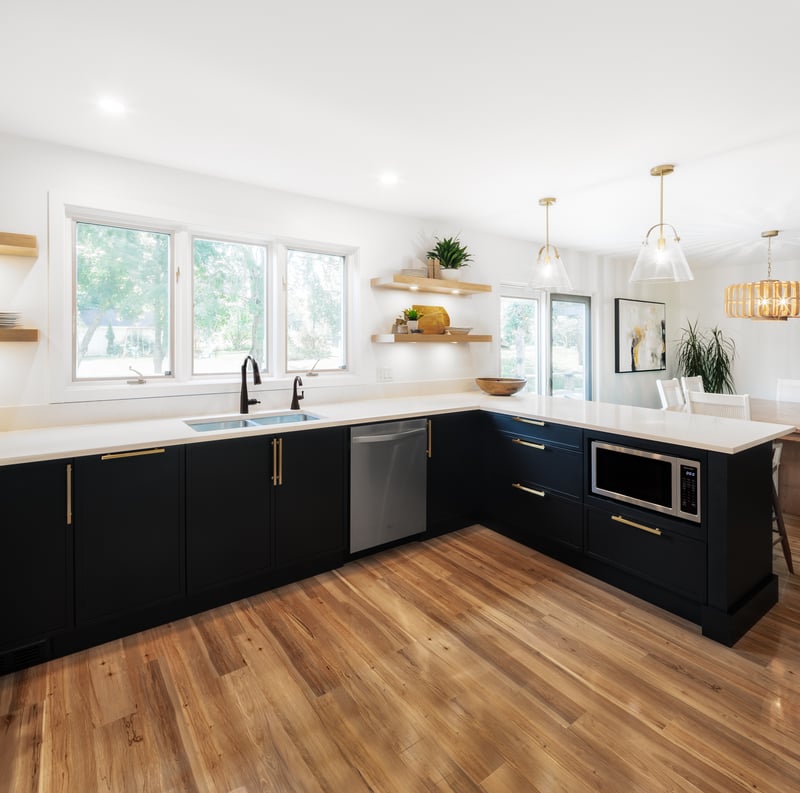 A peninsula leaves a much larger, open area for the general kitchen space than a traditional central island would.
It also still provides the additional cabinetry and overhanging seating directly in the kitchen which is so cherished in contemporary homes.
Wheelchair-Accessible Countertop Height
Adjusting countertop height isn't always required but it can be a good way to enhance the kitchen experience for someone in a wheelchair.
If the end user is the primary cook, then it could be a good idea to lower the countertops to accommodate them since they will be using the kitchen the most.
If it is done, the countertop height would be lowered to 30 or 32 inches, as opposed to our standard of 36 inches.
You can also incorporate "tiers" in your kitchen, meaning some countertop heights can be 36 inches while other locations can be lowered. This can help the kitchen maintain as standard as possible, depending on other people living in the house.
Of note, lowering the countertop height will often mean the dishwasher won't be able to be installed underneath the countertop. Rather, it would be moved into a tall pantry cabinet or to the side of a run of cabinetry that won't be underneath kitchen surfaces.
Modified Appliances
Speaking of dishwashers, appliances play a key role in accessible kitchen designs.
Some wall oven models have the ability to open up or sideways rather than downward. Both single-door and double-door appliance models are available.
Further, appliances can be raised and lowered dependent on the user's needs.
Whether they're in a wheelchair and benefit from lower appliances, or raising them for someone that has chronic back issues and trouble bending over. Raising a dishwasher a little bit, even just 3 or 4 inches off the floor, can be extremely helpful.
A microwave drawer is also quite handy. Many homeowners install them in their island cabinetry rather than on the countertop or in upper cabinets.
Select appliances with user-friendly controls and displays that are easy to read and operate. Front-controlled appliances or even high-end models that can operate with voice commands.
There are plenty of high-tech appliance models you can research online that can benefit a household in need of increased accessibility.
Space Below
the Countertop
If the primary cook in the house is in a wheelchair, there are several solutions to enhance their experience preparing meals in the kitchen.
Three workstations such as the sink, prep area, or cooktop can all be crafted with space below the countertop for a chair to wheel in and out comfortably.
However, certain sinks will have to be shallower than standard kitchen sinks.
"We do a lot of under-mount sinks that are 9 or 10 inches deep. You won't be able to wheel your chair underneath that." - Flipsen
There are plenty of shallower options available, but it does limit your overall selection when purchasing a kitchen sink.
Deep, wide overhang seating at the island is also a plus.
This allows wheelchairs or walkers to comfortably enter. And it's something that doesn't affect the rest of the household.
Lots of Drawers
The key to accessible kitchen storage is always to incorporate as many base cabinet drawers as possible.
This allows everything to be stored and accessed below and can even include rollouts in the pantries to help make the contents inside as accessible as possible.
"Generally speaking, my main concern is to make sure that the drawers are as functional as possible, with full extension and soft close." – Flipsen
Full-extension drawers also hold more weight than a typical drawer. Providing you with the security to store your plates, bowls or even countertop accessories.
You can even outfit your cabinet drawers with plenty of different dividers and accessory options that can make everything easier. Even with a pull-out cutting board!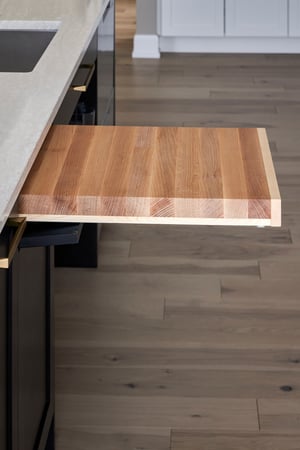 The pullout cutting board provides convenient meal prep space without needing to be directly underneath the countertop surface.
As we mentioned, wheelchairs will need some primary spaces like the prep space, sink, and cooktop to wheel under. Otherwise, get as much base cabinetry as you can.
Cabinet Handles
The right cabinet handles can benefit arthritis, degenerative diseases, or general grip issues.
For starters, a handle is always better and easier to grab ahold of than a knob. Particularly a handle design that is straight and long instead of being tapered or uniquely shaped.
It may be a better idea to opt for touch-release doors and drawers. Installing this system can often be expensive but it is the easiest to use and provides maximum accessibility.
Design with Deslaurier Custom Cabinets
Ultimately, designing a kitchen will always come down to your lifestyle, style preferences, and budget. Consider these accordingly and you'll be able to craft the perfect accessible kitchen design to fit your home!
If you're looking for custom cabinets and design services for your accessible kitchen, Deslaurier Custom Cabinets has everything you need! With over 40 years of experience in our name, we provide our clients with a fully customized design process with our talented team of designers.
Book a consultation today with a Deslaurier design expert at our Jupiter, Florida Showroom or schedule a virtual meeting!
Live outside the area? Visit our Find a Dealer page to connect with a Deslaurier dealer near you! Interested in becoming an authorized Deslaurier dealer? Visit our Become a Dealer page to learn more!