Estimated Read Time: 7 Minutes
Kitchen islands have seen a continuous rise in popularity in recent decades. In some respects, it's become almost customary to include a central kitchen island in contemporary homes.
With such a vital role in the kitchen, designing the perfect island can be an arduous task; albeit one that can instantly enhance your home.
One of the great benefits of a kitchen island is its capacity to integrate a number of features, including appliances.
At Deslaurier, we have over 40 years of experience manufacturing custom cabinets and providing kitchen design services. In that time, we've designed countless kitchen islands to perfectly suit the unique needs of each individual homeowner.
Join us, as designer Vanessa Horwat offers her expertise as we take a look at 8 appliances you can include in your island design to personalize your kitchen island!
Let's get started!
Why Have Appliances in Your Kitchen Island?
Should you almost always consider it?
It all depends on the size of your kitchen island and how you intend for it to function in your day-to-day lifestyle.
Some homeowners want to focus their island design around entertaining, with ample room for comfortable overhang seating.
Others may want the most efficient island possible. Including appliances in your island will help space out your kitchen's three primary "zones"— the sink, cooktop, and refrigerator.
Regardless of its intended purpose, finding a way to integrate kitchen appliances will benefit any central island.
It's important to note that including any of the following appliances in your island will involve varying degrees of electrical and plumbing work.
Some might only require power outlets (microwaves or mini fridges) while others may need extensive electrical work (cooktops) or plumbing lines (dishwashers) to be added.
You should always ensure these considerations are accounted for in the design process before your kitchen island comes to life!
1. Sink
Is a kitchen sink considered an appliance? It depends on who you ask, but the general consensus in modern-day kitchens is a resounding yes!
In fact, you use your kitchen sink more than any other appliance in your home.
It's no wonder, then, that they're one of the most popular features to include in a kitchen island.
Especially when accounting for your kitchen's perimeter walls, which are typically where the oven, stove, and refrigerator are located. When you add a sink to that it leaves little available countertop space for your kitchen.
If you're an avid cook, including your primary sink in your island allows you to designate a large space for your kitchen workstation.
However, with so much cooking prep and clean-up localized in one area, the kitchen island can become a hotspot for daily messes. Be it crumbs and food scraps, or the excess water from washing dishes, the area around your sink will no doubt require routine cleaning.
Not to worry! There are ways your sink choice can help alleviate some of this disarray. Having an under-mount sink is by far the most convenient installation method for quick cleaning.
Undermount sinks look sleeker and are easier to clean than top-mount or farmhouse sinks. That's because they don't have a lip or rim - they are installed underneath the countertop. This allows for any countertop debris to be easily brushed or wiped into the sink.
Just something to keep in mind if you're planning on adding a sink to your island!
2. Dishwasher
If your primary kitchen sink is in the island, then quite often the dishwasher will go along with it.
It's a simple step in the island design process that will remove any unnecessary messes from transporting dripping dishes and pans throughout the kitchen.
It also frees up perimeter wall space and is particularly beneficial if you want your island to function as your primary meal prep and cleanup workstation.
As we've mentioned, a dishwasher will require specific plumbing work to accompany it.
So long as this is planned in the design phase, a dishwasher is the perfect appliance to include in your kitchen island. It is something that complements the decision to add a sink.
3. Microwave in a Base Cabinet
The microwave is a very love-or-hate countertop appliance.
While some people want to display their sleek, high-end models, most homeowners want their microwave out of sight so it doesn't take up valuable kitchen countertop space.
In fact, it's one of the smaller kitchen appliances homeowners typically want to hide from their design.
With that in mind, more and more homeowners are choosing to integrate microwaves into their island's base cabinets. It saves ample countertop space and also hides the bulky appliance from view.
Check out our article if you'd like to further learn how to hide appliances in your kitchen.
4. Pull-Out Microwave Drawer
Sticking with microwaves, one drawback is that they can be a bit restrictive to use when installed in a base cabinet. If you use your microwave a lot, you might grow tired and uncomfortable with constantly bending over to use it.
That's where pull-out microwave drawers come in.
A microwave drawer is a microwave oven built-in underneath your countertop that opens like a cabinet drawer. It's a very sleek-looking appliance and is perfect for modern kitchen designs.
"They are a bit more expensive but they're much more ergonomic to use." - Vanessa Horwat
You don't have to bend over to awkwardly open the microwave door; you simply pull open the drawer, place your food inside, and slide the drawer closed.
They do come with a higher cost relative to a regular microwave, but if you're after that streamlined aesthetic, the functionality of a microwave drawer is well worth the expense.
5. Beverage Fridge or Wine Cooler
If you're a fan of entertaining, you'll be glad you included a beverage fridge in your island.
Whether that's a regular mini fridge, beer fridge, or wine cooler!
"Homeowners usually want to show off that appliance – especially the wine fridge." - Horwat
With that in mind, a place like an island end panel is a great spot to show it off. Not to mention it's always convenient to get a quick refill right next to your island seating!
Take a look at the one in our Love it a Latte showcase: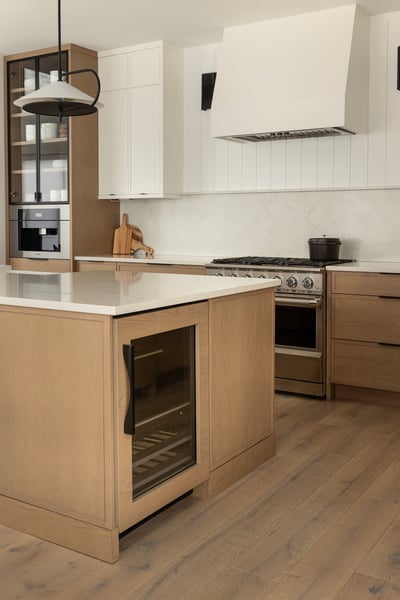 This wine fridge door is equipped with a custom millwork frame, blending beautifully with the rest of the island cabinetry design.
They're something our clients never regret adding to their island.
6. Fridge or Freezer Drawer
Another drawer idea is an under-counter fridge or freezer drawer.
The highlight of this appliance feature is that it can be seamlessly integrated into the island cabinetry design. You can overlay-panel them so they are 100% built-in to look and function like a regular cabinet drawer!
Whether it's a fridge or freezer, these drawers are the perfect compact appliance to keep any extra food overflow from your main kitchen refrigerator.
If your kitchen island functions as a meal prep area, this unique refrigerator model will be highly advantageous.
Avid chefs will love the convenience of not having to go back and forth from the refrigerator while preparing meals. With a place in their island for fresh vegetables, meat, and other ingredients, they'll have everything they need for a one-stop-shop kitchen island cooking station.
7. Cooktop and Hood Fan
The most expensive (and largest) appliance typically included in a kitchen island design is a countertop cooktop and hood fan.
However, before you decide on including one in your kitchen island, there are a few concerns that you should know about.
Firstly, you can install a retractable downdraft hood fan – that requires an extra cabinet behind the cooktop that houses that ventilation system and keeps it out of sight when not being used.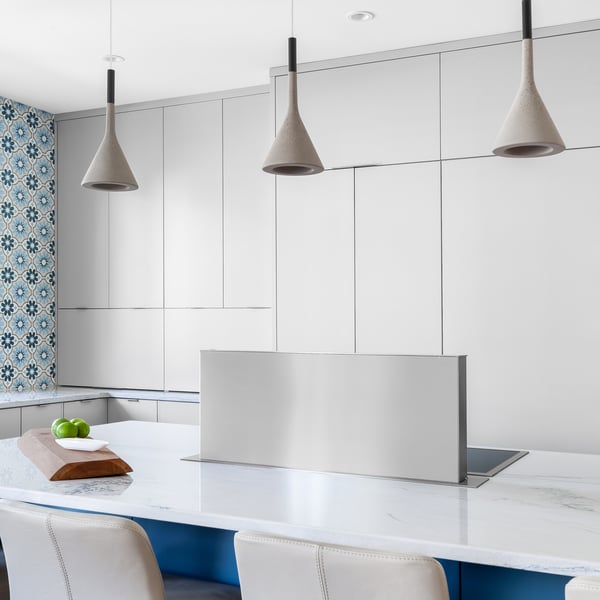 However, downdraft ventilation isn't the most efficient ventilation system. They vent air down into ductwork beneath the floor, rather than up through the ceiling or wall. Since air naturally rises, the downdraft method is not as effective as hood fans installed above a cooking surface.
The second option is a hanging hood vent over the top of your island. They are the more effective ventilation method but also have their own drawbacks.
They're somewhat unsightly and can become a visual hindrance. Nobody wants a big hood fan smack-dab overtop the middle of your island, obstructing your view and being a general eyesore for your kitchen.
A cooktop can be an extremely hot surface to have on a kitchen island. This can be particularly hazardous for islands with seating used for socializing and eating meals, where guests or children can accidentally touch.
Lastly, a cooktop also typically takes the spot where a sink would be placed. As both are installed into the countertop, you would need an extremely spacious island to incorporate both a sink and a cooktop. For that reason, a sink is typically a much better use of that space, whereas your cooktop might be better suited to remain on your perimeter wall cabinets.
Of course, including a cooktop in your island is solely dependent on your personal preference. If you don't mind the look of an overhead hood fan or the limitations of downdraft ventilation, then a cooktop can be a beautiful appliance to feature in your island design.
8. Speed Oven
Lastly, a speed oven is a great alternative to a microwave.
A speed oven is a kitchen appliance that cooks food using a combination of convection, microwave, and sometimes a grill element. They're smaller in size than regular ovens and have a faster cooking speed.
"They're great for homeowners that want a smaller, secondary oven without having an actual second oven." - Horwat
If you love cooking, a speed oven might be better suited to your kitchen island than a microwave.
Design with Deslaurier Custom Cabinets
When it comes to the kitchen island, it's crucial you properly plan how you want your island to look and function before finalizing the design process. If you're including a central island in your kitchen, we hope this article helps you envision which popular appliances might be worth integrating into your design.
Whether you're planning a new build or kitchen renovation, Deslaurier Custom Cabinets has everything you need to create the perfect custom island design! With over 40 years of experience in our name, we provide our clients with a fully customized design process with our talented team of designers.
Book a free consultation today with a Deslaurier design expert at our Ottawa Showroom or schedule a virtual meeting online!

Live outside the area? Search our Find a Dealer page to connect with a Deslaurier partner near you! Interested in becoming an authorized Deslaurier dealer? Visit our Become a Dealer page to learn more!