5/10/2021 • Blog
A Comparison of Cabinet Construction
Have you ever researched cabinets online, only to get lost in confusing product terminology?
In this article, we're going to demystify cabinet construction and door styles once and for all.
Keep reading because we're about to define and compare the most popular cabinet door construction types, and tell you what they mean for your reno!
Let's get started!

Popular Cabinet Door Styles

There are countless cabinet door styles out there. Deslaurier has over 70 in its catalogue. When you're planning a kitchen reno, it can be easy to get lost in all the options.
Do the words recessed, and raised panels sound familiar? Do you know the differences between one-piece and five-piece door construction?
If any of these terms are unfamiliar to you, don't worry. We'll go over each one in detail.
One-Piece vs. Five-Piece Cabinet Doors

Generally speaking, there are two primary kinds of cabinet doors in the industry: one-piece and five-piece.

One-Piece Cabinet Doors


One-piece doors are manufactured out of a single slab. There are no seams, which is ideal for paint and thermofoil finishes. If there's a profile on the door, it will be done by a CNC machine, and the inside corners and edges will be slightly rounded (not as sharp as with a five-piece door).
However, many homeowners who opt for one-piece door styles choose not to have a profile, and want a slab-style door instead.
Slab doors are perhaps most commonly used in modern kitchen design styles for their streamlined, minimalistic look. They're also very advantageous when building an easy-to-clean kitchen design because their flat surface prevents dust and grime build-up.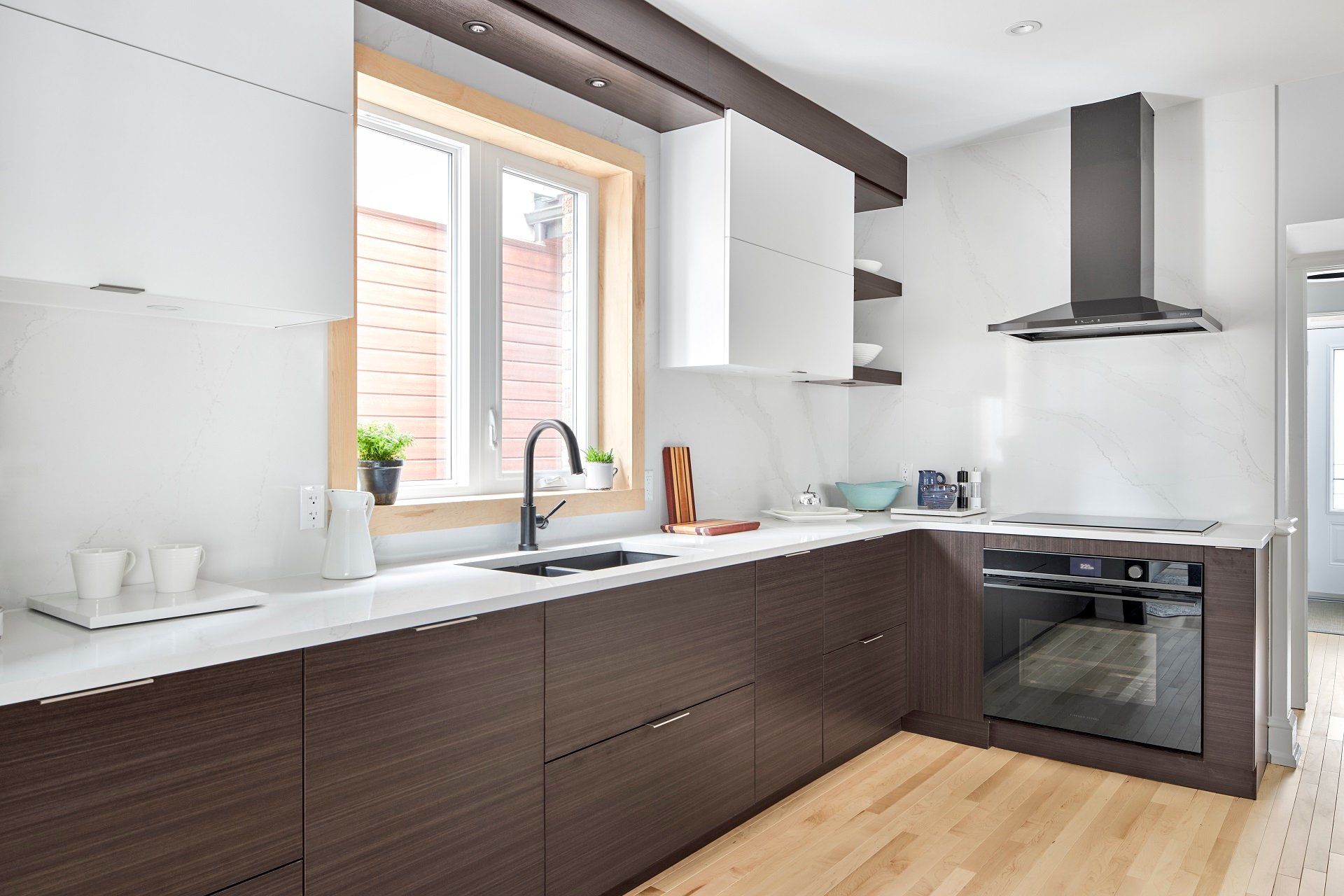 Five-Piece Cabinet Doors
Five-piece doors are made up of five individual pieces (two vertical side frames called "stiles", two horizontal side frames called "rails", and one middle insert called the "centre panel").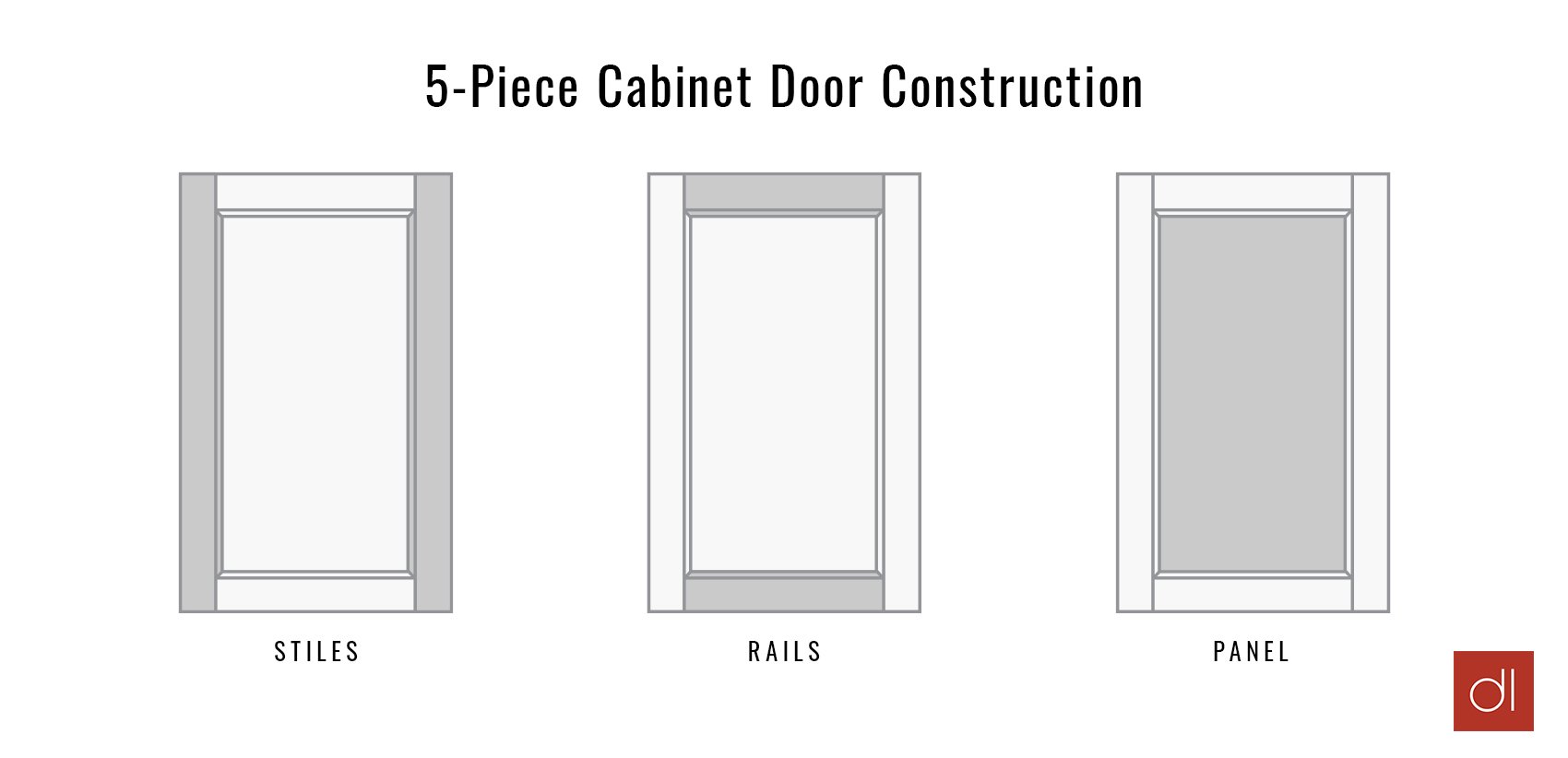 The five pieces are joined together with grooves like puzzle pieces, sometimes at a 90-degree angle (a mortise and tenon joint construction) and sometimes at a 45-degree angle (mitred construction).
Aesthetically, five-piece doors have beautiful sharp corners and allow the homeowner to get creative with different profiles. Plus, five-piece doors are incredibly versatile design-wise: you can use a multitude of materials, including MDF, natural wood veneers, various laminates, and thermofoils. You can also play with textures and finishes, too. Usually, one-piece doors aren't quite as wide-ranging that way.
The downside is that painted five-piece doors are susceptible to cracking at the joints (the same cracking happens to stained five-piece doors, but is significantly less visible with stain than paint).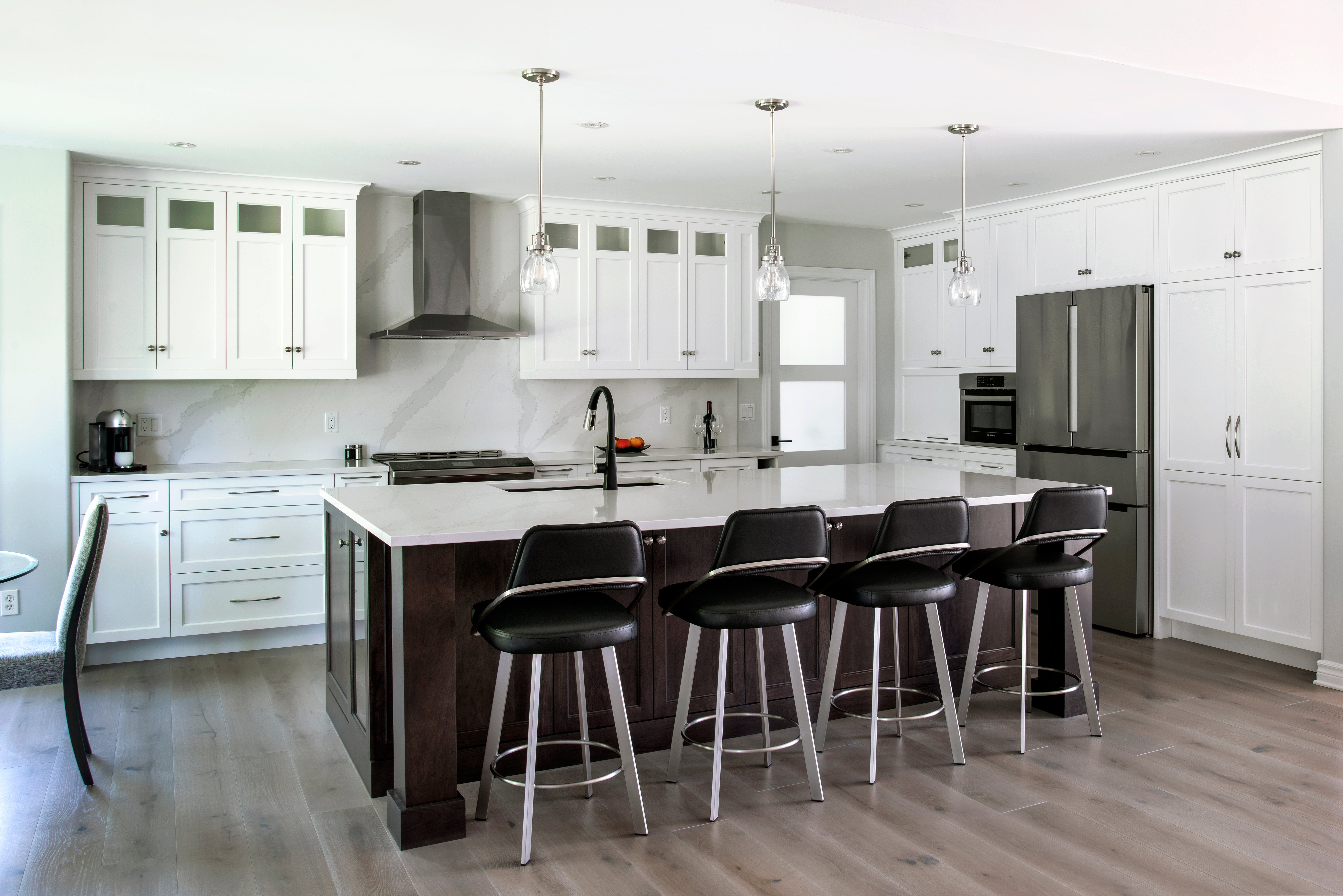 Raised vs. Recessed Cabinet Doors
Now, digging even further, the panel inside a five-piece door can either be raised or recessed.
Raised panel simply means that the panel protrudes to match the length of the surrounding frame. Recessed panels do the opposite—they are inset within the surrounding frame.
Recessed and raised panel doors tend to be first in line for transitional to traditional kitchen designs.


Deslaurier's Crestfield, Inglefield, Crestwood, and Royalview door styles, pictured below, are four very popular styles that suit traditional kitchens well. The first two from the left-hand side are recessed panel doors and the last two are raised panel doors. You can see that the grooves and insets in each one gives character to the door.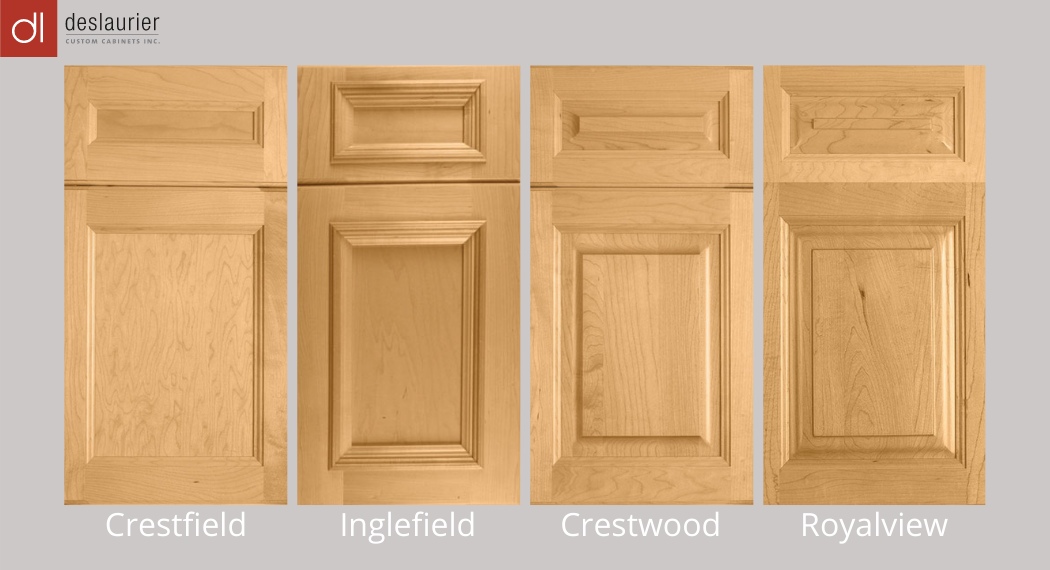 Framed vs. Frameless Cabinet Box Construction
Now that you have a solid understanding of cabinet door styles, let's talk about cabinet boxes. Cabinet boxes are either framed or frameless.
For the record, most cabinet suppliers (including Deslaurier) use frameless cabinet boxes.
As a whole, the cabinetry industry seems to be moving more and more towards frameless cabinet construction because it's less expensive and easier to manufacture and install.
If you're shopping for custom cabinets in Canada, frameless is more than likely what you'll find.
That being said, it's still a good idea to understand the differences between framed and frameless cabinetry in case it ever comes up.
Framed Cabinet Boxes
Framed cabinet construction is when two stiles and two rails create a "face" at the front of the cabinet box.
That frame is an overlaying structure used to cover the boxes and it make it easy to attach a cabinet door to the front. It's the way cabinets were manufactured traditionally.
The added material of the face frame makes the box sturdier. However, the drawback is that the face frame marginally blocks access to the cabinet interior, making it harder to use the space inside.
In one cabinet, that quarter-inch of wasted space might not matter. However, if you add up the lost space within an entire kitchen cabinetry system, you might be losing a whole cabinet's worth of storage.

Frameless Cabinet Boxes

Frameless construction, a more recent industry style that came from Europe, eliminates the face frame so that the client has unrestricted access to the interior of their cabinets. Arguably, it's the most popular cabinet construction method today.
While both framed and frameless cabinetry have the same amount of space inside, it's easier to make use of that space without the obstruction of the frame. That's why frameless cabinets are sometimes referred to as "full access" cabinets.
Frameless cabinetry generally provides 10-15% more usable space than framed cabinetry.

Cabinetry Overlays
Ever hear the word "overlay" and wonder what it meant?
Overlay refers to how much or how little the cabinet doors and drawers cover the front of the cabinet box.
The three basic kinds of overlay are:
Full Overlay Cabinets
Partial Overlay Cabinets
Inset Cabinets


Full Overlay Cabinets
Full overlay cabinets are the name for cabinet doors that fully cover the front of the cabinet box. The cabinet door hides nearly the whole cabinet box, leaving very little of the underlying box exposed.
Full overlay is the only kind of overlay that works on frameless cabinet boxes.
Again, if you're buying cabinets in Canada, chances are your supplier offers frameless cabinets with full overlay doors. Partial overlay and inset cabinets may not even be options for your reno, unless you find a framed cabinet fabricator.

Partial Overlay Cabinets

Partial overlay cabinets, as the name suggests, only partially cover the face frame of the box. The cabinet doors and drawer fronts are only slightly larger than the opening of the cabinet, leaving an aesthetically pleasing border of sorts around all of the doors and fronts.
Partial overlay does not work on frameless cabinet boxes, however, you can create the aesthetic of partial overlay and framed cabinets by using cover panels, end panels, and fillers in your design. This is a common strategy in many luxury kitchen renovations.

Inset Cabinets

Inset cabinets are cabinet doors that fit like a puzzle piece within the cabinet face frame. They are manufactured to size (ie. ever so slightly smaller than the face frame) so that they slot right in and create a very flush look.
In the early days of cabinet making, inset cabinets were viewed as a hallmark of fine woodworking, and today, the style is making a comeback in some parts of the world.
Inset cabinets show the full face frame of the cabinet box.
Since the frame is needed, inset cabinets are not possible with frameless cabinet boxes, however, once again, you can create the aesthetic of inset doors with frameless cabinets by using fillers and panels.

Design With Deslaurier
Want to learn more about cabinet construction and how you can build your dream kitchen from scratch?
Drop by our showroom in Ottawa for a complimentary design consultation! Our seasoned team of kitchen designers will take you on a tour of Deslaurier's far-reaching cabinet catalogue.
Interested in becoming a Deslaurier dealer? Connect with us on our Become a Dealer page today!


Related Links: