29/10/2021 • Blog
Design Ideas For Small Kitchens
For decades, the kitchen has been referred to as the "heart of the home." The ideal kitchen encompasses equal parts functionality, beauty, and personalization.
Just like in any other part of the house, in the kitchen, you need to take into account many aspects: style, size, storage, condition, lighting and more.
It is no longer a disadvantage to have a kitchen with limited space. Smaller kitchens can be a good thing for people who love cooking.
Using some of the best small kitchen design ideas to suit your everyday cooking style, you can remodel or design from scratch a practical cooking space that makes life in the kitchen easier and more enjoyable.
Even though a smaller kitchen may pose a slight spatial challenge; with clever design, this limitation can become an advantage!
For example, using vertical storage units to store your pots and pans will make the most of your space. This can also act as a practical divider between areas if placed on one side of the room.
With that being said, here are 10 other incredible design ideas for small kitchens!
1. Use Open Shelves and Cabinets
Closed-door cabinets in small kitchens can be a disaster. Doors banging into one another, restricting the mobility of an already limited area.
That's what makes open shelves and cabinets more preferable: they make the most of your available space! Without exceeding your space with bulky designs or bumping into cabinet doors; open shelves and cabinets also allow you easy access for glasses, dishes, or cooking accessories.
These small kitchen design ideas can be your advantage whether you're cooking for yourself or your family.
This design gives you a better view of everything in the kitchen. It doesn't just make cooking more convenient; it also makes it more enjoyable!
2. Limit Upper Cabinets
When making a small kitchen more efficient, you need to think about the best way to use every inch of space.
While upper cabinets are great for storing dishes and glasses, they can also take up valuable counter space that you can be put to better use.
Try limiting these cabinets by taking out everything but your most frequent cookware.
You can also use drawers instead!
Drawers are an excellent way to keep your kitchen looking spacious while packing essentials like pots and pans. They also make it easier to find specific items without having to rummage through every pot you own.
3. Replace Upper Cabinets with Floating Shelves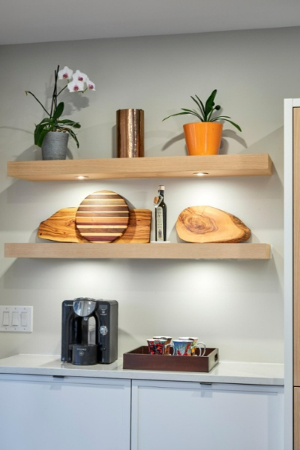 If you want to rid yourself of a few of your bulky, space-eating upper cabinets, there is also an alternative for that!
Replacing cabinets with floating shelves saves an enormous amount of wall space.
Floating shelves are a fantastic way to utilize storage capacity in a small kitchen, without the bulky design of traditional cabinetry.
Not only do they show off your favourite decorative pieces, but they create the illusion of more space. Just be sure that you have enough structural support for each shelf to bare the proper weight and to avoid breaking or denting.
Hanging kitchenware from a pot rack keeps it visible and within reach while freeing up space in cabinets and drawers.
Plus, hanging collections of plates, bowls, and mugs can make the room feel cozier!
4. Add Lighting Under Upper Cabinets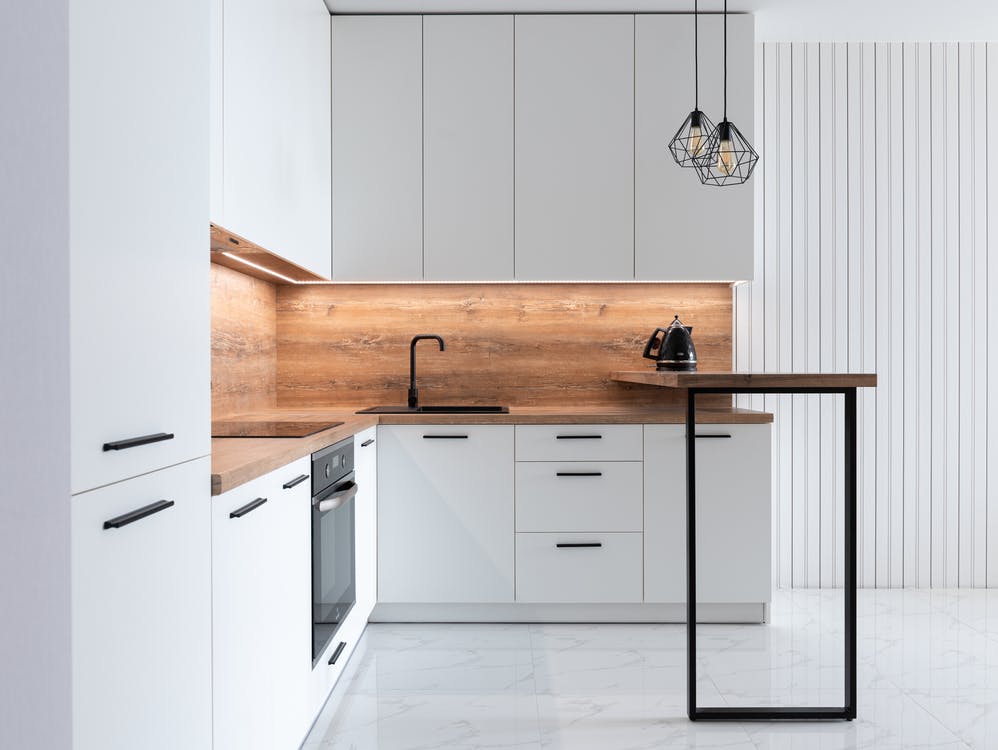 When designing a small kitchen, good lighting can make a world of difference.
Under-cabinet lights are great because they shine a light on the counter, ensuring your kitchen space is more visible; making it easier to find what you need when you're in a hurry.
It would be best if you had bright lights overlooking cooking spaces and task areas that require additional lighting.
With the addition of under cabinet lighting, you will enhance efficiency. The vivid lights add a bright warmth to the room, while making it appear larger and more radiant.
Another option for brightening up a small kitchen is adding several mirrors placed in strategic areas of the room.
Be sure to position them to reflect light and brighten up dark corners. Since they are reflective, be careful about placing them near plants or other flammable items.
Want to see some of these ideas in action? Book a free consultation and start on your dream kitchen today!
5. Replace Your Appliances with New, More Efficient Ones
An overlooked aspect of the kitchen design process is determining what appliances are best suited for your specific needs.
If you are renovating your kitchen, look to replace your existing oven with a smaller one. If you are designing a kitchen for your new home, be mindful of your space and look for sleeker options that will optimize your available area.
A good choice would a convection or countertop oven that only heats the food you are preparing rather than heating the entire kitchen.
If you already have a smaller refrigerator, consider getting a bar fridge that can fit into small spaces and is just as efficient as a standard model.
Just be sure to choose an option with sufficient storage. If possible, see if the manufacturer offers drawers with these models since they are generally more helpful than shelves.
You can also replace your dishwasher with a smaller, more energy-efficient one. This will benefit you with added space and savings!
Look for ones that come with adjustable racks and features like the option to only use the necessary amount of water. If possible, find out how much cold water you will require when in the washing mode so you can save energy by putting in hot water instead.
6. Invest in Base Cabinet Accessories
A small kitchen design is not just about the size of the space, it's about maximizing that space and making the most out of it.
Effectively using your base cabinets with creative accessories can expand the possibilities of your kitchen storage and unclutter your countertop and upper cabinets.
Examples of base cabinet accessories include roll-outs, corner cabinet accessories, pull-out spice racks, and garbage bins.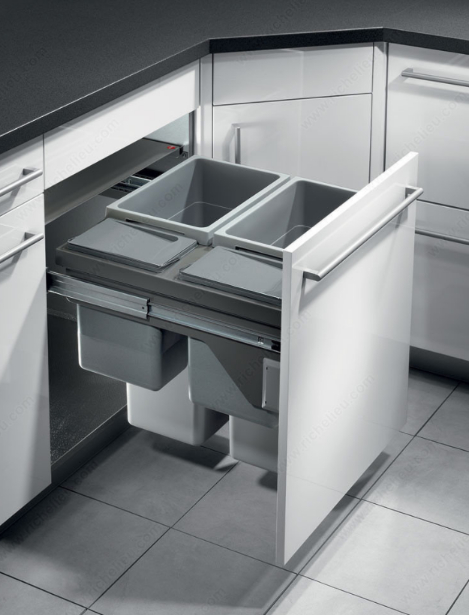 While it is best to invest in base cabinets that are high quality, this isn't always within reach for everyone. To make up for lost storage space, be sure to fill old tins with utensils and cooking equipment so they don't take up any additional room on the counter.
If affordable, consider adding one or two items to your kitchen dedicated to storing your cooking tools.
If you are looking for ways to declutter your kitchen, small-scale accessories are the perfect solution. These simple but clever additions can help unclutter kitchens while also giving more room to what needs attention.
7. Choose a Light/Neutral Color Scheme
The key to this small kitchen design tip is to use lighter colours on the ceiling and furniture. This way, you can give more focus to the kitchen's functionality and design.
Like cabinet doors, the colour of appliances can significantly impact the aesthetics and feel of your kitchen.
Sticking with silver or stainless steel tones make smaller kitchens appear larger because they reflect light.
However, you don't want appliances standing out against the cabinets too much, so make sure to find complimentary colour schemes!
The best way to make a small kitchen appear larger is by using neutral colours with lighter tones.
The idea behind this is to highlight the parts of the space that are clean and free of clutter while making dark areas look smaller. When choosing a paint colour, be sure to stick to lighter shades of white, cream, grey, and even pastels.
8.Use Glass Cabinet Doors
A small kitchen can benefit from some help when making things appear more open and larger than they are.
For this reason, many people like to use glass as a door material for cabinets. Not only does this allow you to see your dishes and supplies, but it makes the room look bigger.
Clear glass inserts can be great for giving the area a cleaner look, especially since cabinets can sometimes cover up appliances that aren't always pretty to see.
For example, many models of dishwashers come with transparent glass panels on their doors, allowing you to keep an eye on the action while also making it easy to find plates and silverware when in a rush.
9. Strategic Placement of Appliances
The layout needs to be strategically planned to make a small kitchen work to its potential. The best way to optimize space in a small kitchen is by first planning where appliances will go and then deciding how everything will interact with one another.
In general, oversized items such as stoves, refrigerators and view coolers need to go against a wall – while smaller items need to be within reach of the cooktop to save steps while cooking.
The most critical consideration in placement concerns an oven or stove. While it may be tempting to place the stove in the middle of a kitchen, stoves should be against a wall to allow for more space on the side of the furnace where you open oven doors.
Strategic placement of appliances will ensure a streamlined workflow of the kitchen; allowing you to minimize stress, and maximize your kitchen's functionality!
10. Consider Choosing Open Wall Storage
Wall storage is efficient and valuable for a variety of items. It is essential to consider the size and the amount of space in your kitchen when choosing wall storage to ensure that it will fit seamlessly in your space, while still being able to function properly for its appropriate use.
Open wall storage is a design idea suited to kitchens with limited space. You can suspend this type of storage on any surface - whether that's the wall or a countertop, and it often features open shelves that allow you to see everything inside at a glance.
Open wall storage can provide versatility, affordability, and ample organizational options to benefit any kitchen short on space. It also helps keep your kitchen looking spacious with its minimalistic style.
Design With Deslaurier
Small kitchens can pose a number of spatial and practicality issues. From limited counter space to overcrowded cabinets, it is crucial to discover creative ways to make your kitchen function properly while still looking great.
The kitchen design ideas listed above all serve a common goal: they help with the essential part of every kitchen – properly utilizing your space!
Feeling motivated to start your kitchen design? Book a free consultation today with a Deslaurier expert in our Ottawa showroom!