Estimated Read Time: 5 Minutes
Let's face it, when doing a renovation or a new build, the kitchen design takes centre stage. And rightfully so, the kitchen is considered the focal point of the house and a high priority.
However, with so much attention on the kitchen, bathrooms can tend to take a backseat in the design process.
At Deslaurier, we have over 40 years of experience specializing in all things custom cabinets. With that, we've designed and installed countless bathroom vanities personalized to our client's unique needs.
Join us, as Deslaurier Designer, Amelia Mathieson, offers her expert insight to help you understand how to choose the perfect height for your new bathroom vanity.
Let's get started!
Standard Bathroom Vanity Height
First thing's first: what is a bathroom vanity?
Bathroom vanities are the combination of a bathroom sink with cabinets that provides storage and conceals plumbing lines. Vanities can be commonly used for everyday activities from face-washing and teeth-brushing to an at-home make-up station.
Bathroom vanity height is measured from the floor to the top of the sink or countertop, depending on your design. With the most common design being a top-mount or under-mount sink, that means most vanities will be measured to the surface of the countertop.
Standard bathroom vanity height starts at 32" and goes up to 36", with 34" typically leaning towards the new universal average.
Consider the Height of the User
Determining the height of the user is far and away the main consideration for selecting a bathroom vanity height.
How tall are you? Go from there.
"For vanities, you're brushing your teeth and washing your face – bending over a lot – it gets uncomfortable the taller you are." - Amelia Mathieson
If the user is around the 6-foot range, a 32 inch vanity will almost certainly be uncomfortable for them to use. The reverse is true for someone closer to 5-feet. A 36" vanity will most likely be a bit too tall for them.
Couples that have a stark difference in height and share a double-sink vanity might have to come to a compromise. In this scenario, it's often simpler to go with a higher vanity to accommodate the taller member, as opposed to a lower vanity for the shorter user.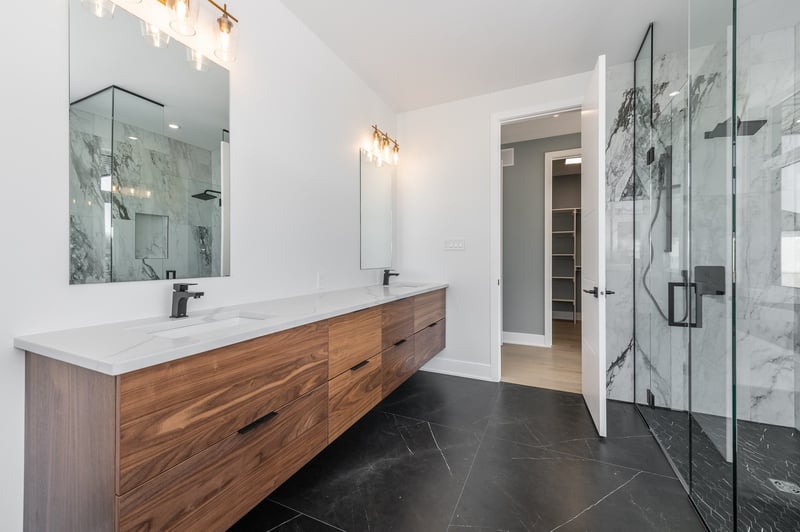 This reduces the added stress on the back – and, frankly, it's much easier for a shorter person to use a slightly taller vanity. Shorter users can have the benefit of stools to accommodate them if necessary, and companies like Blum even offer pull-out drawers with built-in steps for vanities!
Measure Your Current Vanity
Another good starting point when designing your new bathroom vanity is to measure the height of your current one.
"Usually when I ask the question, nobody has ever thought of it. It doesn't occur to them and nobody really knows what they're currently used to." - Amelia Mathieson
It can be helpful to look at your current vanity height to assess how you'd like to position your future unit.
Do you find your current vanity to be the perfect height for you? If so, all it takes is a quick check with the measuring tape and you've already got the height you prefer for your new vanity set!
What about if you feel your current vanity is too short or too tall? Measuring the height is a good launching point to know that your new vanity has to be higher, or lower, than a certain height.
If you've been unsatisfied with your vanity height, whether you feel it's too short or too tall for you, then knowing the exact height is a good starting point – work your way from there
"Floating" Wall-Mounted Vanities
Some bathroom vanity designs are more effective at certain heights. For example, floating vanities.
Floating vanities are fundamentally a style decision. They provide a streamlined, modern aesthetic, with the vanity situated off the floor as though it is "floating."
Wall-mounted vanities are generally more complex to build; they require special mounting brackets and sometimes additional wall support. Which will, of course, increase the cost of your bathroom vanity.
Wall-mounted, floating vanities are almost always 34" or 36" counter height. The increased height adds to the effect of the "floating" visual moreso than a 32" cabinet.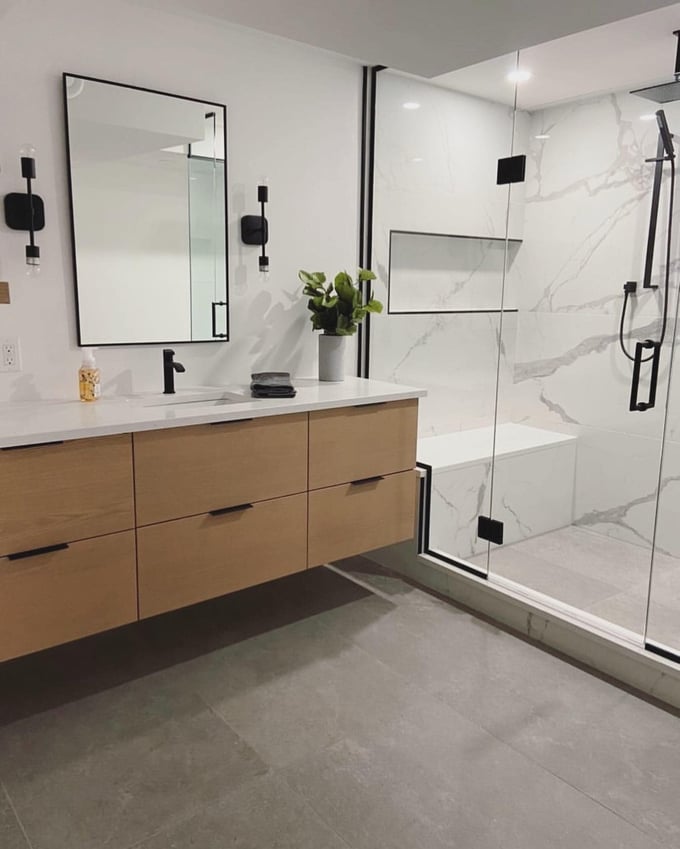 Where is the Extra Height Coming From?
With all this talk of varying vanity heights, we should detail where that extra height will come from.
Firstly, the toe-kick base underneath the cabinet will always stay the same height. Everything else will be stretched. If your cabinets have a bank of 3 equal drawers, then all 3 drawer heights will be increased for a taller cabinet.
What if your cabinet has a shallow drawer on top, with 2 deep drawers below? The height will be added to the deep drawers, while the shallow drawer will typically stay the same height.
In short, a 32" cabinet vanity will have the same size top drawer as a 36" cabinet, but the lower drawers on the latter option will be taller.
If your cabinet vanity has doors, the fix is simple: the door height will increase or reduce based on the cabinet box.
Vanity Height for a Vessel Sink
A vessel sink is a sink bowl that sits above the countertop rather than built into it.
Vessel sinks typically have a depth between 4 and 6 inches; so the common recommendation is that the height of the vanity should not exceed 30 inches.
Of course, not everything is as cut and dry as that.
"With vessel sinks, a lot of things can vary and it can become a bit of a puzzle. I typically tell clients to pick out the sink and then I can figure out where to draw that line from there." – Amelia Mathieson
First order of business: choose your sink. It's much easier to choose your cabinet height to accommodate a particular sink than it is to find a particular size sink to fit a predetermined vanity height.
You don't want the counter to be too low, or the top of the sink to be too high up. There needs to be a happy medium. Your designer will help you find the perfect cabinet height to match the vessel sink you've chosen.
Design with Deslaurier Custom Cabinets
Looking for a personalized bathroom design that's tailored to fit your unique needs? You've come to the right place!
Book a free consultation with a Deslaurier expert at our Ottawa showroom today!
If you have your eye on custom cabinetry, Deslaurier Custom Cabinets has everything you need. With over 40 years of experience to our name, we provide our clients with a fully customized design process with our talented team of designers.
Interested in becoming an authorized Deslaurier dealer? Visit our Become a Dealer page to learn more! Live outside the area? Find a Dealer to connect with a Deslaurier dealer near you!