Estimated Read Time: 16 Minutes (4,000 Words)
Deslaurier Custom Cabinets is Ottawa's premier cabinet maker. Since 1979, the Deslaurier brand has been a leading name in the custom cabinetry industry. As a Canadian family-owned and operated business, our overarching mission is to craft products of quality and function for a beautiful life.
Deslaurier's custom millwork can be found in highly personalized, optimally functional kitchens all over the city of Ottawa and beyond. Building dream kitchens is a big task—every kitchen reno is unique and has a lot of moving parts.
To help our clients better understand the kitchen renovation process and how customizing a cabinetry system fits into that timeline, we've assembled this comprehensive guide to planning a kitchen renovation. In this article, you'll find a start-to-finish checklist of all the things you should consider on your kitchen-building journey.
Ready to get started? So are we!

PHASE 1: CONCEPTUALIZE
Before anything else, the first step to renovating your kitchen is conceptualizing the project. You need a clear vision before you can bring it to fruition!
There are four main building blocks to every kitchen project. To conceptualize a kitchen, you need to:
Determine the scope of the work
Determine your budget
Determine your lifestyle needs
Determine your personal design taste
These are the fundamental pillars of your project. They'll support all your design-related decisions along the way. You must have a clear answer to each of the questions below before you move on to phase #2.
1. Determine the Scope of the Work
Firstly, you need to have an idea of the extent of your project. If you're not a professional, it may be impossible to know precisely what construction needs to happen between your four kitchen walls—that's okay. You can get into specifics when you hire a contractor later on.
On a macro level, however, you should know how much work you want done. Classify your upcoming kitchen renovation into one of these three groups:
Basic Kitchen Renovation
Mid-Range Kitchen Renovation
High-End Kitchen Renovation
These three groups are characterized by the level of structural and cosmetic changes that each one entails. Look through the table below and find the statement that best describes your kitchen plans.
Basic Kitchen Renovation

$

Mid-Range Kitchen Renovation

$$

High-End Kitchen Renovation

$$$

I'm happy with the existing structure of my kitchen floor plan. I want to replace or update cabinets, appliances, countertops, and flooring.

I'm not happy with the layout of my kitchen. I want to move walls and change the location of certain appliances and utilities. I want a semi-customized space with some material upgrades.
I'm not happy with the layout of my kitchen. I want to move walls and change the location of all appliances and utilities. I want a completely customized space. I want to upgrade most, if not all, of my kitchen's amenities with top-of-the-line materials.
Naturally, structural changes require additional planning, labour, and materials. That's why a basic renovation is the most economical option—all the changes are cosmetic.
In a mid-range and high-end kitchen renovation, alterations happen to the structure of the room, which automatically raises the price category.
From there, the primary cost difference between a mid-range and high-end reno comes down to the quality of products chosen.
2. Determine Your Budget
The scope of the work and your budget go hand in hand—you can't know one without the other.
In large part, the work you want done in your kitchen will dictate how much you spend. If you want to remove a wall and enlarge the space, that immediately pushes you outside the basic kitchen category and into the mid-range to high-end field.
Conversely, if you set yourself a strict budget of $10,000, you'll likely limit yourself to standard design selections, as you won't have enough capital to purchase a full suite of high-end upgrades.
Sample Kitchen Reno Budget Breakdown
Let's say you have a $45,000 budget for your kitchen. With 45K, you can probably afford a mid-range renovation for a large kitchen or a high-end renovation for a small kitchen.
Percentage-wise, here's an example of how that investment might break down: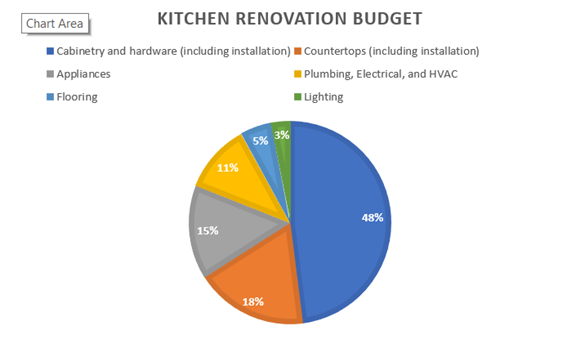 Above all, your budget and renovation plans need to correspond before your project can get off the ground. It's important to look at your finances from the get-go and set a realistic plan for how much you're willing to spend and how you want to spend it.
Visit our Learning Centre to learn more about how much kitchen renovations cost.
3. Determine Your Lifestyle Needs
So much of a successful kitchen renovation centres around how you use your kitchen.
Your unique habits, preferences, and needs will strongly influence your kitchen design.
These are some questions that are critical to answer honestly and in detail before you make any concrete kitchen design selections:
What's your cooking style? (Rank yourself from 1 to 10; from complete beginner to pro cook)
What are your entertaining habits? (How often do you have guests over?)
What's your family style? (Are there young kids, teenagers, or pets in the house?)
What are your future plans for the home? (Do you plan to sell the house in 5, 10, 20 years?)
Take a look at how these aspects of lifestyle directly correspond to kitchen design:
Cooking Style
A homeowner with zero cooking skills will probably have little use for custom cabinet accessories like pull-out spice racks, cutting boards, or built-in tray dividers. These upgrades would be wasted money for someone who only orders take-out and eats ready-to-go meals.
Knowing your cooking style will help you pick appropriate cabinet accessories and spend within your means.
Entertaining Habits
Do you love to host large parties and entertain guests? You might want to focus your attention on building an open space or a kitchen island with plenty of seating.
If you know there's frequently more than one person using your kitchen at any given time, you may even increase the circulation space around your island. That way, there's always room for someone to pass by, even when appliance doors are open.
Family Style
Have a full house on your hands? Homeowners with young kids may want to consider designing their kitchen with durability and safety in mind.
For example, many parents choose to order cabinets with a more durable finish, like stained natural wood or thermofoil, to prevent scratches and dents from rambunctious play (learn more about easy-to-clean kitchen designs). They also pay close attention to the location of appliances and cupboards to make sure that dangerous or fragile items stay out of reach.
Future Plans
You should always renovate with your future in mind. If you're renovating your forever home, you're going to invest and design differently than if you know you're going to sell in five years.
For instance, if you have a short horizon of about five years before you list the home, it's probably not a good idea to paint your kitchen bright pink. If you're committed to staying put for two decades or more, then you have the freedom to design your kitchen to every whim—pink or otherwise.
When selling your home is on the cards, you also want to consider the resale value of your renovation. Learn more about the return on investment of a kitchen renovation in Deslaurier's article "Should I Renovate my Home?"
4. Determine Your Style
With the project's scope, budget, and lifestyle-based requirements firmly in place, now you can explore the fun stuff—style!
There are tons of resources out there that you can draw on for inspiration. Pinterest and Instagram are just a couple of the platforms that many of our clients use.
Deslaurier's showcase is also jam-packed with modern, transitional, and traditional kitchens of distinction.
Popular Kitchen Design Styles
Not sure where to start? If you're new to kitchen design, here's a crash course in the three most popular kitchen design styles that will point you in the right direction:
Traditional
Transitional
Modern
Let's take a closer look at each one.
Traditional Kitchen Design
Traditional kitchens are elegant, ornate, and sophisticated. Custom millwork is often detailed and decorative. Countertops have elaborate patterns and veining. Light fixtures are classy and give off a warm ambiance.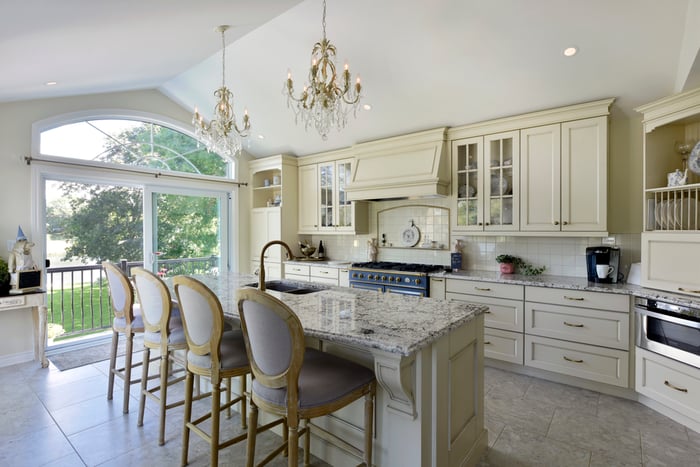 Transitional Kitchen Design
Transitional kitchens are a hybrid of traditional and contemporary styles. They blend the two extremes by seamlessly and skillfully pulling elements from both categories.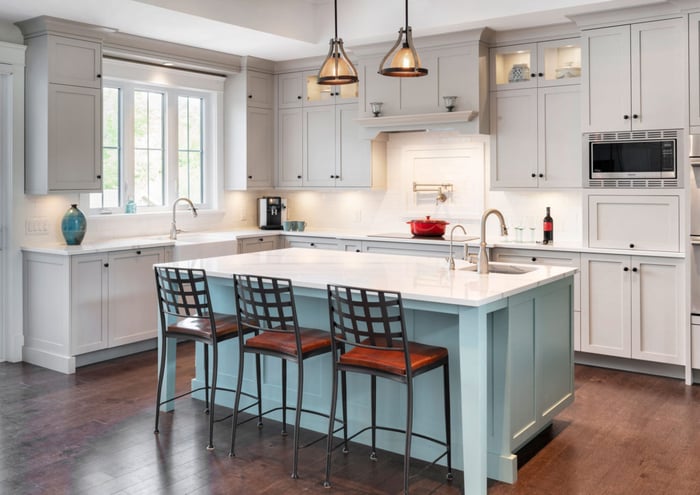 Modern Kitchen Design
Modern kitchen design is edgy, cool, and streamlined. Modern kitchens emphasize minimalistic, clean lines with slab doors and prioritize function with durable materials like metal and thermofoil.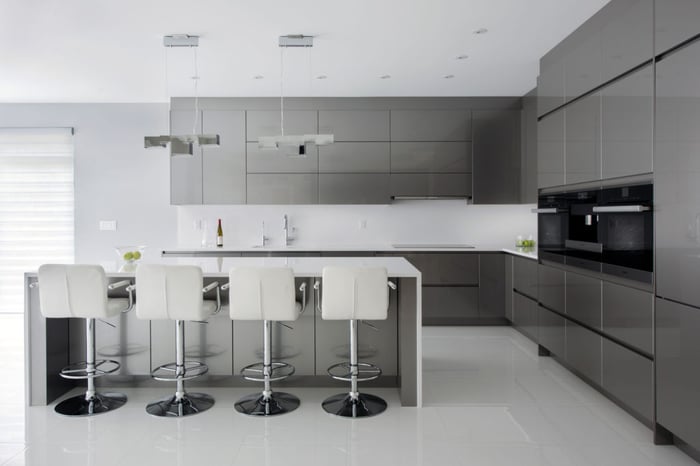 PHASE 2: PLAN
With your four conceptual foundations in place (scope of work, budget, lifestyle needs, and personal design style), you can now begin the planning phase of your renovation.
Phase 1 was all about defining the end goal. Phase 2 is about assembling the logistics to achieve that goal.
Find a Contractor
Unless you're overseeing the renovation yourself, you'll want to research and meet with a few contractors in your area.
A contractor will help you nail down the specifics of the scope of your project. They're the ones who will be able to definitively say whether or not you can tear down wall X or insert door Y. If any part of your vision for your renovation isn't structurally feasible, a contractor will be able to tell you.
Here are some questions to keep in mind when contractor shopping:
Are they licensed?
Are they insured?
Do they provide a detailed timeline?
Does their quote break down labour and material costs?
Do they have positive recommendations?
Do they have photos of their past work to show you?
We recommend getting at least three different quotes before you make a final decision. Check out our guide on how to choose the right kitchen renovation contractor for your project.
Get a Kitchen Renovation Permit
Most renovations require a permit. The rule of thumb is that if you're making structural alterations, you'll need that piece of paper before you begin. Click to learn more about what home renovations require a permit.
Sometimes, contractors manage permits on behalf of their clients. However, please remember that even if your contractor agrees to manage permits for you, as the homeowner, you're ultimately responsible.
If your contractor does not handle permits or if you're going it alone on the DIY route, you'll need to apply for the permit yourself.
Don't forget that obtaining a permit isn't your only responsibility. Part of the permitting process is having your work inspected at various phases of the project. It's up to you to schedule these inspections throughout construction.
What is a Renovation Permit?
Every jurisdiction has a different set of rules to protect homeowners and municipalities.
In Ontario, that set of rules is called the Ontario Building Code. Put simply, any homeowner has the right to undertake a construction project on their property, as long as it complies with the province's building codes.
Of course, building codes vary in every region. The best way to determine if you need a building permit is to contact your local building code client service centre.
In Ottawa, you can dial the number for Building Code Services at 3-1-1. You can find all permit application details on the City of Ottawa's website or send your inquiries to buildingpermits@ottawa.ca.
Cost of a Building Permit
Building permits are a legal obligation, and one you should take seriously.
If you're discovered renovating your home unlawfully, you could be facing a fine of $50,000* for a first-time offence. Not to mention, you'll have to stop (and possibly re-do) all construction until you get a permit.
The bottom line is that without a permit, you're liable for all potential health and safety risks of your uninspected work.
As for budgeting for your permit, at the time of publication, you can expect permit fees in Ottawa to amount to roughly $10.75 for every $1000 of construction value (total of material, labour, overhead, and professional fees). The minimum permit is currently $98*.
*Price estimates reflected are accurate at the time of publication and subject to change.
Measuring Your Kitchen
The second step in Phase 2 is measuring your existing kitchen.
If measuring your kitchen sounds daunting, don't worry. Deslaurier has developed a tried-and-true set of instructions designed to make the job easy as pie.
There are two drawings you need for a complete kitchen measurement: a floor plan and an elevation plan.
Measure the Floor Plan
The floor plan includes the most measurements. For a floor plan, you must:
Draw the shape of the room
Mark all openings in the room (doors, windows, and wall openings)
Measure the full length of each wall
Measure the walls by section
Mark all fixtures in the room (gas/water lines, electrical outlets, etc.)
You can also click to find more detailed instructions on how to measure your kitchen.
Measure the Elevation Plan
Once you have the floor plan in place, there are only a few more measurements to go and you'll have an elevation plan ready. For the elevation plan, you need to measure:
Height and width of each window (including casing)
Height and width of each door (including casing)
Height of the ceiling
It's equally helpful to take pictures of your existing kitchen to attach along with your floor plan and elevation plan sketches. That way, your designer can eyeball measurements if you've missed any—at least until they can verify them professionally.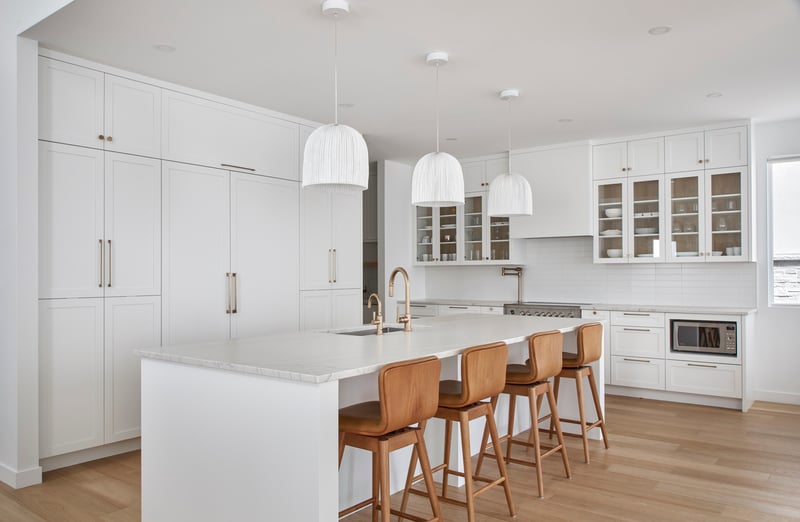 PHASE 3: DESIGN
You've conceptualized your kitchen. You've planned your kitchen. Now it's time to design your kitchen!
At this stage of the process, all your hard work in Phase 1 and Phase 2 pays off. Here, everything comes together, and as you make specific product choices, you'll see your kitchen take form before your very eyes.
Your job is to meet with a designer who will put your vision on paper. The following is a step-by-step breakdown of what you can expect from the design process at Deslaurier:
The Deslaurier Customer Journey
From start to finish, the journey of a Deslaurier customer is straightforward and stress-free. It all starts when you fill out our consultation request form or call our reception team at 613.596.5155.
At Deslaurier Custom Cabinets, custom is what we do best—in more ways than one. Not only do we craft customized design solutions, but we also partner with our clients to facilitate a highly personalized and collaborative design process.
While the bullet list below gives a general outline of a typical kitchen design project, it's important to note that no two design journeys are ever exactly alike. Due to the nature of custom design work, your designer may modify the order and details of your appointments to best fit your project.
Welcome to Deslaurier! Our first consultations are 100% complimentary. Meet your designer, explore our showroom, learn about our products, and book your 1st design appointment with us.
Assemble Your Information. Before you arrive at your 1st appointment, make sure you have your kitchen measurements, photos, and appliance specifications ready to go.
1st Design Appointment. Here, you'll start the design process by reviewing the scope of work with your designer and finalizing selections on cabinet material, door style, finish, hardware, accessories, modifications, and countertops.
1st Concept Drawings. Between your 1st and 2nd appointment, your designer will create a kitchen design concept based on your vision.
2nd Design Appointment. Your designer will present the 1st draft of the design concept to you. If necessary, you'll make a list of revisions.
Your designer will revise the concept accordingly (*max 2 concepts). Final appliances specifications must be submitted.
3rd Design Appointment. Your designer will present the completed revisions and final design concept. At this point, you commit to the design with a retainer fee.
In-Home Measurement Appointment. Your designer will schedule a time to visit your home in person and professionally verify all measurements of the space.
Sign-off Appointment. At the last appointment, you'll sign off on the final design concept. A 50% deposit is due. Your designer will then submit the order to Deslaurier's manufacturing facility.
Production. Your cabinets are hand crafted in Deslaurier's state-of-the-art, green manufacturing facility in Renfrew, ON. On average, lead time is 8 weeks, but lead time is subject to change with market conditions.

Delivery.

Deslaurier will deliver your cabinets, typically on the day before installation is scheduled. Learn more about what to expect for the Deslaurier delivery and installation process here.
Deslaurier's service technicians will professionally install your cabinets. Your countertop supplier will template your countertops and install them (typically 7-10 business days after templating). Learn more about kitchen cabinet installation here.
Approximately 1-2 days following installation, Deslaurier will perform a thorough inspection and create a service report if any deficiencies are present.
If required, service parts are ordered and produced. A Deslaurier service technician will complete the required service, approximately 4 weeks following the inspection report.
Congratulations! Your new Deslaurier kitchen is finished.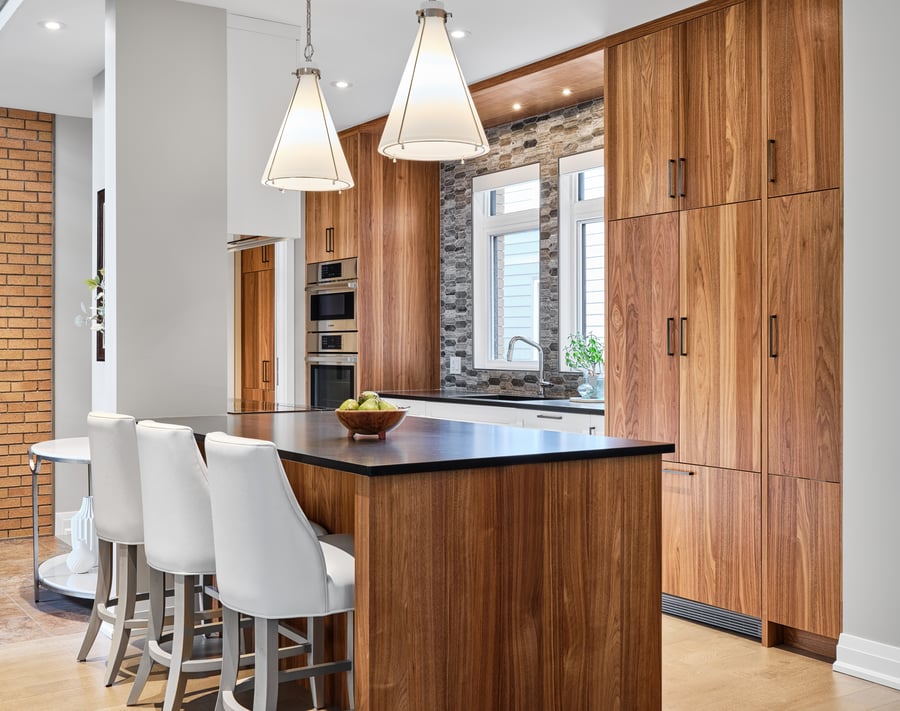 New-Build Kitchen Customer Journey
Just purchased a new home? Deslaurier Custom Cabinets partners with an extensive network of builders throughout the Ottawa region. If you've just bought a new-build from one of our partners, we'll connect with you to design your kitchen.
Designing a builder kitchen looks a little bit different from renovating a retail kitchen. Click here to read more about what to expect when working with Deslaurier for builder clients.
Custom Kitchen Cabinet Design
Kitchen cabinets are a major component of any kitchen renovation. Cabinets make or break the functionality of the space while simultaneously setting the tone of your overarching design theme.
To fully customize your cabinets, you have many selections ahead of you, such as:
Cabinet material
Cabinet finish
Cabinet door style
Cabinet hardware
Kitchen countertops
A comprehensive cabinetry solution will address each of these elements and customize them to your needs.
A Preview of Deslaurier's Showroom in Ottawa
As you can see, you have a lot of decisions ahead of you! Your designer will take you on an exhaustive tour through our Ottawa or Renfrew showroom so that you can see all the product options from our far-reaching catalogue in person.
Here's a sneak peek of some of the major cabinet-related design selections you'll make:
Cabinet Material
The underlying material of your cabinets is often the first design selection that homeowners face.
It's not an easy one, either—there are many to choose from, such as:
Each cabinet material has unique characteristics that will impact the look, longevity, and cost of your reno.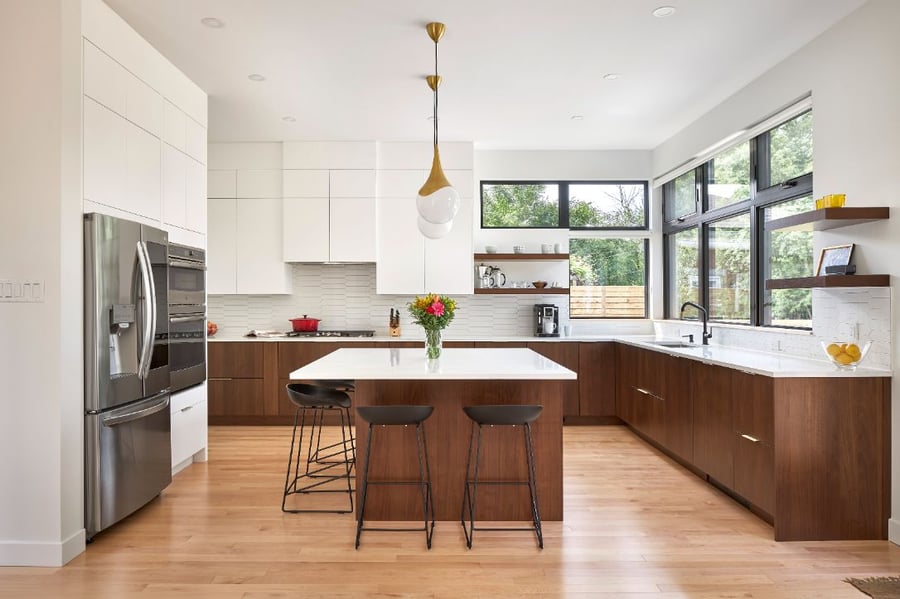 Cabinet Finish
Another critical part of your kitchen aesthetic lies in your cabinet finish.
For wood or MDF cabinets, your options are between a painted finish or a stained finish.
The key differences between these finishes boil down to aesthetic, cost, and maintenance needs.
| | | |
| --- | --- | --- |
| | Stained Cabinets | Painted Cabinets |
| Aesthetic | Translucent with muted colour. Highlights wood grain and texture. | Opaque and smooth with bold and vibrant colour. |
| Cost | A standard option. | Generally costs 10-15% more than stains. |
| Maintenance | A durable finish. Stands up to wear and tear and hides damage well. | Requires more care. Prone to chipping, peeling, and cracking. Shows damage. |
Paint can achieve vibrant colours to a degree that stains can't. For example, bright whites and dark blues are easy to achieve with paints and challenging for stains. On the other hand, painted finishes require more care, are generally more prone to show damage, and cost approximately 10-15% more.
If you want to learn more detail about these key differences, visit our article on "Stained vs. Painted Cabinets".
Interested in customizing your cabinets even further? Deslaurier's colour-matching program can create a custom paint or stain in any colour you choose.
If you're having a hard time settling on a colour, you may want to read how to choose a colour for your kitchen cabinets.
Cabinet Door Style
The style of your cabinet doors is integral to a kitchen's design. Modern kitchen designs tend to use minimalistic slab doors while traditional kitchen designs typically include more ornate and decorative styles, like high-arched, raised panel doors.
At Deslaurier, we have five best-selling door styles that continue to be popular picks year after year:
Brookfield

Northfield

Crestfield

Canfield

Lichfield

In total, Deslaurier offers over 70 unique styles, ranging from raised panel doors to shaker doors to slab doors. You can also choose doors with five-piece or one-piece construction or explore unique materials like thermofoil and high-pressure laminate in our modern line.
Cabinet Hardware
Cabinet hardware is a small-but-mighty feature in a cabinetry system. It's a seemingly small item that has a massive impact. It's fun to get creative and express yourself through knobs, pulls, and everything in between.
There are six key considerations that you want to prioritize when choosing hardware, namely:
Type
Feel
Function
Style
Finish
Size
These categories work like filters. Once you have a clear desire in each of these six areas, you'll narrow down your options to just a handful. From there, you should be able to finalize your hardware selection with ease.
For a complete breakdown on these categories, read our article on how to choose cabinet hardware.
Kitchen Countertops
Few pieces of a kitchen design can elevate a room like a countertop. It's no surprise, then, that homeowners have a tough time deciding which kind of surface they want to display in their brand-new renovation.
At Deslaurier, you have no small selection to choose from, either. Thanks to our world-renowned suppliers, we offer:
Marble countertops
Butcher block countertops
Solid surface stones like quartz, granite, and marble tend to be more costly than other materials like butcher block and laminate.
| | |
| --- | --- |
| Countertop Material | Average Cost (per sq. ft.) |
| Laminate | $20 - $50 |
| Engineered Quartz | $80 - $180 |
| Marble | $80 - $250 |
| Granite | $75 - $200 |
| Butcher Block | $35 - $100 |
| Stainless Steel | $80 - $150 |
Cost aside, each variety of countertop requires different levels of maintenance and provides different levels of stain- and heat-resistance. You'll need to evaluate what characteristics are most important to you.
Explore the best countertops for your kitchen, a detailed comparison of quartz vs. granite, the differences between polished vs. honed vs. leathered countertops, and the 5 best-selling countertops at Deslaurier, for more information.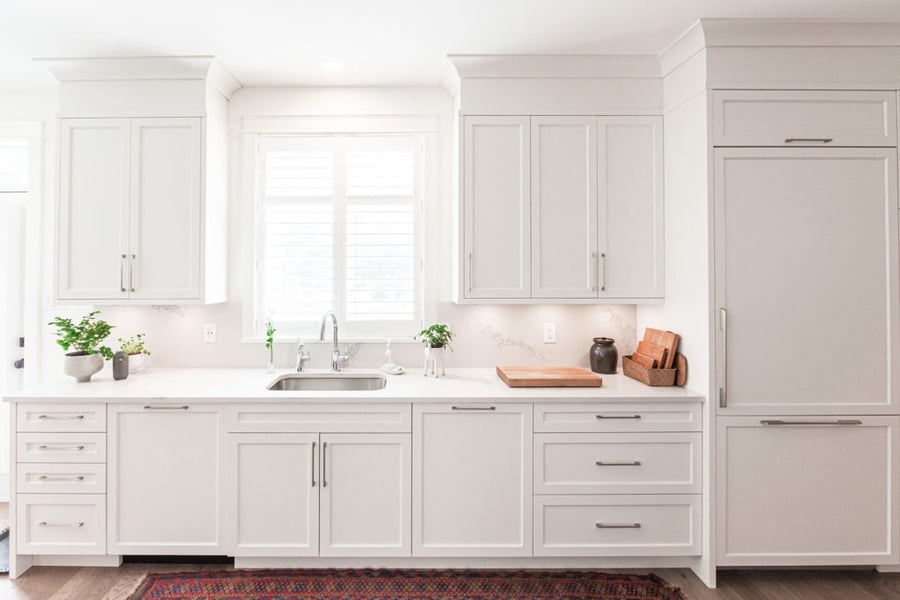 Other Design Selections of a Kitchen Renovation
Please remember that this isn't a comprehensive list of everything your kitchen will need. There are other products for which you'll need to find independent suppliers, including: Flooring, Appliances, and Lighting.
Although Deslaurier does not supply these products directly, our design team has a wealth of industry knowledge (60+ years to be precise). Don't hesitate to ask your designer for recommendations of third-party suppliers in Ottawa.
Kitchen Flooring
With so much daily foot traffic in the kitchen, selecting your flooring can be a vital decision. Thankfully, you're not short on options. There are plenty of available flooring materials to choose from, from hardwood and tile, to man-made alternatives like laminate or vinyl!
For more, check out our article on the Top 5 Kitchen Floors for New-Builds and Remodels.
Kitchen Appliances
Kitchen appliances are the bread and butter of a kitchen remodel. What's the kitchen for anyway if not the place to access and use your fridge, cooktop, and oven? Finding the right appliances can make cooking in the kitchen easier and more accessible than ever!
Worried about finding the right appliances for your new kitchen? Check out our article on How to Choose Appliances for a Kitchen Renovation.
You can even have your appliances built into your cabinetry or accentuated with overlay paneling: Built-In Kitchen Appliances: Should I Buy an Overlay or Integrated Appliance?
Kitchen Lighting
Properly lighting a kitchen space can make all your kitchen-centred activities bright and easy. Without a doubt, lighting is one of the most effective ways to energize a kitchen!
From a practical standpoint, proper illumination is necessary to build a multifunctional space that accommodates such a variety of tasks. Adequate lighting allows you to cook, clean, and entertain with ease.
Check out our article on How to Plan Lighting for Your Kitchen.
Deslaurier: Your Source for Kitchen Renovation Knowledge
Kitchen renovations demand a lot of thought, preparation, and work. If it's your first time re-doing your kitchen, it can be difficult to know where to start. Hopefully this guide will serve as a launching pad to start you on the path to your dream kitchen.
Deslaurier Custom Cabinets has been a leading cabinet maker in the industry since 1979. We strive to be the authoritative source for all things kitchen renovations in Ottawa.
We'd be happy to answer any questions you may have on your journey to a personalized, high-quality kitchen. Drop us a line at our Ottawa location or schedule a free initial design consultation today!