24/08/2021 • Blog
How to Use Pinterest for Your Kitchen Renovation
Gone are the days where you had to thumb through stacks of magazines to find the newest trends in kitchen design.
Pinterest is a free online tool perfect for the design lover and especially the soon-to-be kitchen renovator. In this article, the Deslaurier design team weighs in on the best ways to use Pinterest when planning a kitchen reno.
Let's get pinning!
What is Pinterest?
Pinterest is a free online tool with literally millions upon millions of inspirational images for you to explore. Much like Google is a search engine, Pinterest is, in the company's own words, a "visual discovery engine". Once you sign up for a free account, you can easily search and save images that inspire you.
With the worldwide web at your fingertips, planning a kitchen reno is easier than ever.
How Does Pinterest Work?
Pinterest is very simple to use once you understand the basic terminology and functions.
To use Pinterest, you'll need to know the meaning of a "Pin", "Board", and "Following".
Creating a Pinterest Board
A Pinterest Board is comparable to a folder on your personal computer. For instance, if you store all your photos on your laptop, you might have various folders, either named by the year they were taken (ie. Photos 2018) or the event where they were taken (ie. Grandma's 75th Birthday).
A Board works the same way. Here, we can see Jane Doe created a Board called "My Dream Kitchen Reno".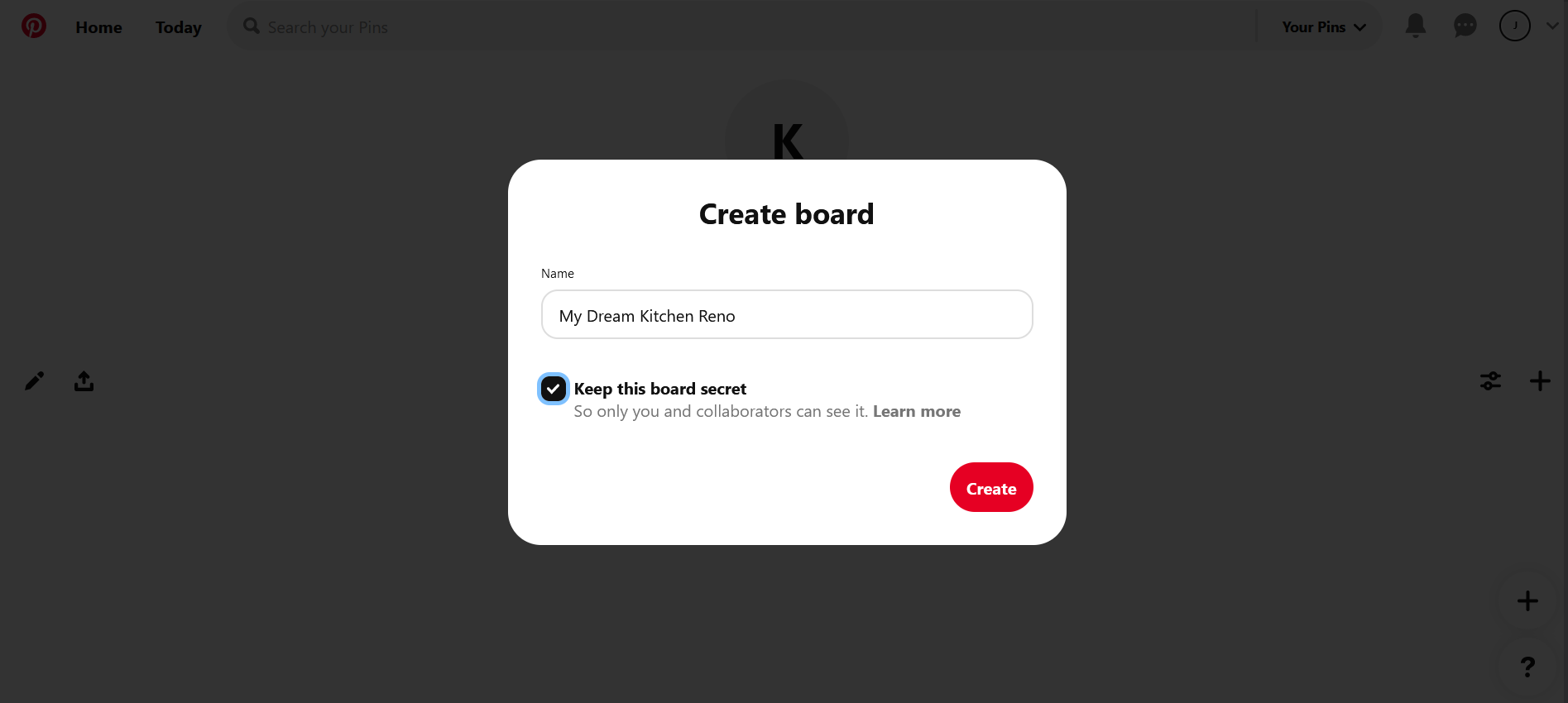 Now, just like any other digital asset, organization is key. You want to be able to easily navigate through the inspirational pictures you find. If you have only one Board called "Kitchen Design", you'll probably end up saving so many images there that you'll be more confused about what you want than when you started.
That's why it's smart to create different sections within your Board. We recommend starting off your search with one Board and a few basic sections already in place.
On Jane Doe's account, she's started with four separate sections in her "My Dream Kitchen Reno" Board, including:
Kitchen Cabinets
Kitchen Cabinet Hardware
Kitchen Countertops
Kitchen Backsplash
You can start with more or fewer sections if you like, but these four will give you a solid foundation for planning the different elements of your remodel. The + sign at the bottom of the screen is how you add a section.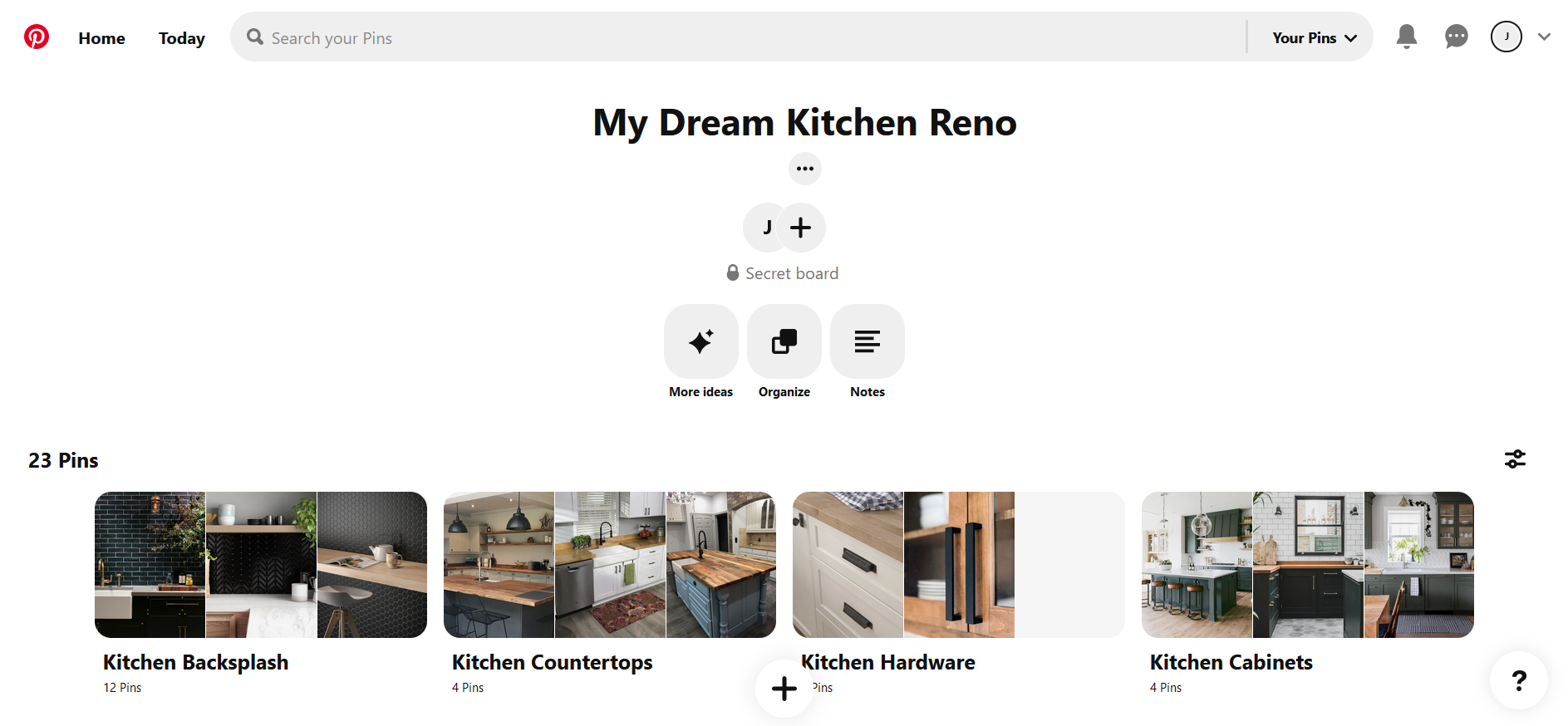 Saving Pins to Your Board
To search for images, all you have to do is type a keyword into the search bar at the top of the screen. In that sense, Pinterest works much like any other search engine, such as Google, Yahoo, or Bing.
For instance, you can start by searching a generic phrase like "kitchen design ideas". Scroll through the results and have fun exploring everything that comes up.
Once you start to understand what you like, you can narrow down your search by typing more niche keywords like "white kitchen design ideas" or "farmhouse kitchen design ideas". The more specific your keywords, the more accurate your results will be.
When you find something you want to pin, click on the image, click the drop down menu, and then just hit the red save button next to the section where you want to pin it.
Alternatively, you can just click the red save button on the top. That will save the picture to your Board and then you can organize your saved images into the correct sections later.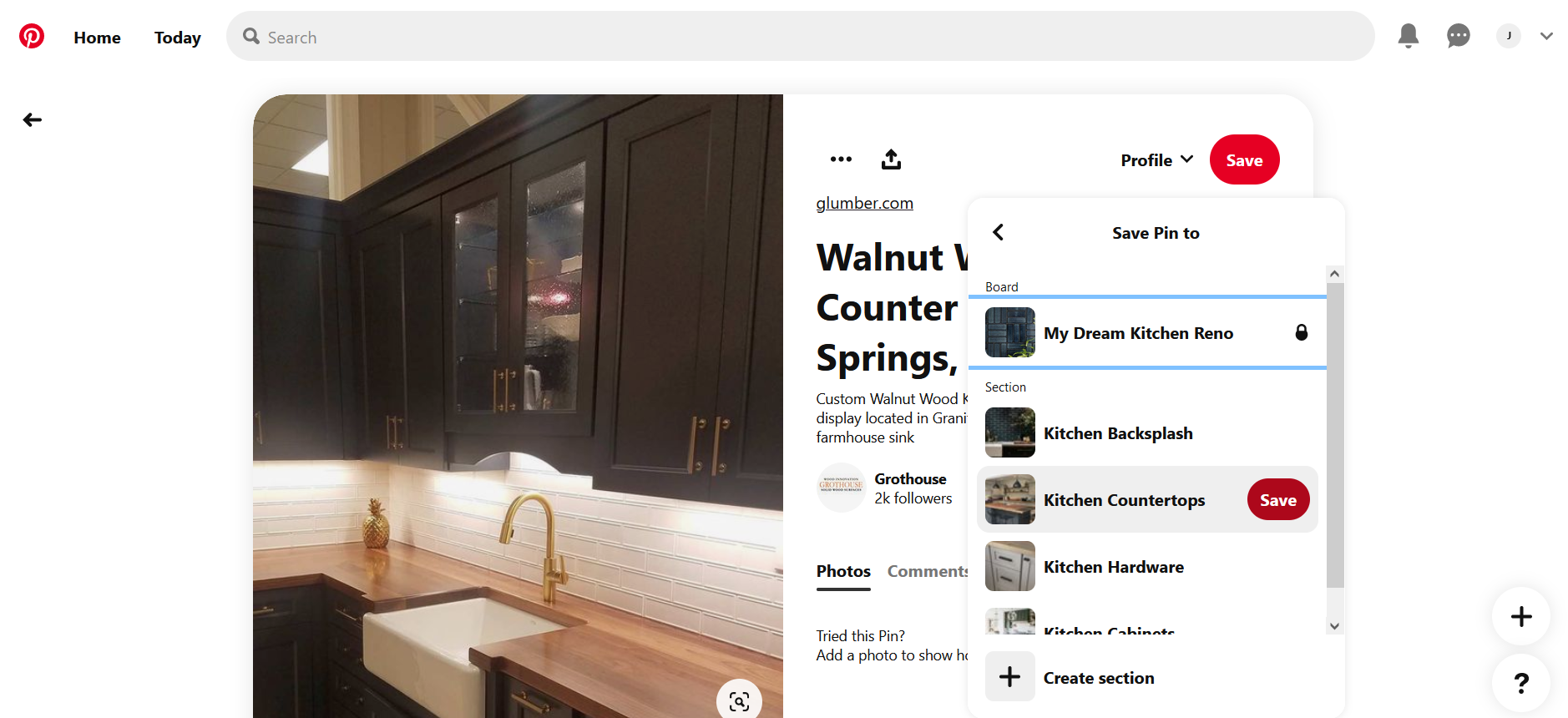 "Pin" refers to both the image you've saved, and the action of saving it to your Board. In other words, it's both a noun and a verb.
Technically, a Pin is also a link to another website on the internet. If you want to do additional research on the product you see in the image, you can follow the attached link to see the original source of the item, be it a blog, retail store, or designer's portfolio.
Following Other Pinterest Boards
While you're hard at work creating your own Board from scratch, don't forget that you can speed along the process by following the Boards of other Pinterest users!
Many different kinds of people and organizations use Pinterest. There are companies, interior designers, photographers, DIYers, and just regular people who love design using Pinterest.
If you stumble across a picture that you absolutely adore, you might want to check out who posted the image, and then visit their Board. If the Board is full of more pins that fit your style, you can capitalize on the "Follow" feature.
"Following" a Board means that you're inviting that user's pins to show up on your feed, and you're more likely to find new inspiration that speaks to you.
In the screenshot below, you can see the grey "Follow" button to the right-hand side of the user's profile name: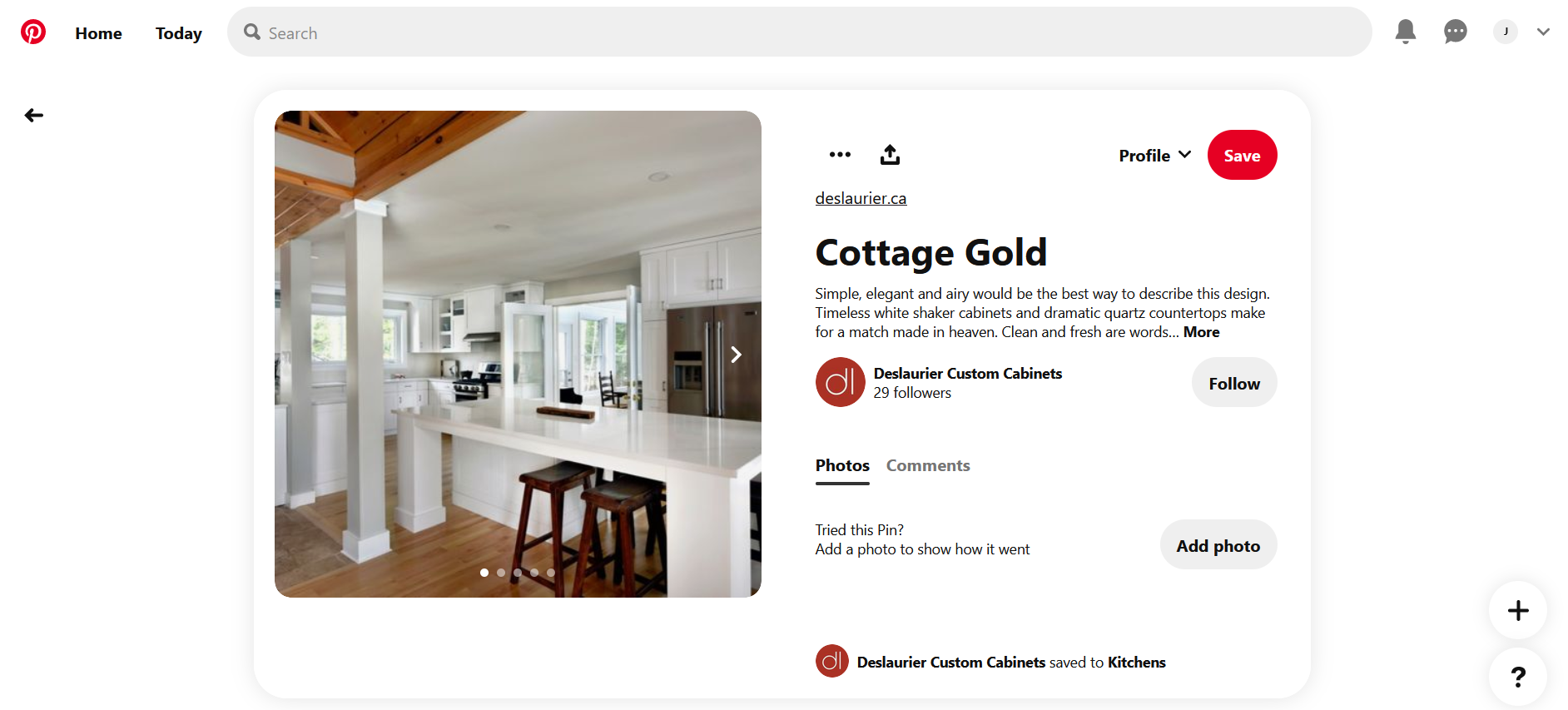 For kitchen design inspiration, be sure to check out and follow Deslaurier's Pinterest page!
Gaining Pinterest Followers
Following works the other way around, too. If someone discovers your Board and likes your design taste, they can follow you.
If you'd prefer not to have followers, you can always set your Board to private. That way, your Board will only be accessible to you, and the people you choose to share it with.
Of course, you'll definitely want to share your Board with your designer!
The Strategy Behind Designing a Pinterest Kitchen
The first rule for the Pinterest beginner is: don't be afraid to pin! When you're new at using Pinterest, save everything that strikes your fancy or makes you stop scrolling. You can always delete pins later, so there's no harm in casting a wide net when first starting out.
Once you've tired yourself out by scrolling through (it does happen), go back to your profile and analyze the pictures you've pinned.
Be on the lookout for any patterns and similarities. Finding out what each pin has in common will help you better understand what you want in your kitchen.
For example, let's look at the Kitchen Backsplash section that Jane Doe started: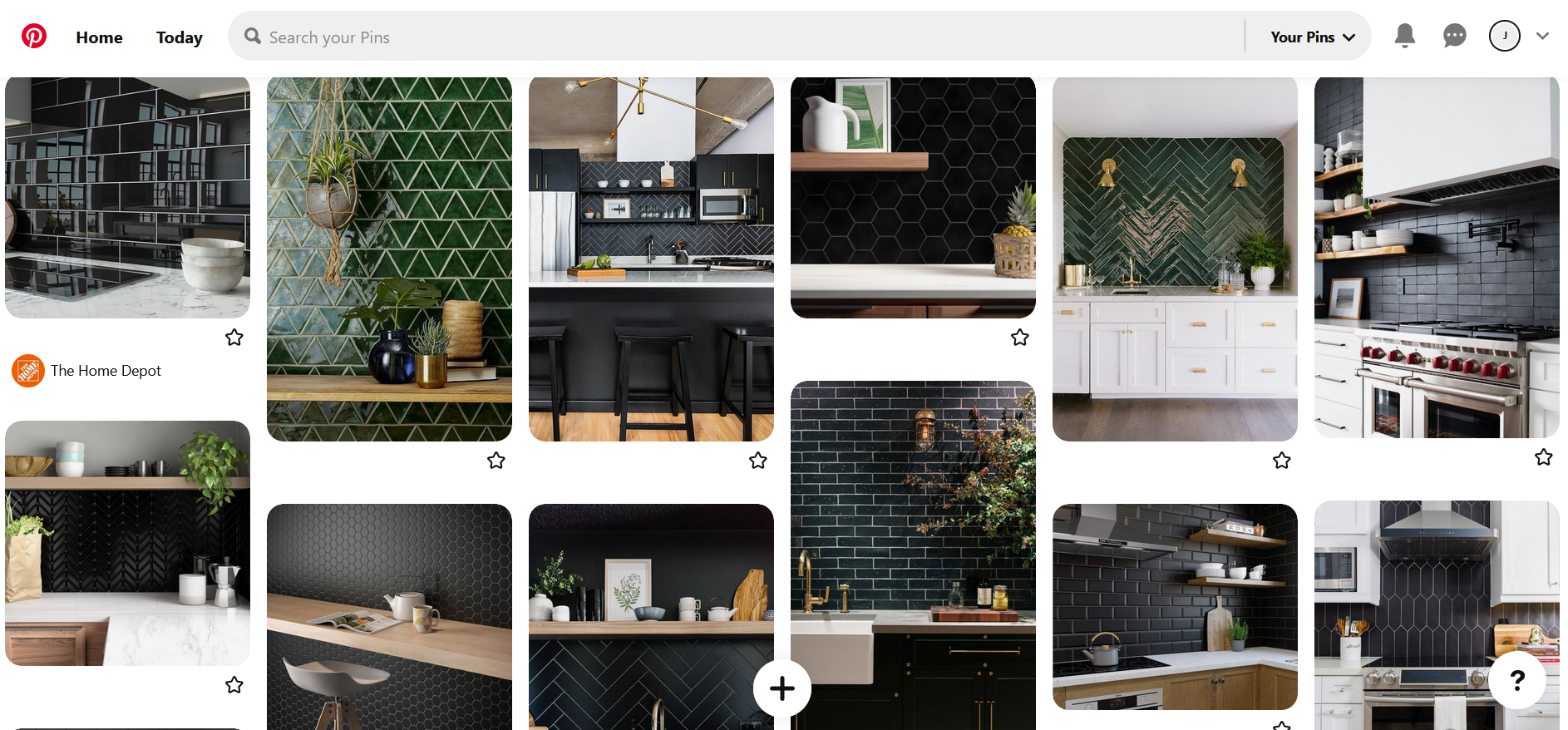 There are a few dark green tiled backsplashes sprinkled through the mix, but the overwhelming majority of pins feature a black backsplash. Plus, most of the backsplashes have a unique tiled pattern. However, there seems to be a pretty even divide between matte and polished tiles.
What does this mean for Jane? Well, it means she probably wants a black backsplash. And maybe she'll also want to consider incorporating the colour green somewhere else in her kitchen, perhaps with forest green base cabinets or natural green foliage as décor.
It also means that she'll have to do more thinking about whether she wants a polished or matte finish for her backsplash. Lastly, it means she'll need to do more research about what tiling patterns are out there, and which she prefers the most.
As you can see, the beauty of Pinterest is not just that it helps answer questions, but it also helps raise questions that you wouldn't have thought to ask yourself otherwise.
If you're working with a designer, having a Pinterest Board is an invaluable tool for expressing your likes and dislikes. As they say, a picture is worth a thousand words—why explain what you want to your designer when you can show them?
Setting Realistic Pinterest Kitchen Reno Budget Expectations
Beware! Pinterest does have a few hidden traps that every homeowner should be on guard against. It's all too easy to get swept up in the excitement of pinning spectacular, gorgeous, freshly renovated kitchens to your Boards, that you end up throwing your budget out the window.
Before you fall head over heels for a $100,000 kitchen that you can't afford, be realistic with yourself about your budget.
This is another reason we recommend creating multiple sections within a Board and going Pinterest-shopping only for specific design elements at a time. Instead of pointing at an entire kitchen and saying, "I want to build an exact replica of this kitchen", try to pick out individual elements of the design that you love.
That way, if you discover your favourite Pinterest kitchen is outside of your price range, you can at least shop for look-alike products that can recreate the aesthetic while staying within your target budget.
This is not to say that you can't admire pictures of kitchens as a whole. Full kitchen pins are useful to understand how different elements of design like cabinets, countertops, and hardware work together.
What you need to keep in mind though is that Pinterest images are designed to show the best of the best. Pinterest kitchens are very often made up of top-of-the-line, luxurious products (not to mention the photographers have professional lighting and staging to boot). In other words, use Pinterest kitchens for inspiration only. If you try to build a carbon copy of a Pin, you'll either end up disappointed, or spending more than you bargained for.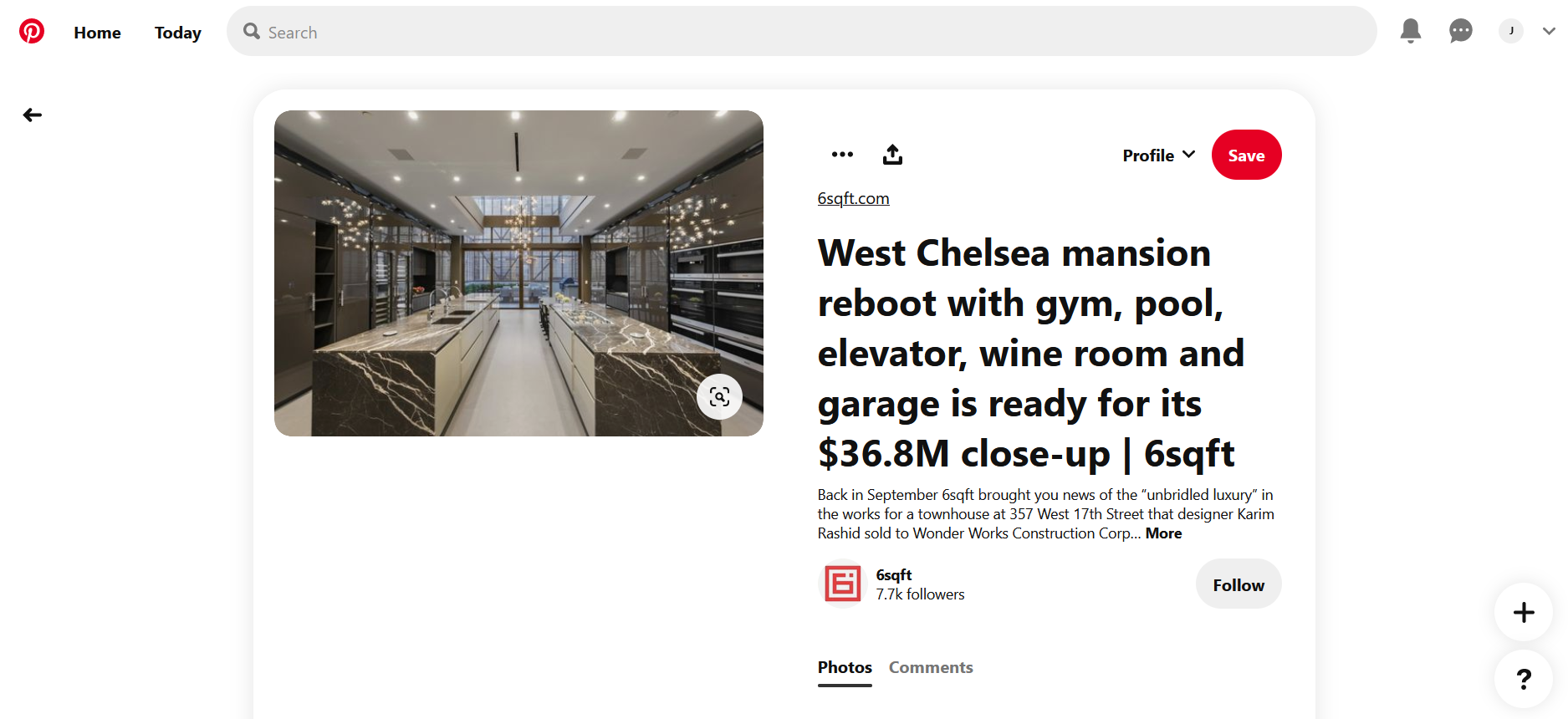 Click to learn more about how much a kitchen renovation costs.
Design With Deslaurier
Starting a kitchen reno is an exciting time, and our team at Deslaurier Custom Cabinets is thrilled to be a part of it. Check out our online Learning Centre for more informative articles all about kitchen design.
If you live in Ottawa, book a free consultation with one of our designers to begin making your Pinterest Board a reality! If you live outside the Ottawa area, use our Find a Dealer tool to discover the Deslaurier advantage close to home.
Related Links: