Estimated Read Time: 6 Minutes
When decorating your kitchen, one of the most important visual elements to consider is creating harmony between your kitchen cabinets and backsplash.
A well-chosen backsplash can be the finishing touch that brings your kitchen cabinets together.
However, finding the right combination can be a challenge. Factors such as colour, style, and material should all be considered to create a cohesive and aesthetically pleasing design.
At Deslaurier Custom Cabinets, we specialize in high-quality custom cabinetry solutions that look great and perform even better. In doing so, we know how important it is for clients to determine the perfect backsplash selection for their kitchen.
In this blog post, Deslaurier designer, Vanessa Horwat, offers her expertise on what you should consider when pairing backsplash with your kitchen cabinets.
Let's get started!
Benefits of a Kitchen Backsplash
Most designers will recommend that you use a backsplash because they prevent water, grease, and other liquids from damaging the wall behind it.
Especially for areas behind a sink or stovetop, where liquid splashes or grease splatters are commonplace, a kitchen backsplash doesn't just look great, but actually safeguards your walls!
Backsplashes are easy to clean and maintain. Instead of having to constantly scrub and repaint your walls, you can simply wipe down your backsplash with a damp cloth or sponge.
This not only saves you time and effort but also helps to keep your kitchen looking fresh and new for years to come. Another benefit of a backsplash is that it can enhance the overall value of your home.
By upgrading your kitchen with a high-quality backsplash, you can increase your home's resale value and make it more appealing to potential buyers.
This is especially important if you're planning to sell your home in the future, as a well-designed and functional kitchen can be a major selling point for many homebuyers.
Do you actually need a kitchen backsplash?
No. Strictly speaking, at least. You don't need a backsplash in the same way you need a sink or a countertop in your kitchen.
While backsplashes aren't a mandatory component of a kitchen design, they certainly are a useful one.
Backsplash Material
When it comes to kitchen backsplash options, you'll find a wide range of materials to choose from. From classic ceramic and stone to modern glass and stainless steel, there are plenty of choices available to suit any style or budget.
Contemporary kitchens will feature a lot of slab stone or quartz backsplash. However, they're typically a more expensive option than tile.
That being said, tile – and specifically the cost of tile installation – can end up being quite expensive in the long run, as well.
For that reason, focus on which material provides you with the best backsplash selection to choose from. From there, you can find an option that best fits your budget.
Backsplash Ideas with White Cabinets
Let's start by focusing on white cabinetry. After all, they're by far the most popular kitchen cabinet colour and a timeless feature you can include in any design style.
For the most part, white cabinets will probably be paired with white or off-white countertops. So, what do you do for the backsplash tile?
For starters, you're not going to get the same white on your backsplash that you have for your cabinets. You can put the same finish on both, but the two distinctly different materials mean the colour won't have the same look.
Instead, you can try keeping the backsplash white but making it "different" from your white cabinets.
"Do it intentionally, rather than like you tried to match the white perfectly but failed." -Vanessa Horwat
Try playing with the finish of the tile. Pick something that has a shiny, glossy aesthetic, or even a slightly matte, textured surface.
This will help differentiate the backsplash tile from the cabinets and countertops while keeping it within the same general colour scheme.
Of course, you can always go with a bolder selection!
White cabinets offer the perfect opportunity to use your backsplash as an eye-catching accent piece. You can incorporate a tile with pops of colour and intricate patterns, or use a stone slab to match your countertop surfaces.
Don't Try to "Match" the Cabinet Colour
As we mentioned about white cabinetry, the best approach to pairing your backsplash and kitchen cabinets is to avoid consciously trying to match them.
That same principle rings true for any colour of cabinetry, not just white.
As Vanessa mentions, there's another reason to be hesitant about trying to match the colours:
"I wouldn't try to tie a colour into the backsplash – it can end up looking a little dated" - Horwat
Let's use blue cabinets as an example. Attempting to tie the same blue as your cabinets into your corresponding backsplash can backfire.
It creates a particularly "busy" visual and won't have that timeless appeal ten or fifteen years down the road.
If you do have your heart set on harmonizing the colour between your backsplash and cabinets, do so with a different shade.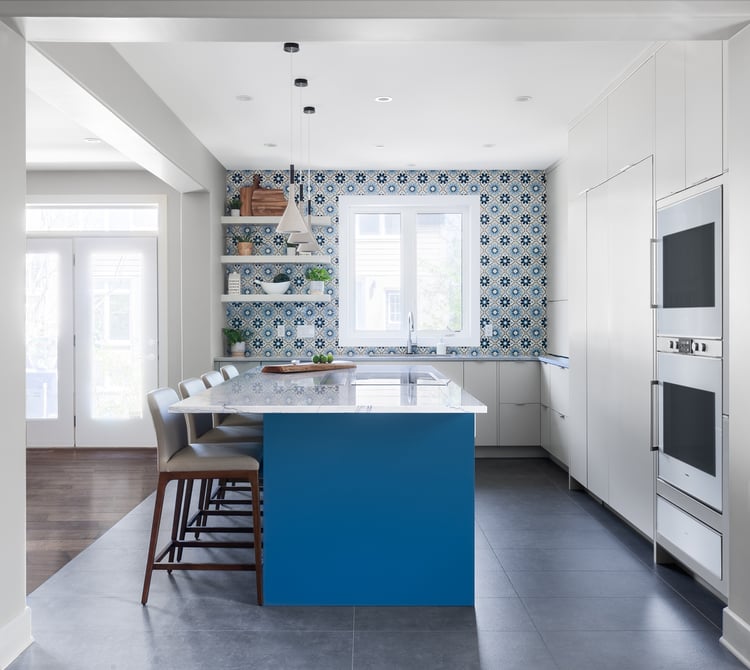 Take the photo above, from Whimsical in Westboro, for example.
The island's bright blue cabinetry immediately pops when you look at this design. Instead of directly matching that tone, the patterned backsplash tile incorporates several other shades of blue.
This helps link the island with the backsplash by keeping them in the same colour family, while still allowing both elements to function uniquely on their own.
Neutral Backsplash with Dark Cabinets
In theory, the bolder the cabinet colour the more subdued your backsplash should be.
There's a reason why neutral colour schemes are a classic feature in kitchen design. Their timeless appeal brings versatility to the entire process, rather than making you feel cornered in what choices you can make.
"A neutral backsplash can go with anything. It gives you a lot of flexibility" - Horwat
Neutral doesn't have to mean "boring" either. A neutral backsplash can manifest itself in a number of ways, depending on the cabinetry it's paired with.
If you have dark-painted cabinetry, consider a slab stone backsplash like quartz or marble. The natural veining in the stone adds a pop of personality while still providing a white or off-white backsplash.
Stained cabinets with a wood grain aesthetic won't want that natural stone veining, as the two unique patterns on the cabinet and backsplash will clash. Instead, this is where indulging in a truly neutral tile backsplash is the perfect fit.
It allows the stunning wood grain visuals to be at the forefront of your kitchen design, with the light and subtle backsplash tile offering a complementary accent piece.
Consider the Style of Your Cabinets
It's not just the colour of your cabinets that you need to consider, but also the door style and accompanying millwork as well!
The style of your kitchen cabinets will influence a number of design decisions, particularly when choosing a backsplash.
For example, if you have traditional-style cabinets, you may want to go for a classic subway tile or a mosaic tile.
If you have modern-style cabinets, consider a sleek and contemporary backsplash, like a quartz slab or even glass tile.
This is where working with a kitchen designer or an interior decorator is extremely beneficial. They'll offer their expertise on which backsplash style meshes with your cabinetry design and help you settle on a selection that harmonizes with the rest of your kitchen's sensibilities.
Get Creative with the Tile
There are plenty of ways to work with backsplash tile to create a unique design for your kitchen walls.
You can create some really unique looks by playing with the pattern and line of the tile without making the backsplash itself super different.
Distinctive patterns like mosaic tiles are always a classic, for example. Or simply playing with the tile line can help to create the visual interest of separating your backsplash from the cabinets and countertops.
Having the tile go vertically or horizontally, whichever you prefer, can make a huge difference in the finished product of your kitchen backsplash.
These subtle choices can be the perfect avenue to combine your backsplash with your cabinetry and help set your kitchen apart.
Always Compare Physical Samples
For many homeowners, it's hard to imagine your backsplash before everything in your kitchen is in place.
It's much easier to envision the final product once the floors have hardwood and the walls are furnished with beautiful cabinetry.
However, waiting this long to pick your backsplash will extend your project further. Unless you plan on turning your backsplash into a DIY project, most new builds or renovations will require your backsplash selection during the design process.
That's where physical samples come in!
"It's always suggested to bring in all of your samples and compare!" - Horwat
This is encouraged throughout your design process. You'll want physical, in-person comparisons to see how each element of your kitchen design will play off one another in real lighting.
Just because you like how one tile choice looks, doesn't mean it will mesh well with the other design elements in your kitchen. Seeing examples on a computer or in a catalogue isn't quite the same as how they will interact in person.
Always compare your samples so you know exactly what you're getting before it's already installed in your home.
Design with Deslaurier Custom Cabinets
As you can see, pairing a backsplash with your kitchen cabinets isn't a one-size-fits-all process. The colour, material, and style of your cabinets all play a role in determining which backsplash selection is right for your kitchen.
If you're looking for custom cabinetry and kitchen design services, Deslaurier has everything you need. We provide our clients with a fully customized design process with our talented team of designers.
Book a consultation with a Deslaurier kitchen expert at our Ottawa showroom, or online in a one-on-one virtual meeting!
Live outside the area? Find a Dealer to connect with a Deslaurier dealer near you! Interested in becoming an authorized Deslaurier dealer? Visit our Become a Dealer page to learn more!