22/03/2022 • Blog, Design Tips
Should You Put a Sink in Your Kitchen Island? 7 Factors to Consider
Estimated read time: 6 minutes ( 1500 words)
The kitchen island is designed to be the focal point of your kitchen. Located in the centre of your kitchen, the island is the hub of all kitchen activity.
Moreover, the kitchen island provides a place for smaller appliances, additional kitchen storage, the ability to include dining seating, and, yes, even a place for your kitchen sink.
At Deslaurier, we're experts in all things custom cabinetry. During the kitchen design process, our clients often ask us about their kitchen sink placement. Should they put their sink along the wall or in the island? Should their island hold their primary kitchen sink or a smaller prep sink?
Like with many other kitchen design aspects, there isn't a right or wrong answer. It comes down to personal design preference and the way you want your kitchen to function.
With that, let's discuss the top 7 factors to consider when deciding whether or not to put a kitchen sink on your island.

It's the Social Hub of the Kitchen
The kitchen island is a place for socializing.
Often incorporated with casual seating, the kitchen island acts as the focal point of the room.
When you also consider the fact that we spend most of our time in the kitchen prepping and cleaning by the sink, putting your sink in the island allows you to socialize while preparing meals or cleaning up.
Additionally, keep in mind that the kitchen island sink has no overhead obstruction or upper wall cabinets. This allows you to look freely across the island or chat with guests, as opposed to having your back turned facing a wall while preparing a meal.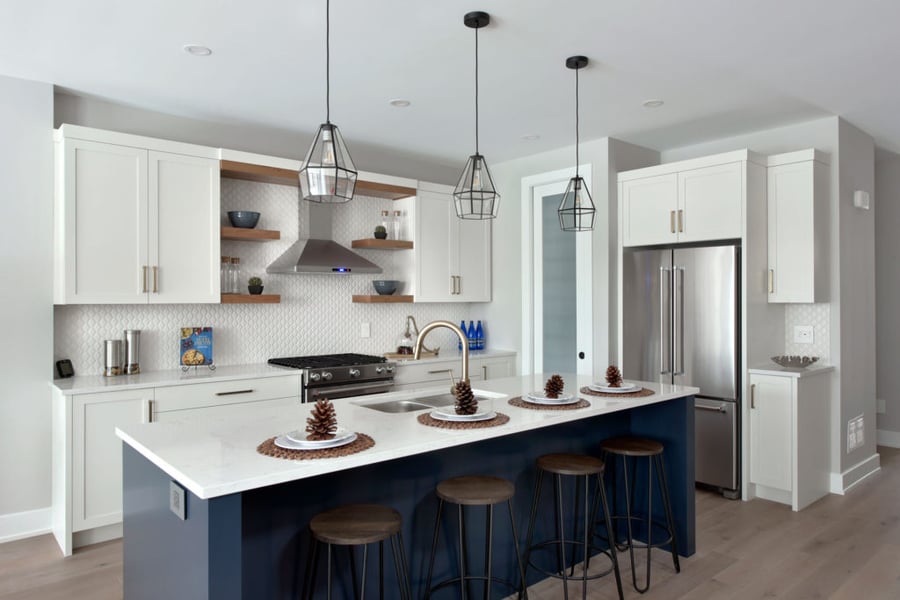 Kitchen Wall Space Is Valuable
Kitchen countertop space is a hot commodity.
Especially the counter space along the perimeter walls of the kitchen, which is typically where the oven, stove, and refrigerator are located. This leaves little available countertop space.
Adding to that, some of the traditional countertop accessories like a microwave, toaster, blender, and coffee machine, make finding the appropriate amount of room for a sink and prep area a difficult task.
Moving the sink to the kitchen island helps to de-clutter the rest of the kitchen's countertops.
Consider the Type of Sink
The type of kitchen sink you choose for your island will also have a large impact on its overall function and design.
Be it a topmount, undermount, or farmhouse sink; your primary kitchen sink, or a secondary prep sink; each option is unique when it comes to an island placement.
Primary Kitchen Sink
The kitchen island is a great spot for your primary sink. If you're an avid cook it allows you to designate a large space for your kitchen work station (more on that below).
When planning for your primary sink to be located in your island, the main concern is the space you'll need.
You'll not only need to have a large island to hold a primary sink, but you'll also need a large kitchen with enough room to comfortably incorporate that island.
Not sure if your kitchen has the room? Check for yourself by reading out our step-by-step guide on how to measure your kitchen!
Secondary or Prep Kitchen Sink
The kitchen island is a perfect place for a small secondary or prep sink, especially if your primary sink is located among the wall cabinets.
It won't take up as much space as a bulkier primary kitchen sink, which saves some island on countertop space which is in high demand. Especially if your island is limited in size, or utilizes kitchen island seating, having the extra countertop space is extremely valuable.
This placement also allows you to focus your prep station on a smaller sink, and to use your primary sink for cleaning and washing.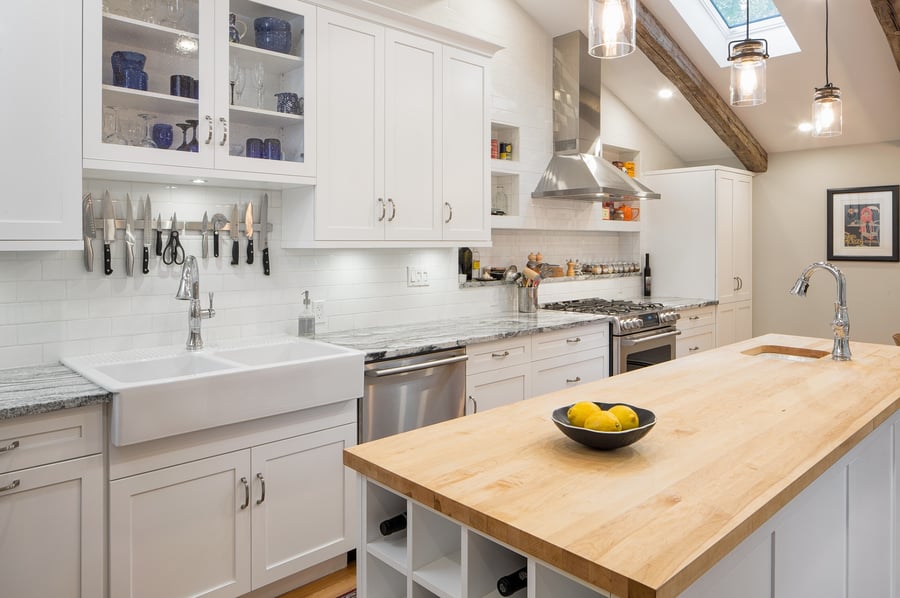 The kitchen island has been transformed into the ultimate kitchen-prep area. It utilizes a durable butcher-block surface for any meal prep and clean-up needs, has a small prep sink included, all while the primary kitchen sink remains on the perimeter wall.
Although uncommon due to the necessary space needed, some people actually put two sinks in their kitchen island.
If your island is large enough, you can even incorporate both your primary and secondary kitchen sinks into it. Dedicate the larger one for general use and clean-up, and employ the smaller secondary sink to be strictly used for kitchen prep.
Using the Island as Your Kitchen Workstation
One of the main benefits of having a sink in your kitchen island is the overall functionality and versatility it provides the entire kitchen.
Having your main kitchen sink located in the island also provides you with a good opportunity to utilize the kitchen work triangle. The kitchen work triangle is a long-established kitchen design principle that was created to save money and increase overall efficiency while working in the kitchen.
The concept is based around the three main kitchen work areas: the fridge, the stove, and the sink. These three work areas are then positioned to loosely form a triangle, allowing the user to move seamlessly from one kitchen working area to the next with ease.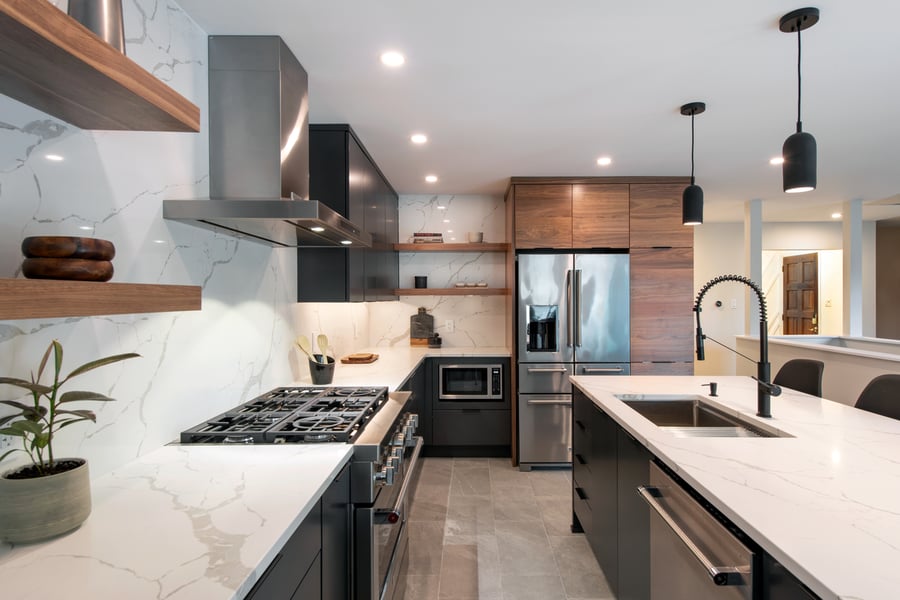 Having your kitchen sink located in your island helps employ this design principle by removing the sink from a wall and situating it in a central island position.
The kitchen work triangle isn't for everyone, with modern-day households often having multiple cooks in the kitchen together. Even without the kitchen work triangle concept, having your primary sink located in the island provides numerous other functional benefits for a kitchen island workstation.
Position Your Island Appliances and Accessories Nearby
Incorporating a sink into your kitchen island is not a one-step process.
If the island does become your primary kitchen workstation, you'll need to accompany the sink with the necessary appliances and accessories for a functional kitchen.
For example, you should have garbage, recycle, and compost nearby to dispose of any food scraps while cooking meals. Garbage and compost receptacles can be put underneath the sink, while a cabinet with pull-out recycling containers can be implemented to the left or right.
Further, it is recommended to position your dishwasher beside the island sink. This one is fairly self-explanatory. It is a simple step in the island design process that will remove any unnecessary messes from moving dripping dishes and pans throughout the kitchen.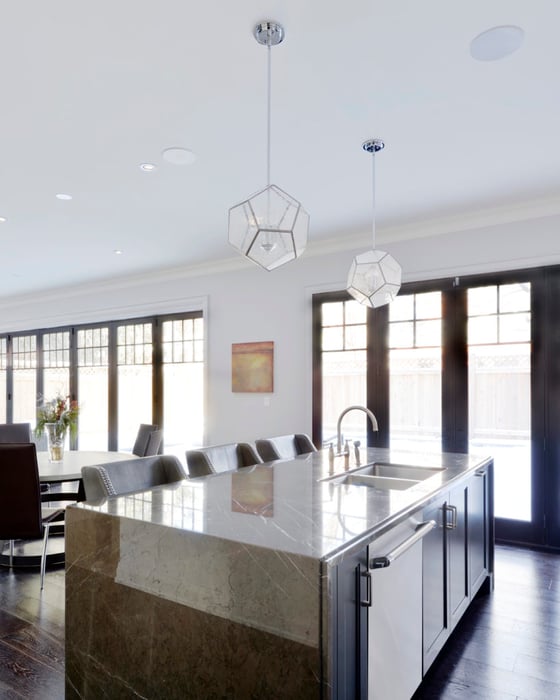 The dishwasher will also require plumbing work, which helps locate all of your island's plumbing in one location.
Incorporating these simple island layout maneuvers will add everyday convenience to your kitchen's overall functionality.
Island Sinks Come With Additional Work and Expenses
A large primary sink, such as a farmhouse style sink, will influence the entire layout of your kitchen island.
The main issue will be incorporating the required plumbing underneath the island, as the plumbing will come up through the floor in the centre of the room.

This shouldn't be an issue for a full-scale kitchen reno or a new build, but if you're thinking about adding an island to your existing kitchen, you should be prepared for the additional construction work that comes with it.
Adding a sink will also affect your island's countertop. You will need additional countertop space and a cutout of the countertop to fit the sink in.
Additionally, your kitchen cabinets will also have to work around the sink. Many primary kitchen sinks require larger base cabinets to accompany their width or depth.
Especially with larger undermount or farmhouse sinks, your island may require custom base cabinets to support the weight and size of the sink. In turn, this will have a domino effect on the island's overall layout.
Island Sinks Can Be A Mess Magnet
With so much cooking prep and clean-up localized in one area, the kitchen island can become a hotspot for daily messes. Be it crumbs and food scraps, or the excess water from washing dishes, the area around your sink will no doubt require routine cleaning.
Not to worry! There are ways your sink choice can help alleviate some of this disarray. Having an undermount sink is by far the most convenient installation method for quick cleaning.
Undermount sinks look sleeker and are easier to clean than top-mount or farmhouse sinks. That's because they don't have a lip or rim - they are installed underneath the countertop. This allows for any countertop debris to be easily brushed or wiped into the sink.
While that can alleviate some of the mess from your kitchen island workstation, the clutter and disarray can accumulate fast. Unfortunately, that's just one of the drawbacks that comes with having a sink in your kitchen island.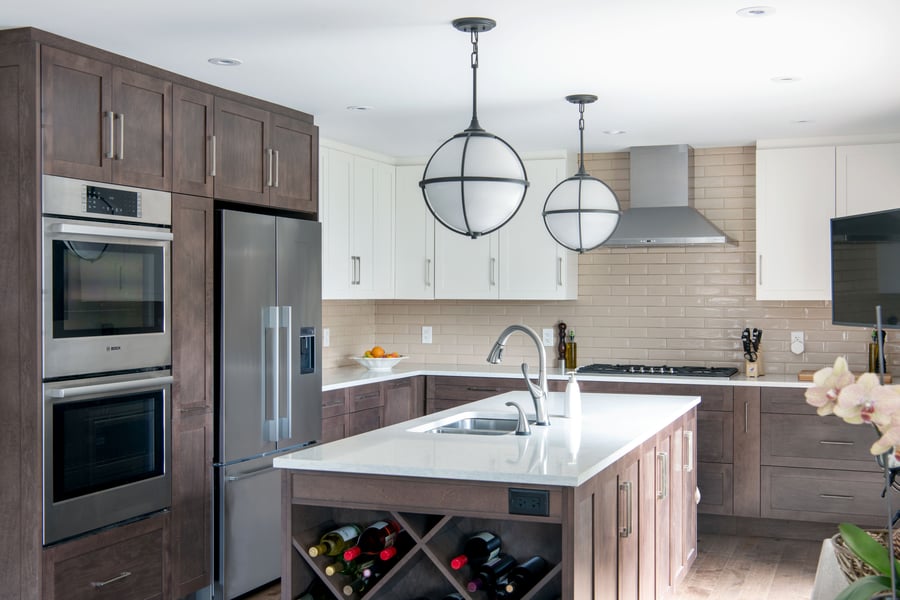 Should You Put A Sink In Your Kitchen Island?
So, should you put a sink in your kitchen island?
Ultimately, that decision is up to you!
By now, you know the advantages, disadvantages, and everything that comes with putting a sink in your kitchen island.
If you have enough space for a larger island, it can be a great location for your primary kitchen sink and general workstation.
If your island is restricted, going with a small prep sink, or no sink at all, may be what you need instead.
Design With Deslaurier Custom Cabinets
Want to see how a kitchen sink will look in your custom island design? Book a free consultation with a Deslaurier kitchen expert at our Ottawa showroom!
If you have your eye on custom cabinetry, Deslaurier Custom Cabinets has everything you need. With over 40 years of experience to our name, we provide our clients with a wholly customized design process with our talented team of designers.
Interested in becoming an authorized Deslaurier dealer? Visit our Become a Dealer page to learn more! Live outside the area? Find a Dealer to connect with a Deslaurier dealer near you!