Estimated Read Time: 6 Minutes
If you're in the midst of a new build or kitchen renovation, you're most likely discovering that selecting the right kitchen cabinets for your home can be a lengthy process.
One of the driving forces of successful cabinet selection is finding a material that fits into your price range. The last thing you want is to fall in love with a cabinet material only to find out its lavish price tag is out of your budget.
At Deslaurier Custom Cabinets, we have over 40 years of experience specializing in providing our clients with high-quality, long-lasting kitchen cabinets. In that time, we've worked with clients to help them select the perfect wood species for their kitchen cabinets and their budgets.
With that, this article will detail 5 of the more expensive wood species you'll find popularly used for kitchen cabinets.
Let's get started!

What Makes a Wood Species Expensive?
There are several reasons why one particular wood species might be more or less expensive than another.
The cost will always be dependent on the grade (quality) of the wood, market conditions, the manufacturer, and how readily available the wood species is.
Take, for example, woods like maple and cherry. Maple, although a high-quality and popular cabinet wood, will always be the less expensive material than cherry wood. That's because maple trees are highly accessible and more populous in North America – and especially Canada – than cherry wood. This makes them easier to source for manufacturers and keeps the overall costs down industry wide.
This article won't include expensive woods that are rarely used for kitchen cabinets, or endangered wood species whose price is sky-high due to the lack of trees remaining.
Rather, the 5 materials listed below will highlight the upper pricing tier of popular wood species you can find at most cabinet suppliers in North America.
1. Walnut Cabinets
Walnut is a stunning natural wood noted for its significant colour; strong, straight grain variation; and warm tones.
Walnut can range anywhere from a light brown to a deep, dark chocolate hue. Though its grain is very open and slightly coarse, walnut still has a beautiful, uniform surface.
A characteristic of walnut wood is that it has a unique aging process. With time, the dark brown colour of walnut will naturally begin to lighten.
In terms of cabinet finishing, walnut cabinets are rarely, if ever, subjected to a painted finish. Unsurprisingly, most people use a clear coat to enhance the rich, natural colours of walnut. When finished with a clear topcoat, walnut portrays a very rich, velvety sheen that accentuates its strong grain pattern.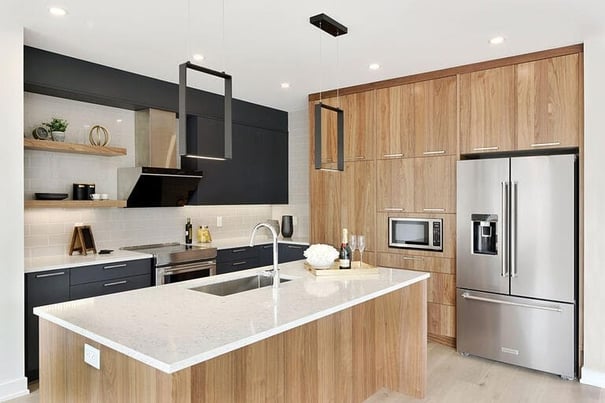 While these qualities are attractive for any type of kitchen design, in recent years walnut has been utilized more in modern kitchens with flat, slab doors to accentuate the grain pattern.
Walnut is one of the most luxurious materials you can implement for kitchen cabinets. This distinction has made walnut a highly expensive wood species matched on this list only by rift-cut white oak below.
2. Rift-Cut White Oak Cabinets
Firstly, it's worth noting that not all oak woods are alike. Technically speaking, there are several different varieties of oak, and each one is slightly different from the next.
There are two major types of oak: red oak and white oak.
White oak is stronger and rot-resistant, making it a highly durable wood that is more inclined to be used for outdoor decks, furniture or even boats. That being said, white oak has grown in popularity over recent years. From hardwood flooring to kitchen cabinets, white oak is a hot commodity, and one of the best ways to add a modern touch to oak cabinets.
Red oak, although multifaceted and capable of seamlessly fitting into beautiful kitchens, tends to be viewed as more traditional and inferior to white oak.
When aesthetically comparing the two, white oak is a lighter colour than red oak, has a smoother surface, and also has a more open grain pattern with similarly straight lines.
Unlike cherry and walnut above, white oak has a solid surface for painted cabinets. Although, given that white oak is often sought out for its aesthetic beauty, it is rarely ever covered with a painted finish.
White oak is one of the most expensive cabinet materials on the market and can be roughly 40% more expensive than its red-oak counterpart. There are two key reasons for such a stark contrast in pricing.
First, there are simply more red oak trees than there are white oak trees, making them readily available. Second, the popularity of white oak within the interior design space has sky-rocketed in the past 5-10 years. This makes white oak a highly sought-after material and its high demand has increased the price of the wood throughout the industry.
While price doesn't always indicate the quality of a material, in the case of white oak, it's worth the investment.
3. Cherry Cabinets
Noted for its rich, dark, and reddish-brown colour, cherry wood has long been one of the most sought after natural woods for kitchen cabinets and home furniture. Prized for its aesthetic, cherry offers a somewhat traditional style accompanied by a smooth, closed grain pattern.
A key characteristic to note about cherry wood is its aging process. Starting almost as a light or golden pink, cherry gradually gains deep, alluring reddish-brown hues as it is exposed to oxidation and natural lighting over time.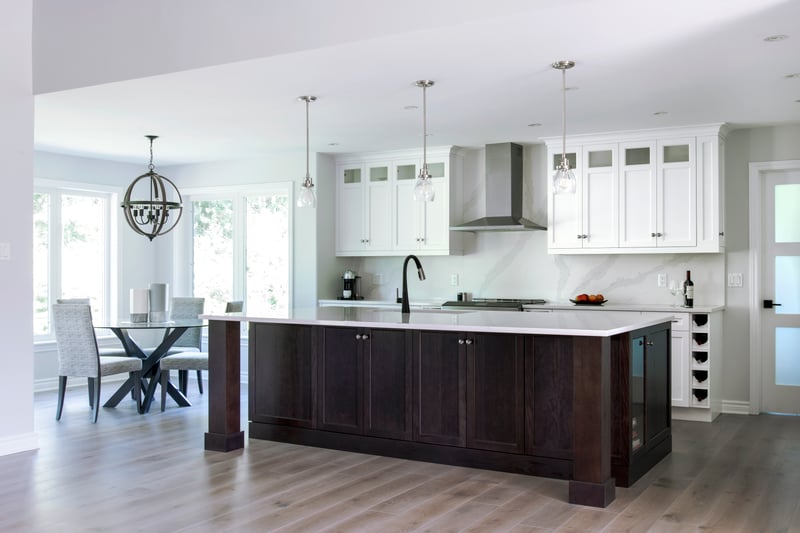 Generally speaking, most homeowners enjoy a mild stain that lets the beautiful, organic colour and grain of cherry wood flourish. Conversely, you'd never select a high-end cherry cabinet only to cover it with a painted finish.
Being one of the most luxurious woods for a kitchen, cherry is also one of the more expensive cabinet materials available. Its price tag is due to the fact that cherry is not as easy to source as a more common wood species such as maple.
The scarcity, as well as the quality and reputation of the wood, is the reason behind cherry cabinets' higher price point. You'll most commonly find the cost of cherry wood cabinets in a tier just under that of walnut or rift-cut white oak.
4. Rustic Alder Cabinets
Rustic Alder is considered one of the "softest" hardwoods available and, as its name suggests, leans towards a more rustic aesthetic.
Rustic alder has a light base colour with yellow to peach hues. Further, it is prized for having plenty of large knots. The look and number of knots will really fluctuate from door to door or slab to slab, which gives alder a very defined visual appeal that is great for cottagey, rustic, or farmhouse-style kitchens.
The softness of alder increases its rustic properties over time. Slight dents and scratches can almost be welcomed as worn and distressed blemishes, adding to the natural qualities of the wood. Unlike most other wood species, when it comes to rustic alder, you're actually paying for the defects of the wood to be present.
While darker stains are still appropriate for rustic alder, the wood is prized for its natural appearance, and you'll want to display it as much as possible. With that in mind, traditional glazes are the perfect finish for alder, as they add to the rustic appearance of the wood.
Rustic alder is a prestigious hardwood, and its price tag reflects that. You can expect the cost of rustic alder to be hand in hand with cherry, just under the price of walnut and white oak.
5. Mahogany Cabinets
Mahogany is renowned for its straight grain pattern and illustrious reddish-brown colouring that ranges in a variety of different shades. For centuries, mahogany has been popularly utilized all over the house from kitchen tables and chairs to office desks and bookcases.
Mahogany and traditional kitchen design might go hand-in-hand better than any other material. The wood's rich colour lends itself beautifully to ornate cabinet door styles and decorative crown mouldings.
While mahogany wood has long been a popular building material in North America, their trees actually don't grow on the continent. They are highly populous in Central America and are even the national tree of the Dominican Republic.

All this to say, mahogany wood cabinets can be quite pricey to source for North American kitchens. Depending on the supplier, mahogany will typically range anywhere from slightly lower to slightly higher than the cost of cherry.
Discover Deslaurier Custom Cabinets
When it comes to kitchen cabinets, there are truly a wide variety of high-end materials to choose from. The five wood species listed above represent just a handful of the high-end cabinet materials available for your kitchen.
Interested in how your dream kitchen cabinets would look made with one of these wood species? Book a consultation today with a Deslaurier kitchen expert at our Jupiter, Florida showroom or schedule a virtual meeting!
If you have your eye on custom cabinetry, Deslaurier Custom Cabinets has everything you need. With over 40 years of experience to our name, we provide our clients with a fully customized design process with our talented team of designers.

Interested in becoming an authorized Deslaurier dealer? Visit our Become a Dealer page to learn more! Live outside the area? Find a Dealer to connect with a Deslaurier dealer near you!