30/05/2022 •
6 Ways to Design a Kitchen with Resale Value in Mind
Estimated Read Time: 7 Minutes
If you're planning a kitchen renovation before selling your home, there are certain stylistic choices you can make that will alter the design process from a traditional kitchen renovation.
At Deslaurier Custom Cabinets, we've spent over 40 years designing and manufacturing high-quality cabinets to create beautiful, functional kitchens. In that time, we've served many clients looking to renovate their kitchen with the intent of increasing their home's resale value.
With invaluable insight from Deslaurier Design Consultant Vanessa Horwat, here are 6 ways you can design your kitchen renovation to enhance your home's resale value!
Kitchen Design with Resale in Mind
Whether you're looking to upgrade your current kitchen before selling, or you are renovating an investment property, designing with resale in mind can be a much different process than renovating your forever home.
You'll want to focus on universal tastes and timeless features. Whether that manifests itself in the materials and colours you select, or the kitchen's layout, keeping the general homebuyer in your decision-making should be a top priority.
After all, your goal here is to gain value for when you sell your home, not create the dream kitchen you've always wanted. That will come after!
1. The Value Should Match the Rest of the Home
Far and away, your main goal should be renovating your kitchen how you deem fit. However, something to consider along the way is to make sure the value of the kitchen stays in line with the rest of the home.
Essentially, you'll want to ensure that your renovated kitchen is upgraded enough to increase its value and function, but not too much that it outweighs the rest of your home.
While you don't want a bare-bones renovation that doesn't fit with the rest of the house, you also don't want to end up at the opposite end of the spectrum; where the kitchen has been upgraded so much that its overall value outweighs the rest of the home.
The last thing you want is a stunning new kitchen tucked away in a home that needs a number of other crucial upgrades.
A general rule of thumb is that your kitchen should equate to 10-15% of your home's overall value. In other words, this means your kitchen remodel should cost no less than 5% of your home's value, and no more than 15%.
Here's an example to illustrate this concept. If your home is estimated at $500,000, a basic to a mid-range kitchen remodel would end up costing between $25,000 and $50,000 (5-10%). A high-end renovation would reach, but not exceed, a budget of approximately $75,000 (15%).
Spending less than 5% might not be enough to see your home's value increase while investing more than 15%could put you at risk of losing money when you decide to sell your home.
The 10-15% rule is a good guideline when considering your kitchen renovation budget.
2. Extend Your Cabinets to the Ceiling
Many homeowners don't like having a blank space between their upper cabinets and ceiling. With this, many are desperate to fix that with a cabinet design solution.
"Nobody wants to think about the space above their cabinets. They want that space closed off one way or another." - Vanessa Horwat
Thankfully, there are three popular ways to alleviate this issue: extending cabinets directly to the ceiling by stacking cabinets; employing bulkhead trim; or by using a combination of bulkhead trim with decorative crown moulding.
Stacked Double Cabinets
Stacking cabinets is exactly what it sounds like—you're putting a second row of cabinets directly on top of the first.
Stacking cabinets is essentially a decorative choice. While they do offer extra storage, it is not exactly easy to access. These extra cabinets are also an expensive addition for a purely visual intention and might not be the best route to go if you plan on selling your home after your renovation.
Bulkhead Trim and Crown Moulding
If you're not after the stacked-cabinet look, there are other ways to cover up the empty wall space.
A combination of bulkhead trim and crown moulding is a great way to bring the cabinet unit flush with the ceiling. Better yet, it's a much more cost-effective method than stacking cabinets. It also offers plenty of design flexibility when selecting the style of decorative moulding.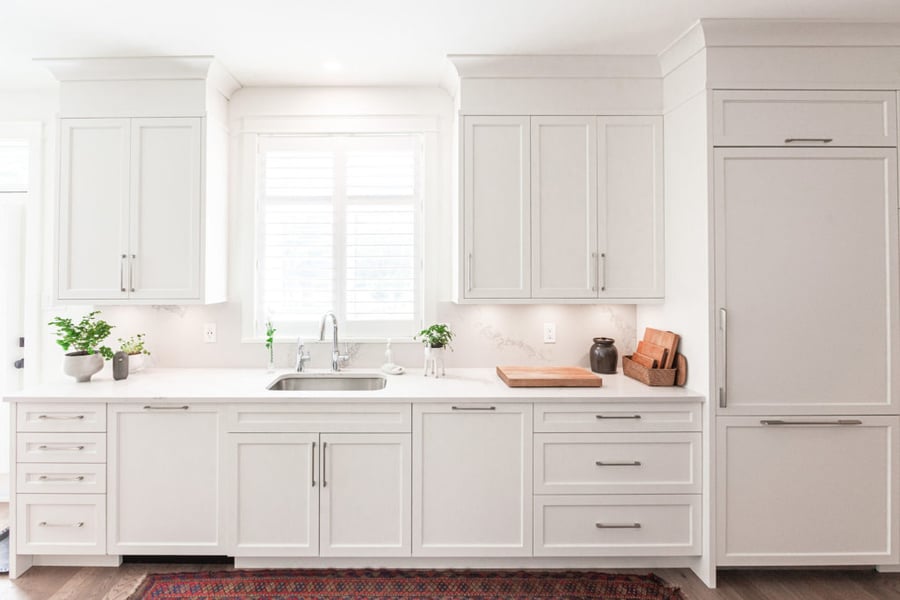 The added crown moulding isn't a necessity, however, and you can opt to go with bulkhead trim on its own. Bulkhead trim offers a modern, streamlined look while also being the most affordable option.
3. Drawers, Drawers, Drawers
When it comes to kitchen storage: the more drawers on your base cabinets, the better. Drawers offer more function than doors and they're what people are looking for. They're universally beloved for storage.
Simply put, drawers make accessing the contents inside your cabinets so much easier.
"When you have a drawer, everything is laid out in front of you - and everything comes to you as opposed to you having to go in the cabinet" - Vanessa Horwat
Not only is accessing the depths of your cabinet easier, but drawers offer a full display of the contents inside. They ensure you know where everything is and alleviate the potential for objects being lost in the back of a cabinet for months at a time.
Not to mention the multitude of accessories available for drawers makes storage more organized and easily accessible: from cutlery dividers to plate holders. When it comes to kitchen cabinet storage, drawers reign supreme.
Looking to maximize your home's resale value with a renovation? Kickstart your design process by booking a free consultation with a Deslaurier kitchen expert today!
4. Select Neutral Materials
Remember, the goal is to appeal to the masses. Whether you prefer colourful blue kitchen cabinets should be set aside when it comes to what potential buyers might desire.
Be it through your cabinets or countertop selection, your kitchen's objective is to attract a general allure. With that in mind, your safest option when designing for resale is to incorporate light, neutral colours with universal appeal.
Using white or off-white shades is the most popular way to do this. Whether it's through painted cabinets or a light and airy countertop, including white is always a go-to in the kitchen.
White kitchen cabinets have been a staple for decades and they're not going anywhere. Even better, you can design a two-tone kitchen by pairing white cabinets with another all-around favourite in natural wood tones.
Solid wood cabinets are more durable materials and therefore ideal for base and island cabinets that are more vulnerable to general kitchen wear and tear. Maple and birch are quality and strong options that will keep you from breaking the bank on more expensive wood species like cherry and walnut.
A bonus regarding maple and birch is that they are also paint-grade woods. If potential home buyers decide they want their base and island cabinets to have a painted aesthetic, they can easily have them refinished at a fraction of the cost of brand new cabinets.
Check out our article on the Top Kitchen Cabinet Colour Trends of 2022 to see what tones you should consider for your kitchen cabinets!
5. Include Hardwood Flooring
Simply put: hardwood is king in the kitchen. Hardwood flooring is the top tier when it comes to resale value, and potential homebuyers fawn over its inclusion in the kitchen.
You might be inclined to go with an aesthetic replica of hardwood like vinyl or engineered hardwood due to its realistic appearance and less expensive price tag. We get it, hardwood is considered luxurious and expensive – but you can find plenty of quality selections at reasonable price points.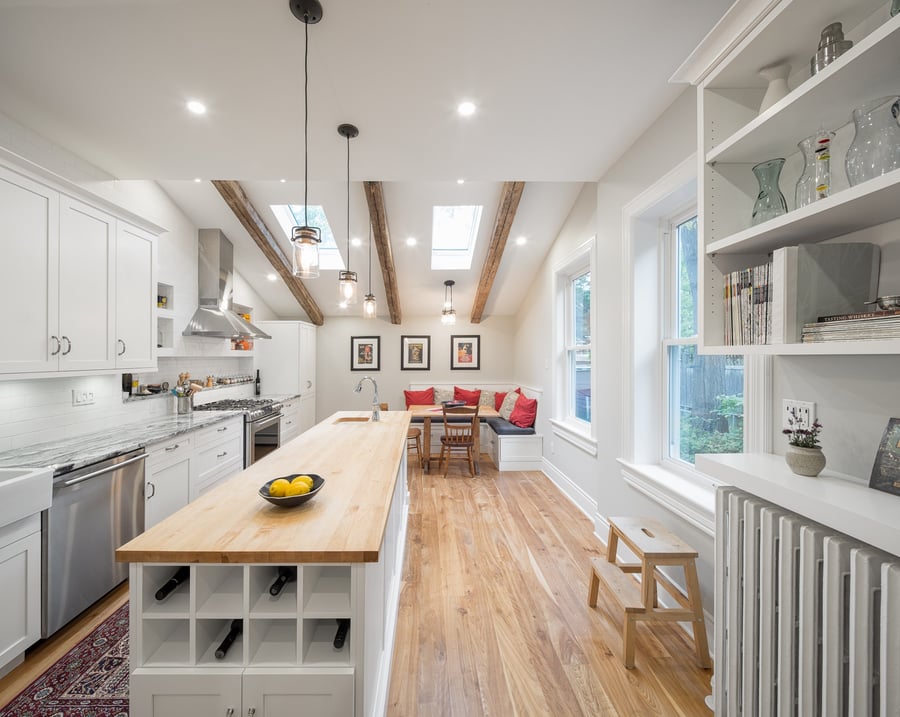 Homebuyers love the appeal that comes with real hardwood flooring. It's a fan favourite and worth the investment. The authenticity of natural hardwood will increase the worth of your kitchen in a way that alternative products just can't.
Quite honestly, the higher cost of hardwood might be irrelevant if vinyl flooring begins to wear down in a decade or if the engineered wood needs replacing in 20 years time. The added price of hardwood flooring will be well worth it, especially if properly taken care of, quality hardwood flooring can last for centuries.
Tile, vinyl, and even laminate are all well and good for other rooms in the house; but as the main attraction of the home, the kitchen is deserving of hardwood flooring.
6. Go With a Quartz Kitchen Countertop
Right off the bat, you don't want laminate. It's the least expensive option on the countertop market and that's for a reason: you'd be lucky to get 10 solid years out of them. Nobody wants to buy a newly renovated home and already have to replace the countertops in less than a decade.
Similarly, having a more high maintenance surface like marble or granite can be a turnoff for some homebuyers, as well. These countertops are both porous, meaning they need routine sealing in order to prevent water damage.

Marble, specifically, can require resealing every 3 months! That is a big chore that not every homeowner will want to stay on top of.
Quartz, on the other hand, is nonporous. It requires no resealing and is the definition of a set-and-forget countertop. Even better, there's an immense variety of quartz countertops from their style to their price point.
Of course, the cost of quartz countertops won't fit into everyone's price range.
"For medium to higher-end resale, I'd recommend them to go to a quartz countertop" - Vanessa Horwat
Although they do have some cost-effective options when it comes to a solid surface countertop, they won't come much cheaper than $80 per sq. ft. If it does fit into your budget, an elegant quartz countertop can go a long way in the eyes of a potential buyer.
Design with Deslaurier Custom Cabinets
Whether you're looking to upgrade your forever home, or renovating your house before putting it on the market, you've come to the right place!
If you have your eye on custom cabinetry, Deslaurier Custom Cabinets has everything you need. With over 40 years of experience to our name, we provide our clients with a fully customized design process with our talented team of designers.
Book a free consultation with a Deslaurier kitchen expert at our Jupiter, Florida showroom today!
Interested in becoming an authorized Deslaurier dealer? Visit our Become a Dealer page to learn more! Live outside the area? Find a Dealer to connect with a Deslaurier dealer near you!