19/08/2022 • Blog
8 Design Tips to Help You Select Cabinets For Your Bathroom Vanity
Estimated Read Time: 6 Minutes
Let's face it, when doing a renovation or a new build, the kitchen design takes centre stage. And rightfully so! The kitchen is considered the focal point of the house and a high priority.
However, with so much attention on the kitchen, bathroom vanities can tend to take a backseat in the design process.
At Deslaurier, we have over 40 years of experience manufacturing custom cabinets and providing kitchen and bathroom design expertise to our clients. In that time, we've worked on thousands of bathroom vanities, personalizing each project to the primary user's individual needs.
In this article, Deslaurier Designer Vanessa Horwat offers 8 design tips to help you optimize the bathroom vanities in your home!
Let's get started!
1. Use Plenty of Drawers
In a confined area like a bathroom, there's no better way to maximize storage space than by using drawers. Aside from their storage capacity and convenience, pull-out drawers provide a clear view of the contents inside the cabinet.
They also allow users to claim their own designated area.
Whether it's the master ensuite or a communal bathroom, when multiple people use the same space, it's beneficial to include individual storage space for each person.
The best practice for this is to install bathroom vanities with drawers as opposed to doors to house each user's personal belongings.
2. Include Cabinet Accessories
Cabinet accessories aren't just for the kitchen. If you're not incorporating them into your bathroom vanity, you're missing out!
Divider inserts can be used to separate bottles and dental items, and they are also great fororganizing make-up and beauty products.
Don't let the name fool you, spice rack and utensil-style pull-outs aren't just for the kitchen. You can add them to a narrow vanity cabinet to hold accessories like hair straighteners, curling irons, and blow dryers.
On top of that, many items that help make a laundry room so efficient can transfer over to the bathroom as well.
Don't be shy to implement something like a laundry bin pull-out in the bathroom, or even towel and drying racks.
3. Make Use of The Sink Cabinet
Sink cabinet storage space goes to waste far too often due to the excess plumbing that lays claim underneath it.
While it can be a struggle figuring out how to optimize your sink cabinet, it doesn't have to be.
There are three primary ways to utilize your vanity sink cabinet and increase your bathroom's overall storage functionality!
1) Use a Rollout Shelf
Much like in a kitchen pantry unit, your bathroom vanity can be implemented with a large rollout shelf (or tray) at the bottom of the cabinet. They're perfect for any items that don't have an "assigned" place in the rest of your vanity.
2) Baskets
An old standby, baskets always work well underneath a sink area to store cleaning supplies or spare toiletries.
If you don't want to include a rollout shelf, there are always more traditional ways of utilizing space underneath the sink.
Or, you could combine the organization of smaller baskets with the convenience of a rollout shelf!
3) Drawer Banks
Drawer banks underneath a sink cabinet will consist of a false drawer front at the top, with two regular functioning drawers underneath.
This method will need to be completed during the design phase, well before plumbing is installed to avoid any last-minute catastrophes.
However, if done properly, they're arguably the most beneficial style you can use for a sink cabinet.
4. Determine Vanity Height
Cabinet vanity height is an extremely important issue for bathroom functionality and convenience. Vanities are in use every single day, from activities like face-washing and teeth-brushing to being utilized as an at-home make-up station.
Choosing the perfect bathroom vanity height can be a tricky process, as you want them personally tailored to suit the needs of its primary users.
For decades, 32" had been considered the standard vanity height, but increasing that height has been much more preferred in recent years. In recent years, 34" has become the most common vanity height, with some homeowners opting to go even higher and install 36" cabinets.
If your home has shorter users or a child that will eventually grow into their vanity height, there are a number of options to help, like stools or even pull-out steps that are built into the bottom of your vanity!
5. Include a Tall (Pantry) Cabinet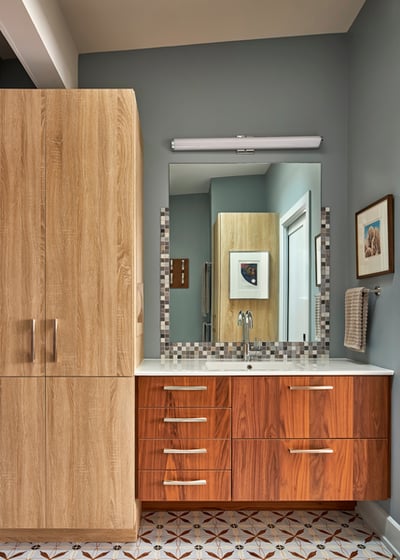 Another favourite for laundry room storage, tall pantry cabinets can be an essential feature to accompany a bathroom vanity.
They're a great place to store extra linens, toiletries, cleaning supplies, or any other bathroom items that aren't necessary for vanity cabinets.
Better yet, they aren't as bulky and as space-consuming as they might sound, with single pantry cabinets tucking away quietly in a bathroom corner. In fact, one tall cabinet from floor to ceiling will take up much less space than base cabinets of the same size.
In terms of storage capacity, tall pantry cabinets are the way to go.
6. Neutral Colours For the Vanity Cabinets
Whether it's with the warm wood tones of maple and walnut, or through paints like white, black, grey, and beige, neutral colours are the way to go for bathroom vanity cabinets. Further, neutral colours pair well with light and airy countertop selections.
These tones behold a more universal appeal than overly colourful paints while still allowing you to get more creative and bold with other bathroom elements.
After all, it's much easier and more affordable to change shower curtains and other accent pieces rather than refacing your cabinet vanities. Especially in a bathroom for kids that will no doubt alter their "style" as they grow up. It's always safe to go with a neutral cabinet style.
If you're looking for a painted aesthetic, don't be afraid to use thermofoil cabinets! They're more cost-effective than painted cabinets, and they hold up well to bath and shower steam.
7. Update Medicine Cabinets and Toilet Toppers
Medicine cabinets and toilet toppers, two common features you might find at your grandparent's house, are essentially extinct in the modern-day bathroom design.
The medicine cabinet hasn't really been replaced one-for-one by anything. Instead, things that were once stored in medicine cabinets have now found larger, more efficient homes in the drawer banks or tall pantry cabinets we've previously mentioned.
Where the medicine cabinet was once positioned is now extra room often used to implement larger vanity mirrors, a popular trend in modern-day bathrooms.
Conversely, in lieu of the toilet topper is a favourite of contemporary kitchen designs, the floating shelf. A floating shelf is a convenient way to keep necessary toiletries at arm's reach and offer a place for a small plant or other decorative charms.
8. Designing For A Master Ensuite vs. A Powder Room
Of course, it should be noted that not all bathrooms are made equal. The purpose of a master ensuite compared to a powder room is night and day. Designing their bathroom vanities should reflect that.
A master ensuite should offer equal parts beauty and function. In terms of appearance, a popular cabinet style is often something of an elegant, warm wood tone – think of walnut – in a horizontal wood grain.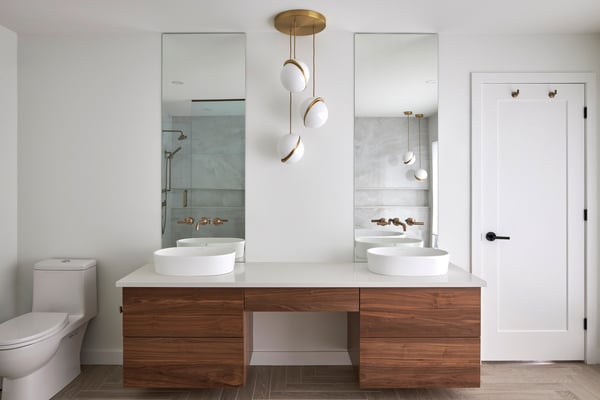 Another popular feature of a master bathroom is to implement a double vanity. When doing so, it's important you leave enough elbow space so both vanity sinks can be used comfortably in unison.
Powder rooms, on the other hand, provide a much different function than a master ensuite bathroom. Since storage isn't always the main priority of a powder room, you're able to have a little more fun and focus on the design flair.
A popular option is to pair it with the kitchen's design.
Using the powder room to mirror the aesthetic design of the kitchen is a nice touch that combines the spaces together. Both rooms are often in the same vicinity and designing them to work in tandem will add a subtle harmony to your home.
Design with Deslaurier Custom Cabinets
Are you looking for a personalized bathroom design that's tailored to fit your unique needs? You've come to the right place!
Book a consultation with a Deslaurier design expert at our Jupiter, Florida showroom or schedule a virtual meeting!
If you have your eye on custom cabinetry, Deslaurier Custom Cabinets has everything you need. With over 40 years of experience to our name, we provide our clients with a fully customized design process with our talented team of designers.

Interested in becoming an authorized Deslaurier dealer? Visit our Become a Dealer page to learn more! Live outside the area? Find a Dealer to connect with a Deslaurier dealer near you!