4/01/2023 • Blog, Comparisons
Paint-Grade vs. Stain-Grade Cabinet Wood Species
Estimated Read Time: 6 Minutes
Picking the right cabinets for your new kitchen is easier said than done. With so many different door styles, paint colours and materials to choose from, jumping headfirst into your cabinet selection can be overwhelming.
The best place to start? Knowing whether you want a painted or stained finish for your cabinets!
At Deslaurier Custom Cabinets, we've spent the last 40+ years designing and manufacturing custom kitchen cabinets to perfectly match the needs of our clients. Whether they want painted or stained cabinets, we help our customers select the right wood species to fit their vision.
With that, this article will detail the difference between woods better suited for painted or stained cabinets, and offer a few wood species that go perfectly with either style!
Let's get started!
Paint-Grade Cabinet Woods
Choosing a cabinet material for painting is a lot different than it is for staining. For starters, you're not inclined to select a wood species for its natural appearance because (ideally) it won't show through the painted finish.
Rather, the focus is on functional characteristics that will make one wood's surface better for painted cabinets than another. These are considered "paint-grade" wood species, as they're best suited for painted cabinets.
A paint-grade wood will have two primary characteristics:
The first quality a wood needs is a flat, smooth surface for the paint to adhere to.

Secondly, the wood either won't have any knots or heavy grain patterns, or those features will have been removed during the manufacturing process.
These are typically hardwoods as opposed to softwoods (with the exception of MDF, mentioned below), as the added strength and durability of hardwoods make them more resistant to scratches and dents.
They also tend to be more affordable woods. You wouldn't want to pay top dollar for a pricey wood species just to cover it with coats of paint.
What Makes a Stain-Grade Wood?
The most significant aesthetic indicator of stained wood cabinetry is that the wood's natural grain pattern and texture remain visible. Stains seep into the cabinet door surface and provide a rich, translucent finish.
Stain-grade wood species can be both hardwood and softwood. Their strength and durability aren't as important as it is for painted cabinets, which need slightly more resistance to dents and scratches to protect the painted finish.
If a stained wood cabinet collects some slight dents or dings, it's often quite hard to notice. In fact, softer woods can be emphasized with a worn or distressed appearance as well. Any subtle damage to the door can actually add to the appearance!
Of course, we don't recommend intentionally damaging your cabinet doors! We mention that just to highlight the difference between stained and painted cabinet woods.
An important quality for stain-grade woods is that they are generally nonporous—meaning their "pores" are very small and tight, making it difficult for any liquid to flow through them.
Conversely, porous woods have larger pores that will absorb stains almost too well. Staining a porous wood species can cause the stain to fluctuate throughout the wood, resulting in a blotchy appearance.
For example, a wood like poplar is extremely porous and will absorb a stain so thoroughly that it will result in random blotchiness throughout the finished product. Even a popularly used wood like birch, which is only slightly porous, can still be somewhat unpredictable when adorned with a darker stain.
Examples of Paint-Grade Cabinet Woods
As you can see, not all woods have the same qualities. Some are naturally better suited to being painted and some aren't. Here are 3 of the most popular woods for painted cabinets.
Painted
Maple
Cabinets
Maple is noted for having a simple and subtle grain, with its colour rooted in a gentle white with reddish-brown hues. While maple's grain pattern is generally quite straight, it does have some waves and curls to it. Maple is commonly compared with birch.
Similarly to birch, maple has a smooth, uniform surface that's perfect for a painted finish. In fact, maple wood is even smoother than birch in comparison! Making it arguably the best solid wood surface for painted cabinets.
Maple is unique in that it has two separate types of species: softwood and hardwood. Soft maple tends to be used for custom woodworking like furniture, desks, and even doors. While hardwood maple is far more practical for things such as flooring and kitchen cabinets.
Painted
Birch
Cabinets
Birch has a pale colouring that can look slightly yellowish. It has a simple, rather open grain that is typically made up of straight (ish) lines. Birch is also one of the few kinds of wood that actually develops colour with age, gaining a yellowish-red tint as time passes.
Birch is considered a paint-grade wood thanks to its low-key grain and uniform surface.
It should be noted that since birch – and almost all of the other woods on this list – are solid natural woods, they're therefore living, breathing products. What that means is these wood species will expand and contract due to temperature and humidity changes—something known as "breathing" in the world of woods.
Over time, that slow expansion and contraction will cause stress cracks in the paint wherever there are joints in the cabinet door. This is an organically occurring phenomenon and something that will happen to any natural wood painted cabinets.
Painted
MDF
Cabinets
Medium-density fiberboard (MDF) is considered the gold standard when it comes to painted cabinet materials. MDF is manufactured by breaking down softwood and hardwood residuals into wood fibres.
These wood fibres are compacted with wax and resins, formed into panels, and applied with high pressure and temperatures in order to create a durable, condensed board.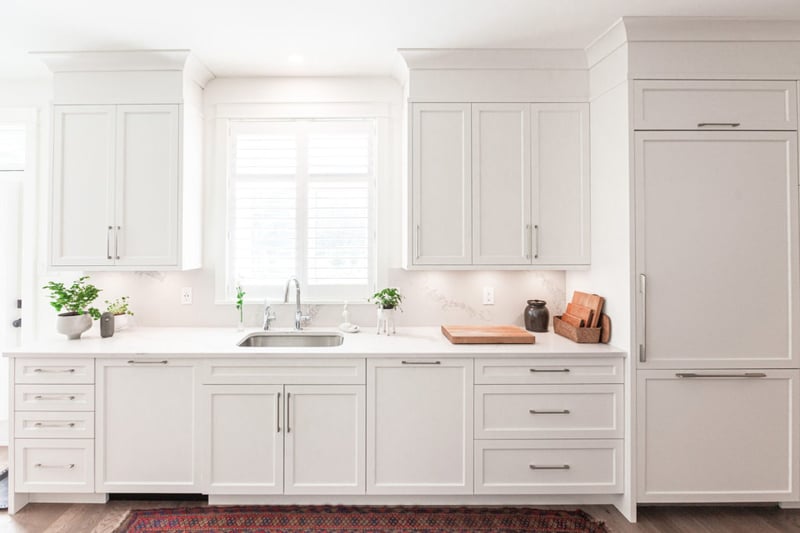 Being a man-made material, MDF lends itself perfectly to painted cabinets for a number of reasons.
Firstly, MDF is free of any knots, blemishes, or tactile wood grain that is commonplace for natural woods. Its engineered surface offers a pristine canvas for the paint to adhere to.
Furthermore, MDF is the most stable "wood" product available. Since it is not solid wood, MDF is much less susceptible to "breathing," meaning its painted finish is not as likely to crack due to cold, dry winters or warm, humid summers.
The only downside to MDF is that its surface is not as durable as solid wood. That being said, no one intends to subject their kitchen doors to heavy abuse, so having MDF for cabinet doors instead of wood will not be a detriment.
Examples of Stain-Grade Cabinets Woods
There are far more wood species suited to stained cabinets than there are to painted cabinets. The two solid woods mentioned for painted cabinets – maple and birch – are also popularly used for stained cabinetry.

Conversely, the natural woods listed below are rarely, if ever, used for painted cabinetry. To that end, you'll have far more wood species to choose from when selecting stained cabinets for your kitchen.

Here are just a few of the most popular wood species for stained cabinetry.
Stained
Cherry
Cabinets
Cherry wood is prized for its aesthetic and is often associated with more of a traditional look.
Noted for its rich, dark, reddish-brown colour and smooth, closed-grain pattern – perfect for stain application – cherry is one of the most luxurious woods you can find for your kitchen.
A key characteristic to note about cherry wood is its natural aging process. Starting almost as a light or golden pink, cherry gradually gains deep, alluring reddish-brown hues as it is exposed to oxidation and natural lighting over time.
What might be surprising about cherry wood cabinets is that you're actually less likely to apply a darker stain to them (unless that is your preference). Since cherry wood naturally gets darker with time, it doesn't require a deep, heavy stain like some other woods might.
Rather, thanks in part to cherry's aging process, most people use a clear coat finish or gentle stain to enhance the rich, natural colour and grain pattern of cherry wood.
Stained
Walnut
Cabinets
Walnut is a stunning natural wood noted for its significant colour and strong, typically straight grain pattern.
Though its grain is very open and slightly more coarse than cherry wood, walnut still has a beautiful, uniform surface.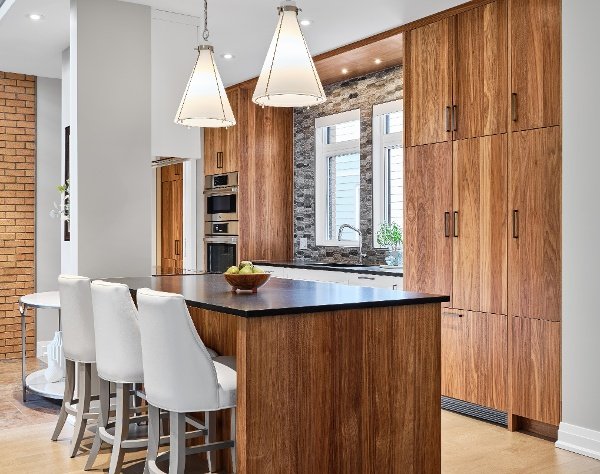 Walnut can range anywhere from a light brown to a deep, dark chocolate hue. In addition, it also has a unique aging process. With time, the dark brown colour of walnut naturally begins to lighten.
The qualities of walnut lend themself beautifully to light stains and clear coat finishes. When finished with a clear top coat, walnut portrays a very rich and velvety sheen that accentuates its strong grain pattern.
Stained
Oak
Cabinets
Red oak (commonly referred to simply as "oak") is noted for having light to middle brown colouring with a cast of reddish hues; complemented by a prominent, fairly straight grain pattern.
The beauty of red oak and its prominent grain is that it can look great in anything from a clear coat finish to a dark stain. Oak's natural patterning will emerge through anything and offer a textured, tactical cabinet that most other woods can't replicate.
While oak often has the connotation of being a more traditional-looking cabinet wood, there are plenty of ways you can put a modern flair on oak cabinets! Going with a contemporary white oak selection is a great way to do just that!
White Oak
White oak is overall much lighter than red oak, while still carrying slight pink and purple hues, and also sports a smoother surface.
When talking about white oak, it's important to mention the popular rift-cut variety. Rift-sawing wood is purely aesthetic and achieves a straight grain pattern that cuts down on shiny spots in the grain known as flakes. It is most commonly used with oak because its wood grain is generally the straightest and free from cathedrals or variations
White oak is never painted and is almost exclusively accompanied by subtle, gentle stains. This ensures that the light, natural colouring it's known for will emerge triumphantly and remain prominently on display.
Stained
Mahogany
Cabinets
For centuries, mahogany has been popularly utilized all over the house from kitchen tables and chairs to office desks and bookcases.
Mahogany is renowned for its straight grain pattern and illustrious reddish-brown colouring that ranges in a variety of different shades.
Mahogany and traditional kitchen design might go hand-in-hand better than any other material, even more than cherry. The rich colour of Mahogany lends itself beautifully to ornate cabinet door styles and decorative crown mouldings.
Design with Deslaurier Custom Cabinets
Whether you're looking for kitchen cabinets that have the perfect colour of paint or warm wood tones, Deslaurier Custom Cabinets has everything you need!
With over 40 years of experience to our name, we provide our clients with a fully customized design process combining our talented team of designers and extensive product catalogue.
Book a consultation today with a Deslaurier design expert at our Jupiter, Florida showroom or schedule a virtual meeting!

Interested in becoming an authorized Deslaurier dealer? Visit our Become a Dealer page to learn more! Live outside the area? Visit our Find a Dealer page to connect with a Deslaurier dealer near you!