Estimated Read Time: 5 Minutes
What makes the world of kitchen design so interesting is that every kitchen's layout is different!
While the contemporary open-concept kitchen has been all the rage in recent years, that layout isn't possible for every home. Sometimes creating the perfect kitchen design to fit your home can feel so much more rewarding than knocking down walls and going through a full-fledge "gutting" of a renovation.
That's where the galley kitchen comes in!
At Deslaurier, we have over 40 years of experience providing our clients with custom cabinets and kitchen design services. In that time, our in-house designers have crafted kitchen designs to fit every layout imaginable.
With that, this article breaks down the pros and cons associated with a galley kitchen design.
Let's get started!
Table of Contents
Pros
Cons
What is a Galley Kitchen?
A galley kitchen is a long, narrow kitchen layout characterized by having two parallel walls of kitchen cabinets.
This kitchen layout gets its name from the cooking area on a large ship, known as a galley. A ship's galley is known for providing optimal function and efficiency within a limited space. They are also referred to as "corridor" kitchens, due to the long and narrow space feeling like a corridor.
Galley kitchens are a common layout for apartments or smaller homes where an open-concept or L-shaped kitchen design isn't ideal.
Galley kitchens can be designed in one of two ways. First, as a "dead-end" where there is only one way in and out. This design will reduce foot traffic, but will also add an extra wall to your kitchen space.
The second is a "pass-through" galley kitchen, which creates the corridor design. A pass-through galley kitchen will have two entrances on opposite ends of the layout. This design allows you to "pass through" increasing the available foot traffic, but the second door/opening slightly decreases the amount of usable wall space.
Pros:
They're Perfect for Smaller Kitchens
As we've mentioned, a galley kitchen design is perfect for smaller spaces or long and narrow kitchens.
After all, if you've ever seen a galley kitchen on a ship, you know how slender the space can be. Even most older homes tend to be more constrained than contemporary open-concept kitchen layouts.
While the space-saving prowess of galley kitchens lends itself perfectly to smaller layouts, larger kitchens can still benefit from their efficiency!
Functional and Efficient
The primary kitchen workflow is focused on three main areas: the sink, the fridge, and the cooktop.
Decades ago, the kitchen work triangle – the idea that your sink, fridge, and cooktop should be positioned in a triangle for maximum efficiency – was the general rule of thumb for kitchen layout design.
Nowadays, the "triangle" isn't always a necessity; but the emphasis on kitchen functionality behind it always will be. For the ideal kitchen function, these areas need to be easily accessible and work in harmony with one another.
According to the NKBA (National Kitchen & Bath Association), none of your appliances should be positioned further than 9 feet apart.
That shouldn't be an issue for most homes, as anything surpassing that would be a huge kitchen.
However, the condensed, parallel-wall design of a galley layout means that all essential kitchen workstations will be easily accessible from one another.
Quality Countertop Space
A main benefit of galley kitchens is the amount of quality countertop workspace that accompanies the long walls of cabinetry.
While galley kitchens will no doubt have less total countertop space than something like an open-concept kitchen with a large central island—every inch of surface space in a galley kitchen will be functional and practical for kitchen use.
The lack of corners in the design also means that the countertops are more usable, as valuable space is not lost in deep, hard-to-reach corners.
Maximizes Storage
You might think that since galley designs are typically used for smaller kitchens they'll lack overall storage space. That's not the case, as the layout actually optimizes your storage.
This design makes full use of kitchen storage and allows for both walls to be equipped with base and upper cabinets.
The lack of cabinet corners is once again a plus. Due to the depth and awkwardness of base corner cabinets, kitchen storage space can often go to waste in hard to reach places. That's something you
They're Inexpensive
Thanks to their ergonomic layout, galley kitchens are often quite affordable to design. Of course, it helps that galley kitchens are typically small: as less space = fewer materials required = a lower overall cost for your kitchen.
However, the simplicity of the design also plays a large part in reducing overall costs. Essentially, it's just two wall lengths of cabinets, as you won't have room for an expensive kitchen island.
Not to mention the typical lack of corner cabinets which are the most expensive cabinets due to their size and shape. Most corner cabinets also benefit from unique built-in accessories to make them more functional, another element that will increase costs.
Further, the same is true for the countertop surfaces. Few – or none at all – corner joints or custom fabrication work is needed. Fewer offcuts of the countertop slab that would go to waste (and still cost you money).
Kitchen flooring is another costly investment, and less space in a galley layout means less flooring to install. Think of it as a benefit: you can splurge for the high-end product you've always wanted, knowing the amount of material you need won't break the bank.
Cons
Can Feel Cramped
While galley designs are great for smaller kitchens, it will come as no surprise that they can also make them feel somewhat cramped. This can be especially true for more narrow kitchens as it lessens the already limited floor space and reduces accessibility.
The lack of space between walls – when both are equipped with cabinets and appliances – can give a kitchen with minimal space a further feeling of confinement.
The lack of floor space can also be a hindrance for kitchen activities. Particularly if you have several people in the space at the same time. It can be detrimental with regards to one of the pros we mentioned before: valuable countertop space.
While the extra countertop room is fantastic for multiple people cooking together, the absence of room to maneuver throughout the kitchen might outweigh the benefits of extra kitchen work surfaces.
Limited Layout
Simply put, you're essentially stuck with a galley kitchen design.
A galley kitchen will have 2 parallel walls for your entire kitchen design, possibly 3 if you have a dead-end layout. There certainly will be no room for a kitchen island or large peninsula.

It's no secret that open concept or even L-shape kitchen layouts are far more flexible. However, you can still get creative within your overall design! You're only limited with with the physical layout.
Not Great For Entertaining
The kitchen is often referred to as the heart of the home. A place to share meals and entertain guests. Not particularly the galley kitchen's strengths.
Think of a galley kitchen as all work and no play. Its primary goal is for kitchen functionality, not so much the socializing or entertaining that contemporary kitchens have grown to accommodate.
Of course, there are ways around that. Having your kitchen table off to the side of a galley kitchen can create a more inclusive atmosphere.
See for yourself! Deslaurier's Alanna Wharton puts her unique touch on the galley kitchen design in Traditional & Toscano.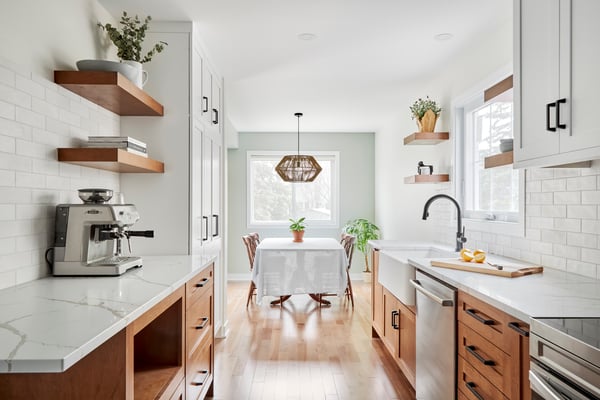 Design with Deslaurier Custom Cabinets
Think your home would benefit from a galley kitchen design? Book a free consultation with a Deslaurier kitchen expert at our Ottawa showroom!
If you have your eye on custom cabinetry, Deslaurier Custom Cabinets has everything you need. With over 40 years of experience in our name, we provide our clients with a fully customized design process with our talented team of designers.

Interested in becoming an authorized Deslaurier dealer? Visit our Become a Dealer page to learn more! Live outside the area? Find a Dealer to connect with a Deslaurier dealer near you!