1/06/2022 • Blog
5 Expert Tips for Designing a Rental Property Kitchen
Estimated Read Time: 8 Minutes
Designing for a rental property can look different for many people. After all, rental properties can come in a variety of different sizes, styles, and price ranges.
Whether you're doing a new build or renovating an older house, there are plenty of things you can do to create the perfect kitchen for a rental property.
At Deslaurier Custom Cabinets, we specialize in manufacturing custom cabinets for beautiful, functional kitchen designs. With over 40 years in the industry, we've worked with many clients that are designing a new build or renovating an old house, with the intent of utilizing it as a rental property.
With those experiences in mind, Deslaurier Design Consultant, Vanessa Horwat, provides us with 4 kitchen design tips (and 1 bathroom) to help you create the perfect rental property kitchen!
Let's get started!
Designing with a Rental Mentality
You may be inclined to focus on budget-conscious materials, but making your selections based on durability is a better route towards getting the best bang for your buck. In a rental property, you want materials that are both durable against everyday use and have a naturally long lifespan.
But don't worry, there is a happy medium to be found! These days, you can find plenty of durable materials at reasonable price points.
From a visual standpoint, you'll want to veer towards timeless qualities as opposed to trendy or eccentric features. You wouldn't want to redo the kitchen in ten years because the aesthetic has gone out of fashion and you're having trouble attracting new tenants.
The goal is for potential renters to want to live there – and creating universal appeal with tried and true design elements is a great way to do that.
Cultivating a design that's equal parts durable and beautiful is a tricky task, but the following 5 tips will help you achieve a rental home that looks great and lasts for years.
1. Leave the Painted Aesthetic for Upper Cabinets
When you're talking about any rental property, the durability of your cabinetry becomes priority number one. The cabinetry needs to be able to withstand the daily use of the tenants living there for years to come.
While durability is important, especially for something as frequently used and expensive as kitchen cabinets, it's also important to remember the mentality of timeless and universal appeal when making your selections.
Going with white cabinets is always the safest bet. White has been the most popular kitchen cabinet aesthetic for decades and it will remain that way for decades to come.
One thing to note is that painted finishes are susceptible to scratching and chipping, which might not be ideal for rentals. You never know the daily habits of tenants, and the last thing you want is for painted cabinets to get dinged up and require refinishing work.
To combat these worries, a highly durable and cost-effective alternative for a painted aesthetic is to go with thermofoil cabinets.
"Rentals are probably not a good place to be using a painted finish. I would move them more towards a thermofoil or a PET product if they still want to achieve that white, white kitchen." - Deslaurier Designer, Vanessa Horwat
Thermofoil (thermo) is a PVC vinyl material that is applied to MDF doors through heat and vacuum pressure, fusing the two together. The thermofoil process produces a seamless surface, typically in a solid colour, but sometimes also a faux wood grain pattern.
Thermo is an extremely popular choice, as matte and high-gloss options can replicate a painted aesthetic at a cheaper price point. Thermofoil cabinets also withstand daily use and general household damage better than painted cabinets, making their combination of durability and cost-effectiveness the perfect match for rental kitchens.
Of course, you can still opt for an authentic painted finish. Just take precaution when deciding where those cabinets are placed:
If they do want to go towards paint, I'd recommend that for their uppers and tall sections. - Vanessa Horwat
For more on how thermofoil cabinets compare to a painted finish, visit our Learning Centre for an article on Thermofoil vs. Painted Cabinets!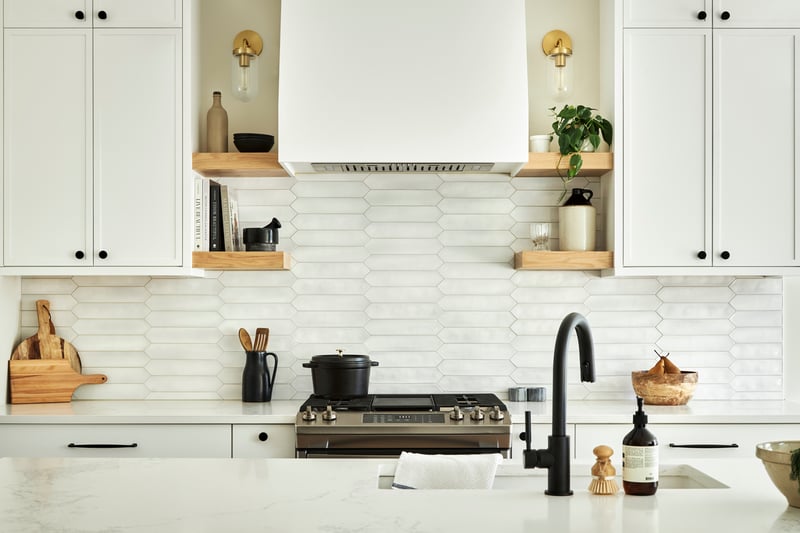 2. Go With Wood for Base Cabinets
Similarly to white cabinets, you can't go wrong with natural wood tones in your kitchen. They provide warmth and beauty to the space and are as durable a material as you can get when it comes to kitchen cabinets.
That durability will come in handy when located on your base and island cabinets. Naturally, base cabinets are more vulnerable to impact damage than uppers, which increases the need for a strong material.
It's better to keep your island and your base cabinets in a wood stain or something more durable. - Vanessa Horwat
The best part is that painted white uppers combine perfectly with wood grain base cabinets to create a beautiful two-tone kitchen design.
For your rental, you're better off going with naturally stronger woods like birch or maple. Not to mention, their price range is much more affordable than luxurious, high-end wood species like walnut and cherry.
The added protection of a stain adds to the wood's overall durability. Even more, if your cabinets do succumb to damage, wood stains are much easier to touch up than a painted finish.
Textured Melamine Cabinets
Textured melamine cabinets are affordable, super durable, and a great way to achieve the sought after wood aesthetic without breaking the bank.
Textured melamine boards consist of a strong, raw particleboard substrate with a resin-infused decorative paper permanently fused to both sides. They are designed to reproduce the look and feel of realistic paint, wood grain, and even metal cabinets.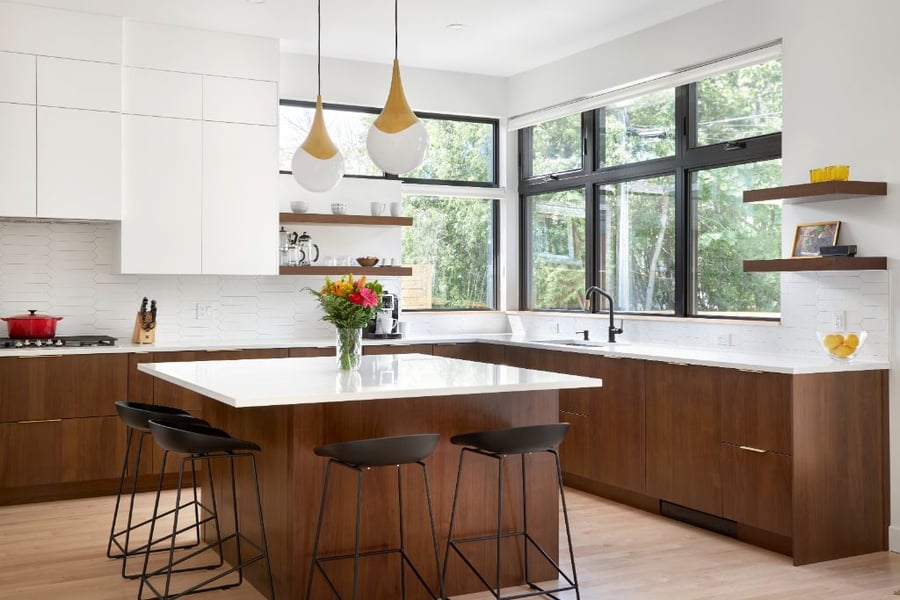 Melamine cabinets will actually produce a more uniform and consistent wood grain appearance than a natural wood species. This is because hardwoods are natural materials and in turn, no two cabinets will have the exact same grain patterns. Melamine will.
All in all, going with a wood grain melamine over natural wood will save you thousands of dollars on your kitchen cabinet expenses, without compromising on durability.
For more, read our article on Melamine vs. Natural Wood Cabinets to see which material you prefer!
3. Splurge for Quartz in the Kitchen
If you intend on renting this property for many years, a stone surface for your kitchen countertop will last decades longer than a laminate.
For medium to higher-end rentals, you can't do much better than quartz. It's water and scratch resistant and since it's nonporous, you don't have to reseal it like a granite or marble countertop.
Of course, granite and marble are fantastic countertop materials, but you wouldn't want to rely on tenants to reseal your countertops, nor would you want to go in every few months to reseal them yourself. Quartz is the perfect set-and-forget countertop for any kitchen.
Of course, quartz is fairly expensive, starting at $80 per sq. ft. on the low-end. If you're on a tight budget, you can certainly use a laminate countertop in your kitchen. They're the most affordable countertop material, by a long shot.
With that being said, it should be noted that laminate is affordable for a reason. The laminate substrate is susceptible to water damage. Laminate countertops also don't last much longer than 5 to 7 years before they need to be replaced.
All in all, if it fits into your budget, you won't regret installing quartz countertops in the kitchen.
Looking to create the perfect rental property? Kickstart your design with Deslaurier, by booking a free consultation with a kitchen expert today!
4. Include a Countertop Backsplash in Bathrooms
Unlike the kitchen, where you'll want a solid surface countertop, going with a laminate in the bathroom is perfectly fine. Outfitting an entire home's worth of surfaces with quartz countertops can be incredibly expensive.
In rental bathrooms, the main concern is typically water displacement.
"Most people don't like doing the countertop backsplash in the bathrooms - but for rentals, that's probably a good thing to have - because you can't control how people use their water." - Vanessa Horwat
The backsplashes protect the drywall and prevent any issues that might arise from excess water breaking down the caulking between the countertop and the wall.
While laminate countertops are often designed with postform backsplashes, they're certainly available for granite or quartz as well. If it's in your budget, doing a quartz countertop with a backsplash lip will only aid in protecting your bathrooms from water damage.
Whatever material you choose, having a 3 to 6-inch backsplash lip for your bathroom countertops will be well worth it in the long run.
5. Hardwood Flooring in the Kitchen
You might be inclined to use a more cost-effective alternative like a laminate or vinyl product with a hardwood aesthetic. Although it can be expensive, it is beneficial to have hardwood flooring when it comes to the kitchen.
Since the kitchen has the most foot traffic in the home, and is prone to water spells and general cooking messes, it's best to have a durable hardwood floor with a long lifespan as opposed to vinyl or laminate.
There are two surefire ways to achieve this: solid hardwood flooring or engineered hardwood flooring. They're very similar products, especially in appearance, but can vary when it comes to their durability and their price.
Solid Hardwood Flooring
Solid hardwood flooring, as its name suggests, is made entirely of solid wood from top to bottom. When it comes to flooring, there is a wide variety of different wood species to choose from, like maple, hickory, and oak.
By far the greatest attribute of hardwood flooring is its longevity.
Without exaggeration, genuine hardwood flooring can last centuries with proper maintenance and care. A one-time investment in hardwood will handily outlast a lifetime of kitchen use in your home.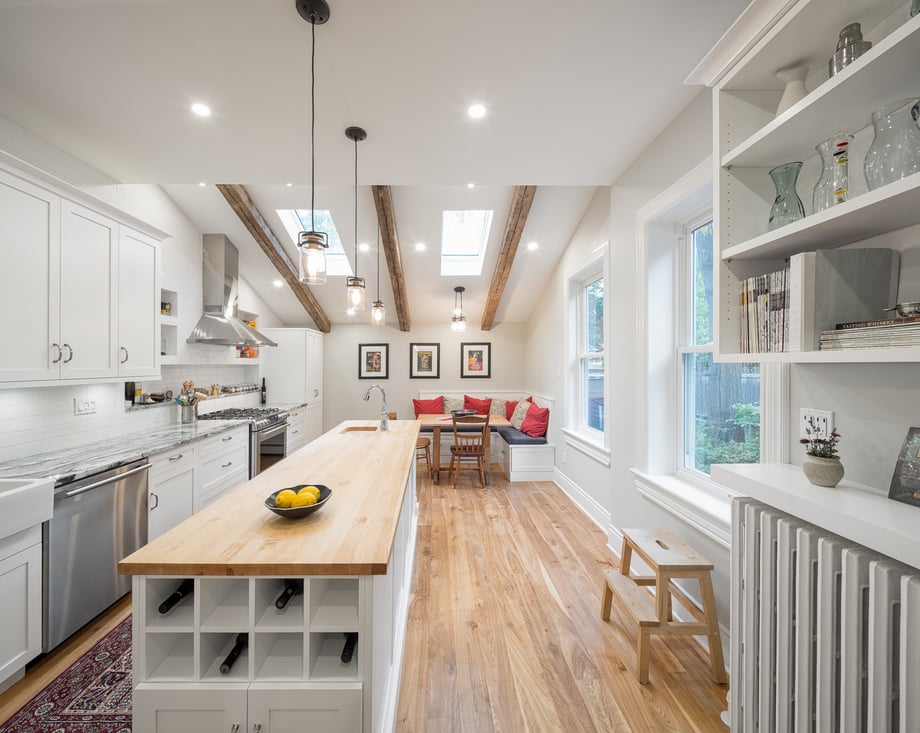 While solid hardwood flooring may only require that one-time investment, it most likely won't be a cheap one. Hardwood flooring typically starts at around $7 per sq. ft. with high-end options reaching as high as $15!
Thankfully, there's a more cost-effective alternative in engineered hardwood.
Engineered Hardwood Flooring
Engineered hardwood flooring is a combination of a natural hardwood top sheet bonded to high-quality plywood. Engineered wood flooring provides the aesthetic of solid hardwood as a more cost-effective alternative, while still providing strength and stability thanks to the plywood base.
One thing to note is that the thickness of the natural wood top sheet will vary depending on the manufacturer. This will influence the price and longevity of the product. Essentially, the thicker the layer of hardwood, the stronger and more expensive the flooring will be.
Of course, engineered hardwood doesn't have the same lifespan as solid hardwood flooring (few materials do). Nevertheless, good-quality engineered hardwood can last anywhere from 20 to 30 years. They can even come with a scratch-resistant topcoat for added protection!
Engineered hardwood has much cheaper selections than solid hardwood flooring, with a minimum of about $3 per sq. ft. That's not to say every engineered hardwood product is that inexpensive – some can be well over $10 per sq. ft. – but overall, it is a more affordable option than solid hardwood.
Discover Deslaurier Custom Cabinets
Whether you're looking to upgrade your forever home or renovating an investment property, you've come to the right place!
If you have your eye on custom cabinetry, Deslaurier Custom Cabinets has everything you need. With over 40 years of experience to our name, we provide our clients with a fully customized design process with our talented team of designers.
Book a free consultation with a Deslaurier kitchen expert at our Jupiter, Florida showroom today!
Interested in becoming an authorized Deslaurier dealer? Visit our Become a Dealer page to learn more! Live outside the area? Find a Dealer to connect with a Deslaurier dealer near you!