11/05/2022 • Blog
How to Choose Your Kitchen Sink Size
Estimated Read Time: 6 Minutes
Kitchen sinks come in a wide array of sizes and styles.
Whether you're replacing your current sink or going through the kitchen design process for a renovation or new build, the right kitchen sink size will depend on the size of your kitchen and the available cabinet space you have.
At Deslaurier Custom Cabinets, we're experts when it comes to functional kitchen designs. With that experience, we understand how important it is for clients to select the right size sink for their kitchen to function as efficiently as possible.
This article will help you determine the right size sink for your kitchen. We'll detail the different sink sizes and styles available, as well as show you how to measure your space so you can determine which sink is right for your kitchen.
Let's get started!

Standard Kitchen Sink Sizes
You have many options when it comes to the size of your kitchen sink. Which makes it even more important to determine your personal needs and purpose for your sink before selecting a permanent size.
Smaller secondary sinks can be as narrow as 9 inches, while larger primary sinks can reach up to 40 inches in width. If you are looking to install a sink into your kitchen island to aid in food preparation, you will likely need a smaller prep sink that is 24 inches long.
Your main kitchen sink, on the other hand, will need to be more significant in size.
Standard-sized kitchen sinks measure 22 inches by 30 inches. While the front-to-back measurement of the sink typically remains the same (roughly 22 inches) due to the size of most cabinets, the length of various kitchen sinks can vary immensely.
This size range will cover most of the options you'll find when shopping. Sinks smaller than 30 inches will usually have one large bowl. These sinks can wash larger pots and pans and are great for large families who do a lot of stovetop cooking.
A double-bowl sink may be desired; however, they are not very common under 30 inches. Sinks over 30 inches in length will typically have two or more bowls.
However, there may be single-bowl sinks available in larger sizes, especially when it comes to farmhouse-style sinks. A double or triple bowl sink is the best choice if you prefer to separate your food prep area from your dirty dishes.
For more on single or multi-bowl sinks, check out the Learning Centre for our article on single vs. double vs. triple basin sinks.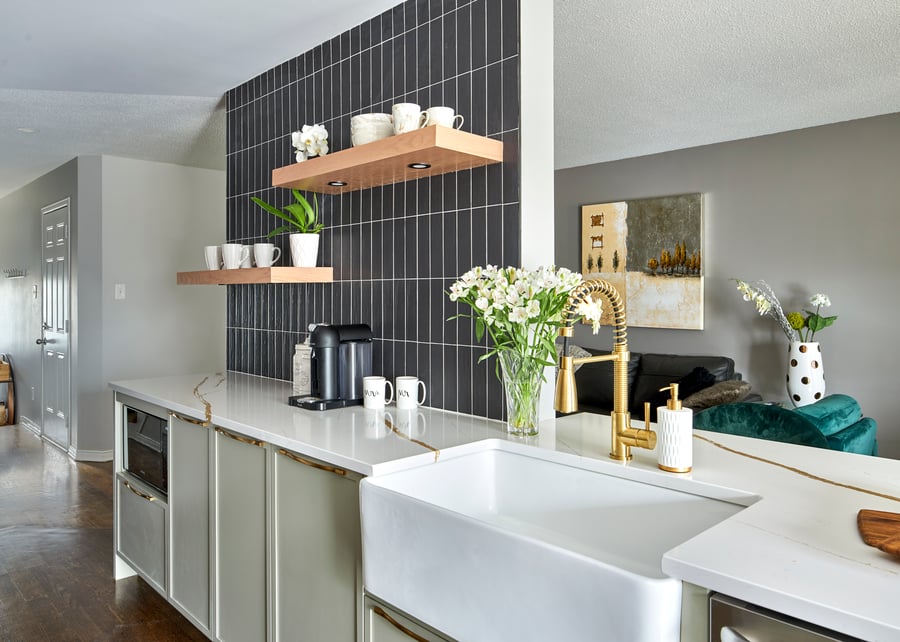 Larger Kitchen Sinks and Custom Cabinets
Kitchen sinks with a length greater than 36 inches are considered to be oversized. These sinks are ideal for larger kitchens or kitchens with custom cabinetry.
As mentioned above, kitchen sinks can measure upwards of 40 inches in length!
Needless to say, these selections won't fit in stock kitchen cabinetry. The average base cabinet measures roughly 24 inches deep with standard widths ranging from 24 inches to 33 inches wide.
Clearly, fitting an oversized sink into an average-sized base cabinet isn't going to work. That's why if you're leaning towards selecting a larger sink for your kitchen, you'll want to consider custom cabinetry.
At Deslaurier Custom Cabinets, we understand the unique cabinet needs of our clients. Wanting a sink size that doesn't correlate properly with your base cabinets can be a pain in the design or renovation process.
That's why custom cabinets allow for oversized kitchen sinks to be correctly installed in a spacious base cabinet without any headaches. Unlike stock cabinetry, custom cabinets are designed to your specific dimensions, so your sink is sure to fit into your dream kitchen.
If you're looking at an oversized sink measuring longer than 36 inches, you'll want to consider custom base cabinets for the optimal fit.
Different Kitchen Sink Styles to Consider
Selecting a kitchen sink size is often dependent on the style of sink you prefer. There are generally 3 styles of sinks: Top-Mount, Undermount, and Farmhouse.
While each sink style can have the bowl come in similar sizes and dimensions, not all sinks are made equal.
For example, farmhouse sinks are prone to larger sizes with more front-to-back surface area, while the design of a top-mount sink will take up more countertop space than an undermount.
Let's take a look at how each individual style influences the size of a kitchen sink.
Top-Mount Sinks
The top-mount sink, also known as "drop-in" or "self-rimming," is the most popular kitchen sink configuration as it is easy to install and works well with almost any countertop material.
The sink slides into a hole in the countertop, with the edge of the rim holding it in position. If you're worried about a lack of support, or just want the extra solidity, top-mount sinks can be fitted with clips or screws to increase stability.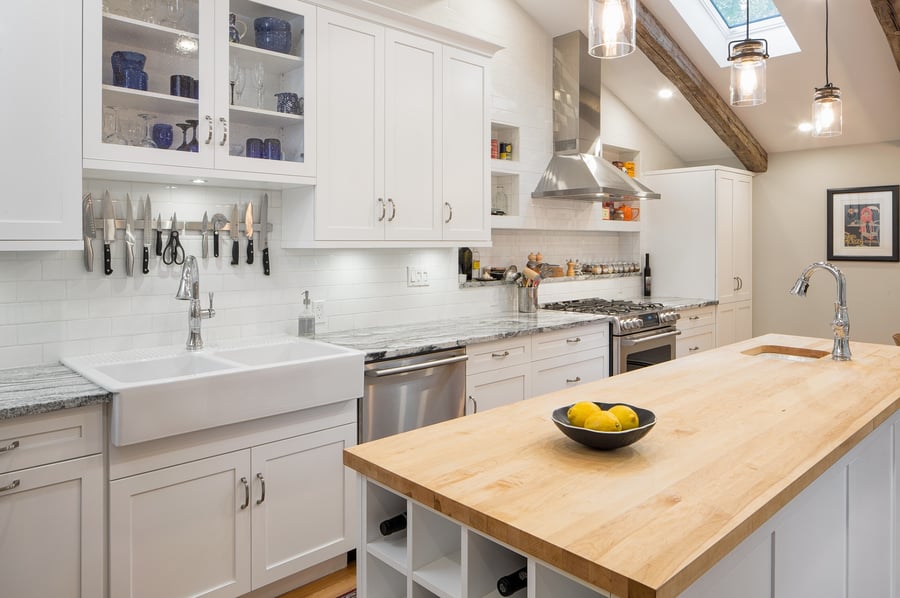 Some homeowners will avoid top-mount sinks due to the visible rim. Not only can food and debris get trapped by the exterior rim, but it also takes up valuable countertop space.
Because of this, if your kitchen space is limited, you may prefer the benefits of an undermount sink that maximizes overall countertop space while still providing the same size sink basin.
Undermount Sinks
Undermount is a term that describes a sink installed from underneath the counter.
This sink configuration eliminates the rim or lip of a top-mount sink and can provide a sleek, integrated look when combined with solid-surface countertops such as granite or quartz.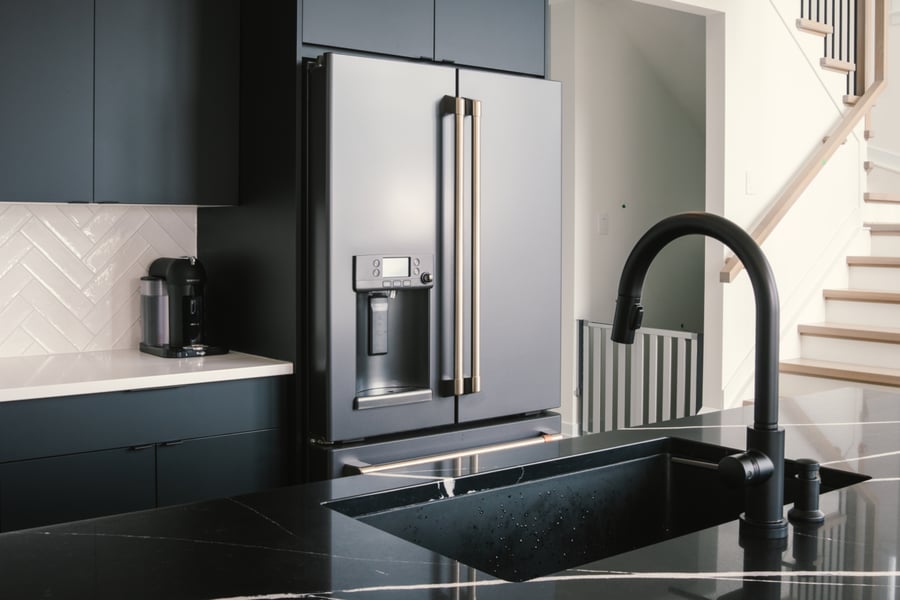 The weight of your sink is an important factor when considering undermount installation.
Depending on the size and density of your sink material, properly undermounting a larger, heavier sink could prove challenging and is something worth discussing with your plumber or contractor beforehand.
Farmhouse Sinks
Farmhouse sinks are unique in that they offer their own style and require their own distinct installation method.
A farmhouse-style sink, also known as an apron sink, extends over the edge of your cabinetry with an exposed (apron) front. As the name suggests, this type of sink is most commonly used in a traditional or a rustic farmhouse style kitchen. It can be designed with a single basin or double basin.
With regard to their size, the farmhouse sink is larger than other sink styles. The deep basin will require a special, modified base cabinet, as well as a countertop cutout in order to support the sink.
It's important to remember the front apron of the farmhouse sink. This front apron extends past the cabinets and emerges slightly into the kitchen space.
Make sure you account for this unique aspect of farmhouse sinks when shopping for your kitchen sink. Otherwise, your sink could cause issues within your kitchen design.
How to Measure For Your Kitchen Sink
With a rough idea about the size of your potential kitchen sink, it is essential to know what will fit in your space.
If you're planning on replacing your kitchen sink and not doing a full-fledged kitchen reno, this is for you!
Measure the width and length of the space where the sink is currently installed. You will likely have to take out the sink to do this.
You should also measure the depth of your sink bowls. This is needed to determine what size bowls will fit and whether modifications are required to your countertop, cabinetry, or plumbing.
Take measurements of the plumbing if you plan to change from a shallow sink to a deeper one.
The sink may not drain properly if the basin is too low, and modifications behind the wall may be necessary. For example: Reduce the pipe that connects to the wall, then, measure the length of the pipe connecting the sink drain to below the sink.
This will give you an idea of how deep you can go. The tailpiece is the name of this pipe that should be 2 inches in length. If it is not, you can install a sink 2 inches deeper than the one you have.
Design with Deslaurier Custom Cabinets
The size of your kitchen sink will ultimately come down to a combination of what you deem appropriate for your needs and what meshes well within your kitchen space.
If you want expert advice on what size sink will fit perfectly in your dream kitchen design, you've come to the right place!
Deslaurier Custom Cabinets has everything you need if you have your eye on custom cabinetry. With over 40 years of experience to our name, we provide our clients with a fully customized design process with our talented team of designers. Book a free consultation with a Deslaurier kitchen expert at our Jupiter, Florida showroom!
We partner with world-class hardware suppliers, like Emtek, Berenson, and Richelieu to offer our clients thousands of hardware design options in type, feel, function, style, finish, and size.
Interested in becoming an authorized Deslaurier dealer? Visit our Become a Dealer page to learn more! Live outside the area? Find a Dealer to connect with a Deslaurier dealer near you!