10/01/2023 • Blog, Comparisons
Quartz vs. Marble: Comparing Kitchen Countertops
Estimated Read Time: 5 Minutes
There are a lot of things to consider when choosing the best countertop for your home. Factors such as appearance, durability, and cost all play a huge part in your decision making process.
Two of the most prominent materials for kitchen countertops are quartz and marble.
At Deslaurier, we have over 40 years of experience providing our customers with custom cabinets and kitchen design services. While we don't manufacture stone countertops, we partner with reputable local fabricators such as Urban Quarry to ensure our clients have the perfect countertop surfaces for their projects.
With that, let's dive into the differences between quartz and marble countertops so you can better understand which choice is right for your kitchen.
Let's get started!
Quartz Kitchen Countertops
When it comes to countertops, quartz falls under its own hybrid category. Quartz itself is a mineral in the earth, but quartz countertops are not considered natural stone surfaces like granite or marble.
Technically, quartz is an engineered stone countertop, meaning that while 93% of the surface is pure quartz material, the remaining 7% of the stone is manmade.
Essentially, what fabricators do is grind up the quartz mineral and glue it back together with polymers and binders. These man-made components bind with the quartz to create an ultra-durable, non-porous surface that doesn't require resealing.
During the manufacturing process, sometimes fabricators will add tiny flecks of glass or metals, or combine pigments with the quartz to create extra visual appeal.
Marble Kitchen Countertops
Marble and luxury are synonymous when it comes to the world of kitchen design. Marble is an all-natural stone and every slab is unique.
Marble has always been a high-end, sought-after product for kitchen countertops; but in the past couple of years, there has been a particularly sharp uptick in marble demand. Homeowners are revisiting the classic, high-end appeal of the all-natural stone with fresh interest.
Heavily veined marble is simultaneously timeless and modern; bold and inviting. The organic, fluid and 100% unique patterns on a marble slab are timeless; and also quite trendy!
Marble surfaces are more popular now than they have been in years. Heading into 2023, the pronounced appearance of marble has become a go-to for homeowners looking for an intricately designed countertop surface.
Quartz vs. Marble:
Appearance
Let's face it, most of the decisions you'll make when designing your kitchen will be based on visual style and aesthetics.
Appearance of Quartz Countertops
Quartz's engineered fabrication process translates to endless style options. Since additives like pigment and resins are combined with quartz aggregate in the factory, manufacturers can create a full spectrum of aesthetics.
You'll find quartz in a wide array of colours, patterns, and textures.
Countertop fabricators often have room to get creative when forging quartz-resin mixes. Manufacturers can incorporate semi-precious stones into their slabs or create a selection of hundreds of unique colours and patterns.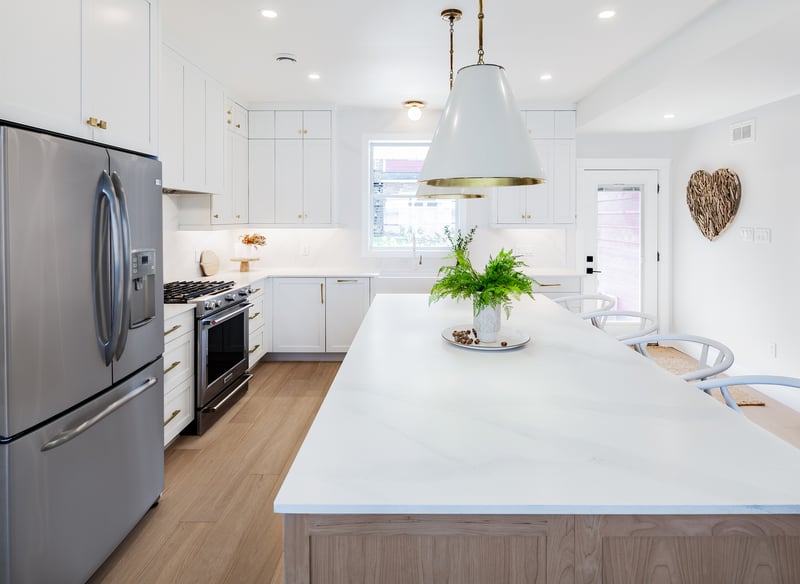 All of these designs can be cultivated to look uniform and consistent, unlike pure stone countertops which have natural veining and colouring that cannot be altered.
Using this method of manufacturing, fabricators are able to manipulate quartz to mimic the look of natural stones, such as, granite, soapstone, porcelain and of course, marble.
Appearance of Marble Countertops
The main selling factor about marble is undoubtedly the look. Marble countertops offer a stunningly unique appearance that will immediately catch your eye.
The style of marble countertops is in a league of its own. Known for their colour and extravagant veining, marble countertops exude elegance and instantly elevate any room they're placed in.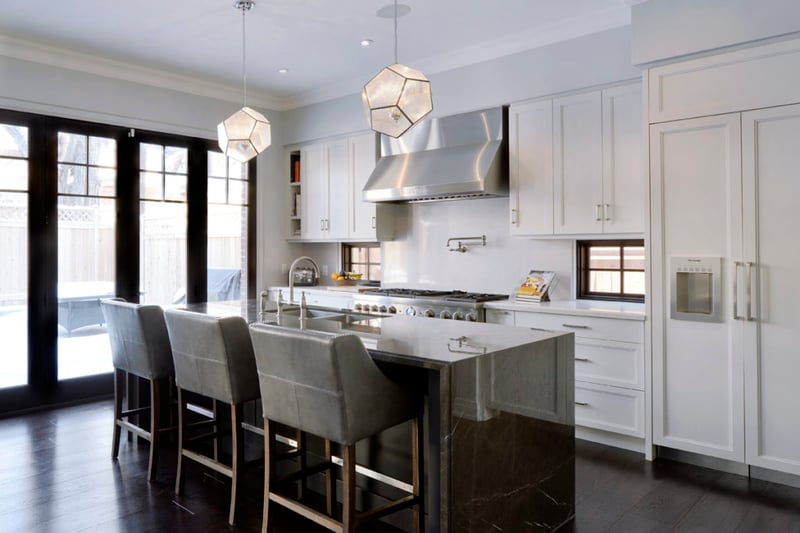 Marble countertops can be enhanced with both polished or honed finishes. True to how it sounds, polished surfaces create a glossy and sheer appearance. Honed countertops have a matte look, but are generally more forgiving and will hide scratches better than polished ones.
Quartz vs. Marble:
Durability
When it comes to the overall durability and resilience of the two countertop materials, quartz excels in ways marble surfaces simply cannot.
The clear advantage of quartz countertops over natural stone countertops like marble is that quartz is non-porous.
The 7% resin portion of the quartz countertops effectively acts as a sealant. That means you don't have to worry about routinely resealing your quartz surface.
Conversely, the biggest durability-related drawback to quartz is that it is not heat-resistant. Quartz countertops can typically only withstand around 175-185 degrees Fahrenheit.
You can't put down a hot pan or pot directly onto a quartz surface without running the risk of making permanent scorch marks. However, this shouldn't be an issue if you routinely use heat protection like kitchen mats or boards.
Durability of Marble Countertops
While marble blows you away with its appearance, when it comes to durability it leaves much to be desired. In fact, there are several concerns and maintenance issues you should be aware of before installing marble countertops in your kitchen.
Marble is an extremely soft natural stone, resulting in its countertops being highly vulnerable to scratches, marks, and impact damage. One way to help reduce and hide any potential scratch marks on your marble countertop is by giving it a honed finish.
Additionally, because marble is a porous stone, regular sealing is needed to prevent moisture from seeping into the stone. Authentic marble surfaces require regular resealing about every 3 months or so.
Marble countertops are also susceptible to some called "etching" which is a damaging effect caused by acids. Commonplace kitchen products such as lemon juice or vinegar can wear down the vulnerable stone surface if they have prolonged contact.
In light of these durability concerns and maintenance issues, marble's saving grace is that it is resistant to heat, being able to withstand up to 480 degrees Fahrenheit.
If you're looking to furnish your kitchen surfaces with durable, resilient countertops, quartz is the clear winner.
Quartz vs. Marble:

Cost
Determining the cost of quartz, or any other stone countertop, is not an exact science. There are a number of uncontrollable variables that may affect the price of natural materials from one month to the next, or from supplier to supplier.
The price of quartz and marble can be influenced by quarry location, shipping costs, manufacturer, and supply and demand.
Cost of Quartz Countertops
So, how much should you expect to pay? Let's start with quartz kitchen countertops first.
According to Urban Quarry, depending on the quality of the product the average cost of a quartz countertop falls between $80-$180 per sq. ft., not including installation fees.
This could wind up being anywhere from $2,000 to $10,000, depending on the amount of countertop space you have, and the quality of quartz selected. If you intend on furnishing multiple surfaces in the kitchen, including wall backsplashes, the total cost can exceed $20,000.
Cost of Marble Countertops
On average, a marble countertop costs between $80-$250 per sq. ft. Contrary to popular belief, you can buy marble on a budget. You just have to do diligent research in order to know where to go.
Outfitting kitchen surfaces with marble can easily surpass $10,000. — high-end marble for an entire kitchen, including the kitchen island and backsplash, can reach as much as $30,000. Far and away one of the most expensive countertops you'll find.
Keep in mind that these prices do not assume the cost of installation. A standard countertop installation, with no cutouts, could cost anywhere from $300 to $600. Once cutouts and other maintenance are factored in, installation can cost well over a thousand dollars.
Quartz vs. Marble: What Countertop is Right For You?
Do you want the prestige of authentic marble veining?
Maybe you're an avid cook and want a durable countertop surface that can function as a kitchen work station. Quartz is your best bet.
Marble is a high-end, soft stone that requires a lot of maintenance. Quartz's fabrication process can create a cost-effective and more durable imitation of an expensive marble countertop.
Visiting large stone yards or showrooms will aid you in finding the best countertop for you by comparing the selections and price ranges of different countertop suppliers.
If you're in the Ottawa area and looking for the perfect quartz or marble countertop, check out our article on the Top Kitchen Countertop Suppliers in the area!
Design with Deslaurier Custom Cabinets
If you're looking to pair custom cabinetry with the perfect kitchen countertop, Deslaurier Custom Cabinets has everything you need.
We bring 60+ years of experience to the table and partner with a vast network of premier countertop suppliers. The result? We consistently leave a long trail of customized, high-performance kitchens in our path.
We provide our clients with a fully customized design process with our talented team of designers. Book a free consultation with a Deslaurier kitchen expert virtually or in-person at our Jupiter, Florida showroom!

Interested in becoming an authorized Deslaurier dealer? Visit our Become a Dealer page to learn more! Live outside the area? Find a Dealer to connect with a Deslaurier dealer near you!