13/09/2022 • Blog
6 Home Bar Design Tips: Crafting the Perfect Dry Bar
Estimated Read Time: 5 Minutes
Are you looking to design the perfect dry bar for your home?
It may sound cut and dry, but there are a few steps you should consider in your design process that will have you crafting homemade cocktails in no time!
At Deslaurier, we have over 40 years of experience manufacturing custom cabinets and providing kitchen and bathroom design expertise to our clients. In that time, we've worked on plenty of home bar designs, tailoring each project to the homeowner's individual needs.
In this article, Deslaurier Designer Lavanya Gurumoorthy offers 6 expert design tips that will help you create the perfect dry bar for your home.
Let's get started!

What is a Dry Bar?
First thing's first, what is a dry bar?
A dry bar, sensibly enough, is a bar that does not include a sink or plumbing of any kind. It is a freestanding or built-in unit designed to store alcohol as well as glasses and other barware accessories.
Unlike a wet bar, traditionally found in a basement with countertop seating, a dry bar will commonly be installed near the kitchen or dining area, making it easier to not include a sink or additional seating area.
1. Go with Quartz or Dekton Countertops
Whether drinks are being made or being spilled, liquid is a natural part of any bar area—there's no getting around it.
You want your bar surface to be both water and stain-resistant. There are two popular kitchen countertop materials that are prized for those characteristics: Quartz and Dekton.
Quartz and dekton are both engineered materials. Quartz countertops are 93% quartz with 7% additional resins and polymers. Dekton, on the other hand, is a fully engineered countertop made by forming raw materials under extreme heat and pressure in order to create a synthetic surface.
Unlike popular natural stone countertops, like granite and marble – both of which are porous and vulnerable to water and stains, requiring them to be regularly resealed – the engineered nature of quartz and dekton countertops result in them being entirely nonporous.
With this, quartz and dekton are effectively set-and-forget low-maintenance countertop surfaces. That means you don't need to worry about yearly (or multiple times a year in the case of marble) resealing. You can endure wine splashes and cocktail spills stress-free.
An added benefit of dekton is you can cut directly on the surface. In fact, you'd have to worry about your knife blades more than you would your countertop! Whether you're slicing citrus fruits for cocktails or cheese for a charcuterie board, you can prep directly on dekton surfaces.
2. Floating Shelves and Glass Cabinets for Display
The display is a major consideration for home bar designs. Depending on what you're displaying – wine, liquor bottles, or elegant glassware, to name a few – there are two key ways you can present your collections: with floating shelves and glass cabinets.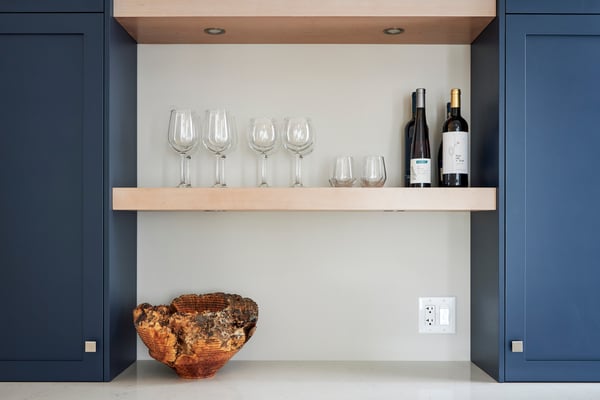 Both methods offer great conversation starters for display, or, in the case of glass cabinets, they can function as their own distinct accent piece in your home's overall design.
If you have a liquor bottle collection, floating shelves are a must-have. Not only are they great for displaying your bottles, but they offer easy and open access whenever you're ready for a drink.
"Start from your tallest bottle and work your way down to make sure you have enough clearance." - Lavanya Gurumoorthy, Deslaurier Designer
Whether you have an impressive collection of glasses, stemware, beer mugs, or shot glasses, there's no better place to display them than in glass cabinets.
"Glass cabinets are the best spot for your display. I always try to include at least a couple of glass doors." - Lavanya
Why not mix both features together?
Consider having floating shelves nestled between two glass cabinets for a best-of-both-worlds combination of bar storage and display.
3. Under Cabinet Task Lighting
Including under-cabinet lighting is a necessity for any type of bar area. It's the most effective form of task lighting for any work surface. It can also be hidden in plain sight using recessed cabinets, valances, or coverboards.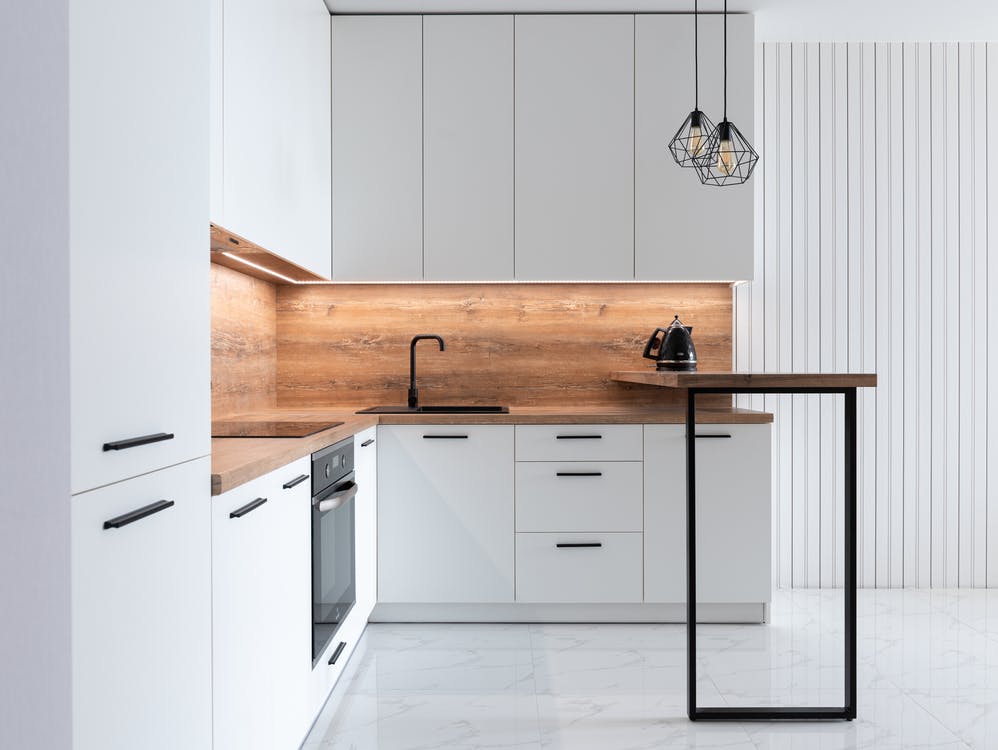 Whether you're crafting intricate cocktails, reading bottle labels, or just delicately slicing limes, ensuring that your bar's surface is well-lit is a major benefit to any home bar.
Be it under the upper cabinets, or integrated into floating shelves, task lighting is a must-have element of home bars.
4. Add a Bar Fridge
Of course, since the whole purpose of a bar is to store drinks, you'll need a place to keep them!
If you typically have a lot of beer or are often crafting cocktails, a bar fridge will be a necessity. Keeping a bar fridge in your base cabinetry will provide a place to keep beer and cocktail mixes cold.
All the better if the fridge has a built-in ice maker or freezer component!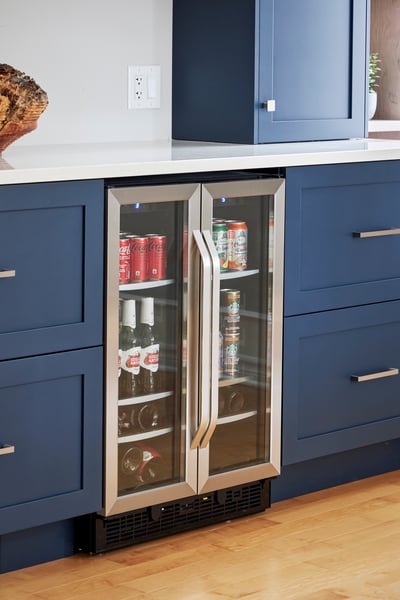 While a wine rack is a great way to display and access wine bottles if you're a wine aficionado, you might want to also consider implementing a wine fridge over a traditional bar fridge.
Beer fridge, bar fridge, wine fridge, whichever fridge you prefer, you can seamlessly integrate them within your base cabinetry as a built-in appliance!
5. Use Plenty of Cabinet Drawers & Accessories
Like any other part of the house, drawers remain king when it comes to cabinet storage. You can never have too many drawers.
Deep base drawers can be a great place to keep larger items like a punch bowl or blenders and other bulky countertop accessories.
Top drawers offer easy access to cocktail mixes and accessories such as corkscrews, bottle openers, tongs, and mixing spoons.
For a home bar, hidden drawers work extremely well. They offer a much cleaner, simplistic design, while still having an emphasis on the storage you need.
6. Design the Bar as an Extension of Your Kitchen
An upstairs dry bar can work handily as an extension of your kitchen space. It's a great way to utilize additional storage for additional countertop accessories, or for your more elegant kitchen items, like dinnerware and glassware.
It's also a nice feature to tie in with your kitchen from a design sense. If your dry bar is attached to your kitchen space, you'll want to keep the aesthetic the same. However, if you have a bar in an adjacent room, it's still a good idea to have some aspects of it harmonize with the design of your kitchen.
"Not everything needs to be the same, but even if only one feature is tying the room in with the kitchen, that's great." - Lavanya
If your kitchen has warm, natural wood tones, try and include those somewhere in the bar cabinetry. A subtly effective solution would be incorporating some floating shelves in the same wood.
Take this dry bar showcase, Cherry Cocktail, for example: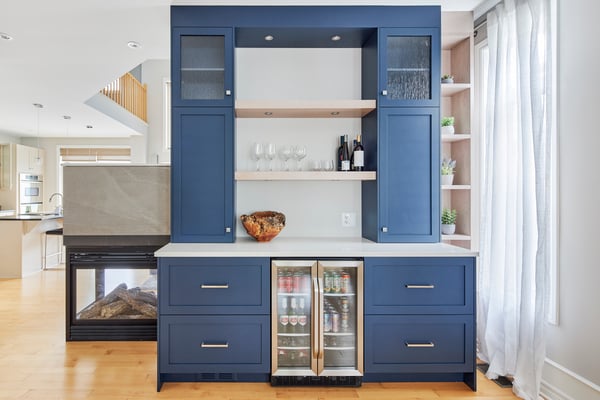 The kitchen design utilized cherry wood accents, and the dry bar matched that with cherry floating shelves.
It certainly doesn't have to be a large influence, but including some element of your kitchen's primary design into your dry bar is a great way to connect the two spaces and blend your home together.
Design with Deslaurier Custom Cabinets
Are you looking to create the perfect dry bar for your home?
Deslaurier Custom Cabinets has everything you need! Book a consultation today with a Deslaurier design expert at our Ottawa Showroom or schedule a virtual meeting!
If you have your eye on custom cabinetry, Deslaurier Custom Cabinets has everything you need. With over 40 years of experience to our name, we provide our clients with a fully customized design process with our talented team of designers.

Interested in becoming an authorized Deslaurier dealer? Visit our Become a Dealer page to learn more! Live outside the area? Find a Dealer to connect with a Deslaurier dealer near you!